Jojo Abot: Power To The God Within
Jojo Abot is a fearless Ghanaian performer and artist on a mission. She embarks on a multimedia/sensory performance this Sat., June 14 at National Sawdust in Brooklyn that demonstrates she is not "slave to the art form but more so slave to the message." The show is entitled "FYFYA WOTO: Power to the God Within" and is meant to awaken, or at least disturb the inner beings of all who witness it.
I interviewed Jojo at National Sawdust, where she is a new artist in residence. This venue allows emerging and established contemporary composers to present their work in an artistic and highly acoustically functional space. It is the perfect platform for Jojo's visually and sonically immersive ideas. She says, "The multi-sensory aspect is really the most organic and authentic way to experience my work because that's how it's created. It's not one dimensional, and that's where I truly believe we experience life: through all of our senses."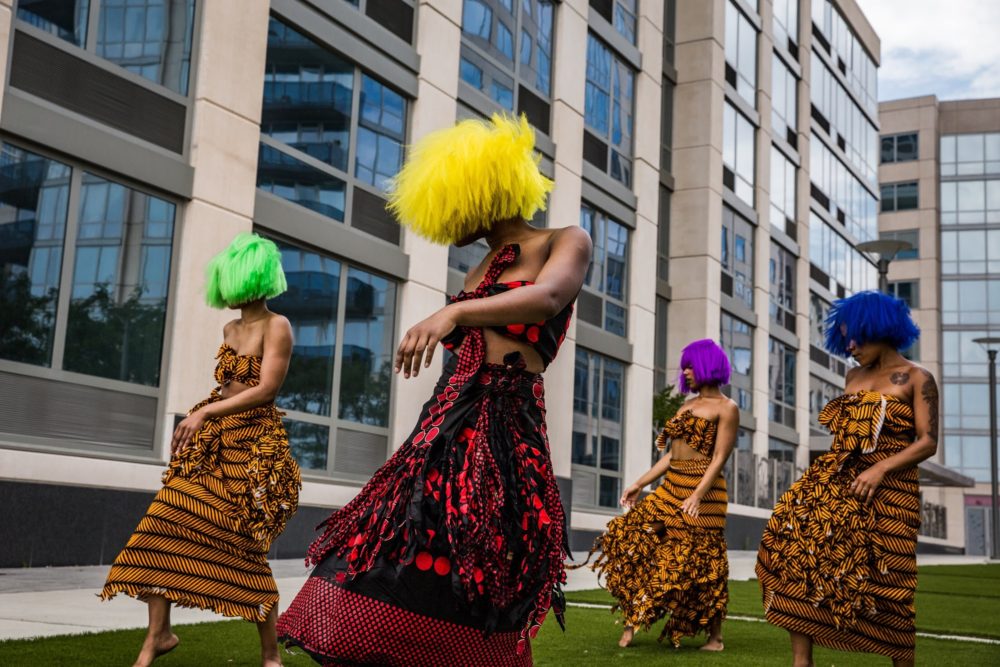 Jojo gained a fresh understanding of humanity during a recent trip to South Africa, which was followed by a musical tour in Australia and New Zealand. She released "Alime," a psychedelic-gqom song featuring South African artists Elo and Vuyo; and the EP NGIWUNKULUNKULU with bold visuals shot in South Africa.

Jojo describes her trip: "When I went to South Africa, I felt a pull to stay. And when I was in South Africa, I thought it would be a time when I would look at expanding my profile on the continent. Ha! Yeah, right. Instead I was in other spaces exploring very personal things: political matters, social issues. It was very much not a time to make Jojo popular and that was very sobering."
During this trip, she encountered what she calls "performance of whiteness" in South Africa, Australia and New Zealand. "I was even more so disturbed by the fact that the younger generation had inherited all of this stolen wealth and felt no sense of responsibility towards helping to create any form of balance. They would always go 'oh, but I didn't do it. My father did it. Or my mother did it'." Witnessing this long-lasting generational oppression in the U.S., South Africa, Australia and New Zealand inspired some of the messaging in Jojo's music and forces those who encounter it, black or white, to reckon with it.
Jojo explains: "We have to be audacious and you'll find that whiteness is audacious and blackness is not. And yet in the silence of blackness is very audacious. The black man does not have to reach for his power. It's already there. That's why it's threatening and has to be shut down. In our very existence, there is power. Our bodies vibrate energy. The way we move is spirit. So just by virtue of our being, we're spirit, we're connected. So what is it that mutes that existence, that awareness, that connection? You look at a lot of indigenous cultures. The Maori, the First Nations people in Australia, and all of those people who were basically uprooted from their sacred land and moved away from their gods, the source of their livelihoods and the lands that they were given and came to know. That was a strong way of disrupting their understanding of sense and their rootedness and their power and the oppressor knew that. So in my exploration of what I am doing and why I'm doing it, my focus is how can I remove the elements that actually distract you. It's not so much about let me throw other things on you, but let me declutter your space so you can draw closer to yourself. The more we declutter, the closer we get to the truth. I'm not saying anything that you can't come to on your own. That's why I'm not your end-all be-all. I'm just provoking that which already exists in the DNA, embedded in the spirit. "
All this and more is what Jojo aims to do in her production this Sat., July 14, featuring two musicians, three vocalists and four primary dancers. Here's a preview.
For tickets to "FYFYA WOTO: Power to the God Within," visit: https://nationalsawdust.org/ev...