Jorge Glem Will Make You Love the Cuatro
Photo by Romina Hendlin. Used with permission.
As Carl Orff wrote and arranged it, playing "O Fortuna" requires an entire orchestra, with five tympanies and two choirs. Jorge Glem gets there with just four strings. Glem works as a sort of ambassador for the Venezuelan cuatro, and as he demonstrated live Tuesday night, Sept. 5 at Joe's Pub in Manhattan, he's also working as its Jimi Hendrix.
Jorge Glem has already won a Latin Grammy, but his goal is to raise the profile of his chosen instrument, through playing shows like this that showcase the musical potential of the cuatro, and also in a documentary. Equal parts affable and virtuosic, Glem is about as ideal a spokesman that an instrument could hope for.
In addition to widely used guitars and mandolins, there is a host of small guitar relatives unique to Latin American music: the Cuban tres, the cavaquinho in Brazil, the charango from the Andes. There are even Puerto Rican and Cuban varieties of the cuatro.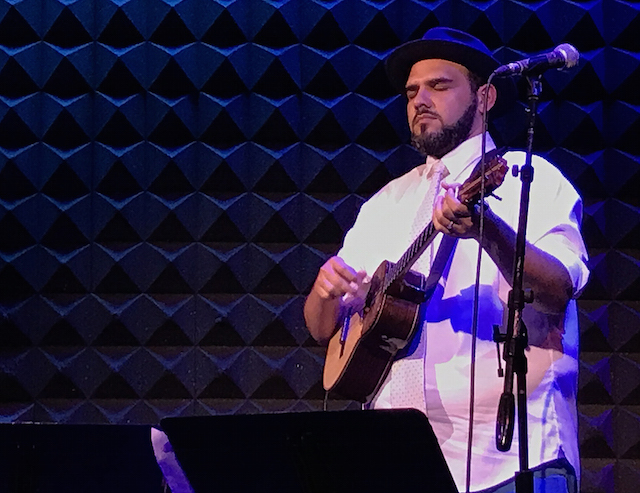 Jorge Glem 4CuatroMusic. Used with permission.
Glem started out, like many children, with dreams of being a drummer but only his mother's pots and pans to practice on. As he told the Joe's Pub audience, his mother was not amused and, in order to spare her cookware any more percussion, handed her son the instrument that Glem said nearly all Venezuelan homes have on the wall: the cuatro.
To look at it, the Venuzuelan cuatro is pretty similar to a ukulele, and it's traditionally used as accompaniment for singers. But to hear Glem play it is something altogether different. After explaining how the cuatro was at first a substitute for drums, Glem began palm muting his cuatro, moving his hand from up by the nut to down by the bridge, producing two distinct tones.
"This, I noticed," he said through an interpreter, "was just like the two notes of the congas."
He began patting out a rhythm. "Cuban," he called out and then changed. "Dominican merengue....with güiro!" He began hitting the strings with the side of his fingernail, making the shuffling sound that normally requires an another percussionist, or at the very least another instrument. The audience was already going nuts before Glem slipped into the samba beat, complete with that two-note agogo part.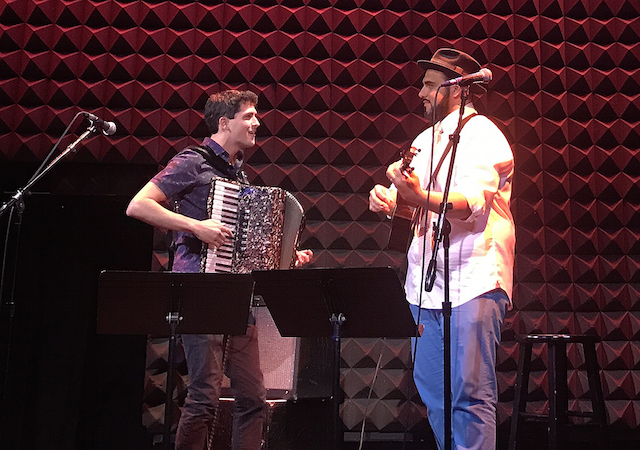 Sam Reider and Jorge Glem. Used with permission.
The evening was an extraordinary display of the instrument and the musician's range. With American accordionist Sam Reider, Glem played a fusion of American bluegrass and Venezuelan folk and then very briefly a sort of free jazz, percussion-on-your-instrument breakdown with Reider, both of them grinning.
Legendary clarinetist Paquito D'Rivera came out to play the Dizzy Gillespie jazz standard "A Night in Tunisia," and talk about how when he first heard of this cuatro player Glem, D'Rivera assumed they were just talking about Glenn Miller on the trombone. D'Rivera also made the most political statement that night from the stage, saying he has a great love for the Venezuelan people, perhaps now more than ever. Though the country is violently divided between Chavistas and antigovernment opposition, D'Rivera assured the people gathered in Joe's Pub: "You will win!"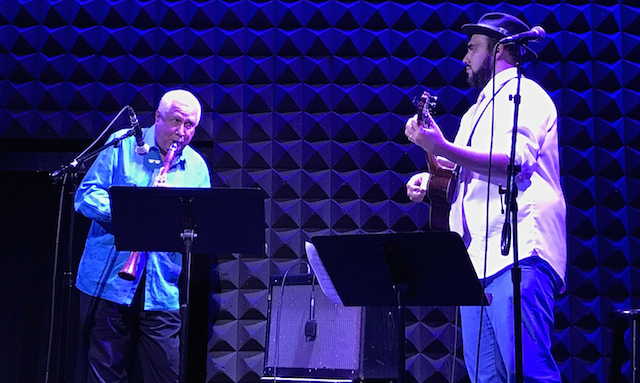 Paquito D'Rivera and Jorge Glem. Used with permission.
Glem is now in New York full time and taking advantage of it. "I feel like New York is a city that is open to listening to new sounds and the public likes to listen to new mixtures of sound," he said in an interview backstage before the show. "There is an incredible amount of musicians I look up to in the city who are all really close."
The rapport among musicians on stage was obvious and, even though it's not the best-known instrument in the world, the cuatro fit right in there too. Of course, in the hands of a master, anything sounds good.