The day I joined Fela's band: Kaleta Remembers
Kaleta (Leon Ligan-Majek) was born in Benin and raised in Nigeria, where he later pursued a career as a musician. He played with both King Sunny Ade and Fela Kuti, making him the rare performer to cross a major division in Nigerian music. He currently leads the noteworthy NYC-based afrobeat band Zozo Afrobeat and sings for Akoya Afrobeat. To honor Fela's 75th birthday, Kaleta shared a short excerpt from his unpublished memoirs. "This is just a token from the 234 pages so far written," he writes, "a tribute to the man I have great respect for. Coming soon: My experiences with King Sunny Ade, Shina Peters, Majek Fashek, Femi Kuti etc..." Well, we look forward to that book! 
As I stood by the barbed-wire gates of Fela's mansion, I took a deep breath and asked to be allowed in. I was quickly denied entry because the guards suspected I was a police informant. Since my dream was to play with Fela, I remained by the gate and waited for two more hours until a bodyguard finally let me in. Perhaps because of my French accent he assumed I was not born in Nigeria and that I was simply a guitarist looking for the chance of a lifetime. At that time, I was playing with King Sunny Ade, whose band I had joined three years earlier, but I wanted more. I was insistent on playing with a legend like Fela.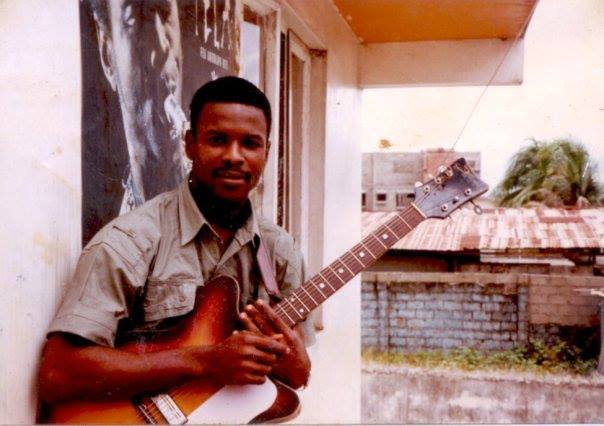 As Fela was a nocturnal person who slept most of the day, I was told that I could not see him until after midnight. While I waited for "Abami" (the weird one) to wake up, a fresh runaway named Sade kept me company. Having joined Kalakuta a week earlier, she had not yet made any friends, and obviously needed someone to talk to. She generously briefed me on what to expect when meeting Fela. My chances of joining Fela's band seemed slim when I learned that I had two things working against me: The first was my gospel music background; I was a church guitarist in Lagos, a member of Celestial Church of Christ in Nigeria. Sade informed me that Fela was dead-set against organized religion. Furthermore, as he was very unpopular with the Nigerian government, Fela's compound was often raided, and he was constantly jailed for simple marijuana possession, kidnapping, armed robbery, and other crimes. I was certain my church would not encourage me to meet someone like Fela, who was viewed as an outlaw and a pervert. The second thing working against me was that I played for King Sunny Ade, Fela's rival according to popular belief. Although they had supposedly never met or spoken to one another (a fact that could probably be disputed because I personally came across some pics with both stars chatting), there was reputedly serious animosity between the two musicians. With a serious look on her face, Sade warned me, "Do not let Fela know you are a church musician or a Sunny Ade boy." Finally, when the sound of saxophone riffs filled the silent night, she summoned me to get ready. My heart was beating hard against my chest when the time finally came for me to meet "Igbodiran," (one of Fela's nicknames, which means "smoker of hemp.") As I approached his bedroom, which was veiled with long, beaded curtains, I felt an awful twist in my stomach. It was the same kind of fear mixed with uncertainty that I had experienced when I was eight years old and was about to be circumcised. Nothing could have prepared me for what I saw when I entered Fela's room. As I sidled through the curtain, I caught sight of the almost stark naked body of Fela Kuti and a large group of nude women surrounding him. None of them flinched when they saw me and they carried on as if they were all fully dressed. I, however, was too shocked for words. I could barely look at them, and felt like a bashful boy on my first date. The women were quite amused by my shyness. Fela, on the other hand, called me a nerd and asked, "How do you expect to play for me if you can't even look at naked women?" I could feel myself trembling, but I was far more determined not to fail my audition, so I tried to keep myself together. Things began to fall apart when Fela asked about my musical background. Not only did I tell him that I was a church guitarist, but I also let him know that I had played with Sunny Ade. At that moment, I had decided against lying to him, because I knew it would only be a matter of time before he found out the truth, as my name had been listed among the credits on Sunny Ade records. Fela gasped and immediately let me know I had failed the audition. To further embarrass me, I was given a terribly rusted guitar with its bridge purposely pressed down on the fret so as to mute any sound coming from it, and was told to play something. Trying not to panic, I asked Fela if I could be excused and headed to a neighboring room. Hurriedly, I wiped down the rusty guitar with a rag and set the bridge back in its proper place. Fifteen minutes later, I returned to Fela's room and began jamming for him. He was shocked that I had gotten the weathered guitar into a playable state, and was pleasantly surprised by my talent. He simply laughed and offered me the job. Since then, I have been filled with a great sense of pride for having stood my ground at that crucial time and proved myself to be good enough to play with a musical genius like Fela Kuti.
Addendum: The first Fela song I ever heard as a child was "Chop and Quench." My favorite Fela song? "Power Show." http://youtu.be/IowSjPyYCSg Thanks, Kaleta.