It didn't take long for Somali-born rapper and pop maestro K'naan to let his sold-out audience at the Highline Ballroom in New York City on November 16 know that success has not made him a happy man. Ever since his song "Waving Flag" became a number-one hit in 18 countries, K'naan has been by far Africa's most successful and prominent hip hop artist. But if you thought these achievements would bring him the loving embrace of the music business, think again. He openly told the crowd that dealing with his partners in industry was "f@#$ing difficult," and that disputes had recently led to the cancellation of a large number of concerts. "But we kept this one," he added, to roars of approval. That's partly because K'Naan now lives in--and adores--New York, and this concert was, among so many other things, a lover's ode to the city.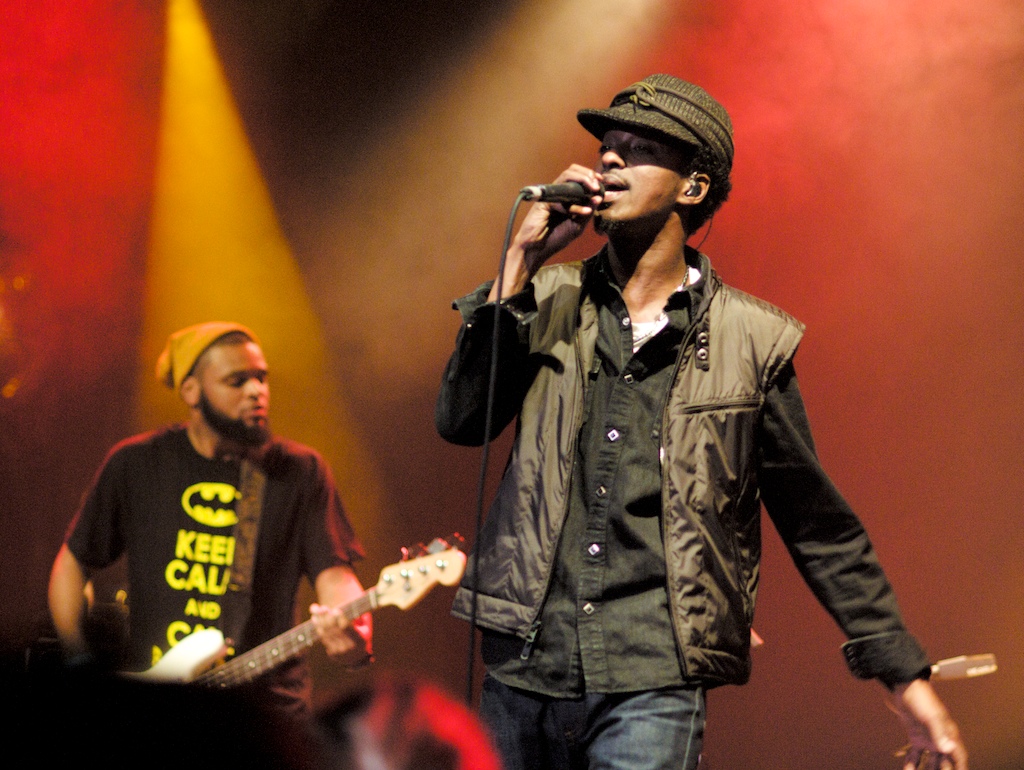 K'naan performed with a deft and versatile 5-piece backing band, capable of rocking hard ("If Rap Gets Jealous"), vanishing entirely (as in passages of unaccompanied rap), and so many things in between. The roughly 2-hour set included generous renditions of songs from K'naan's three releases, including the new
Country, God or the Girl.
K'naan has grown steadily as a recording artist and performer. Some may feel that he's moved away from rap and hip hop to become a pop singer-songwriter.  Whatever.  This is an artist who is growing and expanding, and who leaves nothing behind. It was remarkable to watch him sing alone before a chattering, jolly crowd, and, gradually, using only his voice, silence them, then inspire them to sing along with him like some latter day Pete Seeger. Sometimes, a song would seem to end, only to resume again, with K'naan singing alone, clearly and slowly, the crowd joining in and the words resonating deeply. This was a crowd of diehard fans, who bought tickets for the show originally scheduled during superstorm Sandy, and then moved to this date. Many knew the words and joined in on K'naan classics like "Smile" and "Strugglin" from his much-lauded debut,
The Dusty Fool Philosopher
, or "TIA" and "I Come Prepared" from his muscular, highly produced followup,
Troubadour
.  Even new songs like "The Seed," the jaunty "Waiting is Drug," and the transcendently seductive "Simple" were familiar to many. His most playful new song, "Hurt Me Tomorrow," brought an elated response--definitely a keeper. There's not a whole lot of Africa in K'naan's sound, but when it emerges, as on the ritualistic rap, "America"--with the guitarist performing the Ethio-pop sample looped on the recorded version--it's powerful. K'naan's poignant ode to his troubled homeland, "Somalia," sung before the image of a fluttering flame, was also a high point.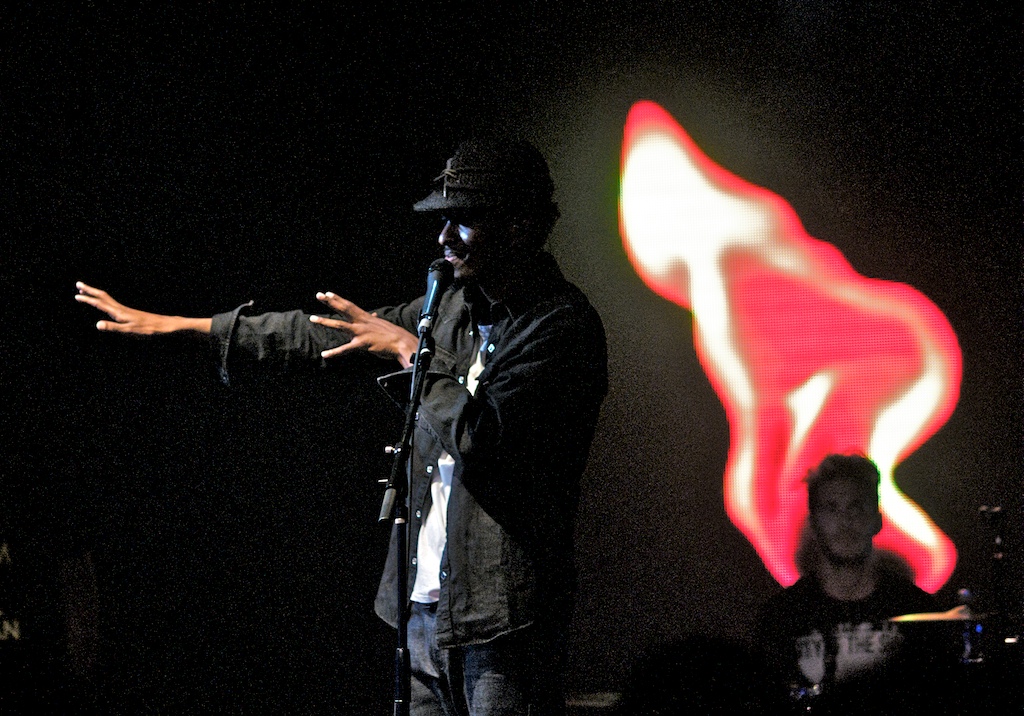 K'naan had to play his hit, "Waving Flag," but he barely paid lip service to recorded versions of the song before morphing it into a Dylanesque harmonica solo. Actually, the harp playing was closer to Neil Young, with whom K'naan recently shared a stage in Central Park: blaring, hurricane force notes spelling out a strong simple melody.  Lest anyone miss the connection, K'naan later surprised the crowd with a cover of Young's "Heart of Gold." Often, K'naan stripped the music away to reveal his engaging words, a mix of raw imagery and inspirational uplift. There was a leisurely rendition of the reassuring "Take a Minute" that once again had the crowd softly singing in folk revival mode. Similarly, the encore take of "Fatima," a song K'naan says always buoys him in hard times, turned into another campfire moment, truly extraordinary for the wrap-up of a hip hop concert.  It didn't hurt that "Fatima" can play as the ultimate love song to New York.
Fatima, what did the young man say, before he stole you away, on that fateful day?
Fatima, did he know your name, or the plans we made, to go to New York City?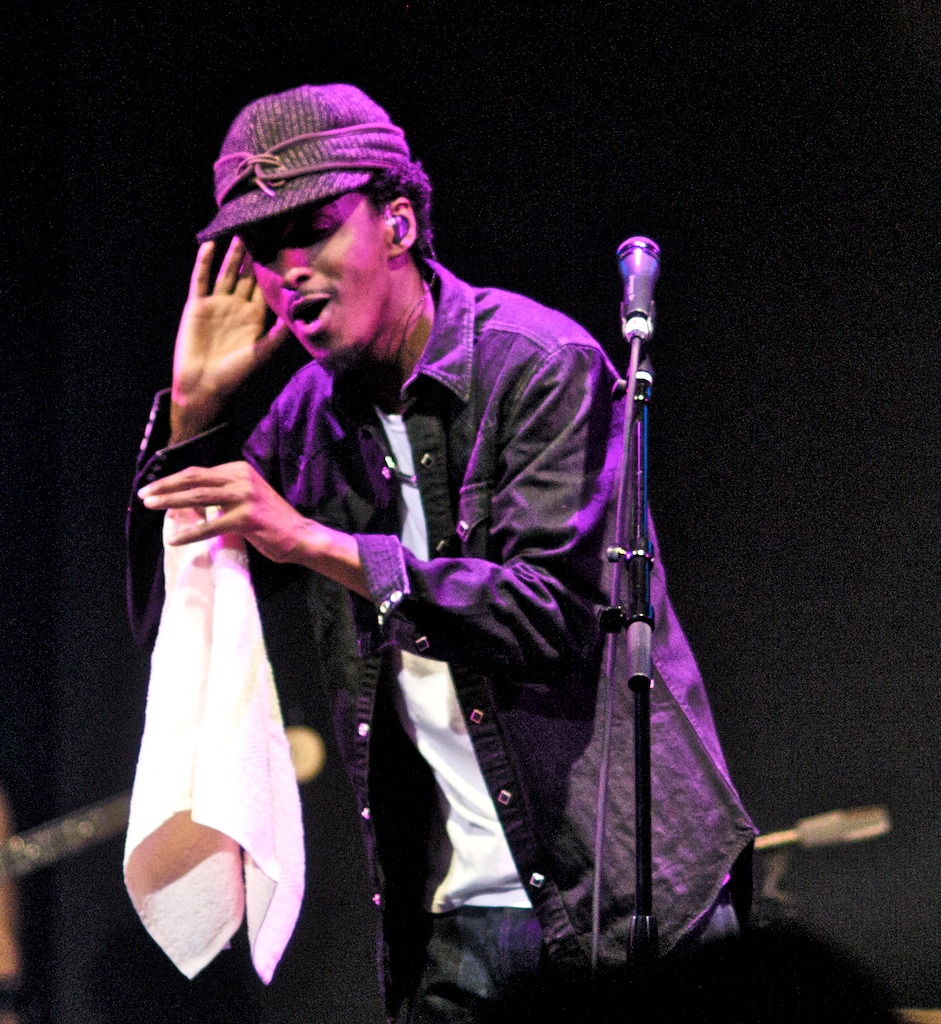 One hopes K'naan patches things up with the industry soon, and gets this act on the road again. Because this New York crowd was treated to an extraordinary, genre-bending session with one of the most talented and substantive African artists on the world stage today.