Kokoroko: Evolving the Legacy of West African Music
The origin story of the band Kokoroko began, as all origin stories about humans and music do, in Africa. In this case, it was Kenya in 2014, in the town of Meru on the northeastern slopes of Mount Kenya. It was there where Sheila Maurice-Grey, who would become the trumpeter and its bandleader of Kokoroko, and percussionist Onome Edgeworth were spending some time working with an arts organization, teaching young people art, dance, and English. Both had previously been aware of each other in London but got to know each other better. They shared the limited number of music tracks they'd downloaded for this vacation.
"We just had to listen to the same music repeatedly," recalls Maurice-Grey. "And so we started talking about music. At the time, I was in an Afrobeat band with someone else, and Onome came to some of the gigs."
"It was just one gig," responds Edgeworth, laughing. "And I wasn't impressed. You see, I grew up with a lot of African musicians. There were these Senegalese musicians in my building, and my mom was involved with music festivals, like WOMAD, managing stages, and was a dancer. So my standards, or ideas of how the music should be, was just a level of excellence; I expected things to look or sound a certain way. Not just their band, but generally when I went and saw West African music, I hated it."
"Yeah, I had gone to a few gigs where maybe the main guy was from Nigeria or Ghana, and then the rest of the band would be white," says Maurice-Grey, whose mother is from Sierra Leone and father from Guinea-Bissau. "And I was like, 'This is not correct.'"
"Which isn't a problem if there's diversity in the band," adds Edgeworth, "but if it always looks like that, then there's a problem."
That conversation continued wherein they both felt that while it was great that there was an audience for West African music, there was a real need to reach both people of their age and background. They agreed that someone should form a band that better represented the diaspora to take ownership of the legacy of the music and honor it. And it was then they realized that they should be the ones to do just that. When they returned to London, they brought together a group of other like-minded musicians, and thus, the eight-piece ensemble Kokoroko – the name comes from the Nigerian Urbhobo language and means "Be strong" – was born.
Most band members came from the Trinity Laban Conservatory (previously known as the Trinity College of Music – the school where Fela Kuti studied when living in England) or the music education foundation Tomorrow's Warriors.
"[Tomorrow's Warriors] was for young Black musicians who didn't have, not necessarily access to music, but about taking you to the next step," Maurice-Grey explains. "We weren't ready for the music college but had just finished high school. I had known about them for a while. They were recruiting people as they came to my school at one point."
"To keep their funding, they'd have to recruit in the area," adds guitarist Tobi Adenaike-Johnson. "A lot of funding in London at that time was for classical music, which did not connect to most of the population of London at the time. But at the same time, sometimes, like when they suppress something enough, it will come through by force. That's why London or Liverpool or Manchester has had so many music scenes emerge and done so well because there was a kind of "fuck it" attitude that we're just going to find a way to do it.
"One of my friends turned me on to it and suggested I go," Adenaike-Johnson continues. "It was a Saturday program with some of the older people who played jazz, and they would come and teach us how to play our instruments. That's where I met Sheila, Richie [Kokoroko's trombone player], and most of the people who formed the U.K. jazz scene. And that's when I started to take music seriously. It just expanded my worldview of what could be done with the guitar. I listened to Indie Rock music, but then I went there, and it was so different."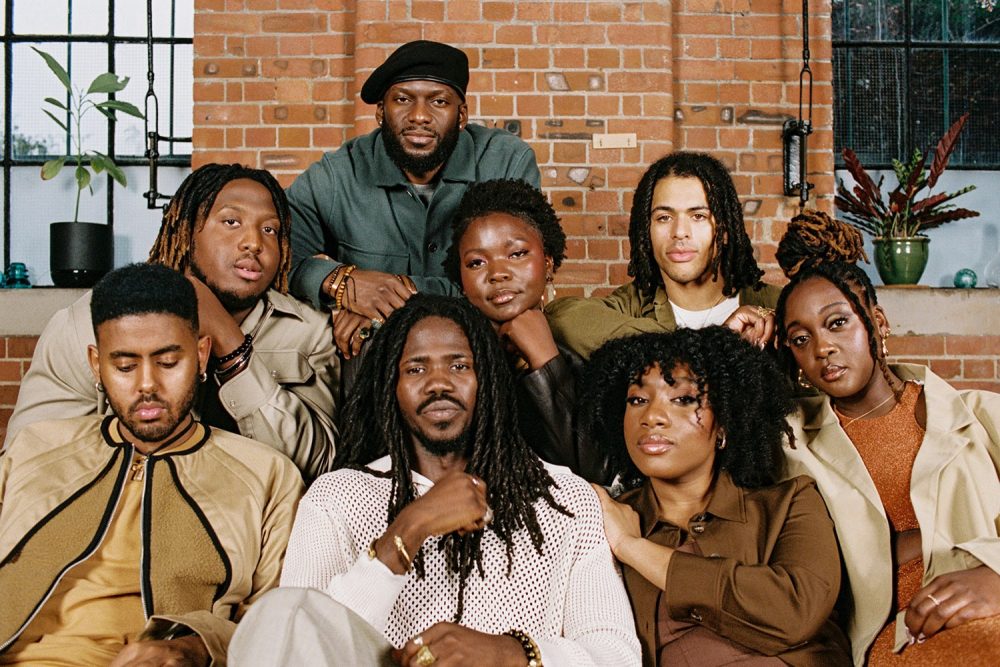 Once formed, the band started doing gigs wherever they could get them, mainly playing Afrobeat and highlife covers. But slowly, as they began to feel more confident and understand the music better, they started to experiment and reinterpret it, bringing into it musical styles that were also part of their upbringing – hip-hop, grime, gospel, palm wine, Jamaican sound system, and jazz – and composing new material out of all that.
At the same time, other musicians, many also from Trinity and Tomorrow's Warriors, were also forming bands and gaining recognition. Some were more jazz-influenced, some more funk-influenced. Eventually, critics began to take notice and dubbed this scene the "South London Jazz Scene," a name not everyone cares for because of a desire not to be labeled. Other notables included in this so-called "scene" are saxophonist Nubya Garcia, Shabaka Hutchings (who has several projects – The Sons of Kemet, The Comet is Coming, and Shabaka and the Ancestors), tuba player Theon Cross, Ezra Collective, and guitarist Oscar Jerome (who was formerly a member of Kokoroko).
In 2018, Gilles Peterson's Brownswood Recordings label released the LP We Out There, a compilation of tracks introducing the world to these groups and musicians. Kokoroko's contribution to it, "Abusey Junction," grew out of a guitar riff by Jerome he made up while on a trip to Gambia. The track became a massive hit, and The Guardian named them a "band to watch" in 2019. It's a beautiful 7-minute piece that seems magical to calm and center your soul.

"Oscar was sitting on the roof where we were staying," Maurice-Grey told The Financial Times in 2019, "and working out the idea. We were surrounded by many musicians playing balafon or kora, so when you listen to Oscar's playing, it imitates the kora."
Kokoroko - "Abusey Junction" (Live in Brownswood Basement)
The band followed up with their first self-titled EP in 2019, adding three more tracks besides "Abusey Junction." The pandemic years were tough for Kokoroko and many musicians, as so much of their power comes from playing live. They released just two tracks in those two years. Then, in 2022, they released their first full-length album, Could We Be More? The Guardian called it "[a]t once joyous and soothing," which has an "easy-going beauty," while not to say "isn't alive with strife." Throughout the album, you can hear their years of learning the West African polyrhythms, which are intertwined with classic and modern soul, jazz, and more.
Kokoroko – Could We Be More (Full Album)
Kokoroko are working on a new album, hopefully, to be released sometime in 2024, but they told us to expect an album of remixes from Could We Be More this year.
We enjoyed sitting with some group members before their exciting live performance at this year's Montreal International Festival of Jazz in July. We started with one question, and the band just ran with it through most of our time together.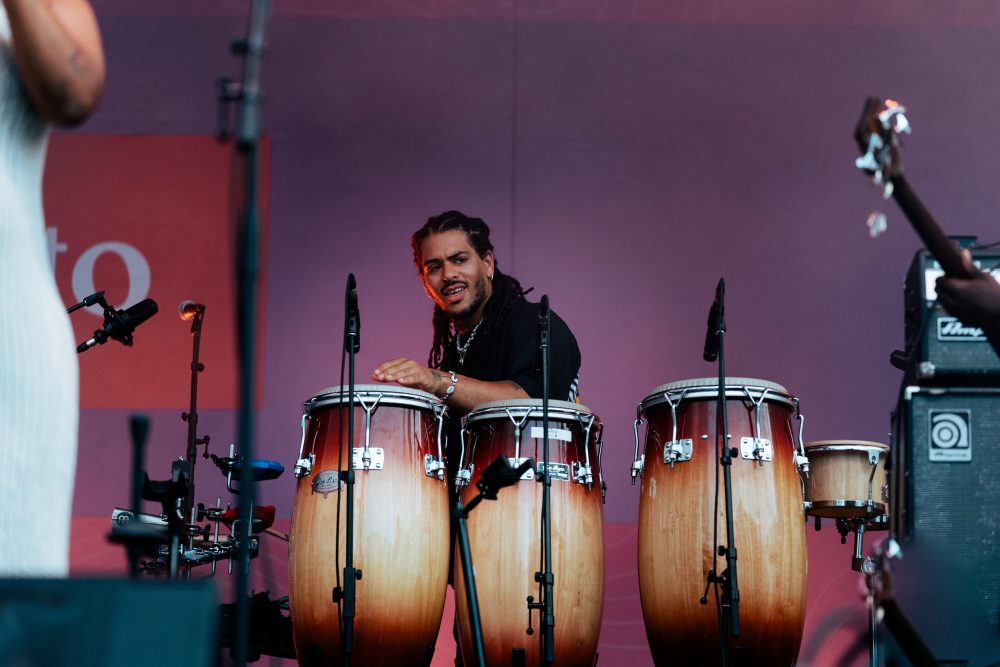 Ron Deutsch: In interviews I've read about you guys, a question about identity keeps coming up. Identity is about being children of immigrants, specifically people of color, but also about how you are trying to use music to define yourselves while not wanting to be determined by the music.
Sheila Maurice-Grey: [laughing] That sounds about right.
And there are these questions you are asking about what music is in the 21st century, what is London jazz music, and what is the African influence of jazz in the theme of the 21st century. And with these explorations, can you tell me what you found out?
Onome Edgeworth: At the time, our resistance against being defined as part of this so-called "London jazz scene" was the difference that we never sought to play jazz. We were playing purely Afrobeat and highlife, yet we were told we were part of the London jazz scene.
There is a lot of jazz in our music, and we were, even in some of the songs, we played jazz music, but that wasn't our intention. So, having that word placed upon you feels incorrect, and your autonomy is taken away in that decision. Reflecting upon it outside of the chosen words, I mean so many of us, and so many of our peers banded together and became a thing, that it does create a scene, and we've all grown together, and that's the beautiful thing that's happened. We've traveled the world with our peers, and not everyone but many bands have developed simultaneously. When you see a band, say Ezra Collective, playing a venue of a larger size, it also means that we can do it. And vice versa. The respect people have for and give us is not necessarily independent as a band; it's also due to everyone else, our peers, and the people we've grown up with. There's an authenticity to it. It's benefited us. But there's still something about the term, and it wasn't just the "London jazz scene"; it was called the "South London jazz scene" or even the "Southeast London jazz scene." A lot of us were not from Southeast London. But it's been beautiful watching everyone we knew and grew up with get opportunities and grow together. You don't know where or how long it will end, so it's been a blessing.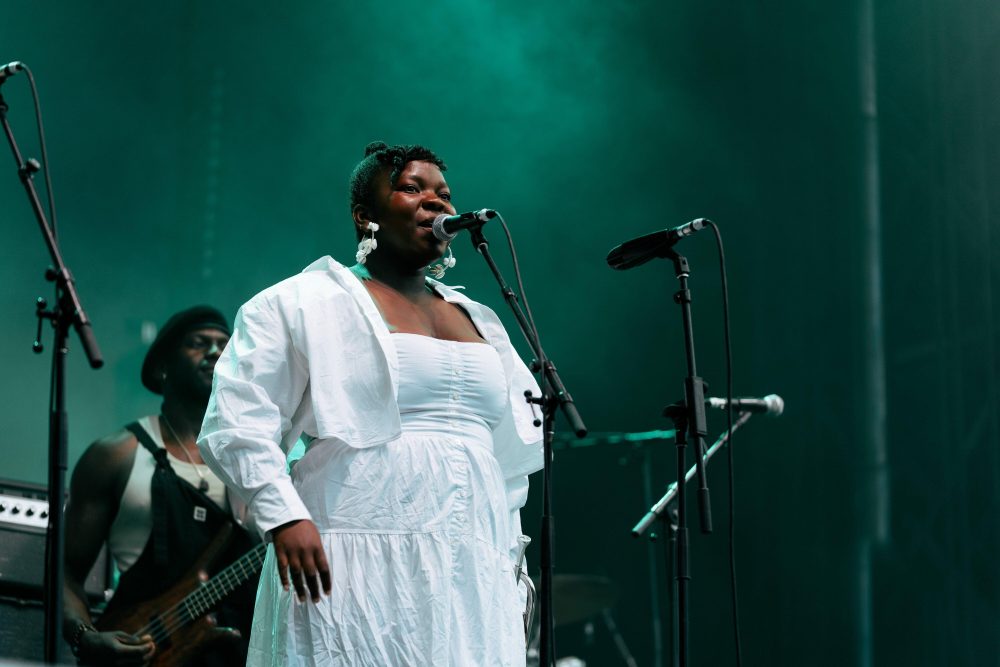 Tobi Adenaike-Johnson: I like what you said about trying to define yourself through your music but not being defined by it. Like Onome was speaking, the term "London jazz scene" has a very definitive stamp, and the hesitance to the period isn't because of the people or anything associated with it. It's more that it can feel like you can't get away from having a specific sound, having this kind of music.
Edgeworth: It's limiting.
Adenaike-Johnson: Even now, we're still on a journey of discovery of what it looks like to be from London and have the heritage we have, growing up listening to the African music our parents listened to and how we translate that into what we want to do, what do we want to say. Yeah, we're still on that journey now.
Maurice-Grey: I remember growing up, and every time you go back to where you're from – I'm from Sierra Leone – and you go there, and they're like, "You're English." And then you go back to England, and you're not recognized as an English person. I think that's a thing.
Edgeworth: Culturally in England, if you met an African person and they said they were English, that's a big problem.
Maurice-Grey: You're always in the middle of finding your identity. And that's been a thing for us with our music. For instance, we had to let go of trying to make Afrobeat and highlife music that's true to the tradition of that music. We're never going to make that music as well as the people who created it, so we have to find our voice. That's a continuous search or journey we're on. It doesn't mean it's anything where you'll land on it, but what it does opens up a creative freedom regarding what we make, especially with the last album [Could We Be More]. You wouldn't say it's a straight Afrobeat or highlife album, nor would you say it's a consecutive jazz album. But you can have a mixture of genres. And now we've been back in the studio again, writing some more music, and it's completely different again. There's a sound.
Edgeworth: I don't want to say anything. Let someone else try to define it.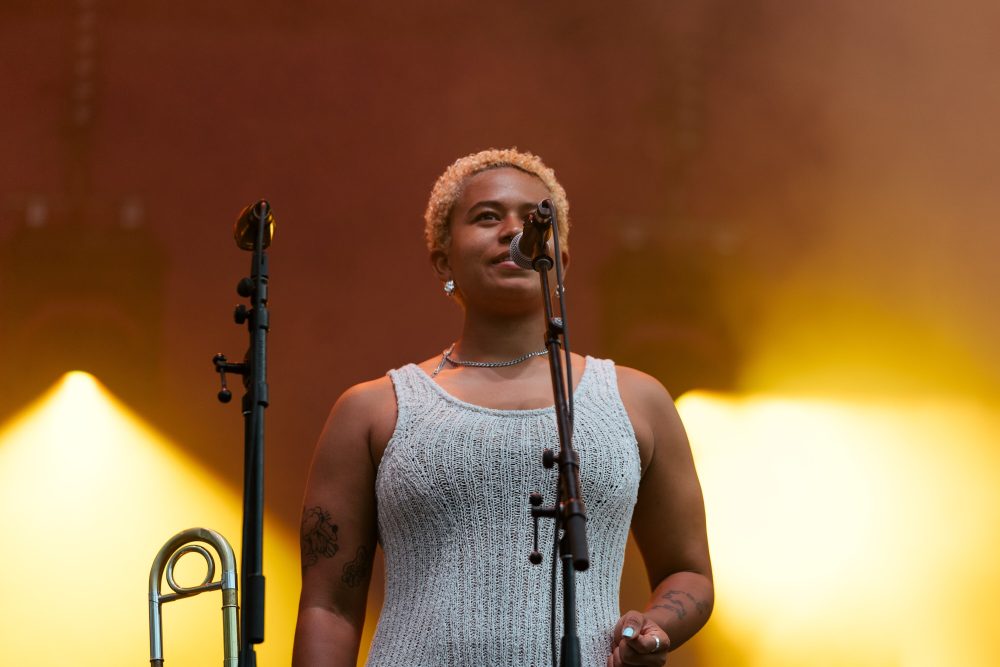 Maurice-Grey: It's nice to have that creative freedom. One person I always look up to is Miles Davis. He was always trying to push the boundaries. If you look at his career, I think he probably hated the word "jazz" too because he was constantly collaborating with people from different genres. Even John Coltrane was always trying to push the boundaries of music. So I think this whole idea of genre is not from us musicians.
Edgeworth: We had that realization that sometimes what we loved was innovation. You think you love a genre, but what you love is that this person was innovating at the time, and then it became a genre. Initially, we were trying to honor that music and play like them. But if you want to keep people, you have to celebrate their spirit of innovation and creativity. That's the best way, taking on the energy that they worked through.
Adenaike-Johnson: A lot of times, the question I ask is, "What are you trying to understand or figure out about me," when they're asking a question like "Where are you from?" Depending on the person who asks me, are they asking what part of London I'm from or where my parents are from?
Maurice-Grey: And the next generation will have their own identity to figure out.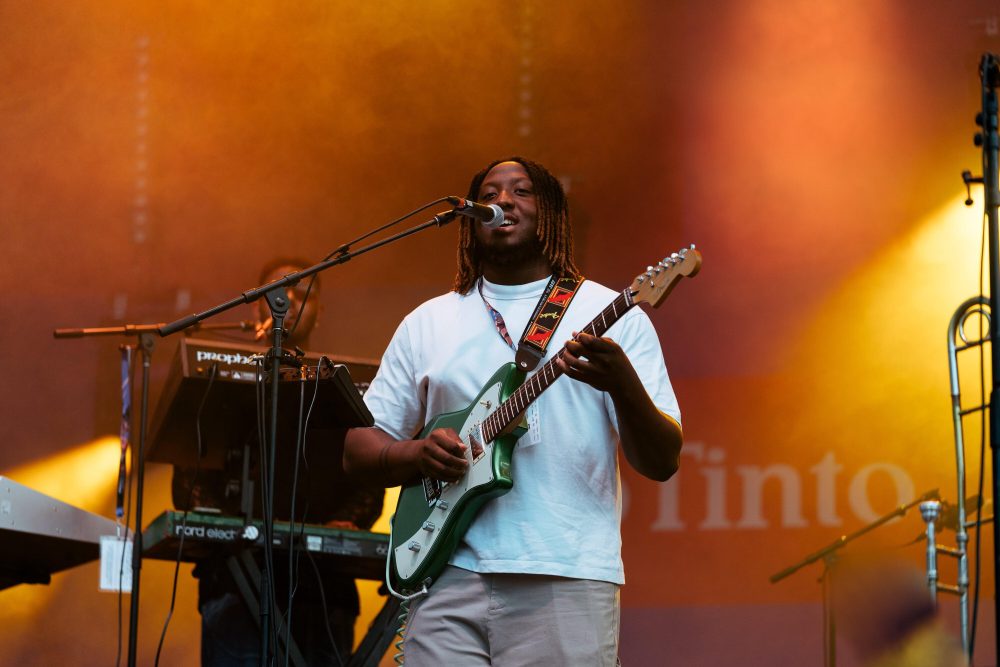 Edgeworth: For us, it's a conscious exploration. I think it happens by accident or over again, and then you learn through time, "Hey, we're exploring this" and "We're learning about that." And the easiest way to depict it is in sound or playing live. Our expectations, at least for me, it's a very London-based, very West African, but very London sound as well. The crowd should give you at least the same energy when you play music.
And I expect that they [the audience] should be making noise. It's about more than technicality or doing the best thing. We want that energy. That's my personal experience of it. So when we started playing live, it was all about what we got from the crowd, not how far can we push them. I come from a cultural upbringing in the city, but it's completely different in another town, like France. We have a big Jamaican Sound System culture in which things should be loud and big, even with rock or grime music culture where things are all about energy. And we wanted our gigs to do that instead of just sitting and trying to play like going to New York. They're friendly, but very sit down, people listening politely. But our local jam sessions are different from one another. Why is that? The culture we've been given in our city from the various people there has led to us understanding and creating in a certain way.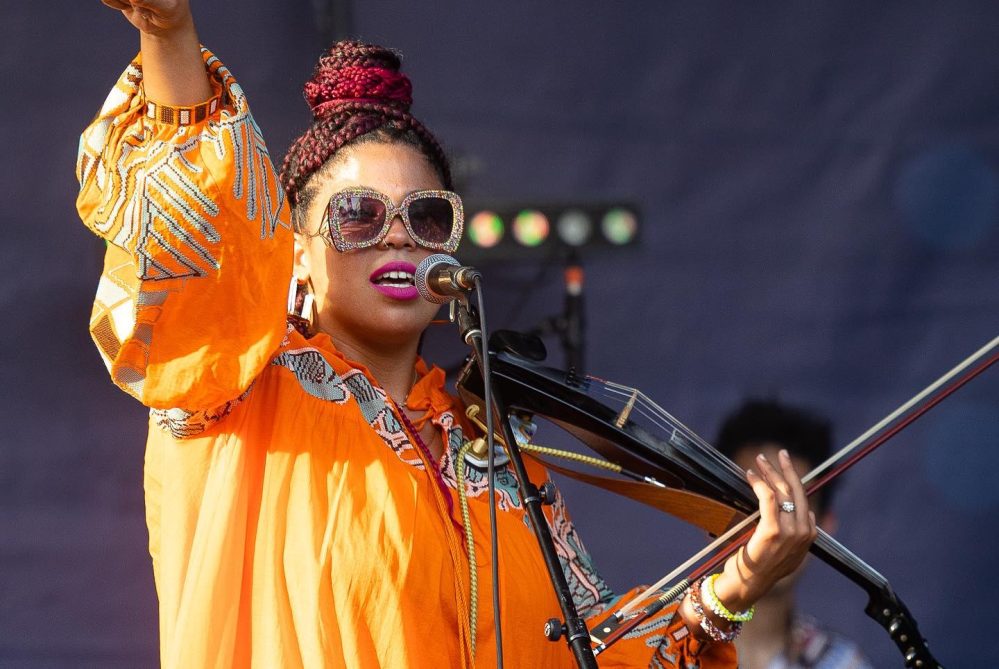 Maurice-Grey: Many of us went to jazz college, and I remember learning about the history of jazz and how it became a thing of people sitting down and watching, but before, it was very much congregational and dance music. And that was a huge thing that was missing from the jazz scene. Because it became this thing – that separation of us and them – and that has alienated. We're trying to bring it back, going back to that.
Edgeworth: Many art forms are about communication and expression, so even when you think about grime music, as a style of music in London, the whole music form is based on communication between a DJ and an MC or rapper—a back-and-forth thing. But also, like what Sheila was talking about, like the origins of jazz as dance music, it's a conversation—a communication between the artist and the audience. And I think when you lose that, it turns into something different.
This kind of thing requires participation by the audience as well. Even when you think about Fela's music. My parents went to see him in Brixton years ago, and they talked about how the whole room, everyone was dancing, and it was the same as it was at The Shrine in Nigeria. People didn't just come to watch. People were there to be involved.

Maurice-Grey: There's legacy, things living on. I think that's why we started the band – although we're not imitating Afrobeat and highlife – somehow that goes into understanding the history.
Edgeworth: We have a choice regarding what is kept from our culture. That's one thing. We have a choice now. Like African art was stolen, put in a museum, and that's what's preserved. And then that's how we view Nigeria – not by the people who originally owned them. But now, we can decide what we maintain and continue. I think it's a blessing being an artist or creative, so I want to live on the stuff that happened in the 1970's. I want us to look like this. And I want to be remembered like this. And I can be a part of that story. I think it's just a beautiful thing to be able to make those choices rather than them imposed on us.
Thanks so much. It's been an absolute pleasure.