Let Creativity Take Over: The Very Best on "Makes A King"
From the brilliant acronym of the title (
More To Malawi Than Madonna's Kids
) to the pulsing electro-pop of tracks like "Kondaine" or "We OK,"  The Very Best's 2012 album
MTMTMK
was one of our favorite releases of that year, and one of the albums that has continued to get the most play in our office ever since. So, when we heard that the band was preparing to release their follow-up,
Makes A King
, we decided to catch up with producer Johan Karlberg, who makes up half of the group alongside singer Esau Mwamwaya. 
Sam Backer: I've read that you recorded much of the album in Malawi, in the village of M'dala Chikowa. How did that come about? How did it differ from where you've recorded your previous records? Did it impact the sound or the feel of the music you were making?
Johan Karlberg:
We wanted to get away from any stress and distractions when we made this album. The last record was done in New York and Lilongwe, Malawi. But, both being big cities, there's just too much going on and not enough calm to really go deep into the creative process. We just wanted to try something different. So we rented this house on the shores of Lake Malawi, five hours from the capital, and brought the stuff we needed to write and record. And we stayed there for about two months. No Internet. No phones. Just us and the music and the nature. It definitely influenced the music. It's more organic. We recorded outdoors so there's a lot more nature coming into the actual recordings of the album. The setting was absolutely stunning, with the mountains of Mozambique on the other side of the lake. The thunderstorms. The monkeys in our garden. Just so many beautiful things to look at all the time, and take inspiration from, which I think channeled a more organic and deeper album. [caption id="attachment_22469" align="aligncenter" width="528"]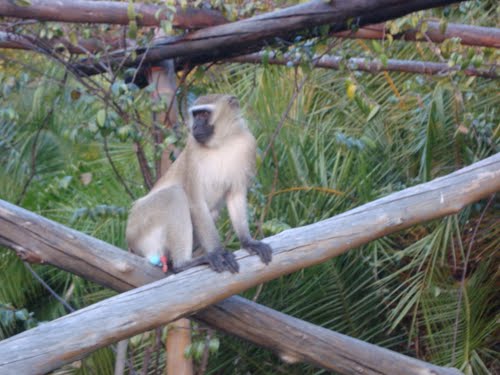 Potential Garden Monkey[/caption]
MTMTMK had a really dance-floor friendly sound. The vibe of Makes A King is quite different--not necessarily less electronic, but slower and chiller. Can you tell us about how it differs for you? Does this record capture a different kind of mood or is it pointed towards a different type of audience?
We never really plan too much when we make music. We did want this record to be able to be played by a real band though. So there are much less electronic instruments. But, at the same time, whatever happens happens when you
let creativity take over
. We try as hard as we can
not
 to have a direction, and just let things happen.
On your Facebook page, there are videos of you guys recording with a band. Were there any Malawian musicians you collaborated with? How did those collaborations come about? What were they like?
There were people from M'dala Chikowa village who would come by the house while we recorded and ask if they could play us something on their homemade instruments. And we would have drum groups come by to record. Same with the local church choir, who came and sang on three songs. We just kept an open mind and allowed people to take part if they wanted to. We also had a lot of friends add to the record in Malawi and in London. Baaba Maal, Seye, Yadi, Jutty Taylor, Chris Baio, Freddie Cowan, Jerere Band, Mafilika, etc. Mostly it was just people who happened to be around when we where working on stuff and they ended up playing or singing something on the record.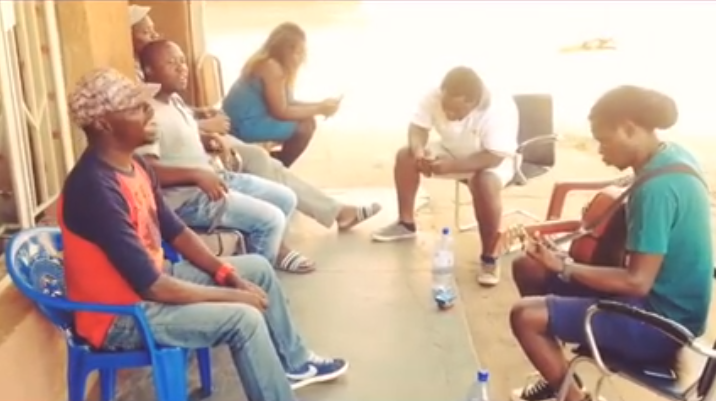 In a past interview, you said that you aren't particularly good at creating a certain type of song when you work--you make music, and a lot of times the result surprises you. Did that hold true for this record? Did working with more instrumentalists change anything in your songwriting process?
It's still true but I guess these days its more of a choice not to try to control the creative process too much and just let it happen and sort of direct the creativity as it flows rather than try to force it in a particular direction. A lot of time, the initial writing process was just me and Esau putting down a basic demo of the song and then we would add to it in terms of instruments and production.
Has your partnership with Esau changed since your last album? Are you still active as a producer and remixer outside The Very Best? If so, does that inform or connect with the music you make with the group?
Our partnership hasn't really changed. We're like brothers. We've known each other and worked very closely for nine years now. And we've been through some big ups and downs and have a lot of weird stuff happen to us along the way that has solidified our friendship in a special way. Even if this was our last album with The Very Best, I think we will always make music together. Maybe not even to release, but we have too much fun making music and seeing the world together, so one way or another we would find a way.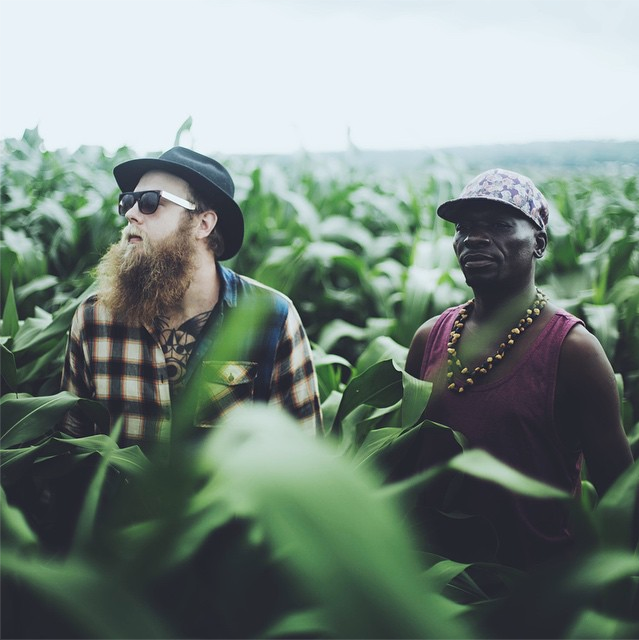 As for me as a producer, I work full time outside of The Very Best in London with all sorts of artists and bands but some years The Very Best takes over a lot of my time in terms of recording or touring, etc. It's just about keeping a balance and making sure no project gets compromised because of time. Of course, things intertwine sometimes. Like over the last two years, I've been writing and producing Baaba Maal's new album with him. And it led us to do a lot of stuff together with The Very Best as well--shows in Senegal and the U.K., recording together. I brought Baaba Maal to play with us at one of Mumford & Sons' festivals, Gentlemen on the Road, which led to me bringing Winston from Mumford to Senegal to play with The Very Best and Baaba at a festival. Sometimes the worlds can definitely come together like that. And sometimes what I do as a producer would never have anything to do with The Very Best.
I know that the song "Hear Me" has a strong political message. Can you tell us a bit more about that? Are there any other songs on the album that are particularly political?
"Hear Me" was a song that Esau really wanted to make in terms of what is being said. There were elections while we where recording
Makes A King
, and it was also the celebrations of 50 years of independence from British colonial rule in Malawi. And Esau felt strongly that the country had not progressed enough in these 50 years and that there are still so many problems he wanted to talk about. Everything from corruption and bad politics to the problem of mutilations for witchcraft. There's more depth in the lyrics of this album, but it's probably the most political song of them all.
MTMTMK had what is easily one of my favorite album titles of all time. Why did you name this one Makes A King? Does it reflect your understanding of the album as a whole? Can you talk about the song as well?
The song "Makes A King" is written from the perspective of a kid growing up in an African slum. It's about overcoming struggle and looking at the positive things in a slum, the strength and unity of people, etc. We didn't have a working title for this album but that line from the song just stuck with us. We felt the message is something that could resonate with a lot of people, whether you come from a part of the world where you have a decent amount of money, or you come from somewhere extremely poor. That struggle of going through hard times and trying to stay positive and finding happiness in the struggle.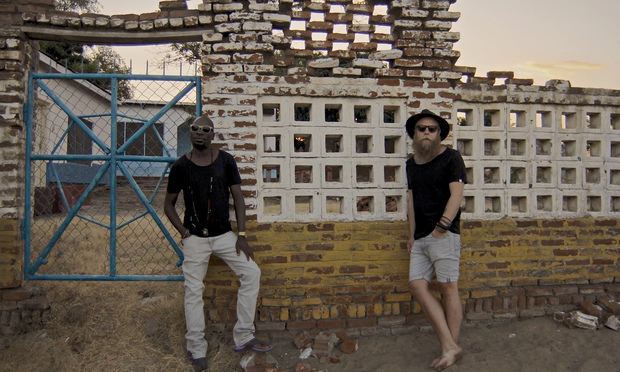 How did the collaboration with Babaa Maal come about? Was it connected to the song that you produced for him?
As I said earlier, I've done the whole new Baaba Maal record (coming out later this year) with him over last two years, so we've all been seeing each other a lot in London and Senegal and it was natural for us to make music together. I think we did four songs with Baaba and The Very Best but I think "Umasiye" will be the only one to come out for now. Baaba is an amazing guy, he's seen it all and done it all. He's heavily involved in amazing projects all over the world that help people, so he's a very inspiring person to be around and work with. For us it was just an honor to be able to have so much fun together and make music over the last couple of years.
Clearly, a lot of The Very Best's fans can't understand Esau's lyrics. Because of that, I've always felt that your videos were really important for creating the vibe and image for these songs. Can you talk about the videos you've released so far? Do you have plans for more?
The Very Best for me is a 360 degree creative process. I constantly have visual ideas parallel to the music. I love when music inspires visuals in one way or another, when you listen to a song and you instantly get ideas for a video or see some sort of movie play out in your mind, or colors. The most exciting creativity is when it's allowed to be captured in a lot of ways, all together. Not just a piece of music alone. https://www.youtube.com/watch?v=REpJKN4udwM I shot the "Hear Me" video while we where recording the
Makes A King
album. It's all time-lapses from around the village where we recorded. I always loved photography and filmmaking, so it was a nice way to take a break from music while we where working and go climb a mountain in the middle of the night and set up the camera and then sit there for four hours with the mosquitoes and wait to see if the time-lapse looked good in the end. We wanted to show how beautiful Malawi is, and how beautiful this location was, but at the same time show a little bit of the reality of the people who live there in the village. We didn't plan for it to be the video for "Hear Me" (actually we started shooting the footage a week before we did "Hear Me") but as soon as "Hear Me" was recorded I started to edit the videos to it in the village and we kept shooting more sequences and then I finalized all the editing in London. It just felt like the footage and the song fitted together so well--the beauty, the melancholy. I can honestly say when we did the song, we both suddenly looked at each other and said, "This is what we have been filming all week without knowing it!" "Let Go" was an idea me and my friend Pappas Parlor, in Sweden, started to come up with last year. He makes these amazing things out of tiny fuse beads. It's a very long process but we wanted to take on a huge project and do a stop-motion style video, with each frame being made up of these fuse bead "sprites." It took about two months and a lot of work with the story line and animation. There's a lot of political messages in the video. A lot of subtle things that people will probably never notice, even. But it was great fun and we're all really happy with the result of it. https://www.youtube.com/watch?v=Gr9hkox3ALA There's a video for the next single that's just been filmed in Ethiopia. It's totally amazing. We can't wait for it to come out. It's something totally different again.
What are your plans for touring behind this album? Are you going to bring a band to play these songs? Is there anything coming up that you are particularly excited for?
We are coming to America in June. We're playing Bonnaroo, Gentlemen on the Road festivals, Sierra Nevada World Music Festival, and much more. All the touring will be announced soon. We have been rehearsing and doing shows with a Malawi band called Mafilika for the last year. Now we are just trying to figure out how to afford bringing them with us for all the touring this year. Like I said before, this album was made to be played by a band and it's been amazing reinterpreting the old music with a band too. We're very hopeful that we can make it work!