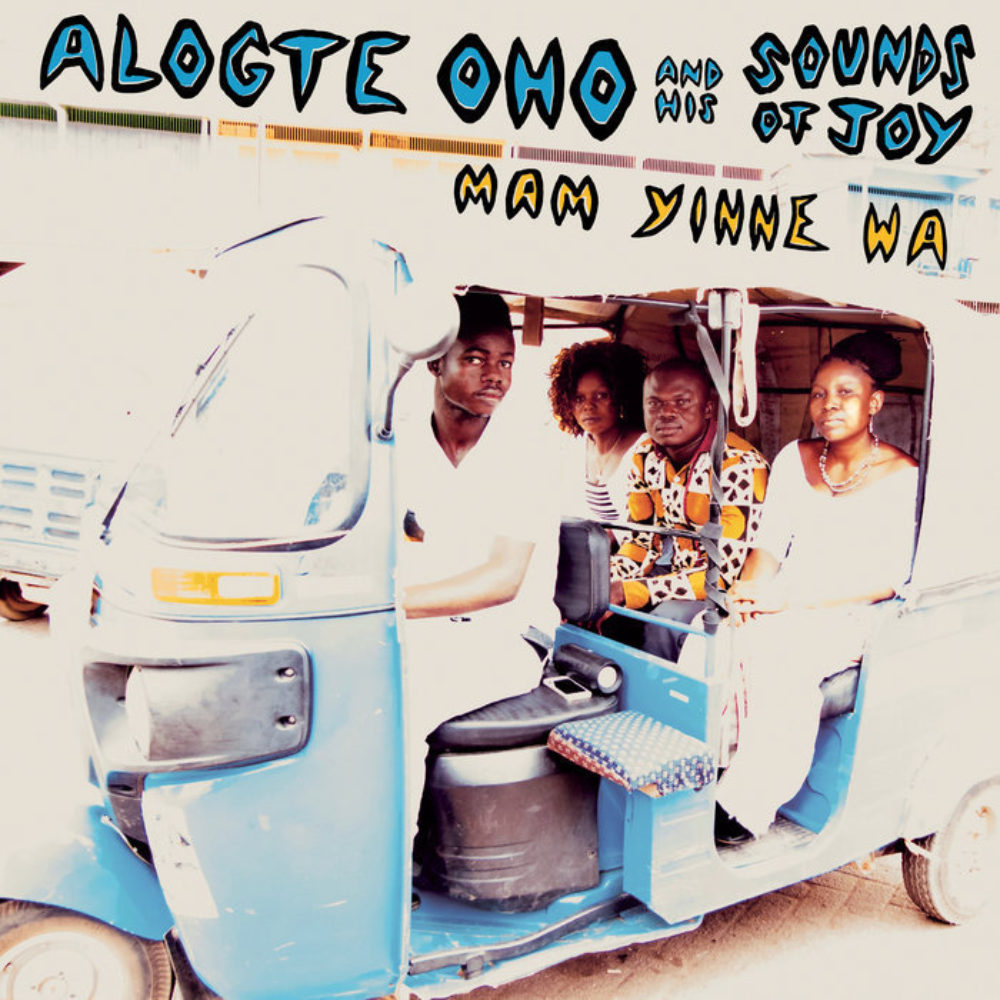 Inspiration and/or enlightenment can come in many ways: Theologic exploration, an act of God, a dream, or perhaps meditation on a mountain top are good starts. But for Alogte Oho, it was by being hit by a car in the streets of Accra, the capital city of his native Ghana—and during the weeks of recovery in hospital, he had an epiphany.
So happy to be alive that, in appreciation, he penned the eventual album's title track, "Mam Yinne Wa" (God You Love Me So), and went straight to the studio to record it. No longer was he moping around about a musical career that had stalled out after a couple of regional cassette successes a few years earlier: This became a hit in the Frafra gospel community and finally made him a star after several years of effort.
In 2016 the song was rerecorded by Philophon Records, a Berlin-based label whose founder heard the original while traveling in Ghana, and it is this version that opens the album.
Oho and his accompanying female chorus, His Sounds of Joy, are augmented by a roster of musicians from the Philophon stable very familiar with a variety of African musical stylings. The result is a delicious and quirky sonic stew redolent with musical aromas from both near and far.
Underpinning the native Ghanaian elements is a horn- and keyboard-rich ensemble that displays considerable chops both in the arrangements and improvisations. There are synth lead keyboards with very individual- and analog-sounding natures, rendering a human warmth and sense of fun you might not expect. The horns (augmented with some serious flutes) are crisp and the arrangements sound almost Ethiopian at times, an effect bolstered by always-funky but strangely off-kilter bass lines that have a similar elliptical groove and some very melodic lines, with a very jazzy edge. Make no mistake, repeat listening confirms just how strong this bottom line in the ensemble is, dovetailed with equally skillful drumming.
On top of this you have some serious vocal preaching from Alogte Oho and—very much not in the background—His Sounds of Joy chorus. To my ears there is a great similarity in style of Oho's delivery with the Muslim apala style from neighboring Nigeria, exemplified by Haruna Ishola. The vocal ensemble, mostly in unison call-and-response, recalls the Wassoulou traditions of Mali, and plays a big part in bridging between Oho and the horns.
Finally, several of the tracks like "Ya Ya Yumma," the moody "La Ta'aba," and "Zota Yine" have a reggae foundation, exercised with enthusiastic confidence. The resulting mix is a joy to hear: made for the dance floor.
The Philophon label deserves major props for their efforts with such artists as Alogte Oho, Guy One, the Polyversal Souls, Idris Ackamoor, Alemayehu Eshete, and Y-Bayani, helping the influence of contemporary African artists and music maintain integrity in today's vast music topography. The gospel music scene in Ghana is huge, and in a way an interesting counterpoint to the much-referenced influence of music from Africa to the blues of the U.S. This is vividly demonstrated in a live video from a FraFra church, which is also incorporated into the promo video for "Mam Yinne Wa.":
Alogte Oho's Mam Yinne Wa is a very rewarding and individual flavor of African music today, well worth more than one listen for proper appreciation.