Matthew Whitaker on Connections
Just 20 years old, Matthew Whitaker is about to release his third jazz album, Connections. That would be impressive under any circumstances, but the fact that Whitaker was born prematurely and blind, and barely survived infancy adds real poignancy to the achievement. Beyond that, Connections is the work of a seasoned jazz artist. It's full of wisely arranged covers, from Brubeck to Ellington, powerful originals, and in-studio improvisations with the likes of Jon Batiste and bassist and arranger Derrick Hodge, who effectively co-produced the album. Afropop's Banning Eyre reached Whitaker by Zoom in his home studio in Hackensack, New Jersey. Surrounded by keyboards and computers, the artist was keen to talk and even perform. Here's their conversation.
(Photo above by Jacob_Blickenstaff. Thumbnail photo by Rahill Ashruff)

Banning Eyre: Very nice to meet you. That looks like quite a studio you've got there.
Matthew Whitaker: Thank you. I've got it set up in case you need me to play anything.
Beautiful. I've really been enjoying your album. It touches on a lot of things that I relate to. I actually grew up in New Jersey, not too far from you, but that was a long, long time ago. I first heard about you from the 60 Minutesprofile that aired last December, which is remarkable. But for those who haven't seen it, tell us a bit of your story.
Sure. I've been playing music since I was about three years old. It was my grandfather who started all this. He gave me my first keyboard at the age of three. I taught myself nursery rhymes and when I was five I started taking classical piano lessons at FMDG Music School. I'm still working with the same teacher today, Dalia Sakas.

When I was seven, I started getting into jazz music, and when I was nine, I taught myself of how to play the Hammond organ. At 13 I became the youngest endorsed Hammond artist, and at 15 the youngest endorsed Yamaha artist in the piano and keyboard division.
Unbelievable. So when your grandfather gave you that keyboard at three, do you think he already knew that you were musical?
Actually, he was trying to find a drum for me to bang on the way back home from Virginia. But he couldn't find one, so he got a keyboard instead.
Well, that was fortuitous. I understand that the church was a big part of your musical education. Talk about that.
Of course. I love playing in church. In fact I'm the minister of music now since about the end of last summer. That's been really cool, teaching the choir and worshiping on Sundays. I've been going to the same church since I was very little.
There in Hackensack?
Yes, about five minutes from my house. In church, I started on drums. Then I switched to organ because when the organist at the time would not show up, I would fill in. So then the pastor was like, "O.K., you are the organist now."
Given your talent, that makes sense. So church organ led to the Hammond?
Yes. I used to play the organ at the end of service. I would go up after church and play on that. And then eventually we got an organ at home.
What were you listening to interest you in the Hammond at such a young age?
It's really all about listening and making those connections—get it? Connections--with artists like Dr. Lonnie Smith, and since we're in gospel, Moses Tyson and Cory Henry, all those guys.
I can't get over the fact that you are so young. And in this time when everyone's remembering 9/11, it occurs to me that those 20 years is your whole life.
Right. I was born just before that happened. But all I know is the stories I was told about being fortunate. Sometimes I think about that. Especially in this last year with the transition of presidents, let's say, and all that has happened within the past year. Brutality and all that. That's what I was thinking about when I wrote the song "Stop Fighting."
We'll talk about that song. But first, this album really grew out of your experiences during the pandemic, right?
Most of it. And then some songs were just improvised live in the studio. And there is some stuff I did before then, as far as arranging.



Connections is your third album. Did you have any particular goals for it?
Working with Derrick Hodge was an amazing experience. He and I really connected very easily. We would give each other ideas. Do this. Try that. The amount of experimenting that was done both in and out of the studio was really cool. I thank all the guys were part of this record.
I love the opening track, "Journey Uptown." It's got this tremendous rhythmic force. Cycling riffs and shifting rhythms. I'm an African music nut so I love that stuff. How did that song come about?
"Journey Uptown" I wrote for two friends of mine, dancers Gabe Stone Shayer and Skylar Brandt. They were doing choreography for the song for the American Ballet Theater. They said, "We want you to write a song and we'll create a dance to go with it." What we came up with was to make it piano-focused, maybe add a few percussion instruments, and use some different time signatures. The idea was: what does New York sound like you?
So I took all that and I went upstairs to the piano. And I had this rhythm in my head. [Taps out a complex rhythm on his knee.] And that turned into the opening riff. [Plays it on piano.] And then literally, everything came from there. It was just a matter of figuring out how to transition to the other sections.
Beautiful piece.
Thank you. And then Derrick took the idea and made it work for more instruments. The original demo just had piano and drums and percussion. Then in the studio we added bass and other things as well. And there are different sections that were changed a little for the album version, going back to the experimenting.
Speaking of experimenting, you actually improvised some of these songs in the studio. That's a brave thing. You never know how you're going to feel about it the next day, right?
Right.
But how is that different than working with composition or an arranged piece? Was it like freeing yourself up to take that chance?
I was always told, "Don't think; just play." So that was going through my head the entire time. Especially on songs like "I'm Sorry," or "Acceptance."
"Acceptance," man, that's a deep track. I read that it was originally conceived as an interlude in the song "Stop Fighting." So I guess we should talk about that song.
I wrote the song during the pandemic. It was after hearing the news of people being killed for no reason. It was so crazy at that time. I was reflecting on that and I was at the piano, and that melody came to me. [Plays the opening melody.]
It's such a gentle melody for such a strong message.
Yes. I get really emotional about this one. On the song "Connections," at the end, you hear me talking about "Stop Fighting." I say, "Why all the negativity in the world. Why are we shooting each other? Why are we bullying each other? Just stop." And "Acceptance" is really just another extension of that. It's saying, "We accept peace. We want freedom. That's all we want. We're desperate for it."

You do some interesting covers on this album. "Don't Get Around Much Anymore" with Regina Carter. Such a classic.
That's a good one. We just decided to do it similar to how Duke did it. There's a recording he did with, I think, a viola player. Ms. Regina did an amazing job. The vibe was just there. We were doing sound check, and we already had the thing going. All we did was just two takes of it and we're good.
There it was. And how about "Blue Rondo a la Turk"? That one really took me back. Dave Brubeck was one of the first jazz artists I tuned onto back in high school. Such a brilliant piece.
Right. And you're into the African stuff. That really comes out in the rhythms.
Maybe that's why I loved it so much back then. I always loved crazy rhythms.
And then we changed the arrangement a bit. [Plays the B-section.] That was just something I wanted to do. I said, "You know what? I'm just going arrange Dave Brubeck." And I chose that song. That was a really fun one to do. I wanted to do something that paid tribute to him, but also threw in that new vibe, that funky thing.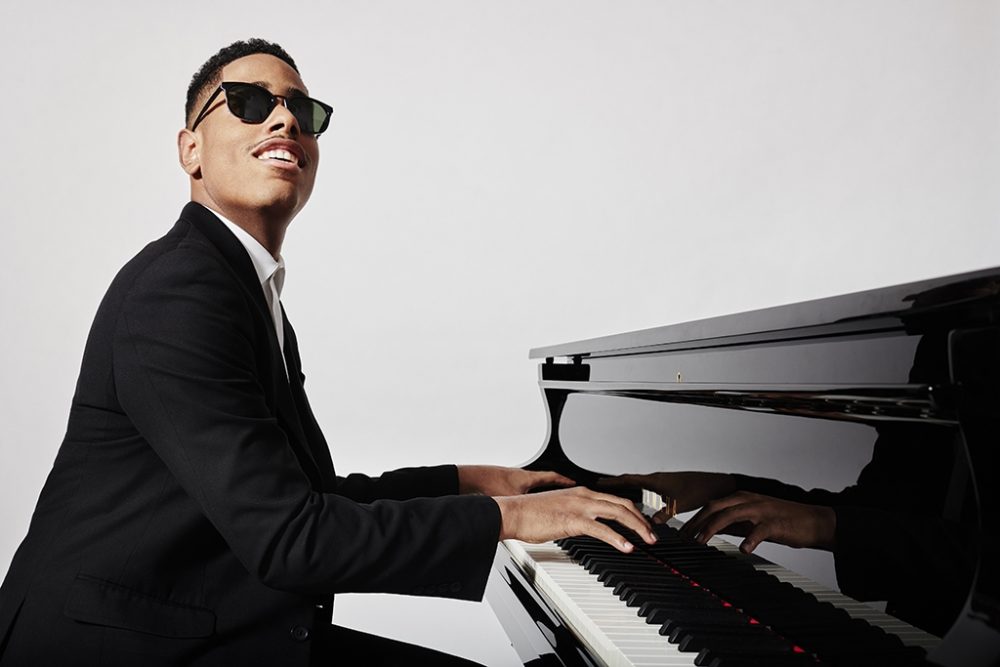 You know, speaking of jazz piano, when I was in college in the '70s, we were lucky enough to have McCoy Tyner, Chick Corea, and Keith Jarrett all come and perform at the school. And I became a massive jazz piano fan after that. I gather these guys are big for you as well. And that brings us to "Spain."
Yeah. Chick Corea!
Many years ago, I used to play that song with another guitarist. It was always such a gas playing that riff. But I love what you do with the arrangement, slowing the riff down like that.
Actually, that idea I took from an arrangement by Bobby Enriquez, another piano player. He did an arrangement where he does that, and I just used the idea. So for me, it was a connection with Chick and Bobby in this case. I decided to do it in B-flat, because I like the sound of that key. And also one of my other heroes is Stevie Wonder, and when he does this song, it does it in B-flat.
That's cool. I didn't know Stevie had covered "Spain."
Yes, he does it in his shows. And then with those reharmonizations, that's all me.
Right. Gorgeous textures. In on some of these songs—maybe "Acceptance" is one—I hear a bit of Return to Forever. When Chick died, I went back and listened to a lot of his stuff. Such a giant artist. So prolific. So many facets to his work. I always especially loved his straight-up piano work, but Return to Forever was truly groundbreaking. That band was just getting rolling when they came to our university all those years ago.
Chick was a huge influence on me. A lot of us were sad that he passed. I was inspired by him, and I'm still inspired by him. I especially love the electric band.
You end the album with a spiritual, "His Eye Is On the Sparrow." It really ties things together in sweet way.
Oh! [Starts playing the song.]
So what's it looking like for you to get out and perform in this strange time we are living through?
Well, on Sept. 25 I have my CD release party at the Harlem Stage. And then on Oct. 15, we're going to go to DC and perform at the Lincoln Theater.
How big is your band?
It's a quartet, just four of us.
You mentioned Harlem. I gather you studied at the Harlem School of the Arts. I've had the chance to interview Herb Alpert about his support for that school. He was also one of my early heroes, starting when I was about six years old.
I listened to a lot of him as well.
A great artist, and a wonderful man. Big heart. So I'm curious. Have you listened to much African music? African jazz maybe?
I think so. In Juilliard last year we did a theme where it was attributed to South African jazz.
Abdullah Ibrahim and Basil Coetzee…
Yeah. They really play it with their own flavor. I love how free everything is in their sound. So open and cool.
That's one of those ironies. Such beautiful, peaceful music coming from such a troubled place. Well, thanks so much for speaking with me. Good luck with the album. And I hope to catch your show one of these days.
Thank you so much.