Mind the Band: Tony Allen
"Mind the Band" is a new series consisting of interviews conducted and transcribed by Nenim Iwebuke. Nenim is a Nigerian-born, New York-based DJ who brought this series to life through his many encounters with underground and mainstream musicians performing at various clubs in New York.
---
Legendary drummer, composer and songwriter Tony Allen (born Tony Oladipo Allen) taught himself to play the drum kit at the age of 18 while working as an apprentice technician at a Nigerian radio station. He worked hard to develop his skills while listening relentlessly to American master drummers of bebop and hard bop like Art Blakey and Max Roach. Allen later became the drummer of Fela Kuti's highlife-jazz band, Koola Lobitos, from 1964-68, and from 1968 to '79 he was the musical director and drummer of Fela Kuti's Afrobeat band, Africa '70. Afrobeat's groove was built on Allen's syncopated drum rhythm and, in Fela Kuti's own words, "Without Tony Allen there would be no Afrobeat," gives Tony credit as the cofounder of Afrobeat music. With over 30 albums recorded with Fela, plus Tony's own personal projects numbering some 20 other albums where he delved into different genres like Afro-funk to alternative rock, avant-garde hip-hop, electronic music and dub, and collaborated with others like Sunny Ade, Manu Dibango and Oumou Sangare, just to name a few--Tony continues to evolve. After signing with Blue Note Records, he released a four-track EP, A Tribute to Art Blakey.
After hanging out with the humble Tony Allen in Brooklyn on July 4, the next day I went to see the Tony Allen Quartet's live performance of A Tribute to Art Blakey, at Le Poisson Rouge. We were able to squeeze in time to interview him before he went on stage and we continued the next day before his trip back to Paris. From our discussions, I learned that Tony doesn't like to dwell on the past, he's a forward-moving man! Never stagnant: always in transit, exploring and working on something new.
Nenim Iwebuke: Hello Baba, how are you doing today, sir?
Tony Allen: I'm good, thanks.
When you were younger you started playing jazz with Fela Kuti in Koola Lobitos. Had it always been a dream to play jazz?
I was playing jazz in other bands before I met Fela. It was called swing then, but highlife was the most prominent music that Nigerians loved. We played more highlife but we fused it with jazz and foreign music. You couldn't live on jazz back then in Africa, you know.
How did jazz, funk and highlife influence you and Fela's creation of Afrobeat?
Fela Kuti had a broad knowledge about music, and he was never stagnant. Fela was coming from a highlife perspective, he was performing highlife with Victor Olaiya before he traveled to study and when he got back he was on top, because Ghana was known to be the best in highlife then, and every Nigerian band was copying Ghana's highlife–they sang it, though phonetically we didn't understand what they were saying, but that was just to make the music happen. Fela was also like that before he left to study in London. We were all together with Victor Olaiya, we are fam. I'm a fam of Victor Olaiya and as a matter of fact, Victor Olaiya's band was the first band I ever worked with–playing the clave. When Fela got back from music school he didn't want to play highlife, he wanted to play strictly jazz, like guys on Blue Note, like John Coltrane, Miles Davis and others. At that time, Fela had a gig at NBC (Nigerian Broadcasting Cooperation) where he was employed as a DJ, spinning jazz records every Friday night. He was deejaying for a while with the intention of having his own band–his own jazz quartet, to perform live, which he finally did. And while he was putting his band together he was auditioning for jazz drummers, he couldn't find anyone until someone said, "check Tony out" and that was the moment we started playing jazz for a full year as Koola Lobitos. I had a steady gig as the drummer in a highlife band already, and the jazz thing with Koola Lobitos was on the radio, on Friday nights. Sometimes we recorded 13 weeks in advance so we didn't have to be in the studio on Friday; Fela would spin the recording live on air. That went on until he said he wanted to do a highlife-jazz style; if you listen to Koola Lobitos's music then compared to Africa '70's sound, it was different, it was more jazzy. I wasn't making money but the music was advanced to me that I wanted the challenge! I used to only play in bands for just a year and move on to get a new band so I could change my styles; I didn't like to stay in one compartment for long.
While working with Fela Kuti you guys made hit albums like Open and Close, Roforofo Roforofo Fight, Shakara, Gentleman, Unknown Soldier, Zombie, just to name a few. Which album really developed your skills?
My skill was there to deal with them already! Fela was a f**king genius writer, there's nobody that can write like Fela, this Afrobeat thing. Nobody! You know, it's a creation of creations, from one state to another, all coming from his mind. And he makes sure they are not sounding alike, which to me was a great challenge.
How was it having Fela Kuti as a sideman on your tracks–"Jealousy," "Hustler," "Progress"...?
It was cool, man! Because I wrote these tracks myself, and he promised that he would perform with any of us [Africa '70] if we write our own music.
"Hustler"'s drum break is one of my favorite drum breaks ever, I love the other stuff like–"Afro Kung Fu" but "Hustler" was my best. What was your source of inspiration for that track?
I've been playing a lot, it's just part of me.
With the No Shaking album of 2006, you came back to your Afro roots because before then you were doing a lot of experimental stuff–electronic stuff and dub.
On that note, it was because of the people asking me if I had forgotten to do the roots stuff. I was just taking my time to explore other sounds and stuff, I've got other places to go, "Why remain stuck?" So I did it to satisfy myself.
What inspired you to do the Film of Life LP?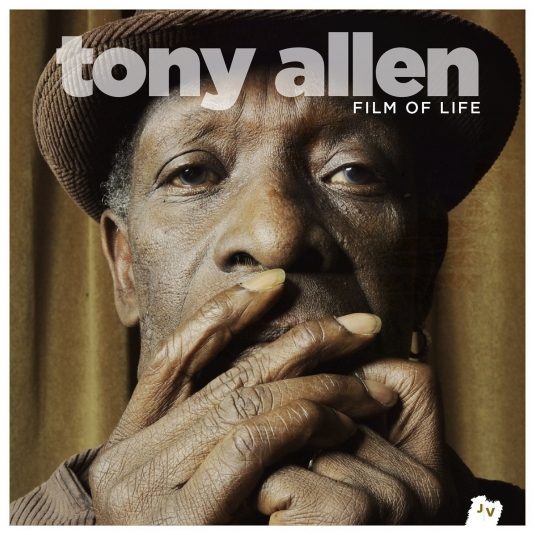 It's just to let people know about the autobiography of my discography. I tell stories through my music, as you've been following up with my music you'll realize that all the songs on the album have various flavors, I was mentioning what I've done from the beginning to that point. I didn't want to sing on that album, that's where I wanted to start getting jazzy. I wanted the album to be more jazzy but the company wanted me to sing. The first track, "Boat Journey" was something very current at that time and is still going on; It's just an advice. People asked, "Why the "Boat Journey" track? I was like, you know, nobody is stopping anyone from traveling abroad to get a better life! On that track I was advising people to travel in the right way, "Get your visa and land at the place" then whatever you want to do it's up to you, at least you are safe! "Why come in by boat and die on the way?" Because I saw a lot of deaths on the news, 200 people dead, a whole number of families! And this still goes on and on. I featured Kuku on the album, he's a Naija guy, a Yoruba-American boy from Washington now based in Paris, he is on the track "Tony Wood."
We've been trying to get the Film of Life LP but it's kind of hard to get and the digital format is not on iTunes or Spotify.
It's going to be reissued by Blue Note before my new album drops.
Tell us about your new signing with Blue Note Records.
Blue Note is the right company for me now that I'm back into jazz. For decades, Blue Note has been known for producing the best jazz records but they did not know me then, everything depends on time, you know, and I never stopped exploring and exploiting. As for me, I don't want to do stuff like everybody else, I just want to be myself whether people will believe in it or not, as long as I'm convinced that whatever I focus in and work on, as long as I believe in it, it will be great!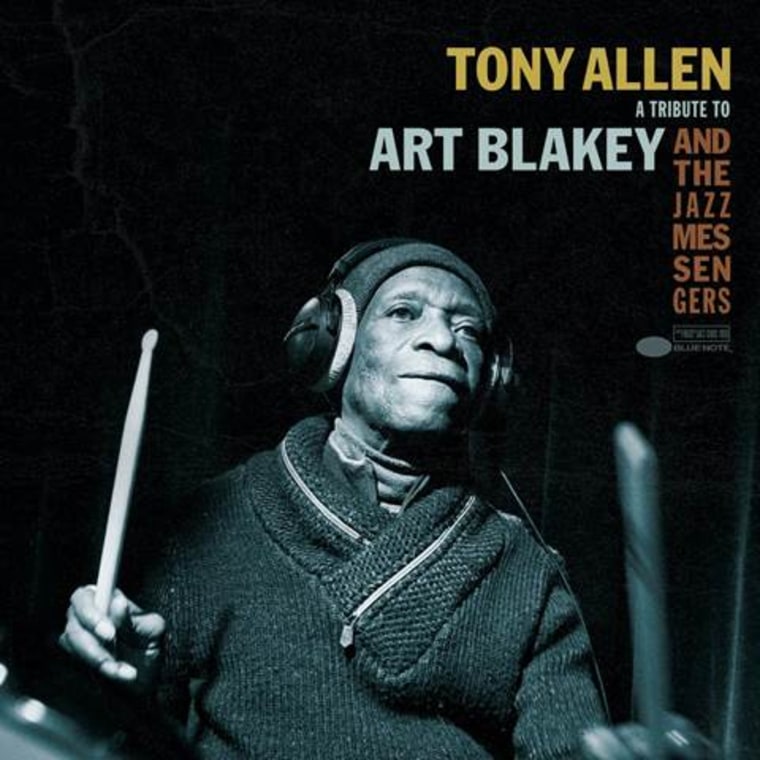 I love your latest album A Tribute to Art Blakey and the Jazz Messengers. What led you to record the EP?
I've been performing the songs live at big festivals without the intention of recording but Blue Note wanted me to record it as a teaser before my main album drops.
What are your upcoming projects with Blue Note?
I need to finish with the album at hand first before I know my next moves.
Will your upcoming album be jazz, Afrobeat, funk or a fusion of these?
Jazz will be the fundamental part of the album through my drums, and you know I don't play in the same pattern.
If you don't mind sir, how old are you?
[Smiles] Age is just a number. I'm 76.
How do you balance life with your whole routine and schedule?
My passion is my life. I don't look at others, I focus on myself; I don't need distractions, that can make me mad, it disturbs me when I bother about other things. S**t changes! If I had taken a decision then I might regret it later on so I just leave things to go in their own way, whether its positive or negative, because life is both.
Do you think jazz is fading in anyway?
As far as I'm concerned my own style of jazz is just coming up. [Laughs] Because jazz has been there for donkey years man! I pray people follow up on my style of jazz; people that don't want to think of fusion you know. Contemporary jazz is contemporary jazz, which a lot of people play, I don't want to be like that and that's why I created my own style of jazz and if anyone likes it and wants to go in the same direction it is open for them to follow.
Baba, do you think of retiring?
No! If I was working under the normal system, at my age I should be retired anyway, but I don't know what that word means, the word–retirement. "Praise be to God anyway!" Because I'm not in control of myself but I know, as long as I'm still on my feet and fit I don't know what retirement means, I'm going to be doing this till my last breath!
What is your advice to the younger people, trying break through in the live music industry that's being taken over by the electronic music?
Hmm! You need to check me out man! I belong to all of them things, I play with those electronic guys, I mean, strictly electronics with me live, I do a lot of stuff like that. I've done three shows with Jeff Mills already so I'm used to that. It's the usage that matters, if they can make the fusion and it sounds good. Sometimes I use these electronic sounds in my Afrobeat, it's just to let it be known that it can be used differently from the usual robotic way that's stuck to the grid. It can be mixed with live elements as long as they can use it they should. Electronics now can work like an orchestra on the fly, with buttons, but it's too robotic! The live thing and the electronics is great when mixed well together. I'm going to be recording with Jeff Mills though, electronics plus me.
That's cool, Baba! We spoke about this before but I want to ask you again, how do you feel about the misconception that the new music coming from Naija and other African countries is Afrobeat?
They put "s" to it and called it "Afrobeats." It doesn't have anything to do with Afrobeat, well, because it's a collection of beats, you know, different beats put together but it doesn't have anything to do with what Fela and I created but it's working for them, it's music.
And how do you feel about music coming from Naija and Africa?
You know me, I like my Naija guys because they know how to sing and they know how to write lyrics, they know how to write about the current events, they are very good at what they are doing. And now they make dance music–straight dance music, straight business; and the younger generations are all getting into it, it's a trance-like music for them, they understand their lyrics and what's going on, they are grooving! They need to have something for themselves because most of them don't know what we've done, most of them were not born when we started our stuff, and it will be a different discipline for them to get into what we've done, they will need to be taught, but they created something for themselves, which is great!
And how is life in Paris?
It's cool like anywhere for me, if I decide to live in New York it'll be the same thing, it won't be different, no matter where in the world I decide to live in I will still go back to my house, my house is my place. I like to go to clubs where good bands are performing like–Antibalas, if Antibalas is anywhere in Paris I'll go and for other dope bands as well, you understand, besides that, my house is where I meditate and feel at ease.
And what are the other bands out there that you like?
I don't know, because I don't want to seem like I'm judging, every music is O.K. for me, as long as it's not me playing it and as long as coming from someone's heart, I respect it. It's a creation from someone's mind and I can't contest that; instead I'll give whoever credit.
Ride on Baba! You've been elevating and will keep on elevating! Thanks for your time, sir. It was an honor.
Thanks, every time people want me to talk about myself, I can't to talk about myself, come and see my performance then you can make up your own words about me and answer your own questions. It's not about talking about it, talking is different, "Oh, I'm Tony, I play like this and this– it's a joke! You never saw it, we just talked about it but if you see it live you will make your own decisions.
Film of life!
[Laughs]
Ese Baba! You have a safe trip home, and all the best.
Thank you!