Mokoomba's Unforgettable Return to London
After 6 years since the legendary Mokoomba last played in London, they finally made their very special appearance at the Jazz Cafe, in Camden Town. And there is no better place to perform than this brilliant, intimate venue. Three words to describe this musical experience would be playful, entertaining, and healing. It might be one of the most unique and enjoyable live events the Jazz Cafe has seen. It appeared the crowd had already anticipated this, as the audience began streaming an eager hour and a half before the scheduled start time to secure themselves a prime spot in the crowd.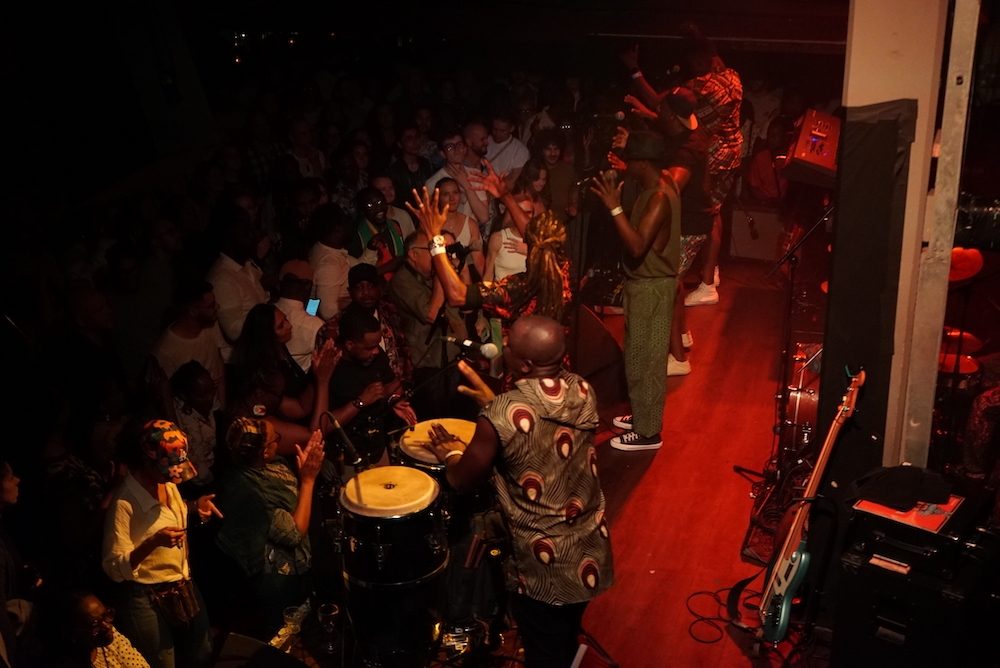 After a long wait, the six-piece band took to the stage encompassed by a deafening roar from the audience. Mokoomba eased us into it by gently soothing the soul with the blissful, sweet sound of Trustworth Samende on the guitar, and the welcoming percussion from Miti Mugande. It was both an uplifting and spiritual opening that highlighted the band's guitar-driven foundations. Following this introduction, the lead singer Mathias Muzaza, exposed his unique voice in a solo that consisted of him standing with his eyes pressed shut, his hand moving from an elevating rise to a subsequent clenched fist. With such potent and profound notes, he wiped away all the cobwebs that might have been lingering in one's being. His inner strength was felt all around as he controlled the breaths of the entranced crowd. It felt as if the song revealed not only the musical quality of the band but also the triumph and pride of Zimbabwe.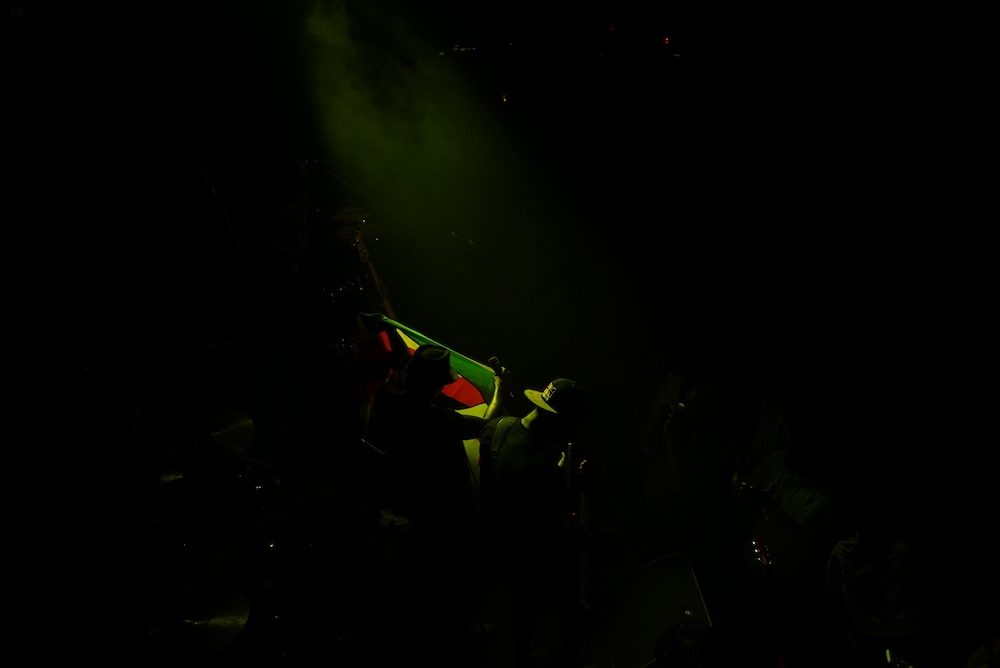 Mookomba was formed in an area called Mosi-oa-Tunya (Victoria Falls) in the North West corner of Zimbabwe, a hub for various cultures and musical influences. They sing in Tsonga, Shona, Luvala, Ndebele, and English and demonstrate an energetic Pan-African sound. Their music is a compilation of traditional sounds integrated with local, regional, and international influences.
Known as Zimbabwe's leading Afro-fusion band, there is no doubt why they receive this name and accolade. With this powerful performance, they took the crowd on a journey, as bodies danced to the tones of Congolese rumba, hearts swayed to the Chimurenga rhythms, and minds were freed by the soulful harmonies. Each member on stage was a remarkable singer. They didn't just sonically fill out the Jazz Cafe, but also physically dominated the space with Muzaza, a born theatrical performer dressed in a black top hat, leading the unforgettable performance. They all danced with ease and rhythm into the night and life was brought back into everyone that stood there in front of them.
Within the essence of their music, the influence of the Zambezi River, an important physical and spiritual feature of their home region, was felt. As one watched Abundance Mutori in particular swaying at one with his bass guitar and flowing with each note played, one could envision the smooth movements of a body of water. There was never a dull moment on stage and the band did well not to tire as the night went on. Engulfed by the crowd's enthusiasm and the encouragement of each band member, the performance kept growing in charisma and strength. Every song was accompanied by rumba dancing or immersive rhythmic movements, which the crowd would duly follow.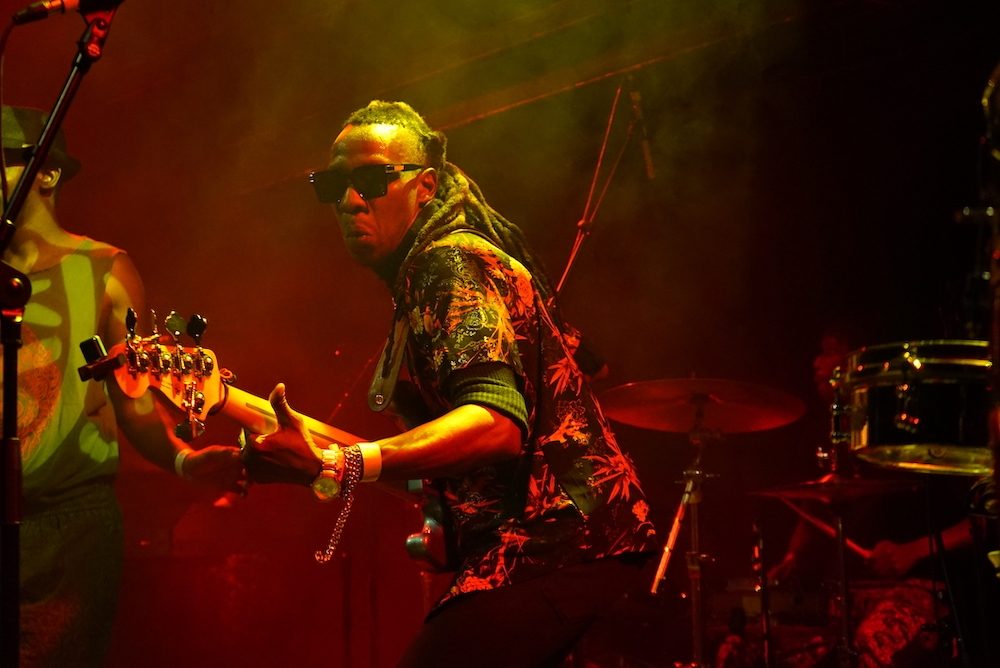 The only time Mookamba seemed to stop, was when they each had to wipe away the very considerable sweat that was collecting on their brows. Diverse means of communication and storytelling were apparent during this performance as Mokoomba sang in different languages, varied styles, and multiple sounds. For example the mixing of a modern ring tone with their original rhythms and through Muzaza's alternation between two distinct characters' voices in the song 'Mabemba'.
Mokoomba continues to push past boundaries and investigates different styles and stories in a dynamic, innovative, and inclusive way. After being together as a band for more than 15 years, their family-like bond was felt profoundly during their mesmerizing a cappella piece, sung by all members on stage. The woman from the audience responded with emotive sounds of appreciation and recognition. Their cries matched the rhythm of the vocals and seemed to provide a sense of comfort and hope to many, privileged to be listening.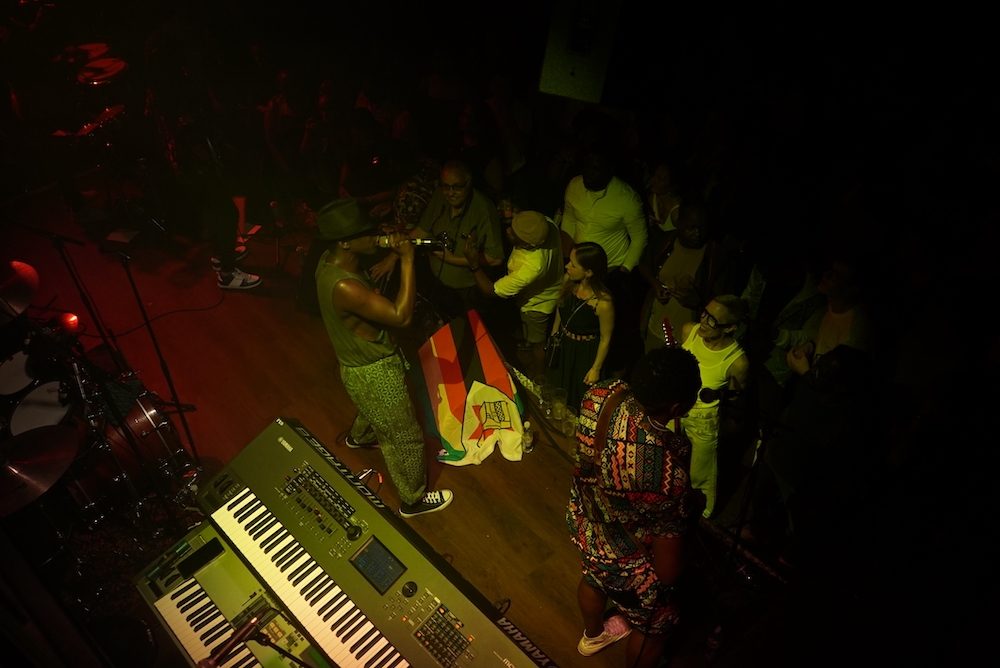 Mokoomba's new album Tusona: Tracings in the Sand is a tribute to their ancestral customs and heritage from Zimbabwe. Most songs are giving thanks to Luvale traditions and the initiation ceremony of the annual Makisi festival. The essence of Tusona is to bring a new life into fading traditions and through laughter, cries, and a spiritual presence, Mookamba carried this new life and vibrancy with them during this memorable performance at the Jazz Cafe. They truly awakened the captive audience, set fire to the dance floor, and brought the essence of Zimbabwe to London.