Benin's Fearless Musical Painter: Lionel Loueke in Concert
It was a truly magical evening. In concert at the University of Chicago's Mandel Hall, guitarist Lionel Loueke created a kaleidoscope glimmering with bits of his Benin homeland's rich musical heritage. Set solidly within a jazz framework, his pieces were beautifully textured musical visions, gently evoking the joyous rhythms of highlife, touches of funk, and even an occasional Latin-tinged beat; certainly validating mentor Herbie Hancock's description of him as "a fearless musical painter."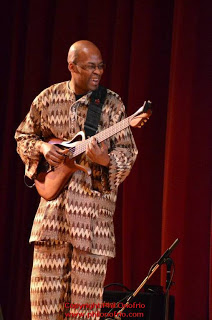 The performance was led by Loueke and his Paradis (paradise) guitar, a custom-made Rolf Spuler instrument that is a piece of art itself. Accompanied by Italian-Swiss Massimo Biolcati on bass and Hungarian Ferene Nemeth on drums, both classmates from the Berklee College of Music where Loueke studied in addition to Paris and in Ivory Coast, the trio's effortless groove created the impression of listening in on a dialogue among very good friends. And indeed the three have played together for over 10 years, ever since Loueke began to incorporate his African roots into jazz techniques.
Deeply informed by West African music, Loueke's sophisticated jazz is warm and intimate, with graceful rhythmic shifts that surprise and enchant. To the trio's playing, he added vocals, but much more than what one normally might expect in jazz. In addition to singing, he used his voice as a percussion instrument, delivering clicks, hisses, exhalations and pops, as well as syncopating and then scatting in note-by-note mimicking of the distinctive sounds of his guitar.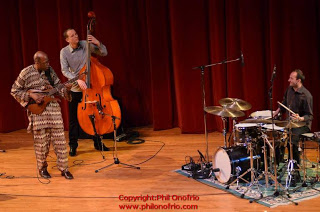 The melodies and rhythms produced by the trio were fluid and ethereal, and even the funkiest sounds were delicate and textured. Occasional electronic enhancements added layered effects in harmonies to the acoustic instrumentation and Loueke's vocals, giving parts of songs a rich choral feel.
Experiencing an entire world of sound created by only three musicians was amazing. Loueke is one of the most original guitarists in jazz and indeed may be a legend in the making.