Musicians for Mali: NYC Benefit Concert
Awa Sangho, (c) Jack Vartoogian/FrontRowPhotos)
On Saturday, September 22, NYC's City Winery was the site for a truly special grassroots benefit concert,
Musicians for Mali
. Co-produced by the Mali-inspired jam band Toubab Krewe, public radio's
Afropop Worldwide
and New York's Malian Cultural Center, the sold-out event brought together many of the top New York-based Malian artists with a stellar crew of North American collaborators. As anyone who witnessed it will attest, the result was unforgettable, blending humanitarian fund-raising, consciousness raising, and set after set of blistering performances. Luke Quaranta, the percussionist with Toubab Krewe and the event's chief organizer, reports that over
$10,000
was raised in support of the non-profit beneficiaries--
Relief International
, which is assisting Malian refugees in neighboring Niger and
Instruments4Africa
, which  is supporting musicians and their families forced to flee their homes in northern Mali.
(See links below for more information and how to donate online.)
Particularly remarkable was the way this benefit and its mission unified the musicians,  Malian and non-Malian alike. When discussing their goals and hopes for the night, the same ideas came up again and again. Given the depth of the rapidly unfolding crisis, it is no surprise that the Malian community in America (and the equally fervent community of those who love Mali) has been heartsick ever since the coup that overthrew the president in the capital, Bamako, in March, in the midst of a Tuareg rebellion in the north that was ultimately commandeered by Islamist militants. Today, those militants have imposed Shariah law in key cities of the Malian north including Timbuktu, Gao, Kidal, a development despised by most locals. For the region's musicians, this is particularly devastating, as their very profession has been banned.  Hence the urgency of
Musicians for Mali
. [caption id="attachment_5392" align="aligncenter" width="605" caption="Toubab Krewe (all photos ©2012 Michael Crook Photography/www.MichaelCrook.com, unless otherwise noted.)"]
[/caption]
In banning music, and destroying sacred landmarks, the Islamisists have directly assaulted the culture that has, for many locals, defined their lives. This new order, and the violence and chaos accompanying it go against all that has defined Malian culture and society. As Toubab Krewe guitarist Drew Heller put it, "The [music] ban is shocking, because I have never been anywhere in the world as open and as collaborative artistically as Mali. Bamako is very much like New York City. It's a large community that's very diverse- and it has such a diverse art scene. Everything you can imagine is happening, or it's happened, or it feels like its going to happen. So to see and to hear about what is happening is so painful because it's the last place that I ever would have expected to have this type of turn of events."
[caption id="attachment_5388" align="aligncenter" width="614" caption="Awa Sangho"]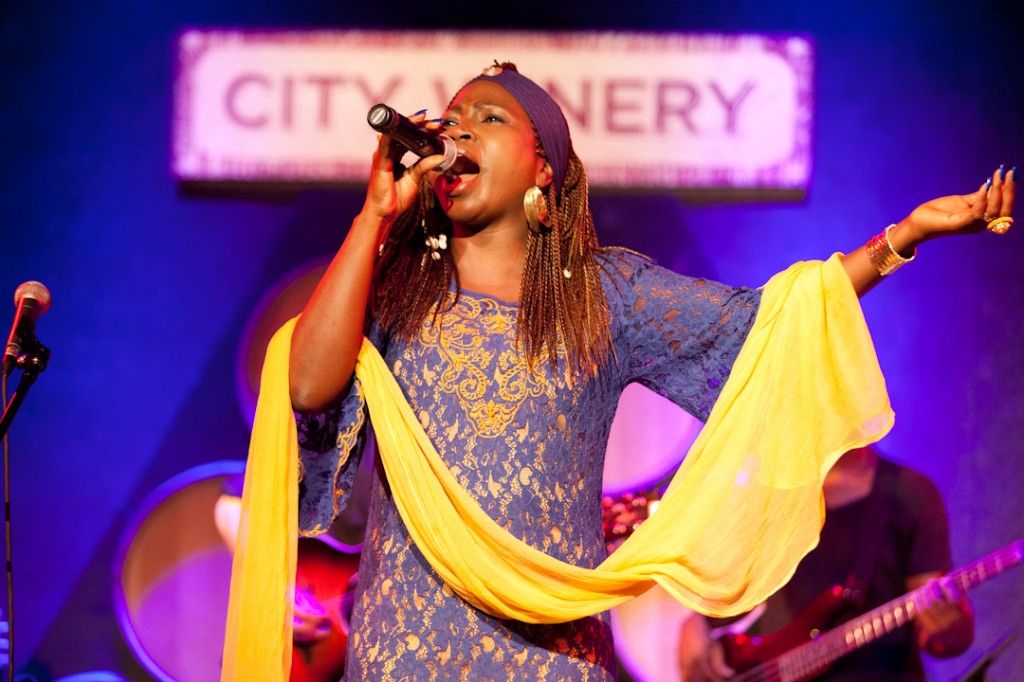 [/caption] In the face of this crisis, the desire for peace, and the longing for the return of Mali that they knew was palpable among the musicians at City Winery.  Singer, composer and choreographer Awa Sangho  (whose set was one of the highlights of the night) said, "Mali is me. It is my heart... I have a broken heart about this war going on . It's because Mali is beautiful, not because I'm from there [Timbuktu]. Mali is the most hospitable country in West Africa--people love to be in life, in joy, not in war. So it's really sad for me, but we are here today, not to be sad but to bring more joy to all the hearts of the Malian people here, and all over the world." The night began with a video from Grammy-winning
kora
master Toumani Diabaté, taped at his home compound in Bamako. Toumani had originally sparked the idea to do something for Mali in a conversation with Toubab Krewe's percussionist, Luke Quaranta this summer in Brooklyn. Calling for everyone present to be "an ambassador for Mali, to be an ambassador for peace," Toumani ended by asking the crowd to stand as he played the Malian national anthem. Everyone in the room stood in silence. It was an emotional high point of the evening. [caption id="attachment_5389" align="aligncenter" width="480" caption="NY State Senator Bill Perkins and members of Malian Cultural Center (c) Jack Vartoogian/FrontRowPhotos"]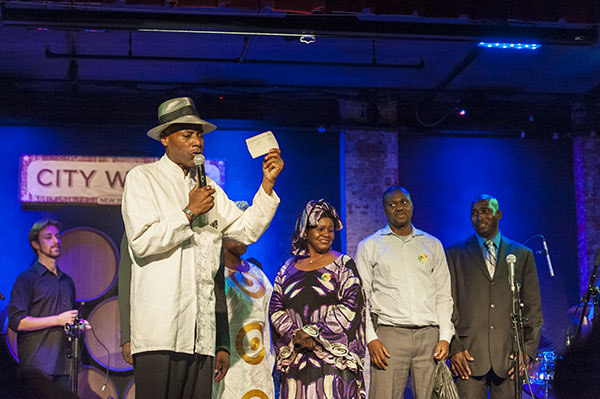 [/caption]
Then came set after set of brilliant playing--Banning Eyre and Friends, Oran Etkin's Kelenia, Abdoulaye Alhassane Touré, Benyoro, Leni Stern, Balla Kouyaté's World Vision, Awa Sangho, Guy Davis, and Toubab Krewe--interspersed with pitches for donations to help the refugees. Fundraising kicked into gear during a speech by New York state senator Bill Perkins whose Harlem district is home to many African immigrants. Perkins reminded the crowd that while Mali usually meant music, tonight, "Mali means Money!"
Event co-producer Mel Brown then introduced Mamadou and Assetou Sy of the Malian Cultural Center who presented a group of Malian women to thank the audience personally and offer passionate pleas for help. Later in the evening, the fundraising pitch came to a climax by Afropop Worldwide's executive producer Sean Barlow, who invoked the spirit of Ali Farka Toure, fierce champion of culture in his beloved northern Mali. Barlow recalled how in every interview he'd done with Ali in 25 years, the maestro had always said, "I'm very proud,
very
proud of my culture. I'm very happy,
very
happy to share it." Barlow said it was now time to make Ali happy with our generosity. It was time to give back to the country that has given Afropop lovers so much. [caption id="attachment_5414" align="aligncenter" width="399" caption="Sean Barlow, (c) Jack Vartoogian/FrontRowPhotos"]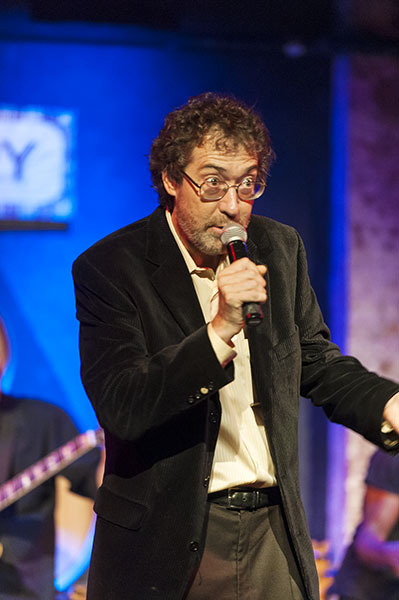 [/caption] [caption id="attachment_5391" align="aligncenter" width="512" caption="Abdoulaye Alhassane Toure"]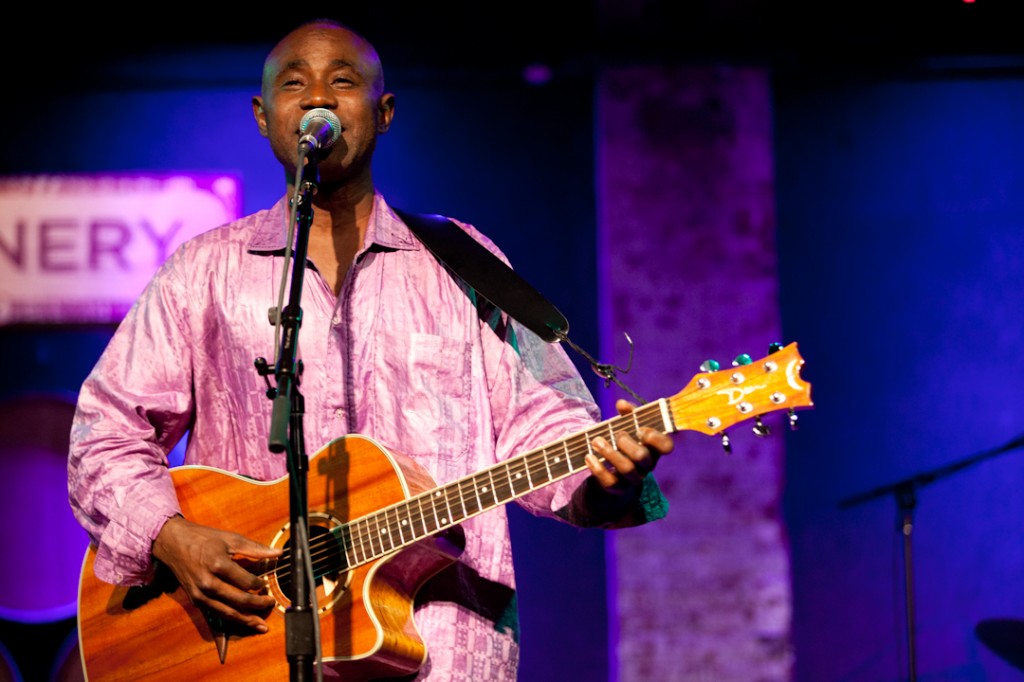 [/caption] Musically, the concert went from highlight to highlight, with many of the musicians appearing in multiple groups. Abdoulaye "Djoss" Diabaté, an exceptional griot praise singer, overwhelmed the audience time after time with his operatic voice and nimble dance moves. Guitarist Sam Dickey seemed to never leave the stage, lending his chops while staying subtle in the background. Balla Kouyate's World Vision and Toubab Krewe brought the show to a triumphant close with an extraordinary all-hands-on-deck jam, performing the traditional song "Kaira" (meaning "peace" in Bambara) and sending the crowd out into the night with that hope firmly on their minds. [caption id="attachment_5387" align="aligncenter" width="512" caption="Closing jam with Toubab Krewe and friends"]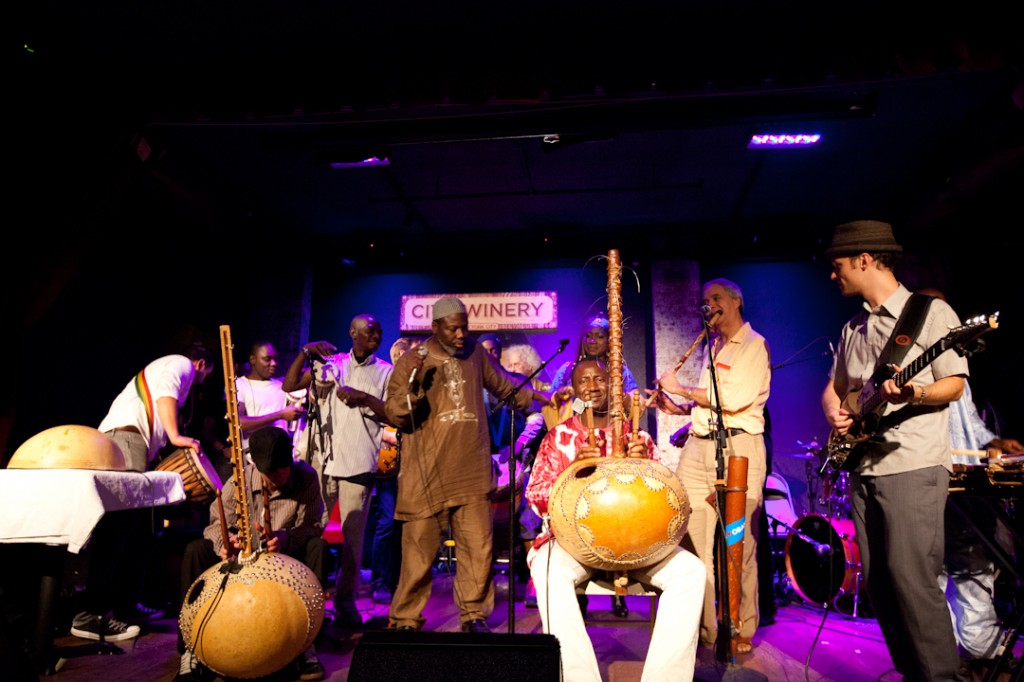 [/caption]
More photos by Michael Crook below!
[caption id="attachment_5394" align="aligncenter" width="410" caption="Abdoulaye "Djoss" Diabate"]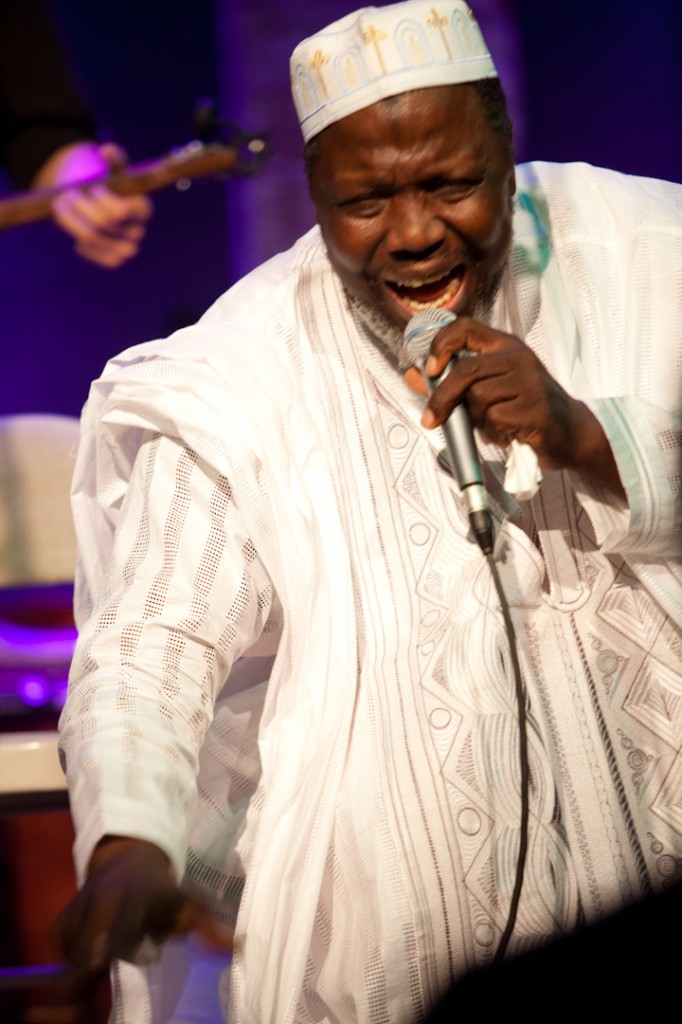 [/caption] [caption id="attachment_5395" align="aligncenter" width="512" caption="Idriss Koné and Makane Kouyaté"]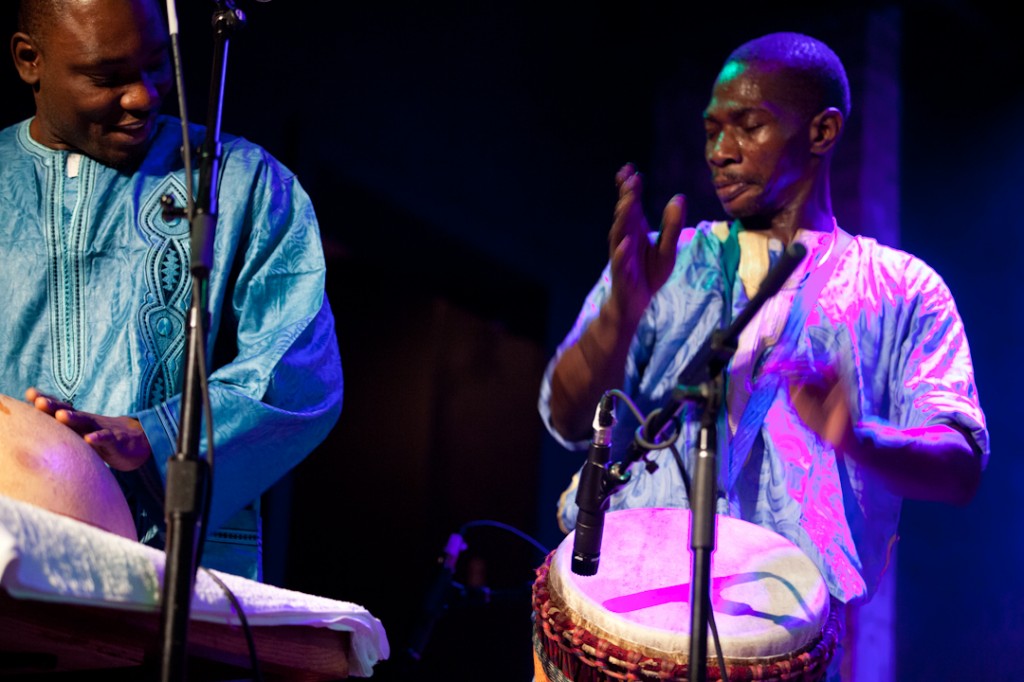 [/caption] [caption id="attachment_5419" align="aligncenter" width="614" caption="Yacouba Cissoko"]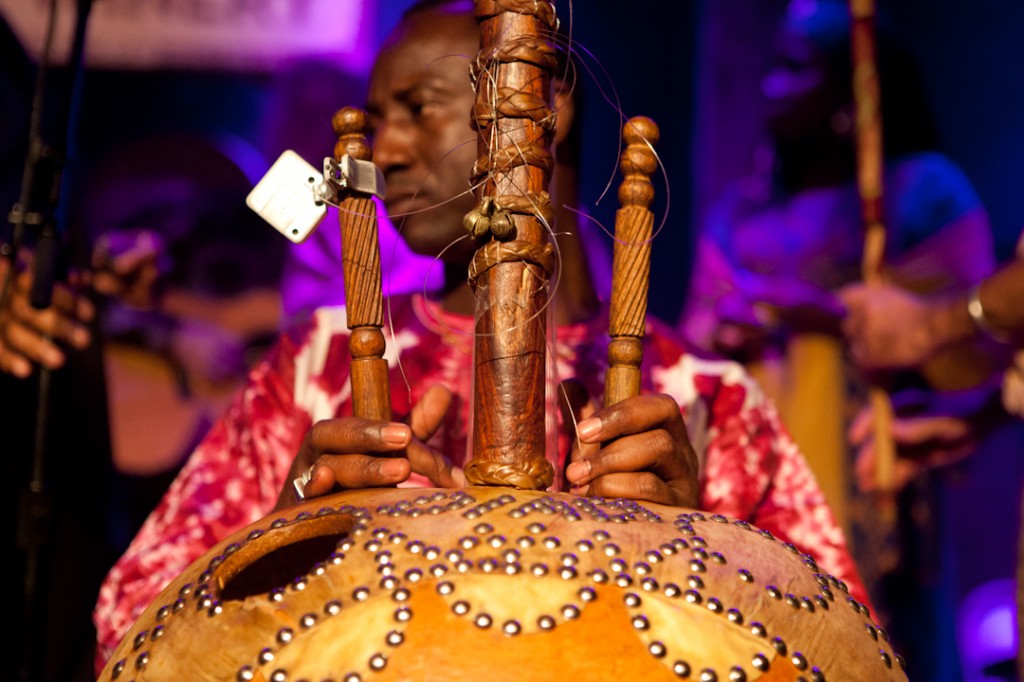 [/caption] [caption id="attachment_5396" align="aligncenter" width="512" caption="Luke Quaranta"]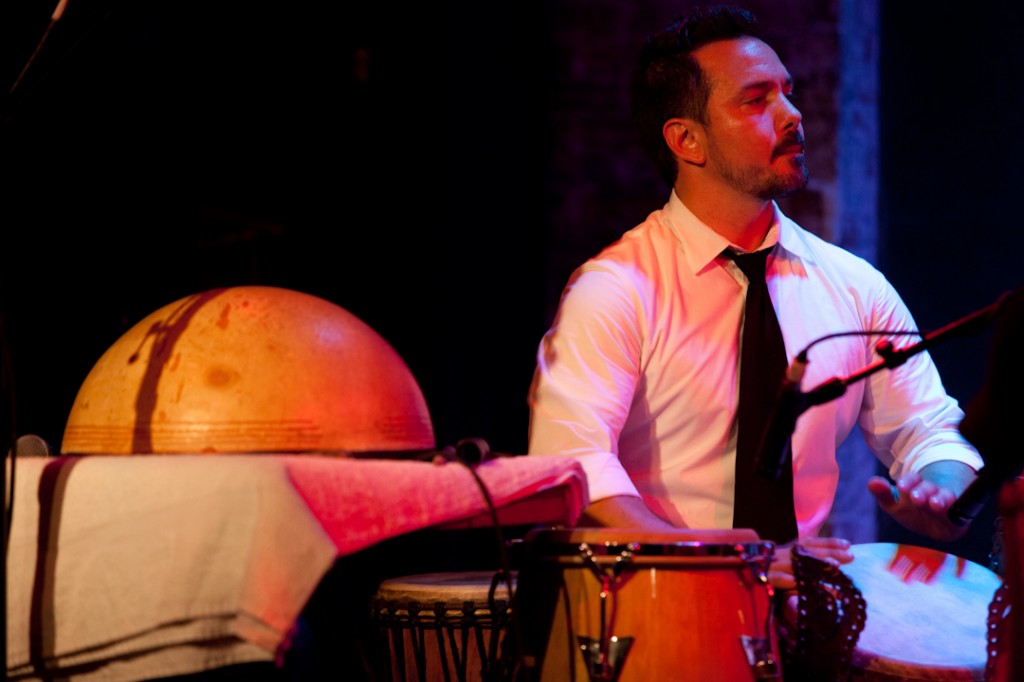 [/caption] [caption id="attachment_5398" align="aligncenter" width="512" caption="Guy Davis"]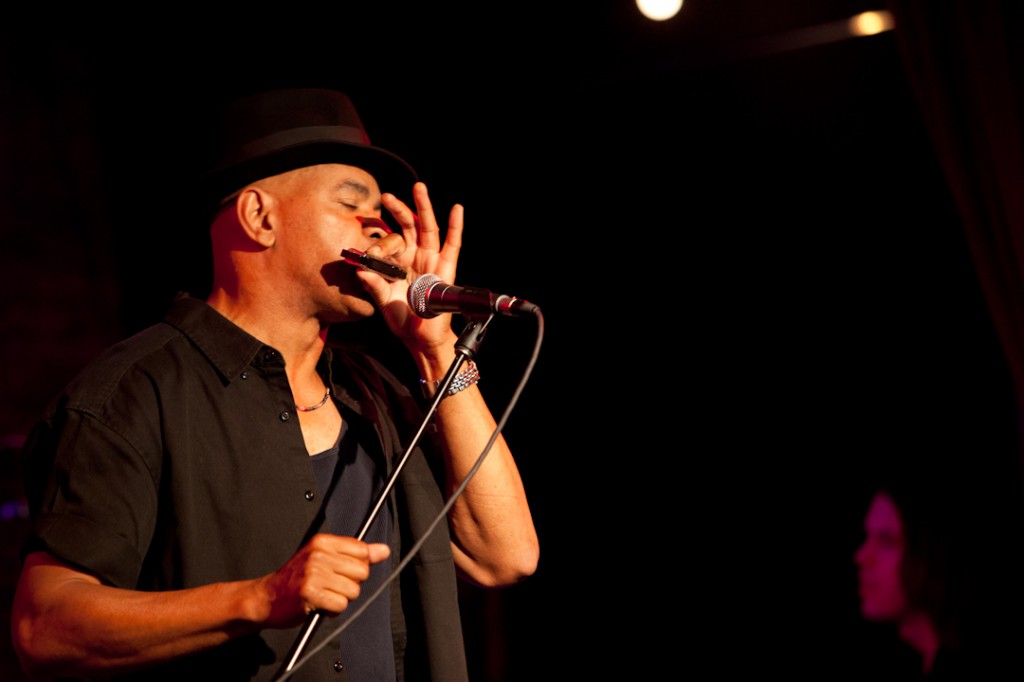 [/caption] [caption id="attachment_5399" align="aligncenter" width="512" caption="Idriss Koné, Banning Eyre, Abdoulaye Alhassane Toure"]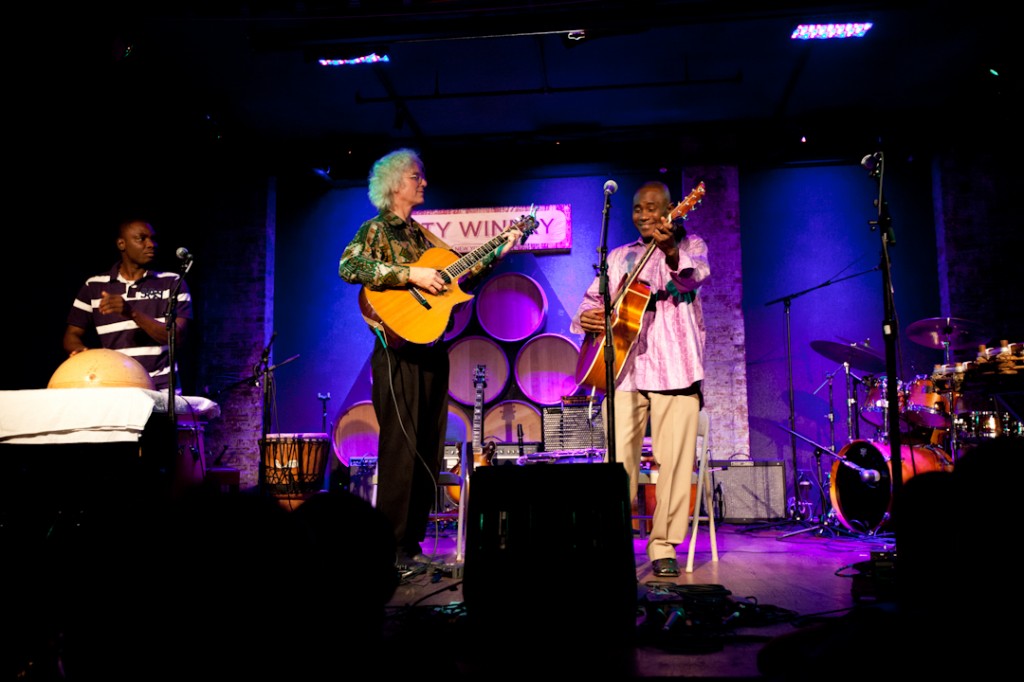 [/caption]
More information on Beneficiaries and how to donate
(Both are 501 (c)3 non-profit orgs. Your donation is tax deductible.
)
Relief International
responds to the world's worst humanitarian crises.  Since 1990, Relief International has been committed to partnering with communities in need and transforming victims of vulnerability to empowered participants in sustainable development. Relief International is responding to the needs of over 15,000 Malian refugees in northern Tahoua province of Niger by providing assistance in food security, health and hygiene, shelter. More info and how to donate: 
http://www.ri.org/files/uploads/Mali_09-21-12.pdf
Bamako-based non-profit 
Instruments4Africa
is committed to cultural preservation, helping artists keep their practice alive so they can continue to empower their communities. The organization is currently assisting families of displaced traditional artists from the North. Families receive food, medicine, school fees, until they can get back on their feet and provide for themselves. They also help artists find gigs and connect them to agencies offering additional assistance. Funds raised will enable the organization to significantly expand the number of families they serve.  More info and how to donate: 
http://i4africa.org/donate/
About Event Co-Producers
Toubab Krewe
has been traveling to West Africa since 1999, and to Mali since 2004. Touring internationally since 2005, the band played Mali's legendary Festival au Desert in 2007. With many friends, teachers, and collaborators living in Mali and affected by this crisis, the band felt called to do something to help. Inspired by the encouragement of Toumani Diabate, Toubab Krewe's Luke Quaranta envisioned and launched "Musicians for Mali".
Afropop Worldwide
is the award-winning Public Radio International program hosted by Georges Collinet that has introduced American listeners to the contemporary music cultures of Africa and the global African Diaspora since 1988. Because of Mali's exceptional range of spectacular musical talent, Afropop has reported from Mali more than any other African country.  
Afropop.org
offers on demand audio, the Hip Deep series, videos, a daily blog, NYC events calendar and some of the world's most extensive archives on African music.
The Malian Cultural Center
is a 501(c) 3 non-profit organization that serves as a platform for cultural immersion for American youth born to Malian immigrants, and the empowerment of Malian women in New York. The Center's programs focus on building strong families, capable children, and supportive communities.