Muthoni Drummer Queen: Marching to the Beat of Her Own Drum
When you first meet Kenyan Muthoni Ndonga, A.K.A. Muthoni Drummer Queen (or MDQ, for short), you do feel like you are in the presence of a queen – a queen with a lot on her mind, a lot to attend to and a lot she desires to accomplish during her reign. She is smart, funny, self-confident, full of energy and passion, and doesn't suffer fools lightly. One of her other nicknames is "boss lady." She is not only a singer, but also an entrepreneur who launched one of the most successful music festivals in Africa, and uses her music to promote social and political awareness and change. In many ways, she epitomizes the 21st century African woman, which may be why she was recently asked to give a TED talk which will drop online Sept. 20. But she was also very happy to share her time with us as she prepared for what would be an amazing set of singing, dancing, and yes, drumming, at this year's Festival International de Jazz in Montreal.

"I wanted to be an entertainer quite early," Muthoni says, "but that was just a thing that could be a thing. Then, over time, that kind of got stifled, and you convince yourself you want to be a lawyer, or whatever else the world needs. But then around 21 or 22, I was like 'O.K. Let's just go for this thing and see what happens.'"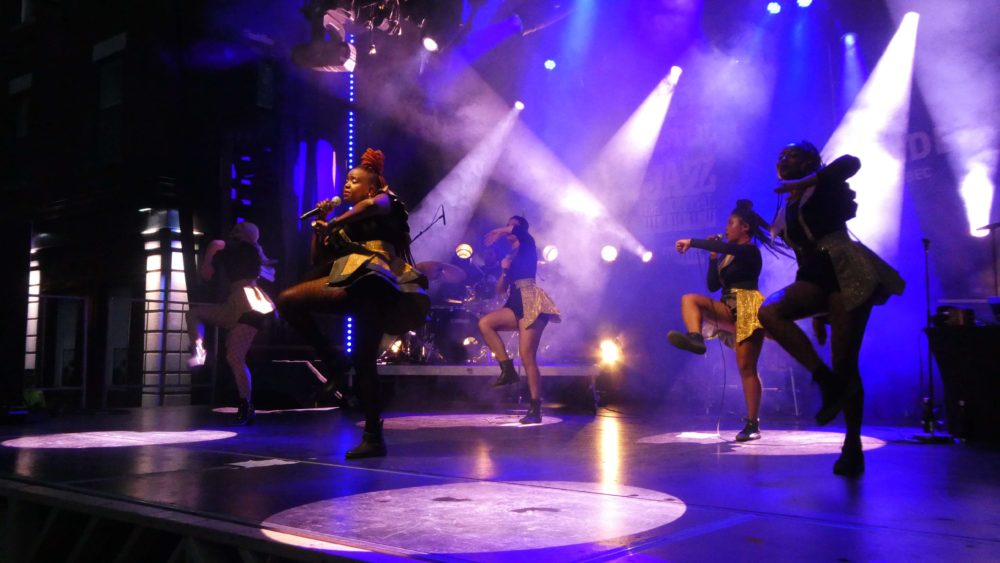 But to become a music professional in Nairobi in the early 2000s was a challenge, not so much because she was a woman, though she admits that must have been some part of it, but because "the gatekeepers," as she likes to call the managers, producers and such, weren't interested in the music, sort of a neo-soul thing, she was doing then.
"The music back home really leans towards Western pop," she says. "There's nothing wrong with pop. I f***in' love pop. And then we have a localized version of benga that we got from the Democratic Republic of Congo in the '60s. This style is very integral. But because I didn't fit anywhere between these two things – and the mainstream was very dedicated to this – it was either quit music or try to figure out how to exist."
Muthoni decided to take matters in her own hands, found a "dive bar" and made a deal with the owner for a cut of the door on top of what he would make in liquor sales. Soon, she was proving "the gatekeepers" wrong and was packing the tiny place.
"So that worked until it didn't work," she recalls. "The problem was that the space really tiny, so no matter how much marketing I did, you could only have X number of people. And then also, I think my repertoire wasn't changing frequently enough. So if you'd watch me three or four times, you got it. So it was just, you know, 'when it's done, it's done.' The universe was like, O.K., new hurdle. Do you quit or do you change your situation? Thankfully, I changed my situation."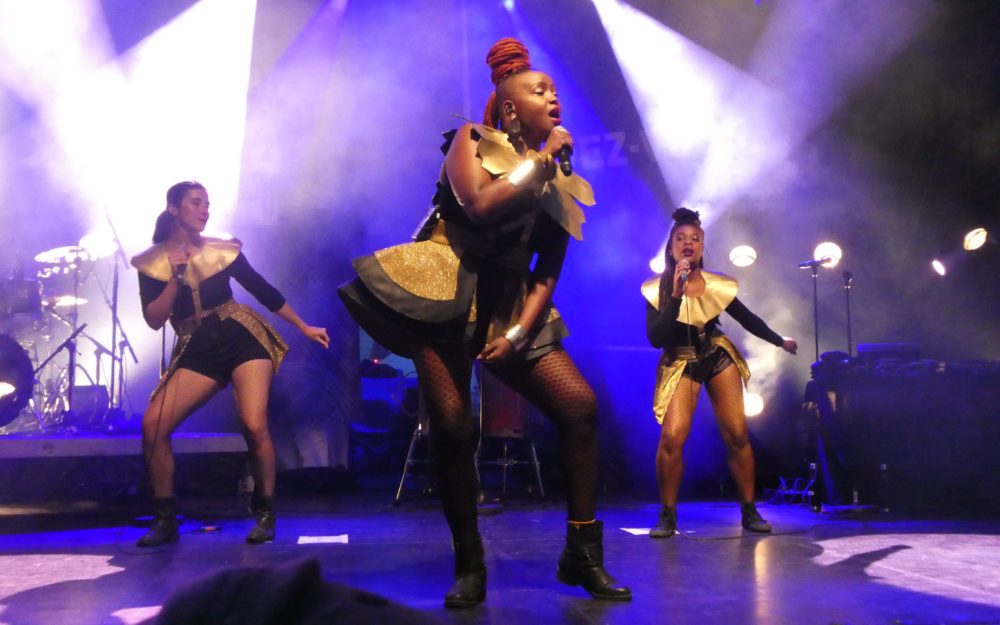 And what she came up with next was—as she, herself, admits—insane. She decided to start her own monthly music festival in 2008 which she would dub the Blankets and Wine Festival and it would change her life, for better and for worse.
"It's some shit you can only do when you're like young and you don't know what you're doing," she laughs. "My friends convinced me that bar owners, fundamentally, are all the same. It's going to start O.K., but in no time you will be in the exact same position. So instead of putting on a band-aid, they said, why don't you just do the opposite, be radical in my approach. That was the first time that idea was introduced to me – if you do the same thing over and over and expect a different result, that's insanity. So, you have to make a list of everything you're doing, and then just do the opposite, right? Worst case scenario is you won't be where you are.
"I was desperate enough and willing enough to try. I also felt like there were other artists like me who needed a platform, as well. Other artists whose material was really compelling and a really good live experience, but there wasn't space for them. For a really long time, the only space was either radio or having your videos on the one or two shows that played music videos. I'd already been managing my own thing for over a year, so I knew how to manage a gig, right? It just made sense to create a platform that could serve me and some other artists."
Coincidentally, one of the artists she was speaking of, Blinky Bill, formerly of Just A Band, was also performing this year at the Jazz Festival. Other bands who played in the early years of Blankets and Wine, included Sauti Sol, "King of Ohangla" Tony Nyadundo, and jazz pianist Aaron "Krucial Keys" Rimbui.
"So my thing was," she continues, "that if you get everybody coming, artists sharing their audiences, I just thought everyone, the city, the artists, the people and the music system would all be better for it. And I was dumb enough to think it would work – not 'dumb,' but rather you don't know and you don't know that you don't know." She sighs, "The audacity of youth." So with money she had saved from working a regular job and calling in as many favors as she could, she took a leap of faith and made it happen. "And thank God, it did work."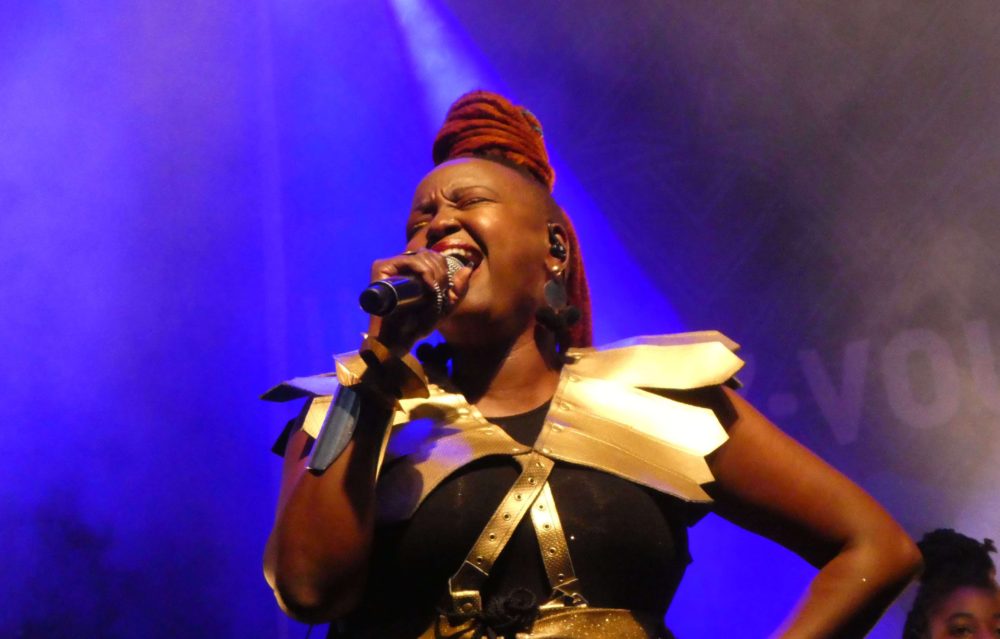 We asked Muthoni if she could paint us a picture of what the festival was like in the early days.
"It was so cute," she says. "We were in the middle of my friend's mom's outdoor spa on a Sunday afternoon. She was a fan and had said if I ever needed anything, so she gave me her venue. It had this beautiful manicured garden with a pond and at the first festival had maybe 120 people. I had to put in all the infrastructure – the stage, the sound, the lights – I had to hire everything, you know, that you need to put on a festival. You make a changing room, hospitality for the artists. I did this all myself. People would bring their blankets, their wine, picnics, girlfriends, boyfriends, mother, child, pet, whatever. And that's how we came to call it, Blankets and Wine.
"Another thing it really did was transform the way we socialize. Kenya was colonized by the British, so we have a big drinking culture. We drink as fun. So this was a version of not necessarily just drinking, but hanging out with homies watching music. There would be three to four bands. This was fundamentally different from anything we'd experienced in Nairobi. We don't have a lot of public spaces that people can just occupy, and even public spaces that exist, we just don't really have a good and functional relationships with them. So we really don't occupy them the way you would just hang out in a park as an every day kind of life. So there was a novelty to that experience, and a longing that this could be kind of cool."
The festival grew rapidly and over the next few years, moved to larger and larger venues, and still on the first Sunday of every month. Sponsors started to come in as well, both local and international, like Red Bull, as well as food trucks, and other vendors. The price of the tickets was not cheap, and so it was attracting an upscale crowd of young, successful Kenyans which corporate sponsors were eager to connect with. In 2012, they expanded into Uganda, and then to Rwanda and Tanzania.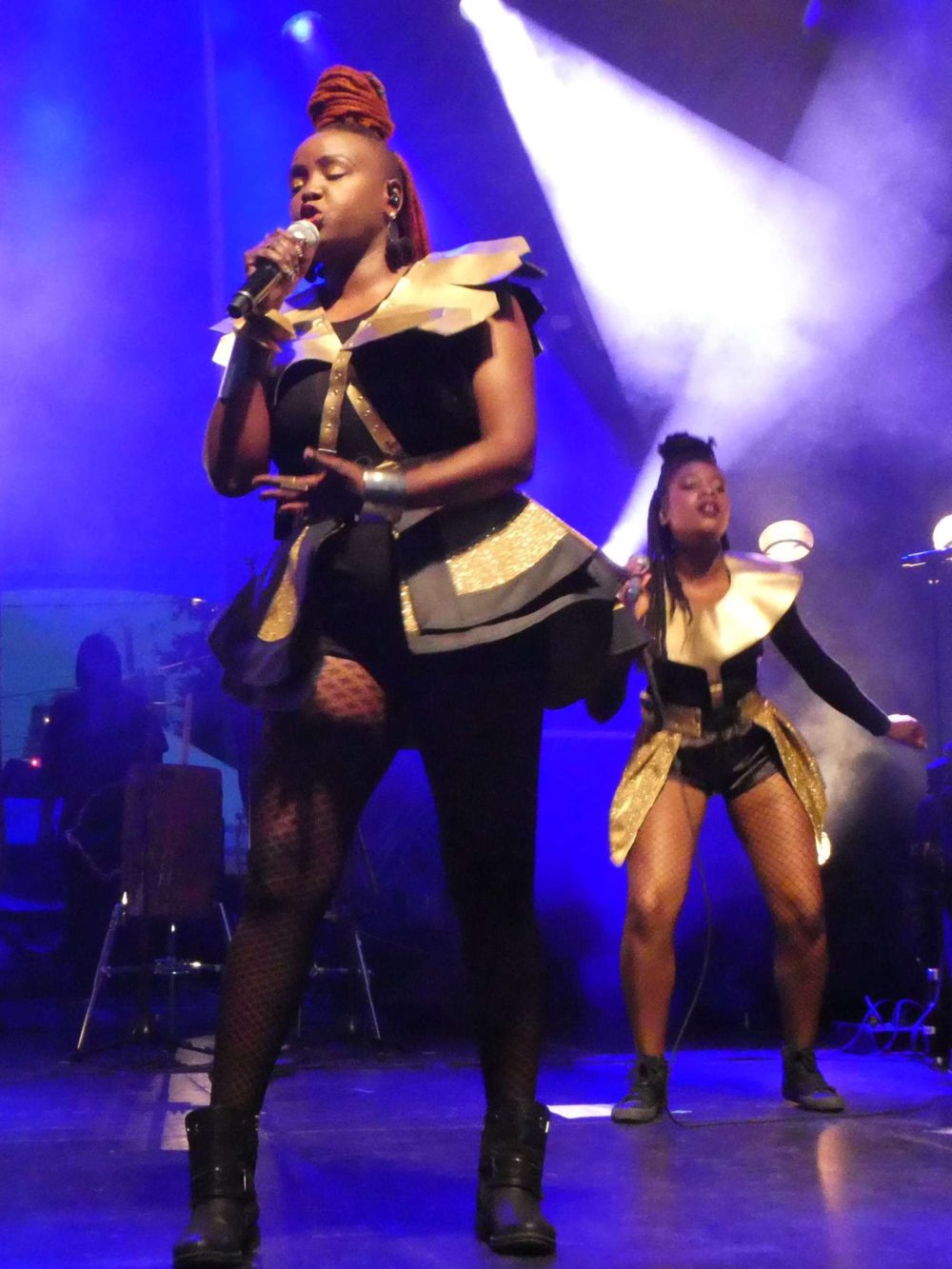 "By the third year, say around 2012, we were getting between 3,000 and 4,000 people every month. And then we started bringing in bands from other countries, like South Africa, from Tanzania, Zimbabwe. And of course, now the gatekeepers were liking it." Here's a taste of what it was like at the 50th Blankets and Wine in Nairobi in January 2014.
But all this was taking Muthoni away from her own music, which she admits was suffering from lack of attention.
"If I had known, as I said before, in the beginning, I probably wouldn't have done it," she admits, "because I didn't know how much the strategic thinking, and the implementation, management, things, humans, taxes, artists, governments, licensing – things! The number of things. I didn't know how tedious doing back-and-forth negotiations could be with artists.
"So now I'm doing this eccentric electronic music thing, and it was the one year anniversary of Blankets and Wine and also the launch of the album. So you can imagine how excited I was... and it just bombs on stage. I liked the music, I still do, but I just couldn't see the future for it and couldn't make it happen on stage. Also, when all the others were in the studio rehearsing, I was in spreadsheets and negotiations, and wondering how the f*** the rent was going to be met the next month. I started to really resent the festival, and felt so trapped in my life. To everybody else, it was such a success. I should have said there would be no Blankets and Wine for the next three months because I'm headhunting and putting together a management team for my music so I can stay as creative director of the festival. That was a complicated, really painful moment where I thought I had lost one part of my life for this other part."
"This was also around when the 'Drummer Queen' thing started," she continues. "It began because there was one amazing producer who took me seriously in all the years I was looking for somebody to record us. I had started playing traditional drums while I was in high school. I didn't know it was special, but when this guy saw me playing, he said you have to keep that, and you have to be good at that. That it's going to be something musically, but also it's always going to allow you to be African in spaces where you will be asked to reduce your African-ness or to compromise. I didn't understand it then at that moment, but now I completely do. As well, when I'm playing in spaces like this, in Montreal, I'm really highly aware that I may be the first Kenyan that people have ever seen or interacted with. So I feel it's important that I present a fuller picture, like I'm giving a snapshot of Kenya, and of Africa. "
Now it's 2013 and Muthoni, in the depth of her frustration, was introduced to two Swiss beatmakers, Jean "Hook" Geissbuhler and Greg "GR!" Escoffey, via a mutual friend. She recalls, "I had a Swiss friend who was living in Nairobi who worked for the World Bank by day, but at night was this amazing wild guy known as DJ Cortega. He played me some beats these Swiss friends had made. I really loved them. And then he played them some of my stuff, and they liked my stuff – I don't know why, whatever, thank you. It all happened very fast. Three month later, I was on a flight to Switzerland."
"I think what was most intriguing thing was for us," says Geissbuhler, who would perform with Muthoni on stage that night, "was we were specializing then with rappers in Switzerland, France, and some Norwegian rappers. But the main thing Muthoni had that the others didn't have was that she could sing too. And that opened a lot of doors for us, musically, to try a new thing. So it was like, 'Cool. She can rap. She can sing. She can play the drums. Let's try something.'"
"At first, we were supposed to just record a couple of songs while she was in Switzerland for 21 days," he continues. "Yesterday, was actually the six-year anniversary of our first meeting there. In our mind, she was going to take these couple of tracks and do something. But actually, we wound up doing 10 or 11 songs."
That album, MDQ, was released in December 2014 and was well received. In 2016, the trio began working on their latest album, She, which was released last year. Meanwhile, Muthoni decided to put Blankets and Wine Festival on hold in 2015, though they had a special 10th anniversary festival in November 2018.
Muthoni explains she didn't go into the studio deliberately to make this new album about women, but as she started to look at the songs she wrote, she realized they were all stories about specific women dealing with issues including love, failing marriage, difficult relationships with mothers, entrepreneurship and betrayal.
"For me, being socially and politically active, came from growing up listening to my dad, my uncles, to the older people talking politics," Muthoni says. "When we were growing up, we had this single party political system with this dictator, President Moi, but as a kid you don't think about much of anything. Then, the older I got, it all informed who I am and it seeps into the music. I agree with Nina Simone who said that part of the role of the artist is to reflect their times, especially in these f***ing times we're living in. There is that much more urgency – and not just for the bad shit, but also the good shit."
For example, the song "Kenyan Message" was inspired by a doctors' strike that took place in 2017. It also pays tribute to the rap classic "The Message" by DJ Grandmaster Flash and the Furious Five, with her rapping the famous refrain in English: "Don't push me 'cause I'm close to the edge. I'm trying not to lose my head."
"We are always in political crisis in Kenya," she sighs. "What really pushed me over the edge to write this song was that the doctors in Kenyan public hospitals went on strike. For 100 days, there were no doctors in all the public hospitals, which is where the majority of Kenyans go. If you come to the hospital but they don't have the instruments or the medicine, because it's gotten lost in procurement, because of corruption or the government, it's like, 'Outside of witchcraft, how can I help you?' We're talking their salaries too, so they don't have to be moonlighting in private practice and really give their service to the public. The doctors had been asking for all this and the government kept saying there is no money. And then we woke up one morning to learn that the Ministry of Health had lost five billion shillings to f***ing corruption, including the president's sister. So they went on strike. And the government's response to the strike was insane. Amongst other things, they were jailing the doctors. That's when I feel really desperate for Kenya."
"So the woman who inspired the song," she continues, "was the late Wangari Maathai, an environmentalist, who went up against the dictator Moi. She was the first example I saw of true activism for the people. And in the song, I'm saying that women have to stand up, because I think that if women don't do it, I'm not convinced that none of those guys back home will, at least not for things like social issues."
Another song, "Suzie Noma," was inspired by a woman she met in her early 20s who was, as Muthoni says, a former "sugar baby," who decided to break free and take control of her life by opening a small salon in her two-room house she shared with her siblings.
"'Suzie Noma' is about girl power, financial freedom," Muthoni explains. "The woman in this song had converted one of the rooms into a salon, and her sisters and brothers slept in the back room. She took great pride in her work. I was completely motivated by her situation. She didn't see life as it being unfair. She just got on with the business of doing life, providing for herself and providing for her siblings. She's always struck me as a symbol of a woman who is strong and does what she needs to do. That idea of financial empowerment, doing it so that she didn't have to be betrothed to some guy. She was making it possible for herself, and her brothers and sisters, to have a better life than the one she was living."
Perhaps the most powerful song on the album is "Million Voice." In it, Muthoni takes on the character of a young Somali girl living in Kenya after her family fled her home country's civil war. Her story sounds sadly familiar to what's happening here in America, and elsewhere around the world today.
"In Kenya, we receive a lot of refugees from East Africa, mostly from Somalia," she says. "We have received so many over the years. Part of them are Kenyan-Somalis and others Somali-Somailis. After Somalia went into civil war around 1990, we received so many. So there's a place in Nairobi where there's a huge Somali community. In 2013, we had a spate of terrorist attacks. Granted, at least one of the terrorists was reported to be of Somali origin, but what Kenyans did was we woke up one day and decided we hated Somalis. When they got on public transport, people would throw them off because they might have an IED on them. The police went into the neighborhoods and just rounded up men, women and children and threw them into our national stadium – which was for all intent and purposes like a concentration camp. But they were saying it was to check this and that.
"And beyond the attacks, there's also the question of who's really a Kenyan and who's really refugee? And I was so struck by how one morning we decided we don't care anymore about these people who we've been living together with. That it just didn't matter anymore. They were not 'us' anymore. Of course, we were happy to benefit from their labor. A lot of Somalis are very enterprising, so a lot of shops in the city are owned by Somalis, who pay their taxes. We're happy to profit from them, but when shit hits the fan, we're also happy to remind them that they are not 'us.'
"So I just wanted to write a song about that experience. My feeling of powerlessness and shame that there was nothing I could do as an individual Kenyan about what we were doing as a country. And also because no one gives a shit about this. This is not cool, these self-preserving things – like deciding who is the enemy and who isn't. But the effect on people's lives – these are real people. So this song captures this girl's anger and frustration at the injustice of a system that keeps her an outsider even as it benefits from her community's material contribution, while also praising her people for succeeding against the odds. And then it was easy to connect that to the global conversation about immigrants around the world and all the shit they experience. People are always happy to have immigrants as long as they can make some money off of them. And that's what 'Million Voice' is all about."
And finally, we asked Muthoni if she could give us a little preview of what her TED talk would be about. If you're unfamiliar with TED, which stands for Technology, Entertainment and Design, it began in 1984 and is a nonprofit devoted to spreading ideas "to change attitudes, lives and ultimately, the world," through talks before an audience which have become quite popular on the Internet. Muthoni was selected as part of a group of 20 to deliver a talk on stage in Vancouver in April.
"Yeah, so Kenya is just 50 years of independence," she says. "We're still really new. And Kenya was invented by colonialists, really – a bunch of white people sat in a room and chopped up Africa. So then, after we inherited this country, we were spending all this time building – build roads, build schools, a currency, a common language – all this shit that is meant to make a country a country. But the people – no one thought about what it means to be a people. How do you make it possible for the people to be 'a people?' I think that part of nation-building is what the creative industry can do.
"You get that through movies, films, music – teach the children about who they are and what they are about. I really feel, also, given the rate of unemployment and the inefficiency of the economy to create new jobs, the creative industry is the next manufacturing industry for Africa, without a doubt. It's not cobalt, it's the people. We're going to have an election in a couple of years and it will be first election where 52 percent of the population will be under 18. From this next election on, the population will be shifting to a younger and younger representation. We'll have to invent stuff and move out of producing workers for a factory and into creators and thinkers. I feel very strongly about this.
"Certainly from a population perspective, we are the future. But really? Do we own the things? Do we own the means of production? The resources? Is there a reasonable effort to put more Africans in positions of leadership? To listen to our perspectives? To be a part of the decision-making that's really thinking about making the future. I mean, we've earned it. For many years, at least at home, I was always told that we are the future. But now we are not the future, we are, literally, the present. We are the leadership now. And we are still striving to have enough ownership of the means of production so we can actually change things.
"So my case, the argument that I have been building, is that the creative industry is the true manufacturing industry. You create a thing that can be consumed and/or exported. And that's the part of nation-building we can do. Only the creative industry can help people like that, and to understand one another. We have to demystify the idea of 'the other.' The idea of 'the other' is so real in Kenya and what I mean is that 'it's just about me, me, me.' So we need to move away from 'the other' and towards 'the community.'
"It's also been a problem because we have this other ethnic community identity. So when the colonialists came, they hadn't considered that your ethnic identity is your primal and first identity. So when they gave us this 'Kenyan' identity and this common language called Swahili, we were expected to just run with it. But they didn't accommodate for the primal identity. All Kenyans have these two identities – your national Kenyan and then your ethnic identity. Our generation grew up in the city, so a lot of us don't have that strong ethnic identity. We can speak our ethnic language and we understand the thing, but we don't have as deep of a connection to that idea. We need to put the money into becoming true Kenyans. So instead of so many years of watching Denzel Washington, we should be watching whoever the Kenyan actors are. So we aspire to become ourselves. Does that make any sense? So that is the crux of my TED talk – that there is an economic gain to be had from this, but also it's the real work of nation-building, which is to build a people up. That's the creative industry's job."
Muthoni is working on a new album which should be released sometime next year. She and her band will be touring France throughout the summer.