"My Body": Kat Kai Brings Rain to the Dancefloor
"Pula, pula, na, na, ke tla gola leng." The ethereal club banger "My Body" by Kat Kai Kol-Kes and her band Chasing Jakyb is an ode to the physical meeting of human body and rain. Kat is from Botswana, a country made up of 85 percent desert. Unsurprisingly, rain and water take on a mystical quality as a recurring motif and linguistic reference in the nation's culture. In their early years, Batswana children sing songs and play games devoted to the calling of rain, and as adults, exchange currency aptly named 
pula
, meaning rain. "Pula, pula, na, na, ke tla gola leng" means "Rain, rain, fall, fall, when will I grow?" Drawing from this childhood song, "My Body" compares the artist's yearning for "bliss" to her country's desire for rain; bliss is achieved at the meeting of rain and body in a storm of sound.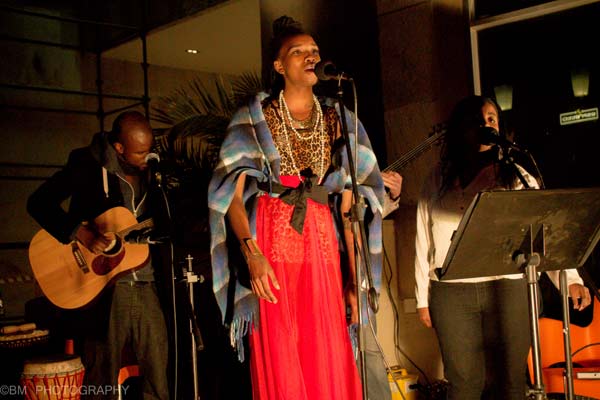 We first heard Kat, a transgender artist who performs regularly throughout Gaborone, the capital of Botswana, last August. She played at an event hosted by Art of the Soul, a youth organization dedicated to social service through the arts. We were blown away by her moving performance, and decided to check in with her to talk about art and transgender activism, developments in Botswana's music industry, and her upcoming January 2015 album release of
Bongo Country
, an exploration of her relationship to Botswana. Unlike neighboring South Africa, in Botswana the rights of LGBTQ citizens are not constitutionally protected, and legislation forbids same-sex relationships. But for a number of reasons, compared to many other African countries the LGBTQ community in Botswana experiences less severe social and institutional backlash. Botswana's history as one of the only countries in Africa never to be colonized, as well as the fact that the country has never been engaged in war, civil or otherwise, has led to relative social, economic and political stability. While gender "transgressions" go relatively unimpeded in Botswana, LGBTQ citizens still face discrimination and injustice in the form of verbal abuse, a lack of healthcare resources, as well as rare cases of legal action against them.
"My Body," a track from Bongo Country, merges Setswana and English hooks to create a slice of dance-floor slaying EDM that pulls from club sounds as varied as Cher, '90s pop, and South African Afro-futurists like Spoek Mathambo. While Kat prefers to write songs in English, her Setswana lyrics often speak insightfully to her personal journey as a Motswana artist, an identity she claims is inextricable from her work. Violins and occasionally grating electronic sounds underlie the beat and indicate the coming of a storm, as Kat sings with dynamic range. Beginning with a high-pitched children's song, the song kicks in as a heavy bass begins to ooze under the vocals, the whole building to a sweet, almost decadently rich climax. The English hook goes: The clouds on the horizon, they said baby I got you, and as the shadows crept on the floor, I knew what they were about to do, to my body, my body body.... Kat takes the well-known saying "water is life" to a whole new level in this ode to maru a pula, clouds of rain. Her self-declared "club banger" works not only as a dance groove but as a magical expression of physicality, fertility and storm through sound, declaring botho, we are all one under heaven in our desire for bliss.