Neuza: A Young Voice Sings an Old Song
This live review is contributed to Afropop by Dorothy Johnson-Laird.
The crowd has come in from icy streets to the warmth of SOB's, in Manhattan's Greenwich Village. They are waiting. They are expectant. Even before she sings, there is an electric energy in the air. Something is up. Tonight is Neuza's debut in New York and it also marks the release of her first CD, Flor Di Bila, put out on the Harmonia/Lusafrica label. This is a CD which has already received critical acclaim and has been nominated for six Cabo Verde Music Awards.
Neuza was born in Praia, one of the Southern most islands in Cabo Verde, off the coast of West Africa. This is her first time appearing in America. And it is also the first time many will hear the "secret songs of this island." Songs that range from the slow paced, minor tone serenade of the morna to the Cabo Verdean samba and its upbeat shuffle of drums.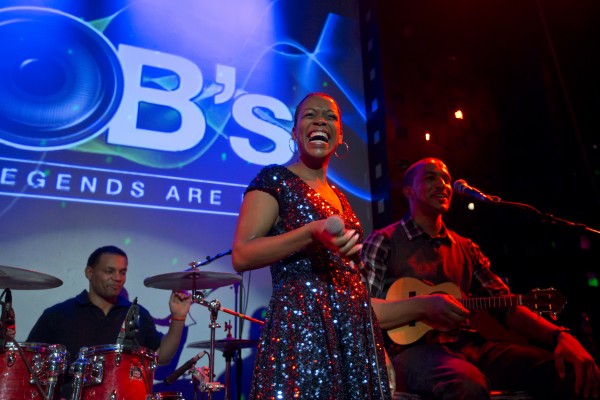 Photo by Bill Farrington
Her mother was considered to be the voice of the neighborhood in Fogo, Cabo Verde. She would go from house to house, selling food by day and singing serenata of traditional songs at night. Her father had previously emigrated to America. At age 7, Neuza's mother died of cancer and she went to live with her father's family. She says that music is what raised her, that it was her education. For a long time, she had not wanted to sing because it was a painful reminder of her mother. But the force became too strong to resist. Her friends, hearing her sing, encouraged her, pushed her even. One night Jose da Silva, producer of Cesaria Evora (perhaps Cabo Verde's most famed singer) and owner of the Harmonia/Lusafrica label, was in town and was invited to hear her perform. Soon she was signed to his label, and her life as a musician changed. This meant, she says, that "I was treated with more respect than before and able to sing more places."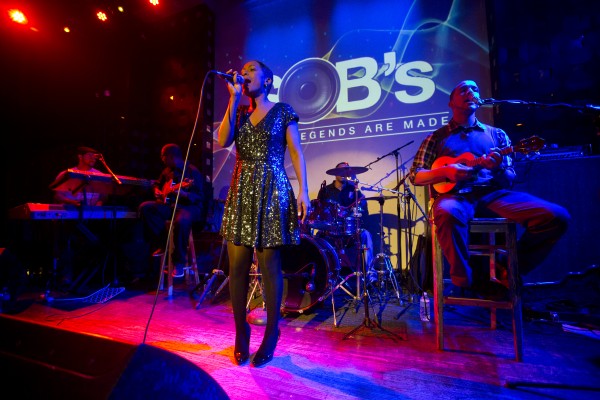 Photo by Bill Farrington
On Thursday night, this somewhat small, elegant figure energetically shimmered on stage in a black and silver short cut dress. Like the outfit she wears, her voice also shimmers. Soon she has all audience members moving, encouraging them forward with her claps, and they clap back. There is a joyous interaction here between musicians and audience. The cold New York city streets disappear. And soon we are held lovingly in the warmth of Cabo Verde. This is a soothing voice that is gently persuasive, accompanied by keyboard, electric guitar, cavaquinho (ukulele), bass and drums. The sound is simple; it could best be likened to folk music or gentle pop. But it is the voice that enables us to dream as an audience; it has the power to carry us away.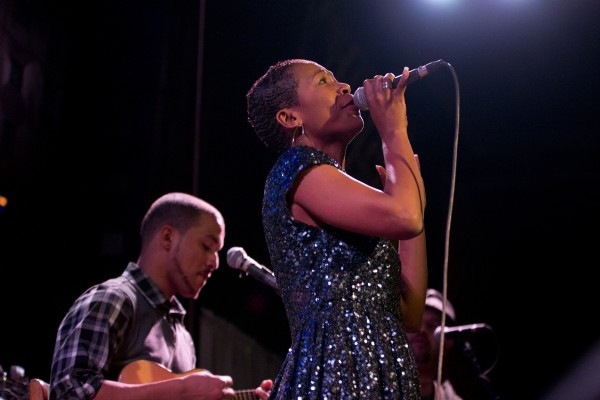 Photo by Bill Farrington
By the third number, Neuza has hit her stride. Leaning her head back, she seems to meditate for a moment before launching into "Flor Di Nha Esperanca," or "Flower of My Hope." This is a slow paced, gentle, love song of sadness with a steady rhythm that the great Cesaria Evora made famous with her haunting vocals. Neuza perhaps sings the song in tribute to her, yet she is able to carry the song on her own terms- a testament to her strength as a young vocalist. You can feel the longing in Neuza's voice, even without understanding the words.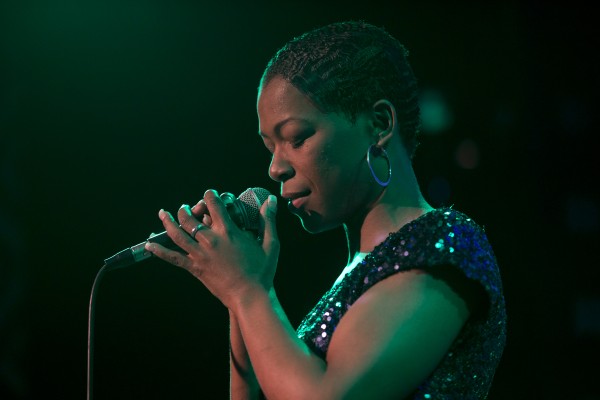 Photo by Bill Farrington
"Flor di Bila" is the title track of the new CD. The composer of the song is describing a woman, whom he sees in a photo. To him, she is the the flower of the city Bila, that he had to leave behind on emigration. There is a poetry in these lyrics. The sound is steady and simple, with a delicate violin accompanying Neuza on this track. But live at SOB's her smile shines through. This is a singer who exudes joy in music and when I asked her about this, she says, "When I sing on stage, it's like another person comes out of me." She sees herself as a conscious role model in preserving this authentic, old music. She wants to be an example, carrying forward the traditions of her island. "These songs are part of my soul. I want them to be known not just in Cabo Verde, but to show them to the world."