Voices in Vinyl: Norwegian Dancing Lights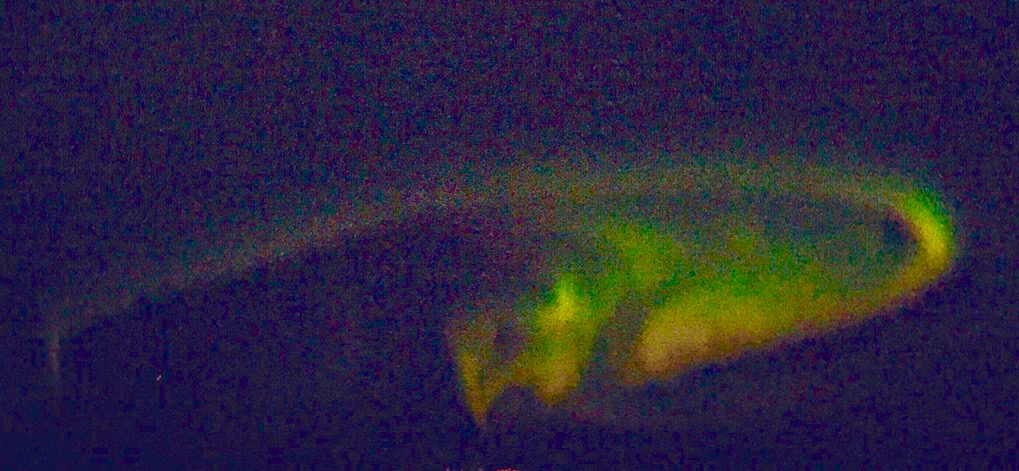 Northern lights. All photos by Tasha Goldberg.
Music is many things…but elementally, music is a sonic result of how something feels. Recorded music stamps the impression of that feeling. The actual replay carves into the ether an exact description of tension, pressure and pace of the place where the sound was born. When the needle drops into the wax groove, and the scratch and glide go round for round, a palpable expression not only reflects a moment in time, it recreates it. The power of these sonic cues is an opportunity to bring together personal experience with shared experience, bridging an audible path between the listener and the creator, despite time and space. Marinating in the multidimensional spectrum of truth, we possibly come closer to a universal truth.
Art gives birth to ideas, it does not represent them. Art comes to life intuitively, devoid of preconceived reasons, because it is the reason itself and cannot be explained priori (beauty is absolute justice) --Constantin Brancusi.
From the current perch in the modern science fiction-like luxury of air travel, all we have to do is aim ourselves into a fantasy and fly there. As our senses sweep into far reaches, we loosen a grip of our own story and begin to blend into discovery of something new that we can be a part of, but is bigger than our own contribution. After we return home from our destinations, often the pulse of where we have been lingers, like skin browned by the sun. Each day marinated in "normal" dissipates further feelings of this freshness. Until…until the gems of collection come to light. Years can go by, and still when I pull from inside a sleeve of sound, I am returned to the beaches of Bahia, the syncopated rain rhythms in Mexico, or the chilly skies of Norway.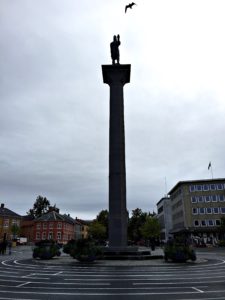 As I sat on a cold stone bench in a country I never dreamed of visiting, a crisp chill in the air pushed past my layers, and touched me. I was in Trondheim, Norway reporting on an international meeting on migratory birds, and I myself arrived courtesy of a massive metal bird made by science to emulate nature. Considering that Trondheim was never specifically featured on my bucket list of places to visit and my travel plans were made, maybe, a week in advance, my mind and heart were open. As I wandered through the village, I did not resist the gusts of winds that pulled and pushed me through markets, cafes, past docked boats and up to the mountains to taste tiny berries. Throughout my days in Trondheim, my attention was drawn to the sky, to contemplate migratory birds, take in the monuments, and to gaze into pools and portals of the cosmic Northern dancing lights. Slow and languid, I was beginning to feel the Norwegian rhythm. In art, there are no foreigners. --Matthew Gale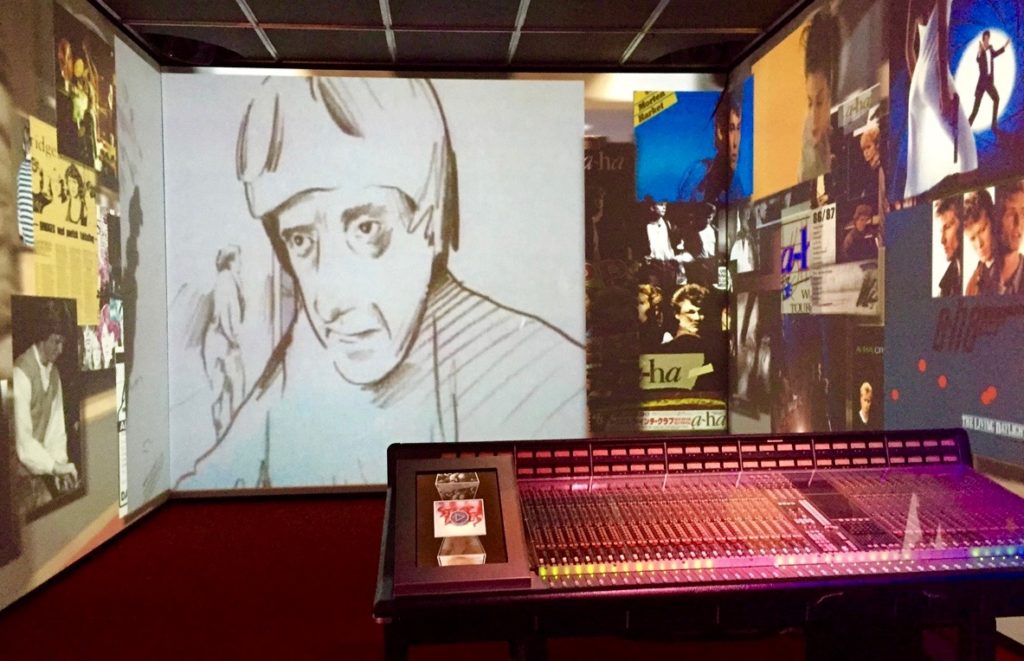 Rockheim, Norway's National Museum of Pop and Rock
Norway owns its appreciation of music. The city offers several opportunities to sample sound in either metal-rock record shops, local bars with a bins of used records for sale, or antique shops that have, sitting back in shelves, naked slabs of vinyl. In a grand gesture of respect of sound culture is the elaborate exhibition and experience of Rockheim, Norway's National Museum of Pop and Rock. The four-story building contextualizes the journey of Norwegian music through influence, inspiration and time. As you pass through open sound booths, you can pull tracks that signal video projections onto three walls, centering yourself inside the content. There are also opportunities to produce beats or join in life-size lessons with real-life guitar heroes. For someone like myself, who was mostly hip to Norwegian music by the way of MTV exposure to the band a-ha's "Take On Me"
the museum certainly opened my doors of perception.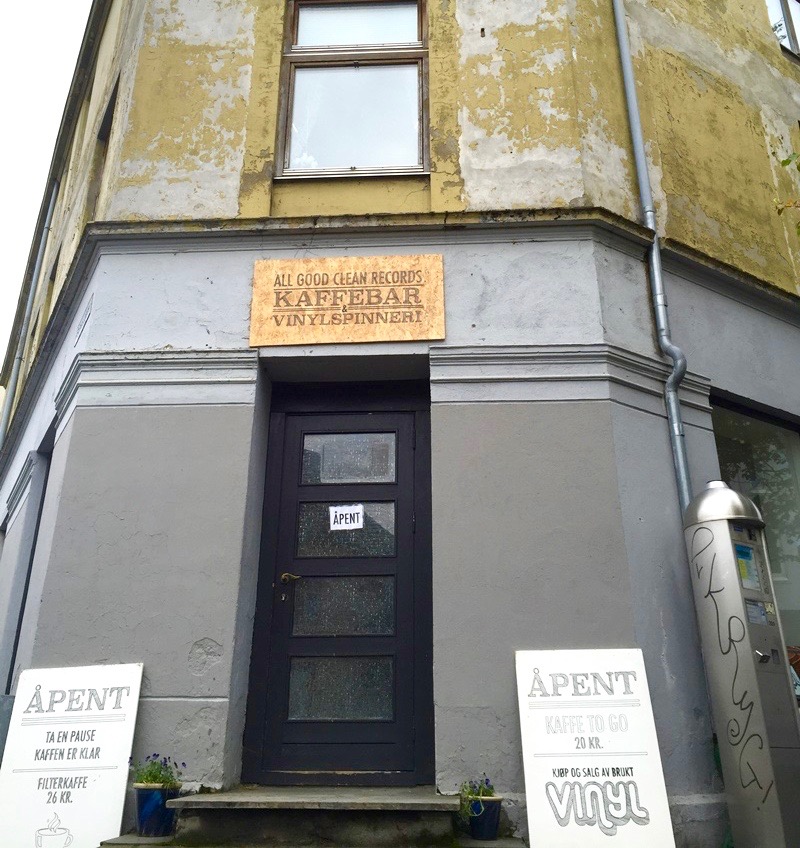 My favorite tasting of Trondheim's love of music was, yes, you guessed it, in a record shop. When traveling solo, I tend to lean into the familial embrace with other soundcrash heads, those who thrive to feel the blend of music. For us, there is a magical mantra that "Music lives in time, unfolds time." (Evan Eisenberg) As soon as I crossed the threshold to what I consider Trondheim's finest vinyl establishment, All Good Clean Records, I felt that familiarity. The shop seems to be positioned and ready for a wave of gentrification, squarely sitting on a corner waiting for the rest of the world to catch up to the upcoming beat in the suburbs of downtown Trondheim. Owned, established and run by Jakob Kaas, the shop is simple in an elegant way. The stark white walls highlight the depth of layers in the albums themselves. Serving strong coffee and perhaps a few cracker-like cookies, the simple setup further underscored the store's homage to sound. Jakob opened the establishment to fulfill his childhood fantasy, always keen to spend his time digging. More recently, in 2015, Jakob took it a step further and opened the All Good Clean Records label to promote some of the new music he has discovered in his digging. The label's first release is Red Lama, a seven-piece psychedelic rock band out of Copenhagen, Denmark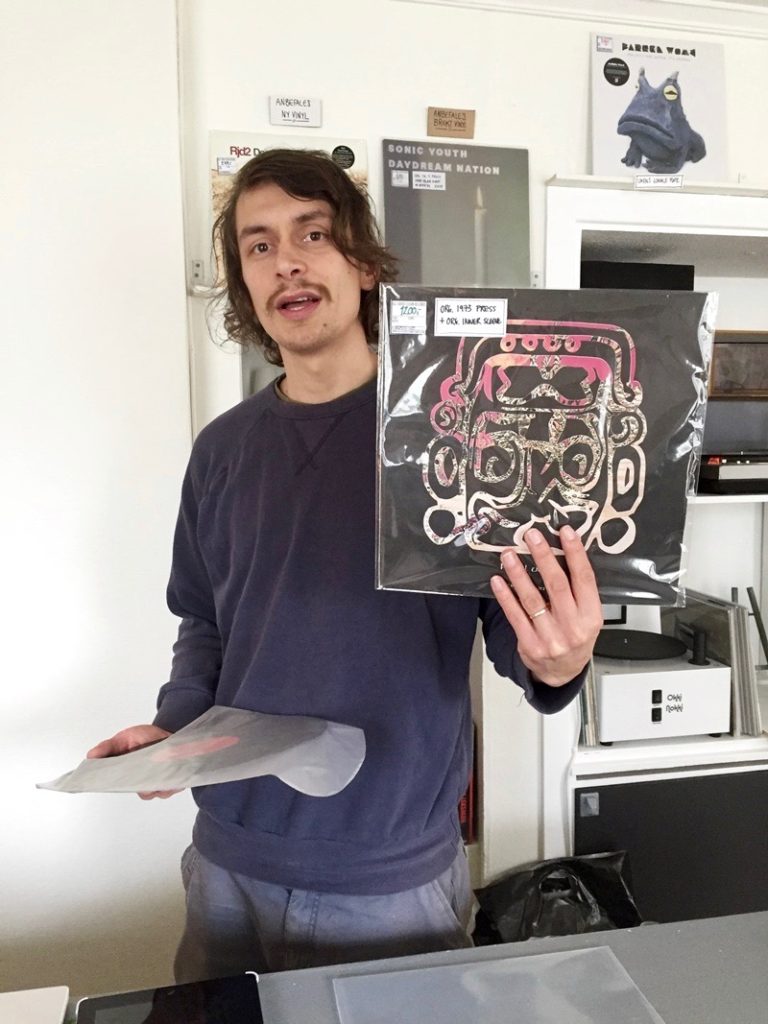 As Jakob and I chopped it up on topics of music, evolution of sound, and the history of music in Norway, he introduced me to some of the serious rock from the region. Although the store imports music from around the world, there is a clear focus on rare Scandinavian records from the '60s and '70s, as well as the new releases by the region's indie labels and underground artists. At one point, he pulled down from a display a record that seemed to have a light shining from within it and played Popol Vuh's "Quiche Maya" from 1973. Aside from the raw appeal of rock 'n' roll the album emits, I found it fascinating that the band name, Popol Vuh, is a nod to a creation story that comes from Quiche Maya, otherwise known as Guatemala. Another translation for the band name is "a meeting place," and indeed these sounds were delivering to their namesake. The story goes that the band traveled extensively and through their recordings, they reconcile their own truth with the influences they encounter. Geographically pulling cues from Tibet, Africa and South America, as well as cosmic curiosities from cultures and religions, the group also introduces ethnic percussion.
As I thumbed through some of the curated bins off to the side, I came across an awkward album, Travelling With My Portable Electric Phonograph, Volume 1.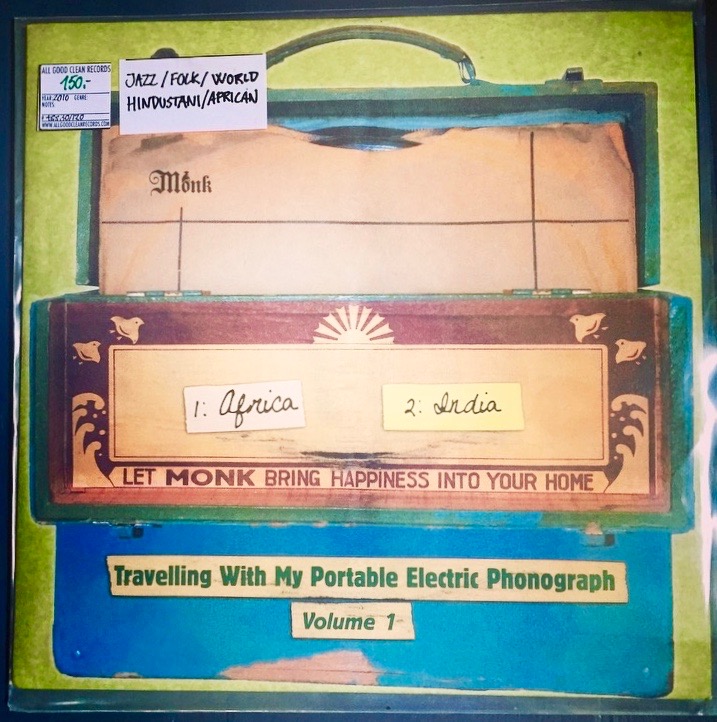 Setlist:
Casper Shiki and His Guitar, "Umtandaso"
Latin Stars, "Sarah" and "Umama Uleth'n Shugela"
Nyasaland Club Singers, "Kapasure"
Casper Kasino Kids, "Ungu Wam" and "Thula Thula"
Dorothy Masuka with Her Trio, "Ma Ndi Phupha Wena"
Groupo de Totoko Francois, "Bololo O Kolilo" (1940s)
Mametigudi and His Dancers, "Hamba Na Lo Isoko La Yo" (1950)
The album was released in 2010 by Monk, an Italian record label operating under Abraxas, both of which now appear to be defunct, leaving a mystery on the discourse of how these tracks came to live together. The overall concept is a snapshot of the merging of musical genres around the '40s-'60s, captured in very different regions. While side A reports on the influence of jazz with traditional rhythms in South and Central Africa, side B takes us to the counterpart in India. The compilation of rare recordings from these two regions draws a line between not only the unique sounds from each region, but the common thread of an early budding edge that made it cool to come together.
While listening to side A, I recognized the beautiful cadence of the iconic voice of Dorothy Masuka in track seven, "Ma Ndi Phupha Wena," recorded in Johannesburg in 1953. Ms. Masuka has authored some of the most shared and significant tracks the world recognizes. Many of her songs became very popular and thereby helped to broaden awareness of the recognizable palette of African music, regionally and globally. One of the most popular of these songs is "Pata Pata," recorded by Queen Makeba in 1957, and went on to be one of her biggest hits. The song remains an international favorite.
A beautiful bond formed between Masuka and Makeba, as they seemed to recognize their ability to use music to share both lighthearted joy as well as highlight injustices of the world. They first met in their early 20s, touring with the South African musical revue, African Jazz and Variety. Masuka moved to South Africa when she was a young girl of 12 from her birthplace in 1935 Southern Rhodesia, now Zimbabwe. Her home country was named after the foreign British imperialist Cecil Rhodes, who dominated and controlled power through war tactics that enslaved men and forced them to rape their own land. (The modern company De Beers was formed by Rhodes, founded on true blood diamonds).
Masuka did return to her homeland later in life to continue her career in music, however, she was forced into exile from 1961-80 after the apartheid Special Branch seized a recording of a song that honored the first democratically elected president of the Republic of the Congo, Patrice Lumumba. While in exile, Masuka continued to make music and navigate the layers of truth. Her song "Dr. Malan," which archived the apartheid laws of the Nationalist Party, was also seized and banned. In the song originally recorded by Masuka and later by Makeba, "Khawuleza" offers deep emotion to the injustice of police killings in South Africa. Transcending time and space, hearing the song in today's terror of American police brutality, there is a soothing quality that reaches out.
Whether arriving from the past or forecasting a future, music brings us together to tell us a story. We are fortunate to be living in a modern moment of luxury where we have access to a massive musical palette. The audible angles available to us from the world over help us pull together the pieces of our own story. These sonic storytelling sessions should be considered historic texts, held high as the documentation of truth that not only suggests, but creates these truths again and again with each replay.