"Notes from Africa: A Musical Journey with Youssou N'Dour" By Jenny Cathcart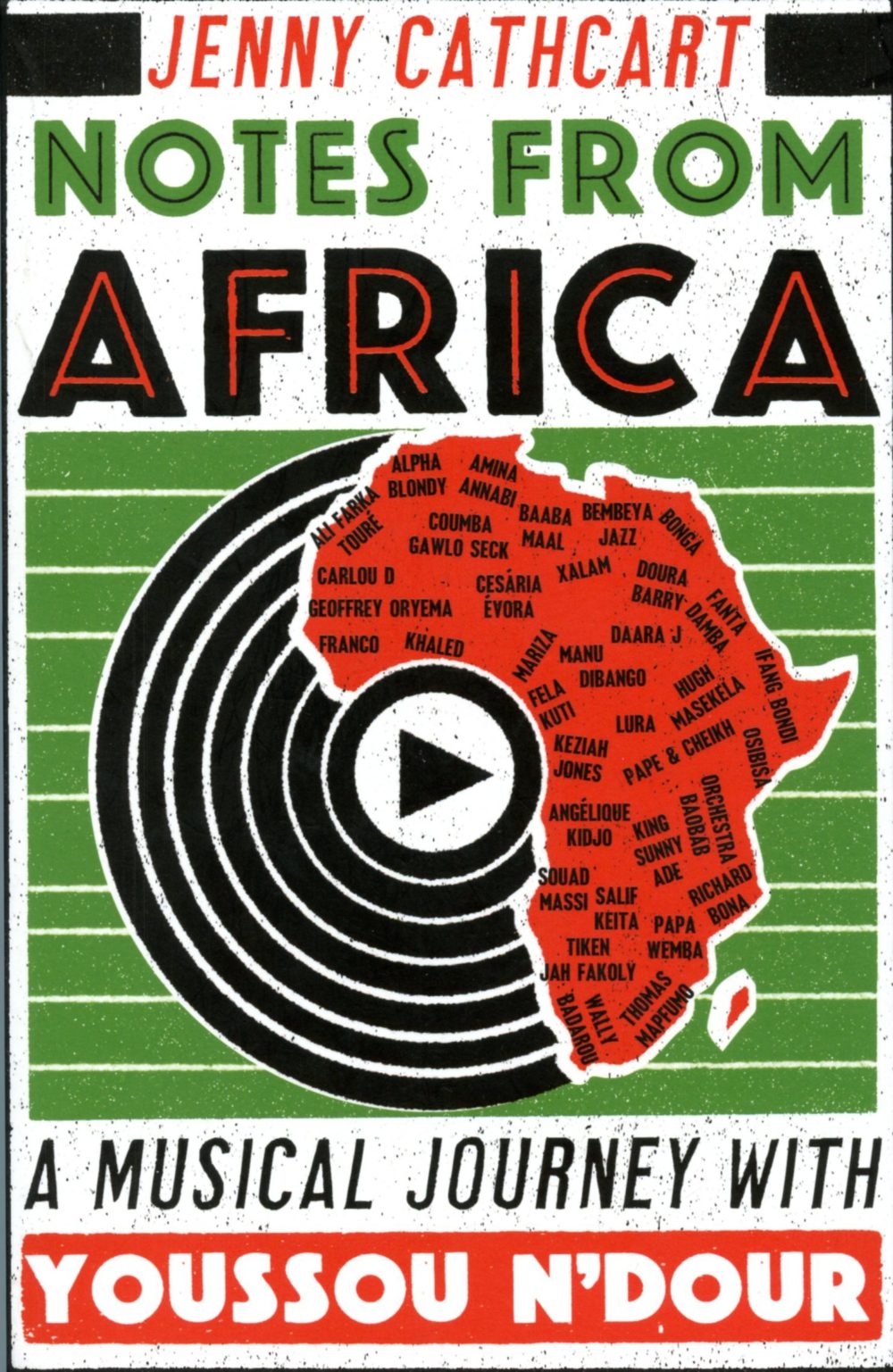 Books on a golden age of Afropop stars—Youssou N'Dour, Baaba Maal, Angelique Kidjo, Salif Keita, Thomas Mapfumo, Cesaria Évora and many others—come along only once in a while. The latest is Notes from Africa: A Musical Journey with Youssou N'Dour by Jenny Cathcart. Whether you're a newcomer to the scene or a veteran Afropop fan well versed with all these artists, this is a great read, a rich tapestry of musical details, a page-turner that confirms the extraordinary wealth of musical talent coming out of Africa in the '70s, '80s and '90s that continues today.
The narrative tells the story of child prodigy Youssou N'Dour. He grew up in a household of traditional artists on his mother's side. He started singing professionally as a 15 year-old in 1975 with the legendary Star Band. The group played a mix of international styles including the popular local version of mbalax salsa sung in Wolof, not Spanish. In 1977, Youssou went on to form his own band, Etoile de Dakar which eventually became Super Étoile de Dakar, a magnificent mix of Wolof traditions and modern pop sensibilities. Some 40 years down the road, many of Youssou's original group such as guitarist Jimi Mbaye, tama talking drum player Assane Thiam, and sabar drum player Boubacar Faye are still with him. We meet all of Youssou's artists in thumbnail sketches. Youssou tells Cathcart that Super Étoile is his greatest creation. We learn the background on the hits from his prolific recording career. Interview clips of Youssou are featured throughout the text.
Youssou comes across as a determined, hard-working young man who yearned not only for the adoration of the home fans but had his eyes wide open (his studio name Xippi means "eyes open") for international recognition. Collaborators include Peter Gabriel; Fati Salama (musical director for the 2004, Grammy-winning Egypt project); Neneh Cherry, who sang him on their international hit "7 Seconds" in 1994; and many others.
The book gives a background on the rich West African cultural history from which Youssou draws, beginning with the founding of the Malian empire by Sundiata Keita around 1240 and his legendary patronage of griot musicians, who served as entertainers, praise singers and advisors. Youssou likes to refer to himself as a modern griot.
Author Jenny Cathcart first came to Senegal's capital, Dakar, in 1984 while working as a member of the BBC TV film crew that produced the series The Africans. She fell in love with the place, the people and the culture. In 1995 she produced the BBC series Africa's Rock 'n' Roll Years, a social and musical history of post-independence Africa. Besides covering Youssou N'Dour as a journalist, Cathcart worked for him in the international division of his business and managed outstanding artists, Cheick Lô, Orchestra Baobab and Pape and Cheikh.
The book is clearly Youssou-centric as the title would suggest but it also features profiles of other West African greats such as Salif Keita, Ali Farka Toure, Baaba Maal, Alpha Blondy, Orchestre Baobab, Xalam, Bembeya Jazz National, Cheick Lô, Wally Seck (son of Thione Seck) and others.
Throughout it all, Cathcart reports that Youssou is an intensely private person. Those expecting behind-the-scenes angst and gossip may be disappointed—this is not a tell-all book.
Less known is the dramatic political history of Senegal's past 15 years, which included Youssou running for president in 2012. Youssou supposedly did not get the 10,000 signatures required for the presidential finals but he jumped right in to support the main opposition candidate Macky Sall, who overturned 85-year-old president Abdoulaye Wade in that election.
A generous parade of black and white photos illustrates live concert moments, album covers, concert posters and Dakar scenes. Included are shots of the author smiling happily next to Senegal's top luminaries.
On the last page, Cathcart tips her hat to the new generation of African stars such as Davido, Wizkid and Tiwa Savage out of Nigeria who are creating the electronic music burning up the dance floors in Europe, Africa, the U.S., and beyond. (Youssou was featured on the title song on Burna Boy's acclaimed 2020 release Twice as Tall, alongside a recording of Pete Seeger to boot!). But while it ends with a salute to Afrobeats, this book is at heart a celebration of the phenomenal African singers and bandleaders who got their starts in the heady decades following independence—the '70s, '80s and '90s—many of whom are very much alive and working today. As this fine account attests, we are all richer for it.