Nuits d'Afrique: Braving the Elements
Ah, summer! Once again, a tsumani of concerts. I've been to far more than I've been able to report on. My short, sweet visit to Festival Nuits d'Afrique yielded some wonderful interviews and live recordings that will be heard on an upcoming "Afropop Live" edition of
Afropop Worldwide.
This year, we made it to the outdoor portion of the festival, which goes on in a spacious, downtown space during the final four days of the 11-day event. Here are a few words and some choice images from the outdoor action at Nuits d'Afrique. First up, a discovery! From Burkina Faso an artist named Abdoulaye Diabate. Not the bandleader from Sikasso, Mali, and not the young brother of Kasse Mady who sings fabulously in New York City.  (If this act takes off, get ready for confusion aplenty.) This Abdoulaye Diabate plays an instrument half way between a kora and a kamelengoni (16 strings). The way he blends its sound with the non-stop riffing from his crack balafonist is nothing short of masterful. Great singer. Terrific dancers. Killer grooves. What's not to like? [caption id="attachment_12399" align="aligncenter" width="488"]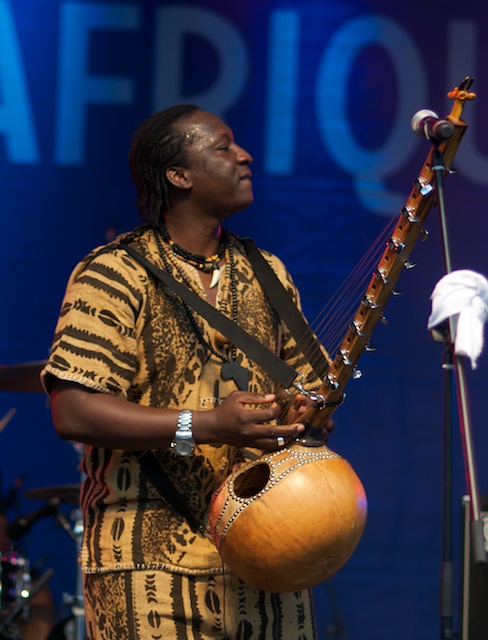 Abdoulaye Diabate (Burkina Faso, Eyre 2103)[/caption] [caption id="attachment_12403" align="aligncenter" width="603"]
Abdoulaye Diabate (Burkina Faso, Eyre 2103)[/caption] The action this day (July 18) culminated in a set from Jamaica's legendary Skatelites. Lester "Ska" Sterling is the last original member still with us, but you wouldn't know that from listening. The grooves were light as air, the sound classic, including Bob Marley's early hit "Simmer Down," and a latter day rendition of "My Boy Lolipop." I did not necessarily expect such well worn fare to rouse me, or this audience, as much as it did, but it surely did. Superb retro reggae, calypso and ska hit the spot on a perfect summer evening, and the crowd went away near ecstasy. [caption id="attachment_12404" align="aligncenter" width="590"]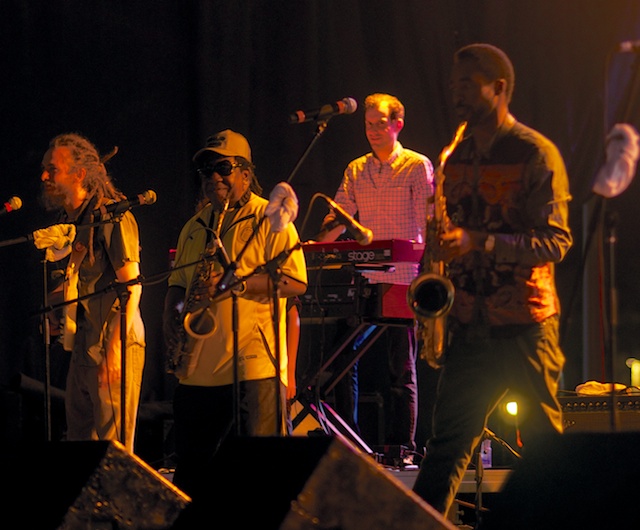 Skatelites, Lester Sterling in hat (Eyre)[/caption] [caption id="attachment_12407" align="aligncenter" width="593"]

Skatelites (Eyre 2013)[/caption] Unfortunately, the second outdoor day I caught was largely wiped out by a string of vicious thunderstorms that had people running for cover for a good five hours. All part of the game with outdoor summer shows. Just before the skies opened, it was a sweltering summer day, and Dakka, an Ivory Coast reggae singer resident in Quebec, was easing the gathering crowd into a promising day of music, showcasing a series of local African acts. The other two (Zale Seck and Zekuhl) never got to play. [caption id="attachment_12387" align="aligncenter" width="573"]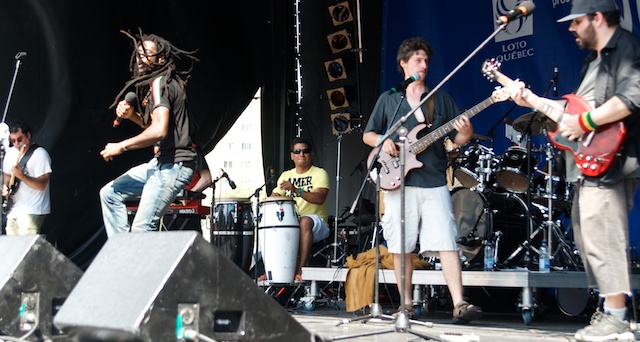 Dakka (Eyre 2013)[/caption] I waited out the storms in the Place des Arts next door, where I had a chance to interview the leader of the band that won top prize at this year's Syli D'Or. This is an elaborate competition/summit of African and African diaspora acts in Canada. Audiences vote over a series of winter concerts at Balatou (homebase nightclub for this festival), and the process culminates in a showdown of the top 3 acts in May. Interestingly, the top two acts this year both come from Colombia. The Silver went to Raices, Cana Y Son, who bring a light, largely acoustic touch to folkloric Colombian pop. The bit of their set I caught was strong. I did not get to hear the big winner, Bumaranga, live. They come from a more Afro-Colombian, percussion-oriented angle. The group's young leader, Juan Sebastien Quiros, was impressive, clearly deeply schooled in Afro-Colombian traditions, and savvy enough to assemble a killer band, the champions of Syli D'Or 2013! [caption id="attachment_12388" align="aligncenter" width="601"]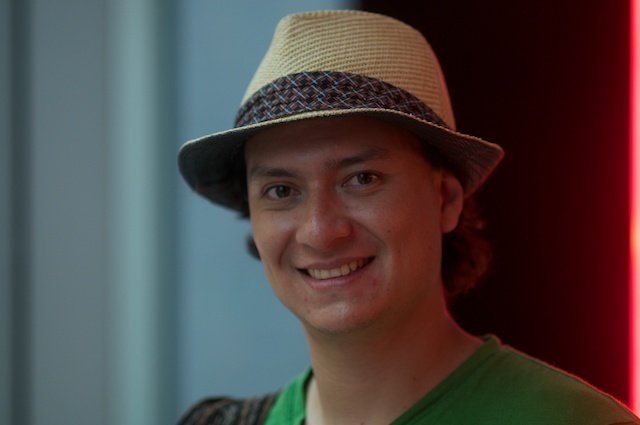 Juan Sebastian Quiros of Bumaranga (Eyre)[/caption] The skies did eventually clear, and folks turned out for an evening featuring female star power. Cristal, of Cuba, cranked out feline timba, expert if a tad cheesy. There's only much pumping and primping you can do with "Guatanamera"... [caption id="attachment_12390" align="aligncenter" width="608"]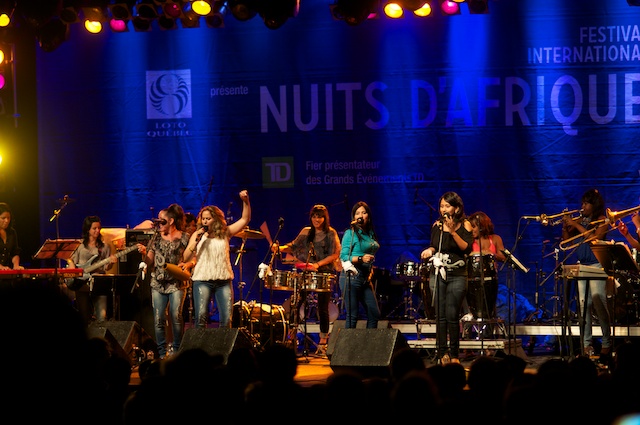 Cristal (Eyre)[/caption] From there, the night belonged to Angelique Kidjo. Nothing new in her set, just Angelique's trademark blend of hits, well-honed covers, sassy and soulful banter, and belting vocals that work every time. And, yes, crowds joined her on stage for a long, blowout finale on "Tumba." I did learn backstage, however, that Angelique has been traveling back to Benin of late, and we can expect some deep homegrown roots on her next recording. [caption id="attachment_12392" align="aligncenter" width="599"]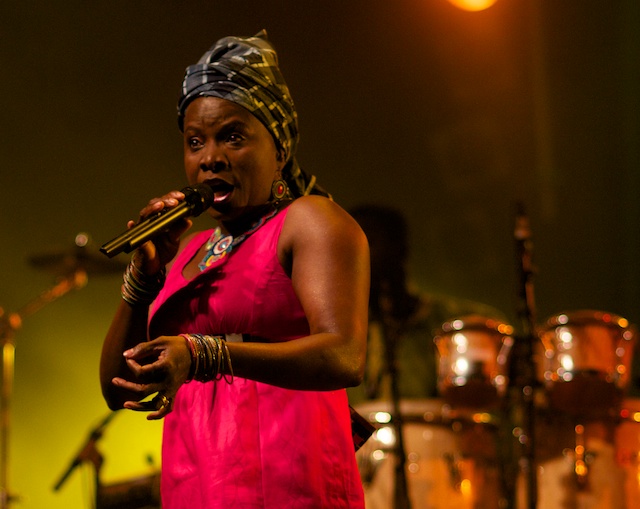 Angelique Kidjo, Montreal (Eyre 2013)[/caption] [caption id="attachment_12391" align="aligncenter" width="598"]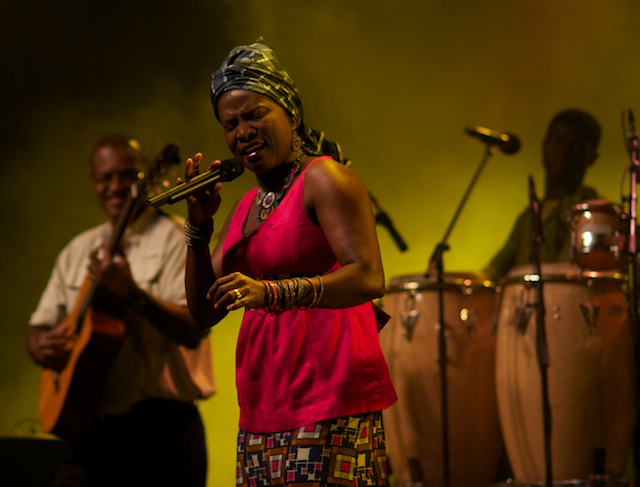 Angelique Kidjo and Dominic Kanza, Montreal (Eyre 2013)[/caption] [caption id="attachment_12393" align="aligncenter" width="605"]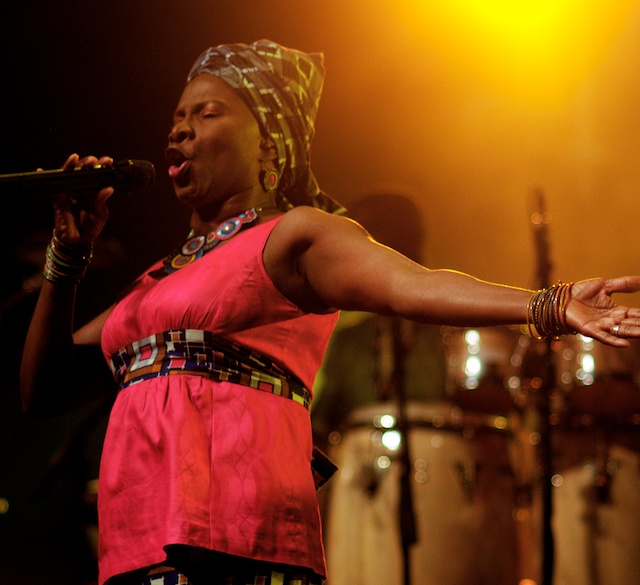 Angelique Kidjo, Montreal (Eyre 2013)[/caption] I should add that this is a very comfortable festival site. You can sit and eat African or Antillean food, drink local beer, shop in the Timbuktu Market, all while watching the show. And at 9:30 each night, you get to witness a little of Montreal's trademark creativity in the domain of film. A series of luminous, moving projections transform the wall of the neighboring symphony hall into a montage of African design and imagery...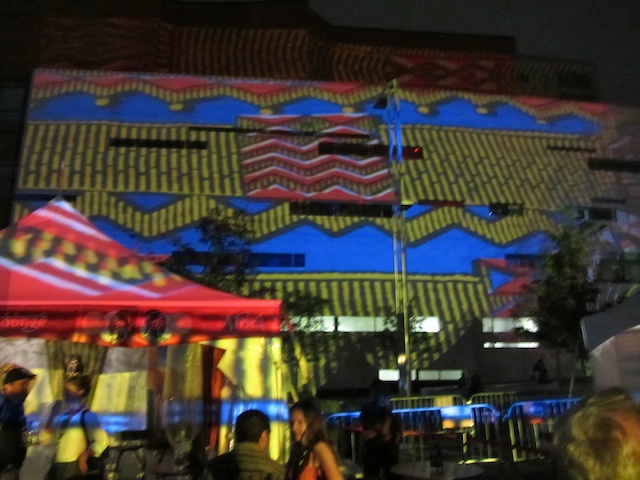 Or a series of waterfalls...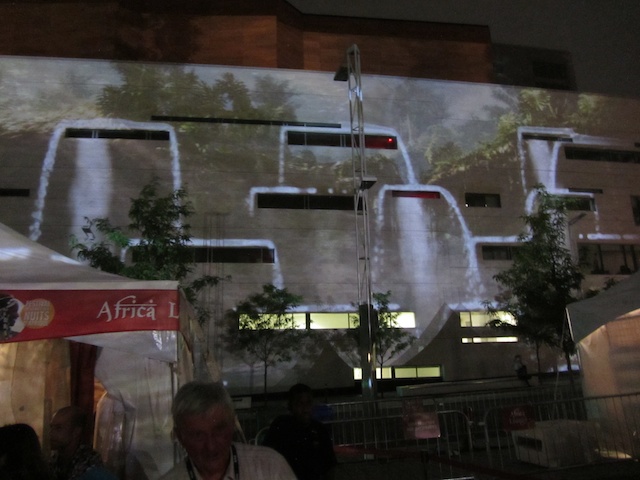 ...and much more. Nuits d'Afrique has been putting on a hell of a show for 27 years, and Afropop fully expects to return for round 28!