Okan: Doing Whatever We Want
Based in Toronto, Canada, Elizabeth Rodriguez and Magdelys (Mags) Savigne, who together are the leaders of the group OKAN, have been part of the local music scene in the city for a decade. Rodriquez was born in Havana and began studying the classical violin at an early age and eventually became concertmaster of the Havana Youth Orchestra. Percussionist Savigne, hailed from Santiago de Cuba and came to Canada in 2014 to join Canadian musician/educator Jane Bunnett's project Manqueque, an Afro-Cuban jazz ensemble Bunnett formed to mentor female Cuban musicians. Rodriguez arrived a year earlier and eventually also joined Maqueque as well. As part of that group, also featuring Cuban jazz singer Daymé Arocena, they were nominated for the Best Latin Album Grammy in 2016 for the album Oddara.
Jane Bunnett & Maqueque - "Dream"

Rodriguez and Savigne fell in love and left Maquque to form OKAN in 2017. The name comes from Santaría word for "heart." The marriage of the two artists both musically and romantically was such a successful union that it didn't take them long to receive a Juno Award nomination for their 2019 debut album, Sombras, and then won a Juno their sophomore release, Espiral, the following year. Both albums brilliantly showcase their love of classic Cuban musical styles, like changú, tímba, and pilón, chants and percussion from their Santeríá religious traditions, and a grab bag of other influences, including African, Turkish and Brazilian melodies and rhythms.

In the last couple of years, they have also developed friendships and working relationships with other acclaimed Latin artists – Columbian singer Lido Pimienta (who is also based now in Toronto) and lead singer for Bomba Estéreo, Li Samut, and the duo have been lending their voices as backup singers for both artists.

Their third album, "Okantomi" comes out on November 21, but they've just dropped a single ahead of the release.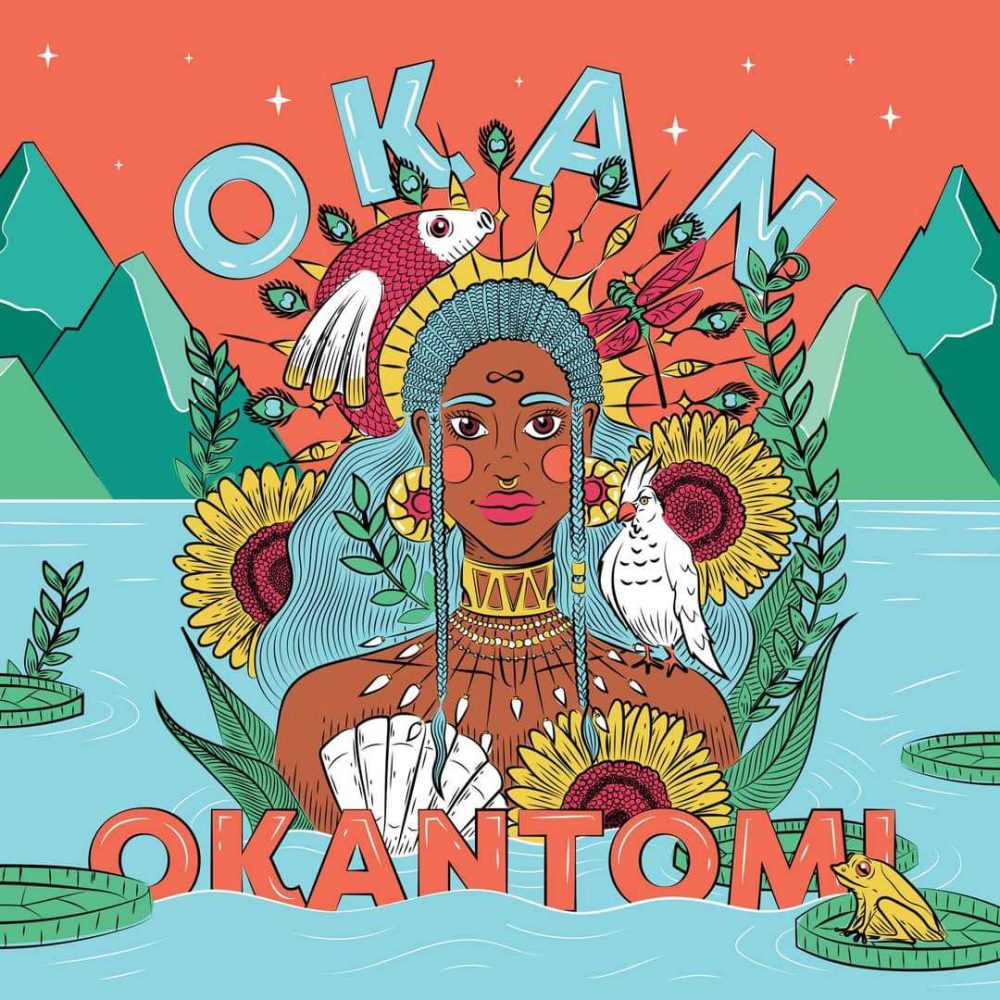 We had a chance to sit down with OKAN before their appearance at the Festival International de Jazz de Montreal in July.

Interview:

Ron Deutsch: I have to say I have been a long time fan and am looking forward to this.

Elizabeth Rodriguez: All right. Let's get into it!

Okay. then... So what are the pros and cons of being a married couple on tour?

Magdelys Savigne: [laughing] Wow! Okay! Great question!!

Rodriguez: The pros are that we get to experience a life where we can share so many cool things that are happening to us as individuals, as human beings, in that we're both sharing that stage and the music. The success, somehow, that is wonderful to participate in that process together. Of course, I would think that the cons that we have no – [sighs] – is mostly that our lives become a little more productive when it comes to the music, and our marriage life gets to be put aside for a little bit because we're producing and working and traveling and doing all these things.

Savigne: Almost 24/7.

Rodriguez: 24/7 working. So then to turn it off, it's a little complicated for me because I'm a workaholic. I hate being late. And Mags is more like when she turns off the phone, she turns off the phone like nobody.

Savigne: Yeah, if I'm late, whatever, it's okay. I'm already late. I don't want to lose my temper over it. I just want to arrive in a good peace of mind. I don't want to arrive like "AHHHH!" and make everyone's lives a living hell.

That seems like one of those ways you are able to complement each other's personality.

Savigne: Exactly. It's does.

Rodriguez: Definitely. That's why it's not as complicated, at least for us, as people might think. What we have discovered lately, especially in this last year, is that our [professional] lives are becoming more time/work than just our regular lives and so we're trying to turn it down. We realize we have to have family time. We have a son that also comes with us on tour. He is a year and eight months now.

Savigne: He's not with us right now.

Rodriguez: But he's been traveling already a lot. He's gonna be a star, that guy.

Savigne: Most pros for me is that we take family pictures in different places, every time, so we have those memories to cherish in the future. That, I never take for granted. We share a lot with different musicians. We have a fantastic band, as well. It's been a blast so far. And those even the good or bad experiences, they make us stronger, and makes us grow.

Rodriguez: We share the crappy days!

Savigne: When she's down, I try to pull her up. And when I'm down, she tries to pull me up. It helps.

Speaking of your boy going on tour, there's this couple, Alejandro y María Laura from Peru, who now live in Spain. I just saw them perform recently and their daughter is now like five years old and they bring her on stage to sing a song.

Savigne: We can't wait to bring Orun on stage. Orun means heaven and son in Afro-Cuban dialect, Yoruba.

Well, that's a perfect set-up to transition to what else I wanted to ask you about which is your practice of Santería which is very much of the music. I saw Pedrito Martinez perform last night here at the Jazzfest, and I understand he's a Santero.

Savigne: Yeah, he is a Santería priest.

So could you talk me through how Santería informs your lives and you music?

Rodriguez: So, the type of Santería we follow was created in Cuba, but all the different tribes and people that were brought to Cuba – part of human trafficking the people used to do back then and slavery – they came from different countries and got together in Cuba. And the only thing they had was their culture and their faith and their gods. And basically those people are our ancestors. And because they are our ancestors, our families belong to the religion and we grew up listening to the music and the stories, called patakíes, and practicing the religion. In my case, I was initiated when I was 15 years old. Mags just got initiated a couple of months go. She was a believer before, but now she got into a ceremony that lasts for a week, a little bit longer, actually.

Savigne: It was pretty intense. My mother came to support me and I had my family's blessing, to take this new life. It felt amazing.

Rodriguez: It's very intense and very rustic and very magical. It literally feels like magic.


OKAN - "Sombras"

Rodriguez: The part that comes into our music is the fact that we both went to music school in Cuba where the training was completely classical music, where you are stripped down from all of your culture and heritage because what they make you play is like Beethoven and Mahler and Vivaldi.

Savigne: They literally strip you down.

Rodriguez: So then after a few years of therapy and growth [laughs].... Still, at home then, people are listening to the popular Cuban music. But at the music school you couldn't play none of that. Now, you can. But when we used to go to school, you couldn't.

Savigne: For me, I crossed paths with the batá drums when I was very young, I was like six or seven years old and I fell in love with them. They made me do music. I had no idea about a school of music or how to get there. No one in my family was a musician. So just finding them, the drums, was like finding myself, pretty much. That made me who I am.

Rodriguez: So it is a religion where we have faith in many different gods representing nature. It's basically believing in nature, which is what we should all do in our own different way because nature is here for us and we're here for nature. So we're serving our religion and culture with our music.

Can you explain how one would experience that influence in the music?

Savigne: It's everywhere.

Rodriguez: The chants....

Savigne: And especially with the batá drums I play on the stage. The idea of the drum comes from Africa, of course, Nigeria and Congo, but the batá drum, per se, they were created in Cuba, with Cuban wood. They represent the religion. They talk for the Orishas [the spirits]. They talk for the dancers. They are the key part.


OKAN - "Luz (a spiritual chant for our ancestors)"

So when you are playing the batá, you are calling on the spirits. It helps to raise the consciousness of the music?

Savigne: It's all about the energy.

Rodriguez: The people feel it.

Savigne: Even if you don't believe in the religion, it's something that's there you will feel.

Like how one feels with gospel music.

Savigne: Exactly like gospel music.

Rodriguez: Because those are the same people who were brought into a different country. It's the same ships that brought them and dispersed them all over the Americas – north and south. We are all one and all belong to the same land and that's why we're so connected. And when they say "I feel the spirit," what we're talking about feeling all those ancestors.

Savigne: Not only that, it's a way for you to feel better with yourself and forget about your troubles. Most of us have nothing, but we have music. And once we're playing the music, whether it's in a church or one of our celebrations, time stops. Nobody cares about the money in the bank. Nobody cares if you lost everything. You're just in that moment and nothing else matters. That's why when people go to Cuba and they're like "Everyone looks so happy here!" It's not only the weather. It's because we have it – the music, the arts. It's all an expression of ourselves. And we're never going let anybody take that away from us. They've tried many times, but nobody can.

Rodriguez: And even the most modern stuff that we do, that are not just the actual chants that come from the religion, even the other music genres that were developed later on also come from the Afro-Cuban population. But also from our Spanish side. One of the things we have done is making peace with that, and with the next album that is coming out is about making peace with both sides – the classical world that we actually got trained for and the music from our ancestors. We're blending those.

In the past, you've spoken a lot about reclaiming older Cuban music genres that you felt were being lost. Where do you think where were are now in terms of that?

Rodriguez: There are more Afro-Cuban outside of Cuba now. So before the massive emigration of Afro-Cubans there was a massive emigration of "white" Cubans, who were not so necessarily involved with the music. But with the years passing, with people struggling more and more on the island, more Afro-Cubans were able to leave, and that's when the music started coming out a lot more – with figures like Celia Cruz...

Savigne: La Lupe! La Lupe! Benny Moré!

Rodriguez: …. names that were already big in Cuba and then became very big outside of Cuba. But right now, we're talking about people who have been living outside of Cuba for probably longer than they were in Cuba or just growing up here, so the influences they have are from where they were growing up. For me, I came to Canada when I was 23 years old, so the memories I have.... I will definitely have more influences that I'm a little more open to. So that's where I think we are as Cuban musicians. Cubans want to do things from the countries they are living in – Europe, South America, in Africa. They're mixing their roots with whatever they have now.

Savigne: There's a thirst for mainstream mingling with different other cultures. Because we were so isolated for so long in Cuba, a lot of music and genres were created, and we were just competing amongst ourselves. That's how Latin jazz happened. That's how salsa, timba happened. All those huge genres from Cuba, like reggaeton. Those things that only we understand because it's an expression of the people, now it's arriving to the mainstream. Like to the Grammys. Like with Tony Succar. Like timba. We've been doing timba since the 1990's. It was created in Cuba. Chuchu Valdes. But back then, they weren't known. They weren't so mainstream until after they started traveling outside of Cuba. For us who grew up listening to that music, we have that influence, but also we want to open it up and see how it sounds like with a little me and with a little bit of whatever else is out there and create something.

Rodriguez: You've heard what Cimafunk is doing? He's doing funk with some Cuban flavor. Cuban funk. A little Afrobeat. The reality though, is in Cuba, we listen to either what is happening outside of Cuba, because you know, you yearn for something you don't have....

Savigne: The kids there don't know about Benny Moré.
Rodriguez: But we grew up a little closer to that. But also being here, once you're away from you home, you learn to appreciate all that stuff, those sounds you had there.


OKAN – Kumba (based on a song by La Lupe)

Let's talk about the new album you're working on....

Rodriguez: In the new album we're doing whatever we want! That is basically what we are doing.

This is our third album. How do I explain this? I explain it is that there is a tune where we invited a flute player from Vietnam in a song that Mags wrote that is kind of like futuristic Afro-Cuban kind of thing, but still very organic.

I'm trying to start from the beginning, so the album is going to be like a trip, going from our actual roots and then traveling through different genres. We started from a song that is going to be with both of us going straight into our roots. Where it's just vocals and drums. We're playing a conga from Santiago, Cuba where Mags is from, but with the conga we're mixing our two histories of classical music. I'll be doing triple strings from my Ukrainian violin teacher who would be very proud of me, but I'm playing a rhythm that is like "chang-a-chang-a-chang."

We also have a classical tune and invited Lara St. John, who is one of the most famous Canadian violinists. She is our friend and came is one of our special guests one a song that I loved playing when I was growing up. Mags and I made an arrangement and turned that into a changui at the end of the song.

We have another song, a timba, that once it's out we might be banned from Cuba forever because the lyric content is very strong. It's not actually that strong, it's a beautiful song about how much it hurts to be far away from our home and to see it suffering so much. We invited many Cuban musicians based in Toronto.

There's another Afro-Cuban song I'm singing in Spanglish, because that's what I talk now. And that song is also the title of the album, Okantomi, which means "ocean's heart." And that's also my religious name. It's a song where I'm using the freedom of expression that I wasn't able to use in Cuba. It's a fun song, but I'm talking about a serious situation about how the life of the immigrant in Canada isn't always as wonderful and welcoming as they seem to say. Though I'm just trying to make Canada better because now I'm a Canadian citizen. It's difficult, you know. People come here with degrees and become cab drivers. Like I say in the concerts: "I complain with a flow" – there's a catchy rhythm while I'm complaining.

Savigne: So it's not as aggressive as just nagging.

So changing subjects, how did you guys hook up with Li Samut of Bomba Estéreo?

Rodriguez: That was a wonderful gift from the universe to experience and experiment this thing with Bomba Estéreo. We met them through Lido Pimienta.

I saw Lido last year. She's amazing. So funny on stage....

Savigne: She's a character. Her expressions! She an artist and entertainer and you will never get bored at her concerts at all.

Rodriguez: A friend of ours in common called us to be on Lido's album, that's how we met her and sang [backup vocals] on her last album. And then she hooked up with Li and Bomba Estéreo. Then Li came here to do some demos for Bomba and wanted to work with Lido as producer. So Lido called us to do some vocals on them. Then they sent them to Sony and they loved it and then they flew us to Columbia to record with Bomba Estereo. Then they took us on tour as part of the band... just for a little bit.


Lido Pimienta - "Nada" (feat. Li Saumet, and w OKAN on background vocals)

Savigne: It was a different experience, a different audience, a different world.

Rodriguez: But we got to experience that, and that was awesome.

Savigne: That world was nice. The treatment of the artists. So nice.


Bomba Estéreo – Agua (w Lido Pimienta and OKAN on background vocals)

And you've also worked with Dayme Arocena who you know from Maqueque days. Another great voice who's become a star.

Savigne: That's another goddess.

Rodriguez: She is a goddess. We are very close friends. She actually lived here in Canada during Covid. So we got to be in the same bubble. We used to hang out a lot – like when people couldn't get together, we actually getting together, because otherwise there was nothing else to do. But no song came out of that, because we were just eating and drinking...

Savigne: ...and talking, about a lot of things.

Rodriguez: And she's gonna be a guest on our new album as well.

We're definitely looking forward to hearing the new album. I guess we're done, though is there anything else you want to say?

Rodriguez: We just want people to come to our concerts and listen to our music and be open to the new stuff we're gonna do. Because of our experiences with Bomba Esteréo and Lido Pimienta, our minds, hearts and soul have been open to new horizons. And we're just releasing a new single that we did with Javier Chacon, a producer here in Montreal, which is more modern, urban, Afrobeat...

Savigne: erotic...

Rodriguez: [laughing] It's just something that we made. It doesn't have a genre. It's different and new. Going right to the beginning of our interview about our relationship, it's a song that Mags and I wrote going through a period, a situation, complaining. So instead of just fighting, I put it into a song. Just put our troubles out to the world. And now things are better. We turn our troubles, situations, life and experiences into music. Like I'm no longer in that place when I wrote the song, but it brings out a more sensual and confident side of me that my classical, uptight world of music didn't let me explore before. And now that I'm about to be 34 years old, a mother of a child, I feel a lot more confident and comfortable with everything of who I am.

Savigne: It puts out there our vulnerabilities. It's called "Iglú."


OKAN - "Iglú"


Well, thanks again for your time.

Savigne + Rodriguez: Thank you.