Orchestra Baobab Explains Their Hits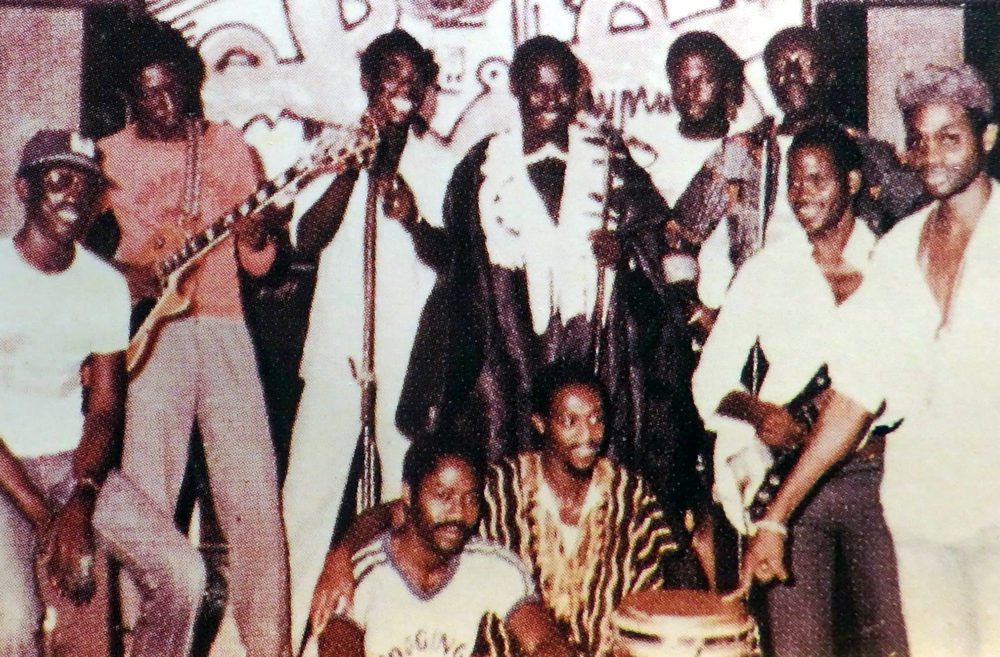 The music of Orchestra Baobab is simply self-evidently awesome. You don't need to know that the style is a Senegalese evolution of Cuban music, filtered through the band members' myriad ethnic and national origins. If you're anything like me, you'll rush to learn all that after you've heard this music. But to fall in love? Just hit the play button.
But once you're familiar with the songs, maybe you want to know more about where it came from. On this week's program, we hear from Baobab members: singers and percussionists Balla Sidibe and Rudy Gomis, guitarist and arranger Barthélemy Attisso and saxophonist Thierno Koite. We asked them to explain some of the songs we heard on this week's show.
Here's what they said:
"On Verra Ca"
This is the tune--the title translates as "We'll see!,"--with which the band used to kick off the show at the old Club Baobab. From their beginning in 1970, when there were just Balla Sidibe, Barthelemy Attisso and Rudy Gomis, and three others whose tenure in Baobab was shorter, "On Verra Ca" became a little mantra and joke among the band. Sidibe used to introduce band members with it, or chant it in reference to the players' wives and kids if they were around, and you can hear him calling out Rudy Gomis right as the song kicks off on Specialist in All Styles.

When asked about the song, Thierno Koite and Rudy Gomis offered some insights into the band's writing method:
"[Guitarist Barthelemy] Attisso had a lot of influence on this song. Frankly, he's a very, very, very good musician, you must recognize. When someone had an issue with part of the music, he was the glue to fix it," Koite said. "Usually songs were created by a singer. Like, if Rudy comes with words and an idea, everyone in the band tries to find his part to play in it. So Rudy or Balla would come with the words and then the music would follow. Attisso would work on it or [saxophonist and bandleader] Issa Cissokho or [clarinetist] Peter [Udo]. Each one contributes what the song inspires in him and little by little the song is constructed. Each time, we didn't stop until everyone in the band was content."
Rudy Gomis, Baobab's hand percussionist and one of the lead singers, added, "Making songs wasn't just done by the singers. Me, I made a lot of songs, I'd just be at my house and take out my guitar and try to find something. And I'd take it [to the band], and the artists would uncover something. Barthelemy was the arranger and he got everyone singing 'faites ça et ça et ça.'"
"But it's an ensemble piece. That's why when we play it, everyone's happy, because you feel you worked on it. Everyone brought something to it. That's the power of Baobab."

"Bul Ma Miin" and "Jiin Ma Jiin Ma"
"Bul Ma Miin" was originally sung by the wife of longtime Baobab singer, Ndiouga Dieng, whose background was as a traditional Wolof singer set the arrangement for the group. Rudy Gomis told us "Bul Ma Miin" is a sort of advice about not just getting used to someone and forgetting who they are or take their presence simply for granted. The lyrics state that "showing affection doesn't equate with being weak."

"You know, when you're together for a long time, it can come to an end when you forget the other person," Rudy said. "Like couples where they run into these huge problems because they just forget the other person."
Rudy also added that he misheard the original singer singing "Bul Ma Miin" as "Jiin Ma," which became, actually, another certified Baobab banger.
"Hommage A Tonton Ferrer"
Freshly reunited, the band was in Livingston Studios in London, working on what would be their 2002 come-back record Specialist in All Styles. Youssou N'Dour was there as a coproducer when fellow executive producer Nick Gold showed up with a surprise: Buena Vista Social Club singer Ibrahim Ferrer. Barthelemy called Gold a "visionary" for this impulsive visit from the producer's perhaps best-known project.
It's probably worth remembering that Buena Vista Social Club was originally supposed to be a collaboration between artists from Cuba and artists from Mali, but the Malian artists couldn't get visas in time and so the Cuban veterans, along with Ry Cooder, soldiered along without the Malians, recording that first 1997 record that reminded the world how deeply wonderful classic Cuban music is, these players especially. Eventually the Malians would get their visas and the collaboration would be released as 2010's AfroCubism, which rules. At any rate, collaborations between West African and Cuban musicians is very much Gold's jam.
Ferrer arrived and Gold just said, "Hey, you guys can do something together," but even though there was a lot of mutual admiration among the artists, nobody really knew where to start. Barthelemy Attisso started riffing on "Utrus Horas," the first track on Pirate's Choice, and one that he knew everyone liked. Attisso also noted that the song has, like, a two or three minute solo from Attisso himself that he loves to play live. Guitarists, man, I tell ya.
Ferrer knew the tune and began to improvise over the arrangement, and then Youssou N'Dour burst into the song too. Just imagine, you're there playing with one legend and another one shows up and joins in. In the version that made it to the album, Gomis opens the song with a touch of "Utrus Horas" followed by Ferrer, followed by a Wolof lullaby by Nidioug Dieng and younger Baobab singer, Assane Mboup.

"Nijaay"
"Nijaay" is a loving way to address one's husband, Rudy Gomis said, like mon cheri in French, but specifically for wives to call their husbands in Wolof. I get the impression this was also a Ndiouga Dieng-contributed song. The late singer seems to have a bit of a romantic streak.

And that's one thing I loved about going through these interviews for this show: getting to know the men behind the music. You can hear the pride they all have in the work they put in, as well as the mutual respect they have for each other. To a man, they all say Orchestra Baobab is the best orchestra of them all, but not a one of them will take the credit alone.