Pasichigare: Mystic Music of Zimbabwe
Chartwell Dutiro is a Zimbabwean mbira artist and singer/songwriter now living in Devon, U.K. He may be best known for his membership in Thomas Mapfumo's pioneering band, the Blacks Unlimited, in the late '80s and early '90s. But since he moved on in 1993, Chartwell has made his own name, teaching, writing, performing and recording both electric pop and traditional music.
This double CD, subtitled Mystic Mbira Music of Zimbabwe, finds him squarely in roots territory. The session went down in Munich, Germany. Chartwell is accompanied by two highly skilled—though non-Zimbabwean—collaborators, Sebastian Pott and Elmar Pohl, both on mbira and hosho. Together they are the Chipindura Mbira Trio, chipindura meaning "wind of change." The CD title, Pasichigare, refers to an ancient way of living among the Shona people, a world in which music connects the living with the spirits of ancestors who, in turn, guide them toward a good and healthy life. This is where Chartwell began, and, after so many global and cultural excursions, he seems all but overjoyed to return there.
The 13 songs on this long, unhurried session are as satisfying as any straight-up mbira record out there. The sound is pristine, down to the bee-like buzzing of bottle caps on the mbiras and gourds. The playing is clean, generally on the slow side, and spectacularly soulful.
There are various ways to tune mbiras, and this session uses the distinctive gandanga tuning, the one Chartwell first played when he participated in bira ceremonies as a young man. Those familiar with mbira music will recognize a number of these songs, though in some cases their sonority is altered by the unusual tuning. The song "Kuzanga," normally bright and cheerful, takes on a darker, haunting quality here. And if you compare "Nyama Yekugocha" to the version Thomas Mafpumo recorded (with Chartwell in the band) on the Chamunorwa album, you also hear a remarkable refraction of the familiar.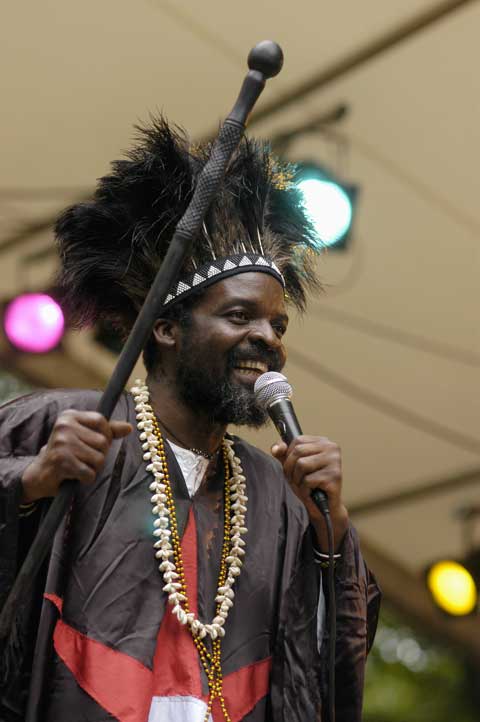 But as wonderful as the playing and sound are on this session, its most striking aspect may be the vocals, all by Chartwell. Singing alone, he can play between the high, crying huro style, and the soft, undulating mahon'era style. This is the most accomplished singing he has recorded to date, and it comes in a wide range of colors: soft and plangent ("Shumba Ya Mukwashi"), wistful ("Bukatiende"), ecstatic and energized to the point of otherworldliness ("Dande"). In a striking modern touch, Chartwell sometimes adds obliquely harmonized backing vocals ("Nyuchi," "Chakwi," "Kuzanga")—an unexpected sonority sure to please the ears of jazz lovers, and adding rich, polyrhythmic counterpoint to the polyrhythms in the mbira and percussion parts.
Chartwell's lyrics—provided here in the original Shona as well as German and English—paint pictures of lost worlds. They evoke mysterious journeys, courtship rituals, phases of war and colonialism. These things and so much more are rendered with phrases that inspire the imagination, even as they sometimes defy comprehension: "I had an argument with the dwarf, and I hit him. Having hit him I had to pay a fine of a crow and two goats. He killed one of the goats and gave me a leg. For three days, I was so full I couldn't even eat sadza (maize porridge)."
There is nothing obvious or superficial about this music, and yet, played this well, it is deeply inviting and universally accessible. This recording is an instant classic from an artist whose stature continues to grow, even as he mostly remains far from his beloved home.