Photo Essay: Atlantic Music Expo Returns to Cape Verde, Part One
A door opened in Cape Verde could open anywhere. These 10 islands—a crescent of magnificent volcanic miracles in the middle of the Atlantic Ocean, 400 miles west of Senegal—are like a portal to the wide world.
As the earliest European colony in the tropics and a hub for the trans-Atlantic slave trade, Cape Verde is a creole country to the core. It was born on previously uninhabited islands from nothing other than a intermixing of humanity (though the intermixing was often not consensual).
Today, 560 years into its existence, Cape Verde is a country in diaspora, with more of its people living outside of its borders than within. This archipelago of some 550,000 inhabitants has honorary islands around the world--in Lisbon, Rotterdam, Massachusetts and France. Consequently, the home country is privy to the pulse of the world, through stories told and music shared, and woven into it through marriages, communities built and identities created.
Cape Verde and its music are built on encounter and exchange. The Atlantic Music Expo (AME), a prism that celebrates encounter, is in the right place. Annually, it summons to Cape Verde an eclectic spread of artists from the continents that share the Atlantic Ocean.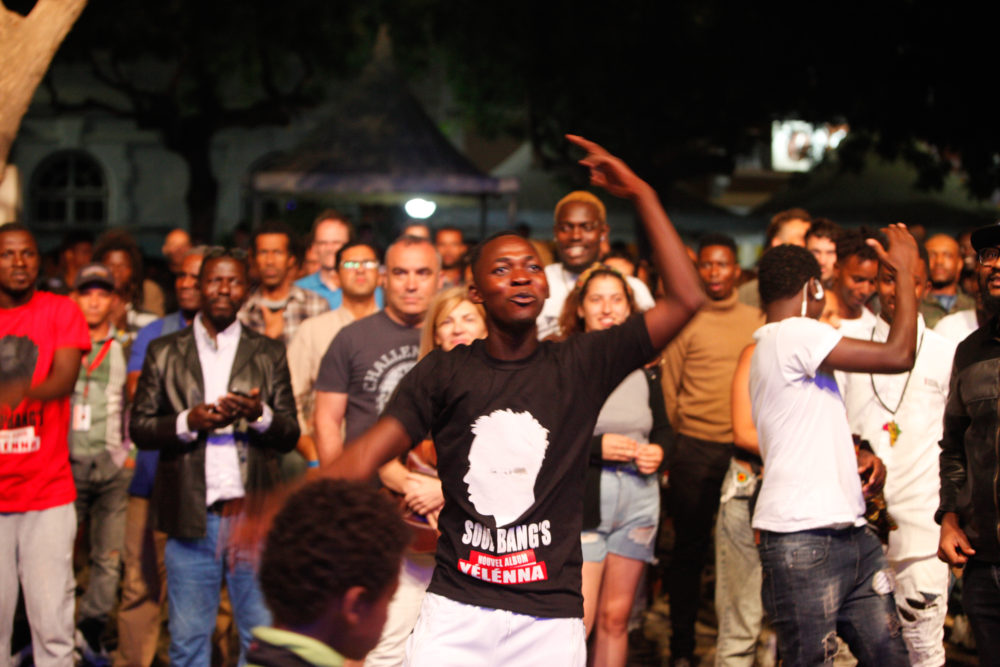 For four days in April, Cape Verdeans and music lovers from abroad gathered at stages in the old streets of Praia as the hot, viscous day cooled to night. They soaked up everything that came their way, whether Malagasy punk rock, Senegalese electro-sabar, Egyptian reggae, or futurist retro funk from Canada. Cape Verdeans have their ears wide open.
Here we'll check out some favorites from beyond Cape Verde. In another article, we'll go deep into the dynamics shaping the music of Cape Verde and its diaspora today. All photos by Sebastian Bouknight.
La Yegros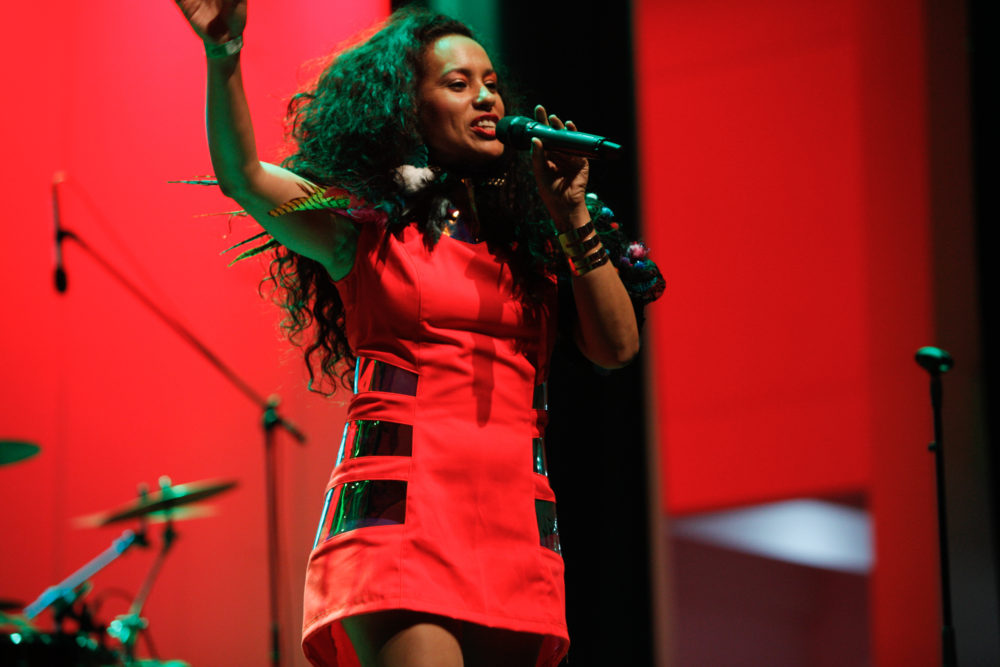 La Yegros, a scintillating electro-cumbia queen from Argentina, performed at the AME opening concert in the stately National Assembly. In her reflective red spacesuit dress, big shoes and bountiful hair, she and her band played a futuristic swirl of dancehall, cumbia, funk, reggaeton and Argentinian chamamé.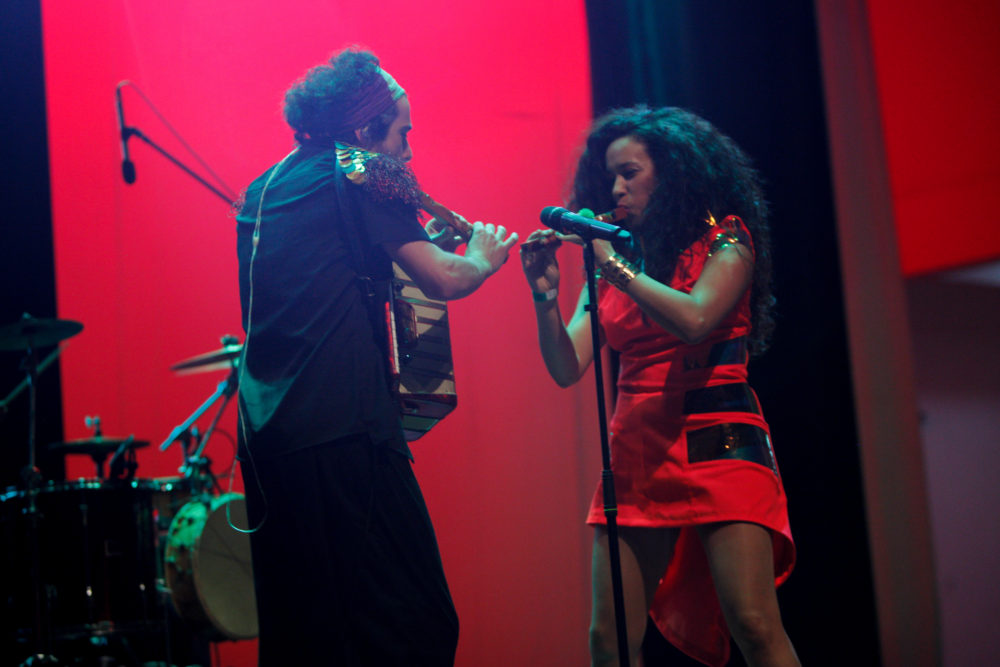 Mariana Yegros has a big presence on stage, and her theatrical background comes through in the band's costumes. At one point, she toasted beautifully over a dancehall break.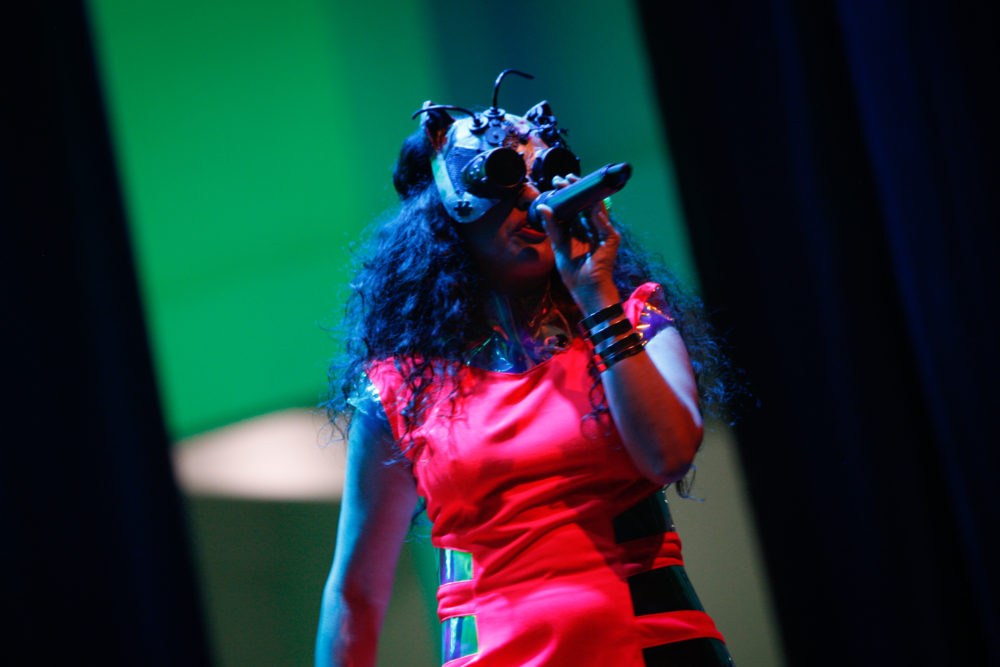 Guiss Guiss Bou Bess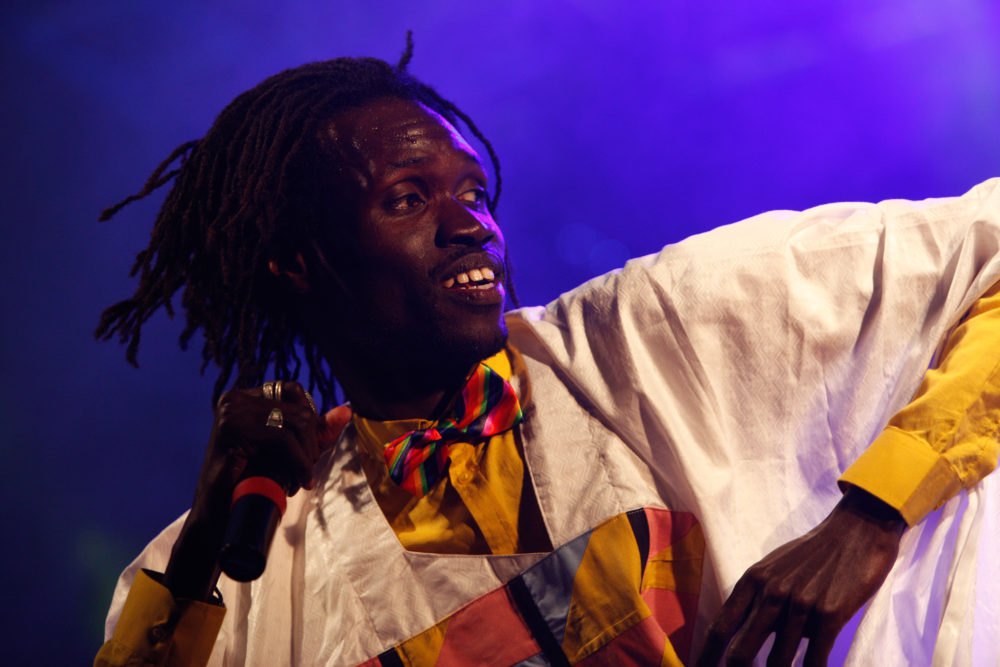 Senegalese singer/drummer Mara Seck teamed up with French electro-beat maestro Stephane Constantini to craft a dazzling yellow music they call electro-sabar. Rapid-fire sabar drumming and its pop music progeny, mbalax, keep Senegal's engine running. This duo seeks to take this sound, so rooted in Senegal, and make it "understandable" to listeners across the world—in other words, to interpret it through the universal language of electronic dance beats.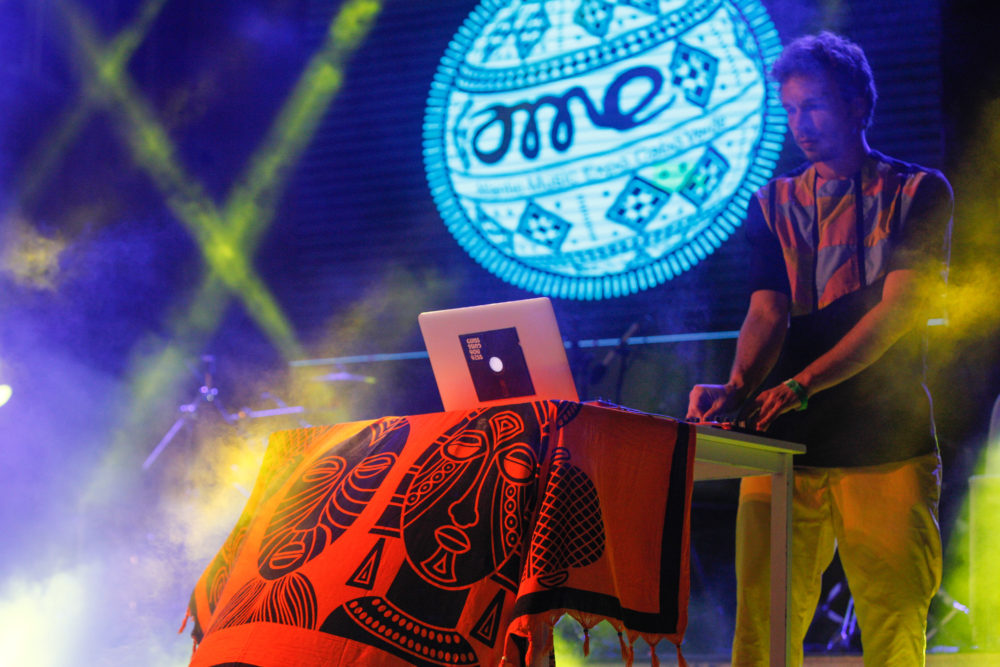 Praia understood it. Guiss Guiss Bou Bess's thundering rhythms—from Seck's drums and Constantini's laptop—commanded the crowd to their feet. A Senegalese sabar troupe based in Praia hopped on stage and showed what the dance looks like: four limbs flying faster than light, all seemingly independent from each other. Their show was wildly fun.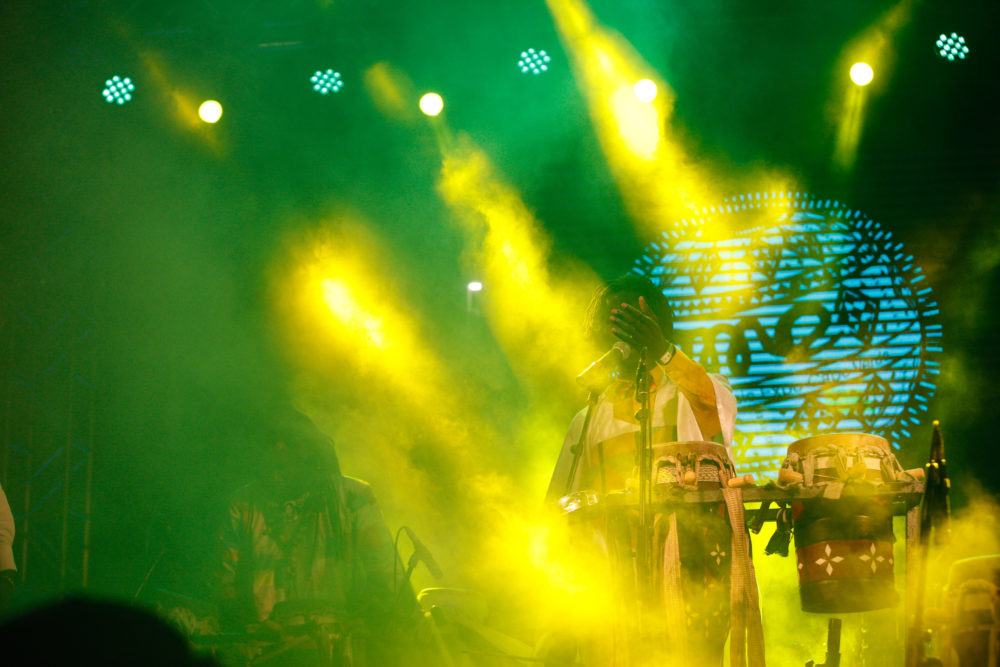 Monica Pereira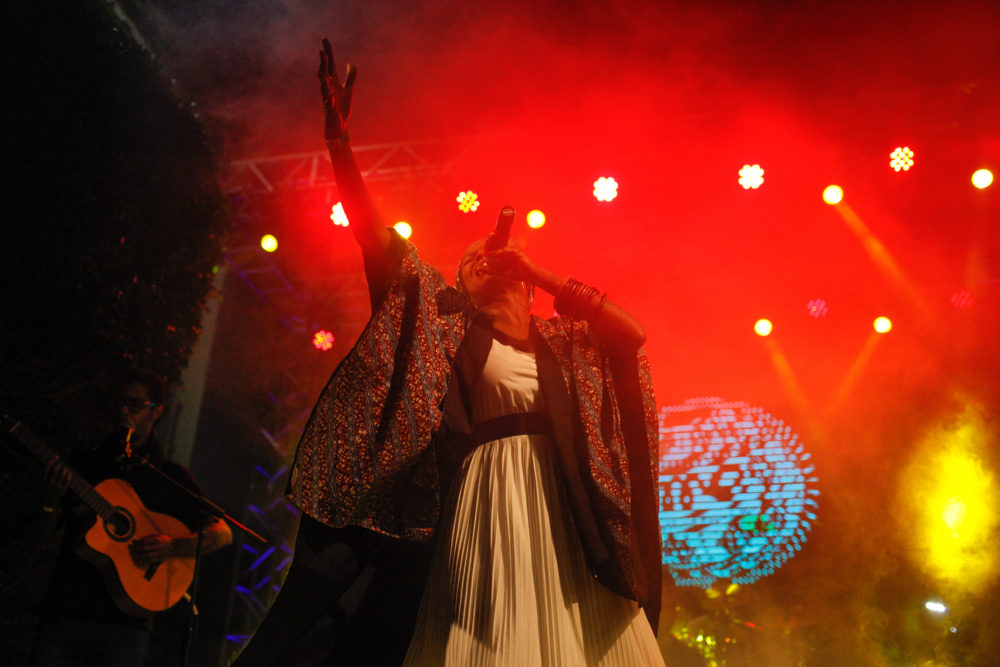 Monica Pereira carries herself like a warrior, but wields nothing but love. Born in Guinea-Bissau (the "griot land," as she says) to Guinean and Cape Verdean parents and raised in Portugal, the singer now lives in Paris. With her sensual, husky alto and powerful stage presence, she bewitched her adoring audience in Praia.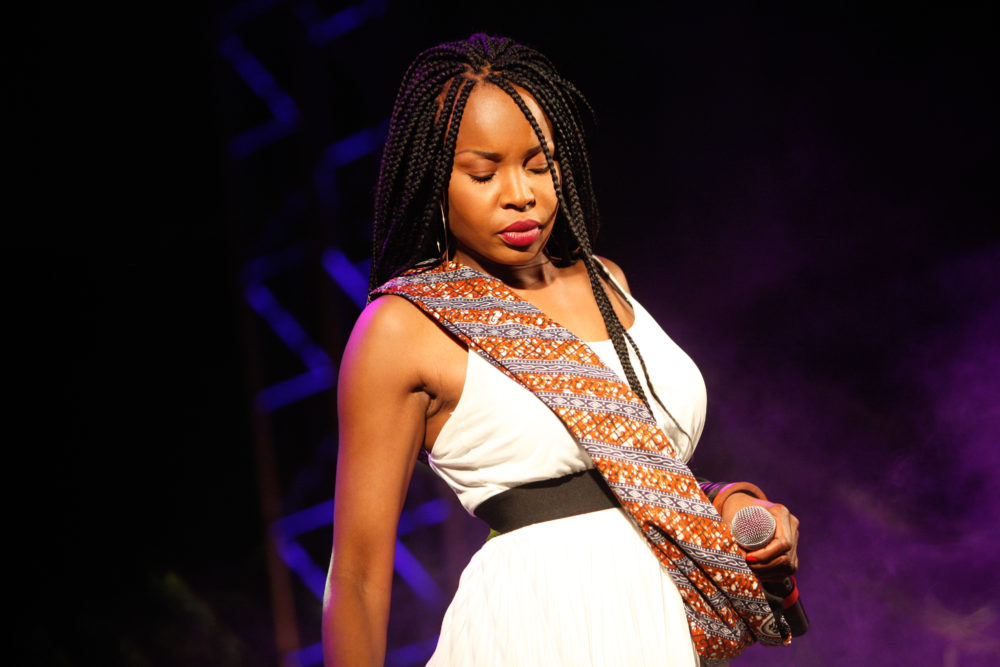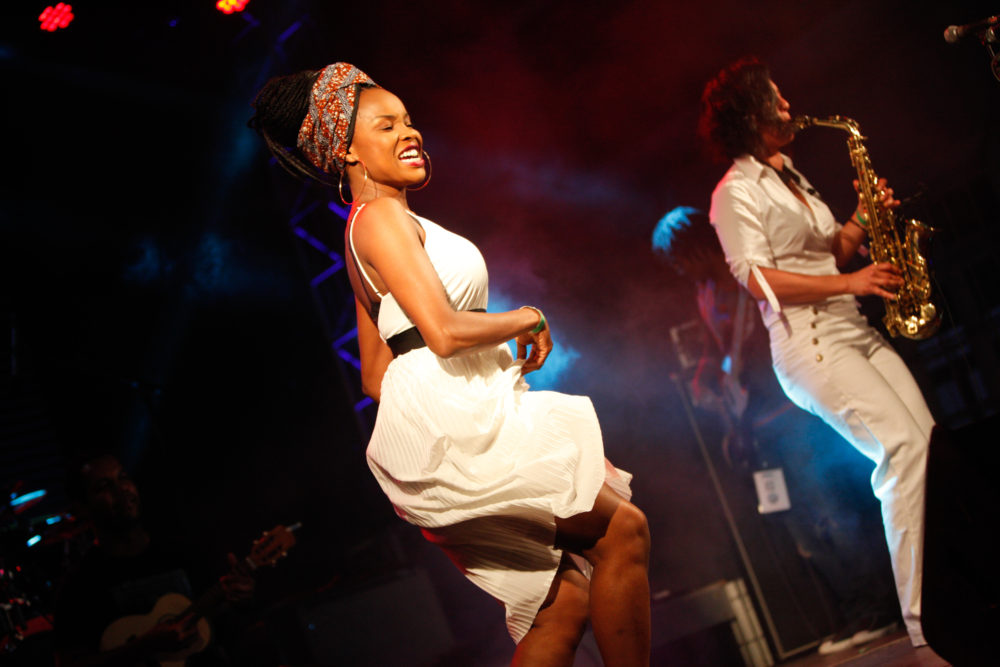 Pereira draws on her many roots—sounds of Cape Verde, French chanson, and West African Mandé music. She sings of romance, but also of love for home, for the African continent she calls "Terra Bonito." Three songs on her recent album, Mulher do Sol, feature Malian musicians on kora and voice. Her recordings are sweet, but her live performance is exhilarating.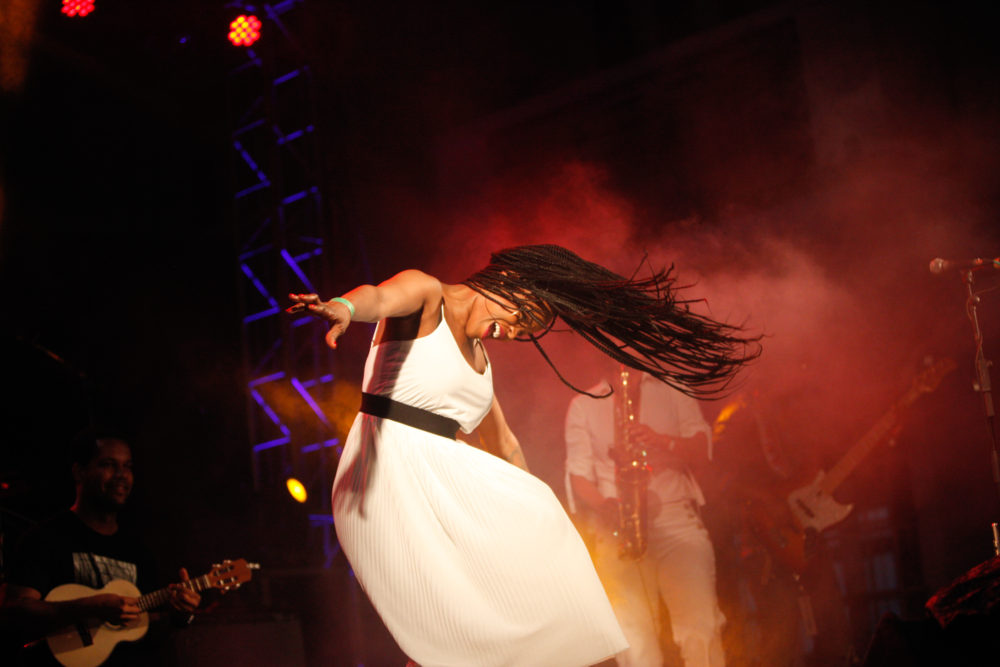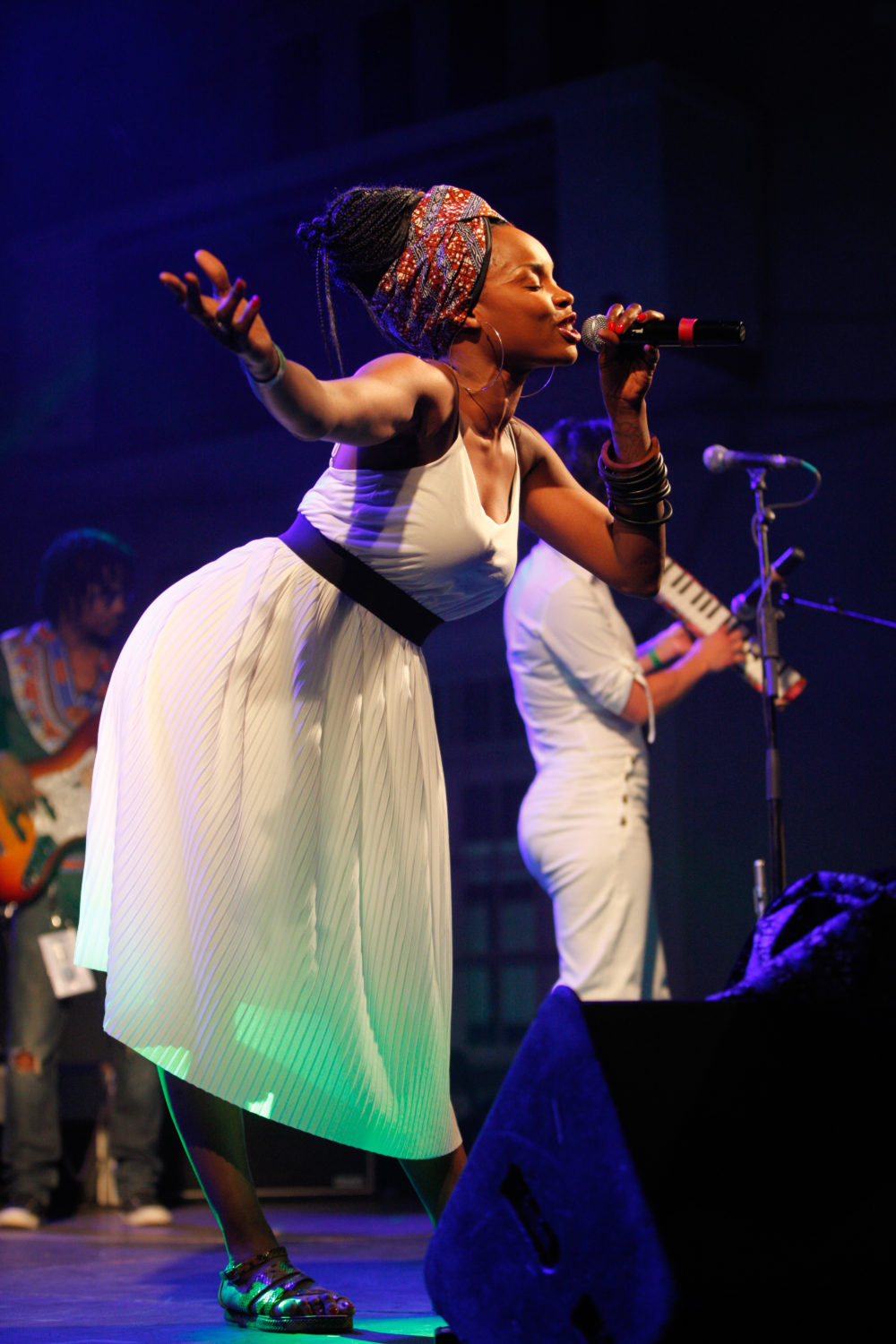 Tiloun
Cape Verde has a kind of cousin on the other side of the African continent. Réunion, a little Indian Ocean island near Madagascar, is technically a region of France. Like Cape Verde, the island was uninhabited until European colonization in the 1500s. There, a different creole developed, through a meeting of Europeans, Africans, Indians, Malagasy, and Chinese.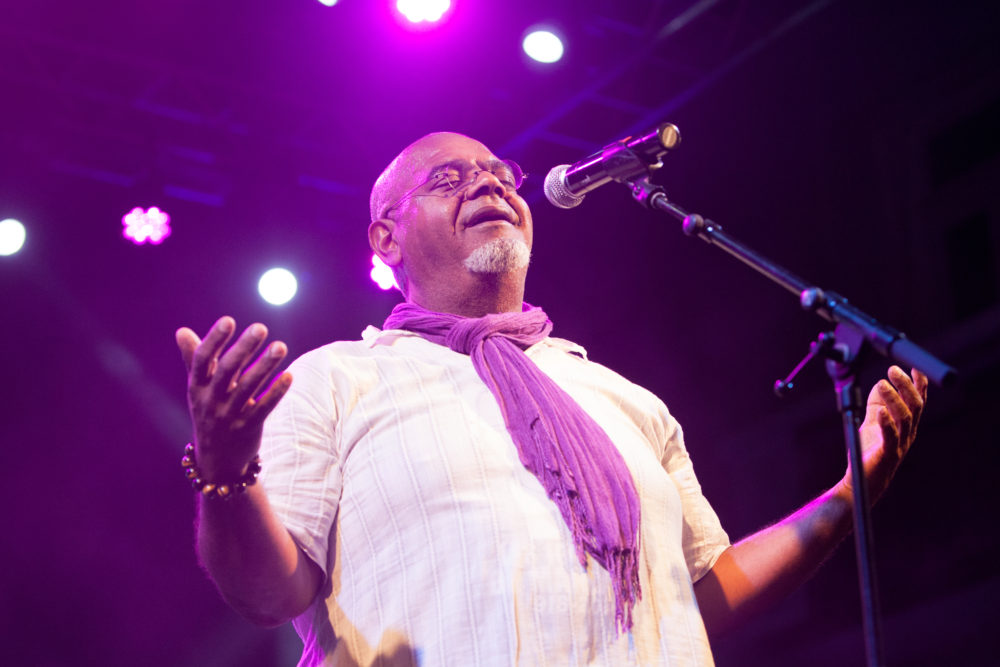 Tiloun comes from this context, from a land that created maloya—a way of living, he told me, as much as a music. The songs of enslaved sugarcane plantation workers gave birth to the art form, which became such a strong signifier of creole identity that the French authorities banned it.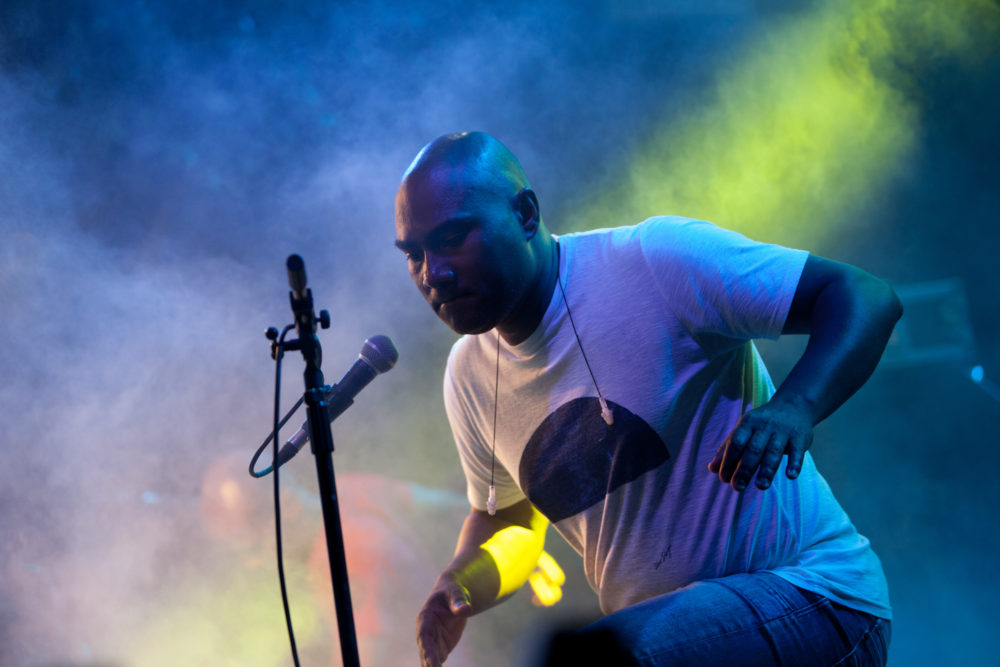 On stage in Praia, Tiloun got lost deep in the sound when he sang, his eyes closed and his face molding to the music's emotions. With an insistent, warmly tremulous voice, he shook a big, square sugarcane-reed shaker called a kayamb while his band sang rich harmonies. It's serious soul music. The band plays only drums—djembe, congas, and Réunionese sati and rouler—and a bit of flute. With its hot shuffle, it's excellent dance music on par with Cape Verdean batuko.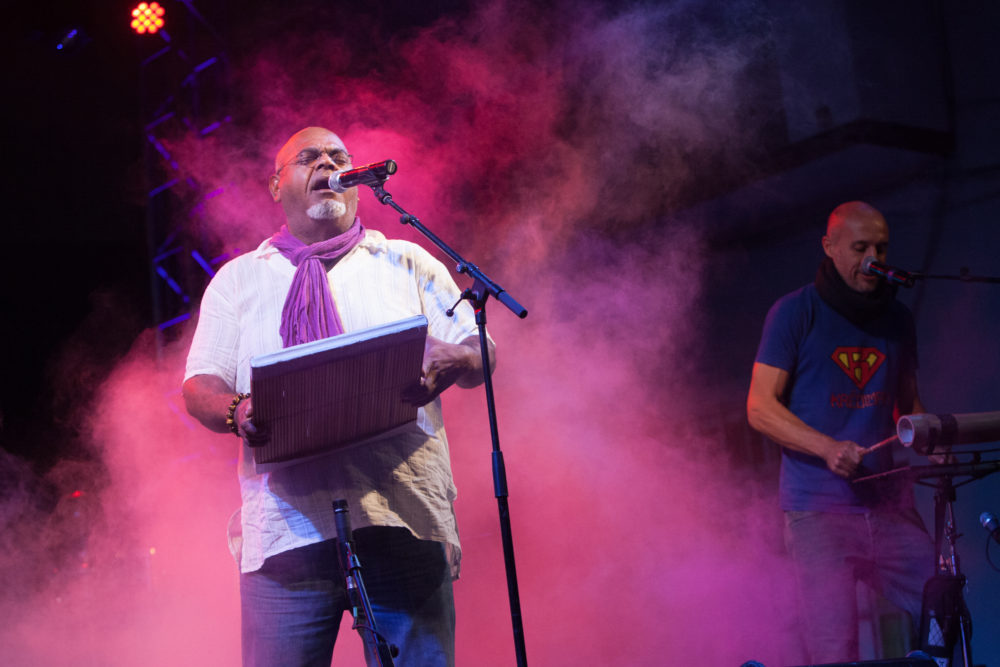 Tiloun lives easy, takes his time, and resists the impatient dictates of commercialization that are forcing expansive maloya into three-minute radio songs. Closest to his heart is a gorgeous a cappella song that his late mother once gave to him when he was visiting her grave, he said. Tiloun visits her and sings it every time he travels.

Kristel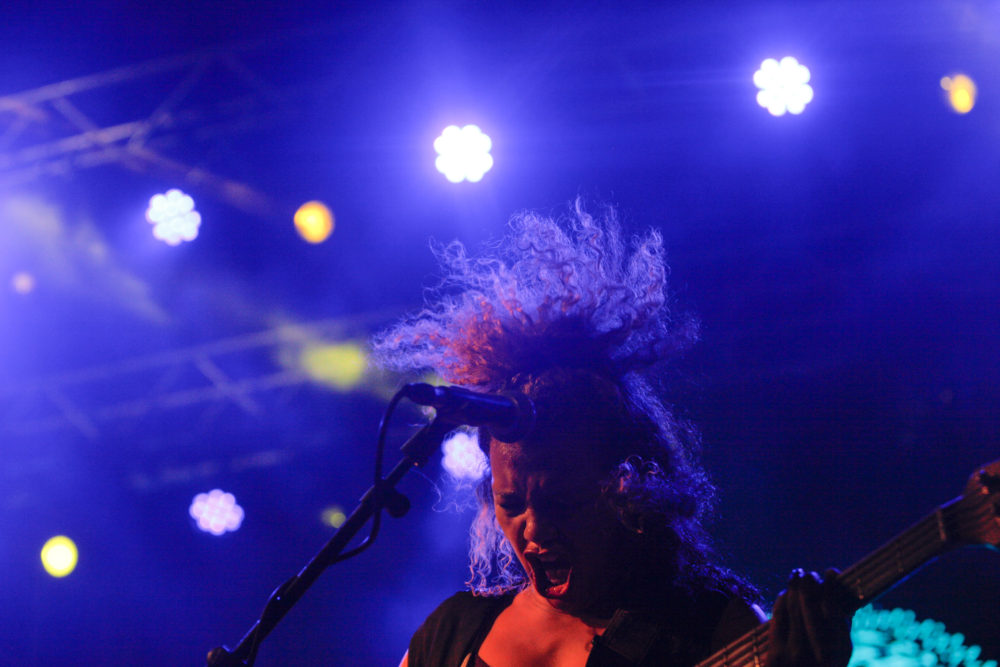 When I sat down to talk with the Malagasy band Kristel, they were self-assured but gentle—even a bit shy. On stage the next day, they transformed entirely. Other wild beings emerged from the music, raw as punk rock and catchy as pop. Their concert, which kicked off their first African tour, was one of the best of the festival.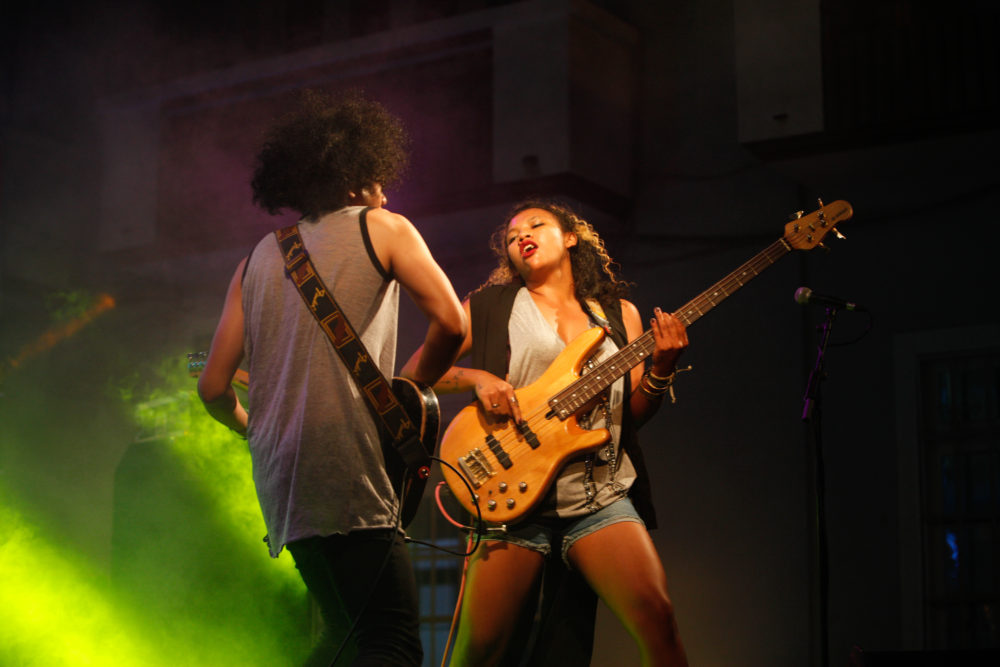 The trio from Antananarivo (Christelle Ratri on bass and vocals, her brother, Ben Kheli on guitar, and her husband Sylvano on drums) has a huge sound 10 times their size. It's solid alternative rock with grand shredding guitar, punchy drums and Christelle's raw, growling vocals.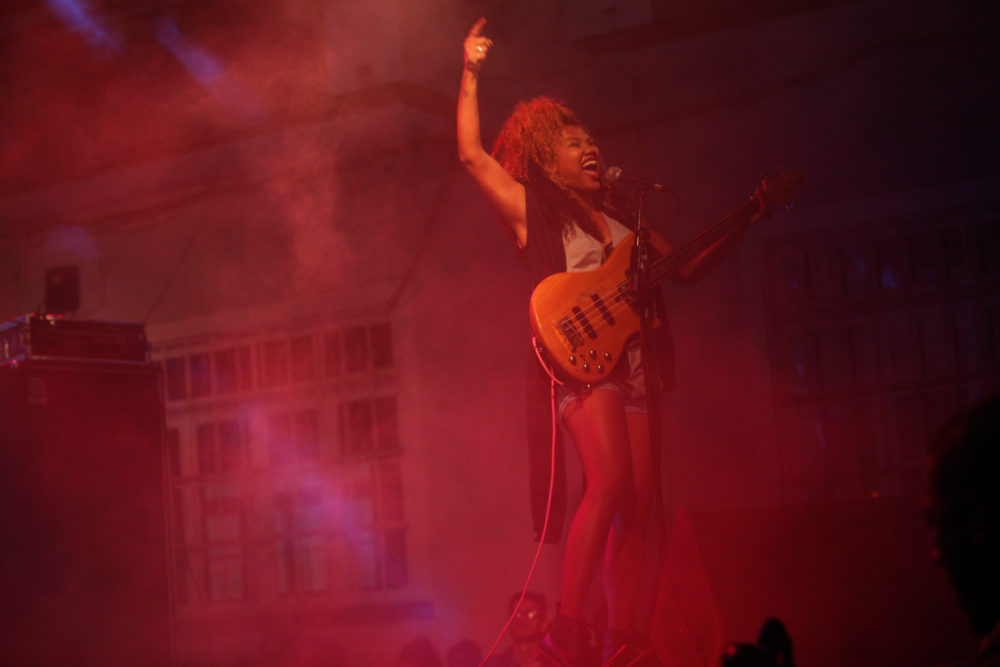 Madagascar is not well known for its rock music, but Kristel makes one want to hear more. Christelle, 24, said that international audiences expect a certain kind of traditionalism from Malagasy musicians, but she feels no need to conform. It's hard to be a young musician in Madagascar, she told me—there's no shortage of talent, but music is not seen as a real job and there are few support structures.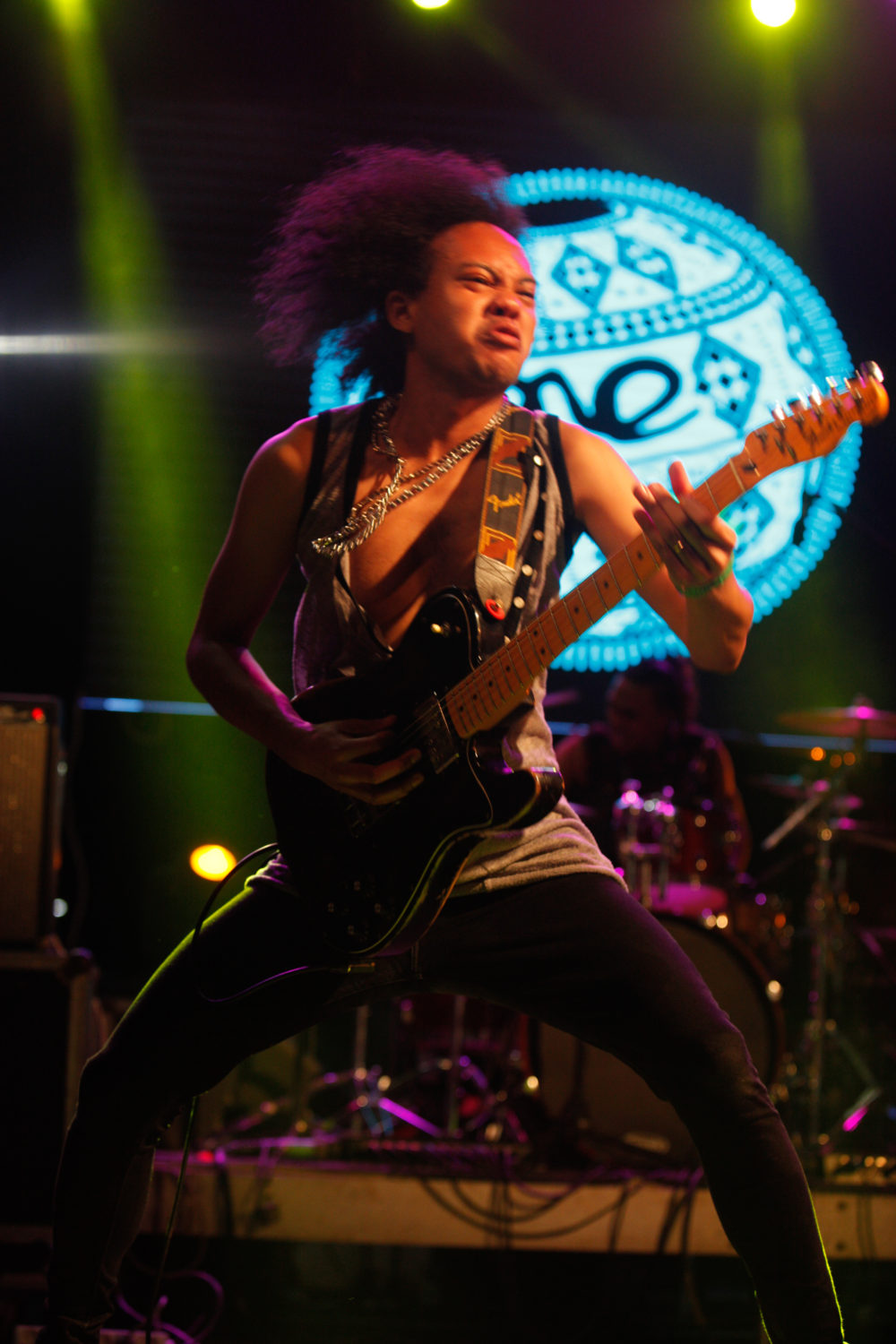 She dreams of a better life for her fellow young Malagasy, who she says are in a "state of emergency." Madagascar is so rich and beautiful, but its people are very poor, she told me, and they tend to place blame on others instead of "discovering their own responsibility." For her part, she and her band use music as their "weapon for defending the country," promoting positivity and the empowerment of women and youth.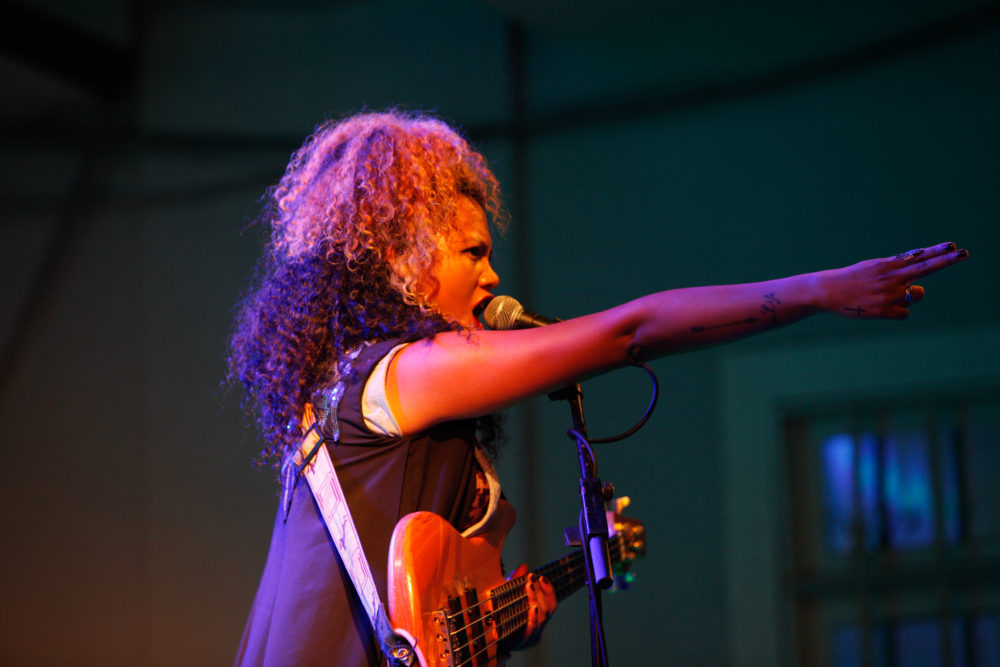 Bongeziwe
Bongeziwe Mabandla grew up in the rural Eastern Cape in South Africa, listening to Boyz II Men and Whitney Houston. Church music and local pop was also part of his diet, but it was hearing Lauryn Hill's open-hearted honesty in "To Zion" that catalyzed his life in music.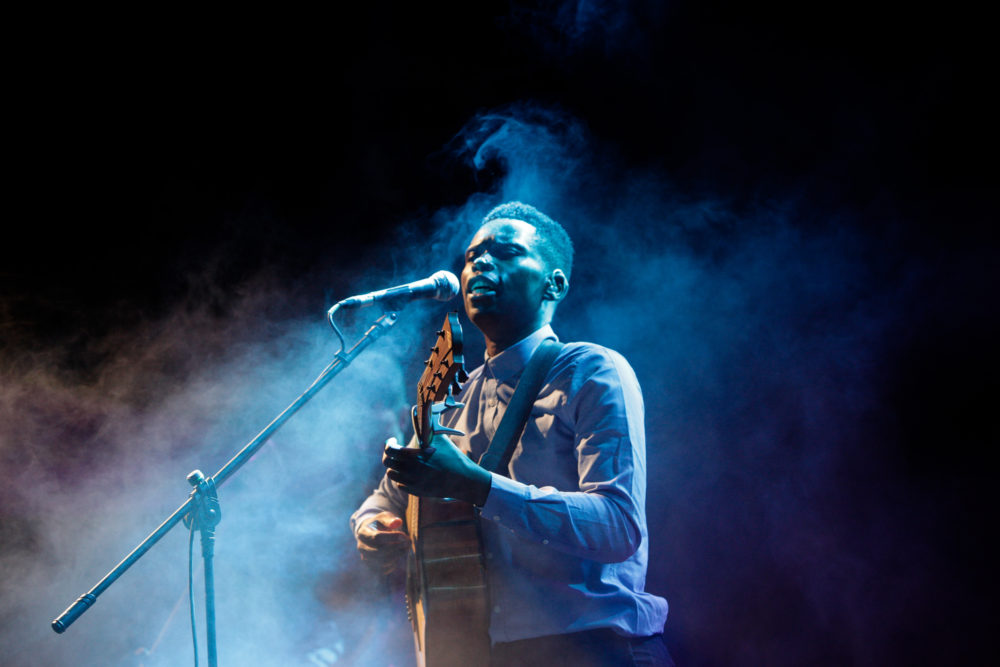 Mabandla's music treks through the terrain of emotion, love and spirituality, touching on pain while trying to deal with it. "We're obsessed with connecting and sharing experiences, with knowing that the things that are important to you are important to somebody else," he told me in Praia. "Hearing the right song can help you persevere."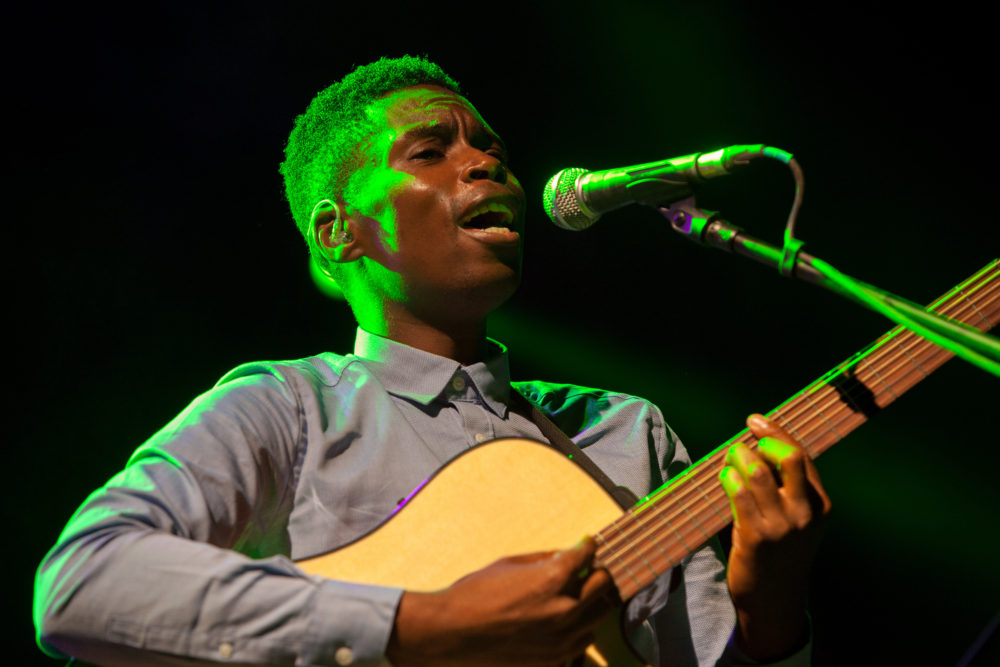 He sings his gorgeous, introspective songs in poetic Xhosa. Writing in English, which is unable to convey the same beauty, "has become a discomfort," he said. Mabandla's rambling, maskandi-influenced guitar and high, vulnerable voice steer the music. It's spacious and finely crafted, a bit melancholy and highly nutritious. "Ndokulandela" could almost be an acoustic cousin of Black Coffee, South Africa's house music maestro, while "Ndibuyile" is a little reggae and a little Sigur Ros.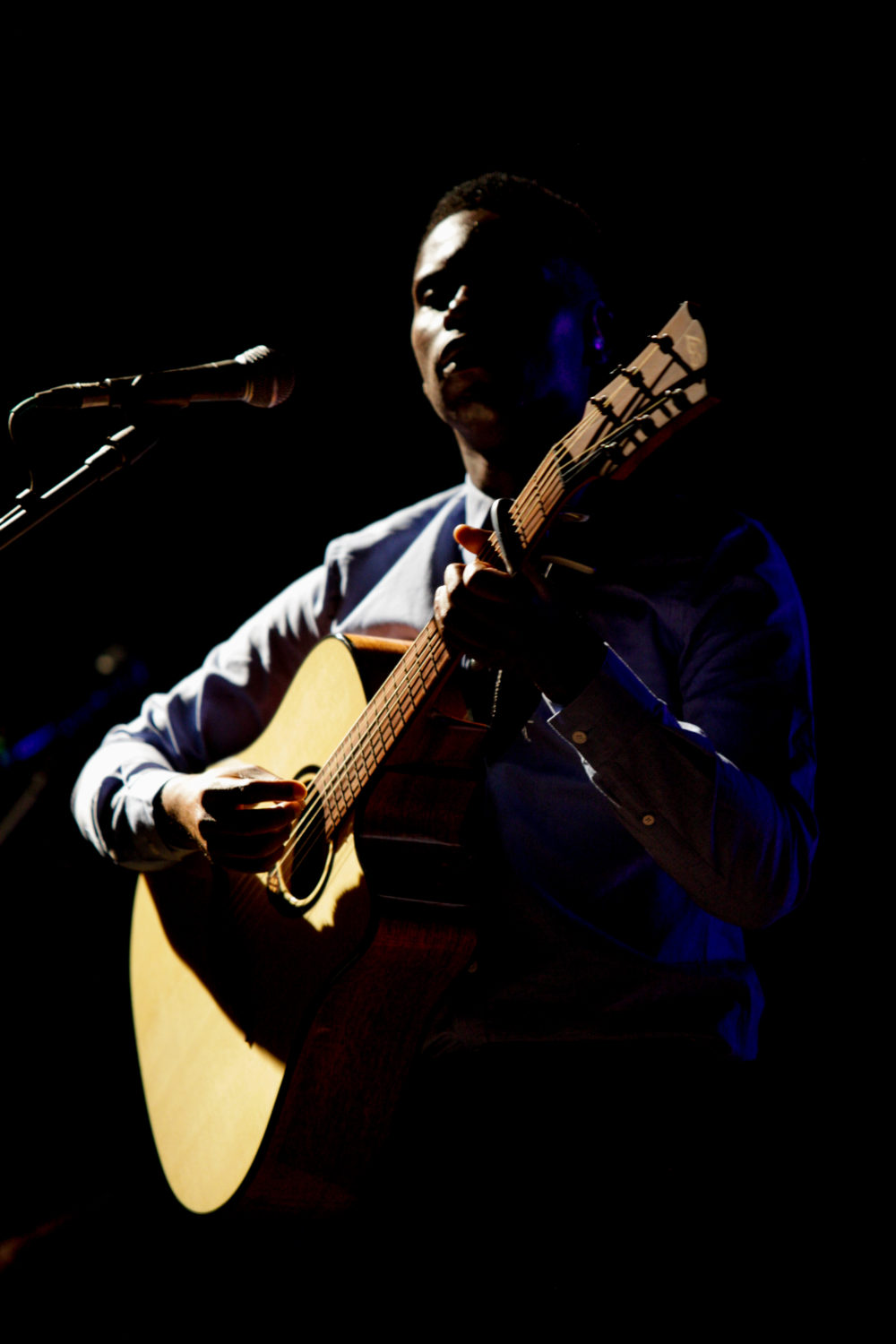 "People tend to call the music Afro-folk," Mabandla said. "But for me, who lives in Africa, it's just soul music, speaking from the heart." He's a "little bit" obsessed with love, he told me. In Praia, Mabandla and his trio closed out the AME, as a slight breeze rustled trees in the park.

Mariama
When Mariama sings, it's clear she has a big heart. Her sound is something you would hear in a cosmopolitan steampunk saloon. It's eclectic and sincere, somewhere between country, folk and jazz, with an electro finish and tastes of West African kora. Her sweet voice is a little witchy—one you may hear giving wisdom in a dream. The Paris-based, German-Sierra Leonean singer closed her set in Praia with her bumping track "Dancing Shoes," which sampled Nigerian highlife star Orlando Julius's 1979 "Disco Hi Life."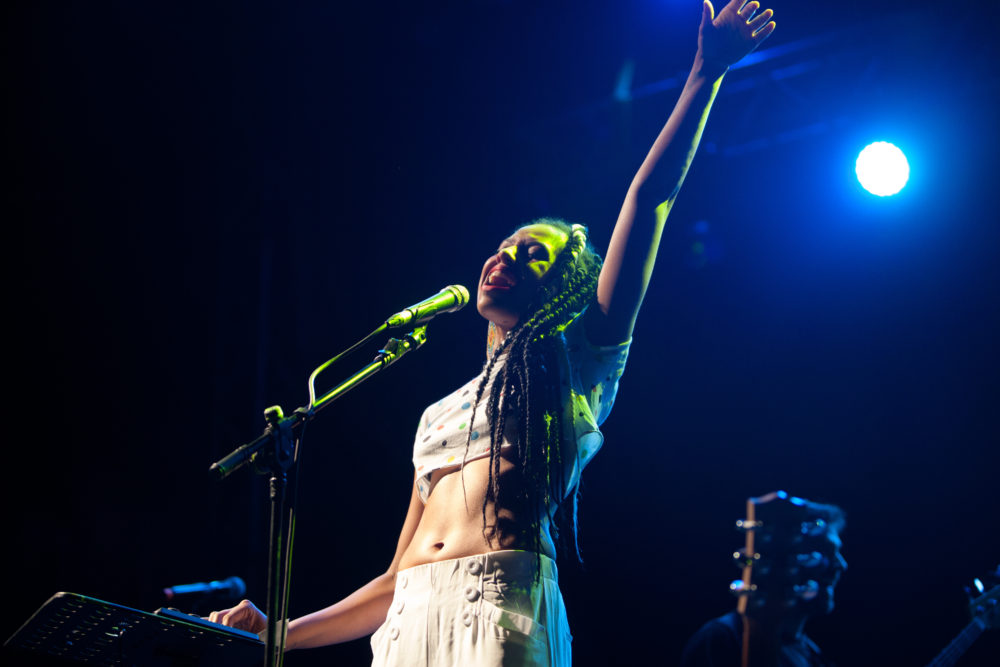 Soul Bang's
Souleymane Bangoura, brilliantly shortened to Soul Bang's, is a rising West African pop star. Clad in sparkling loafers and shiny wax cloth, the young Guinean singer brought high-energy Mandé r&b to the stage in Praia. A throng of young Guinean expats, all clad in Guinea-branded garb or Soul Bang's merch, were going nuts in front of the stage, waving huge flags.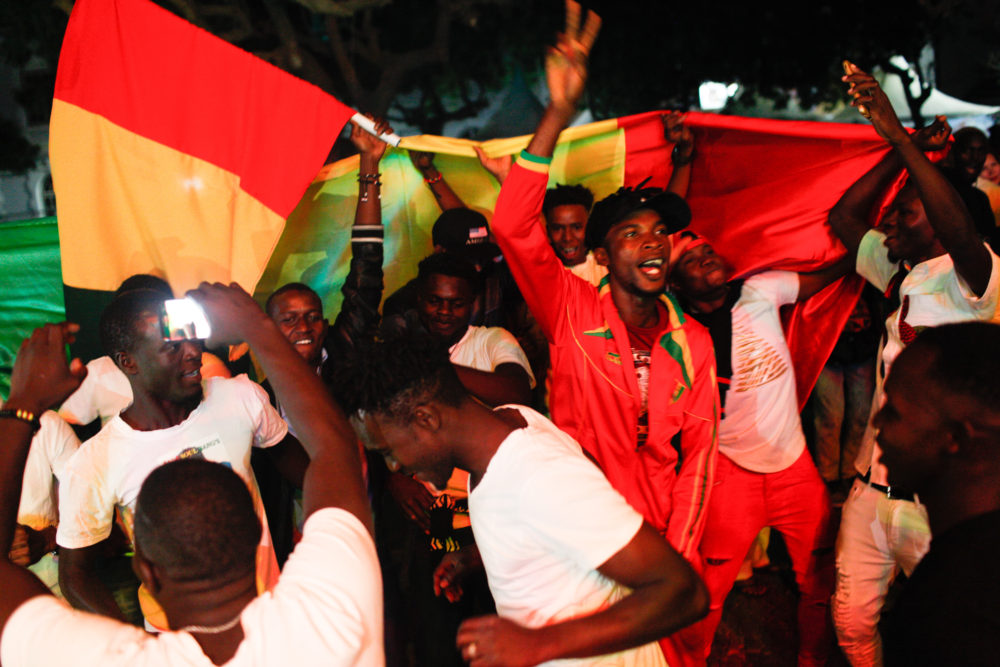 His voice is a rich, clean copper with a warm grittiness that comes out when he pushes it to soaring, griot-like heights. The music is a bit sappy at times, but overall, great. It's one part Sidiki Diabaté and one part R. Kelly (who Bangoura unfortunately lists as a influence). The song "Imakolon" is a favorite.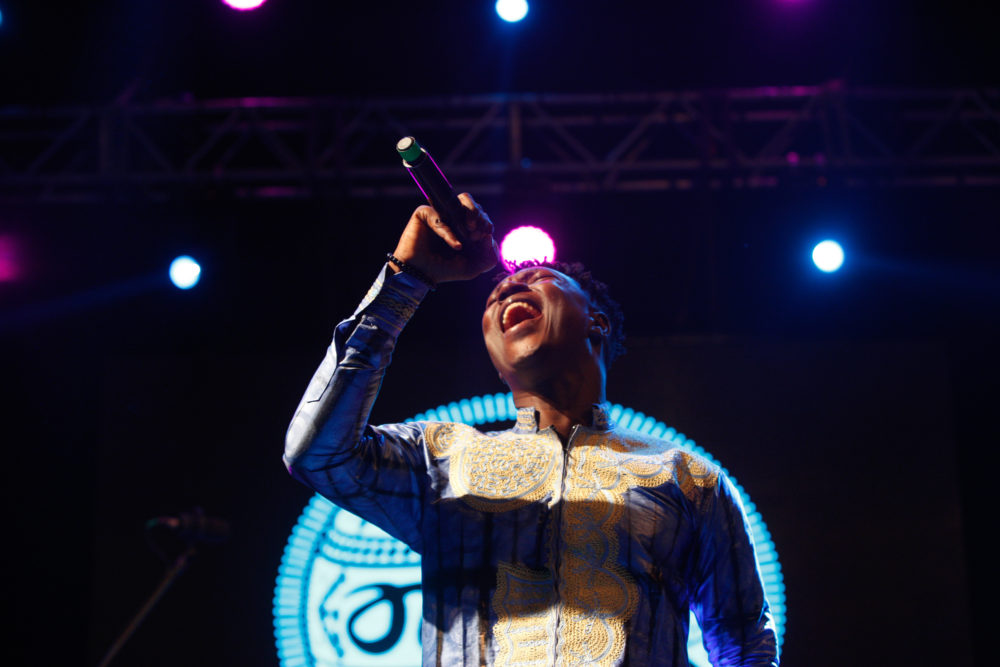 Continuadores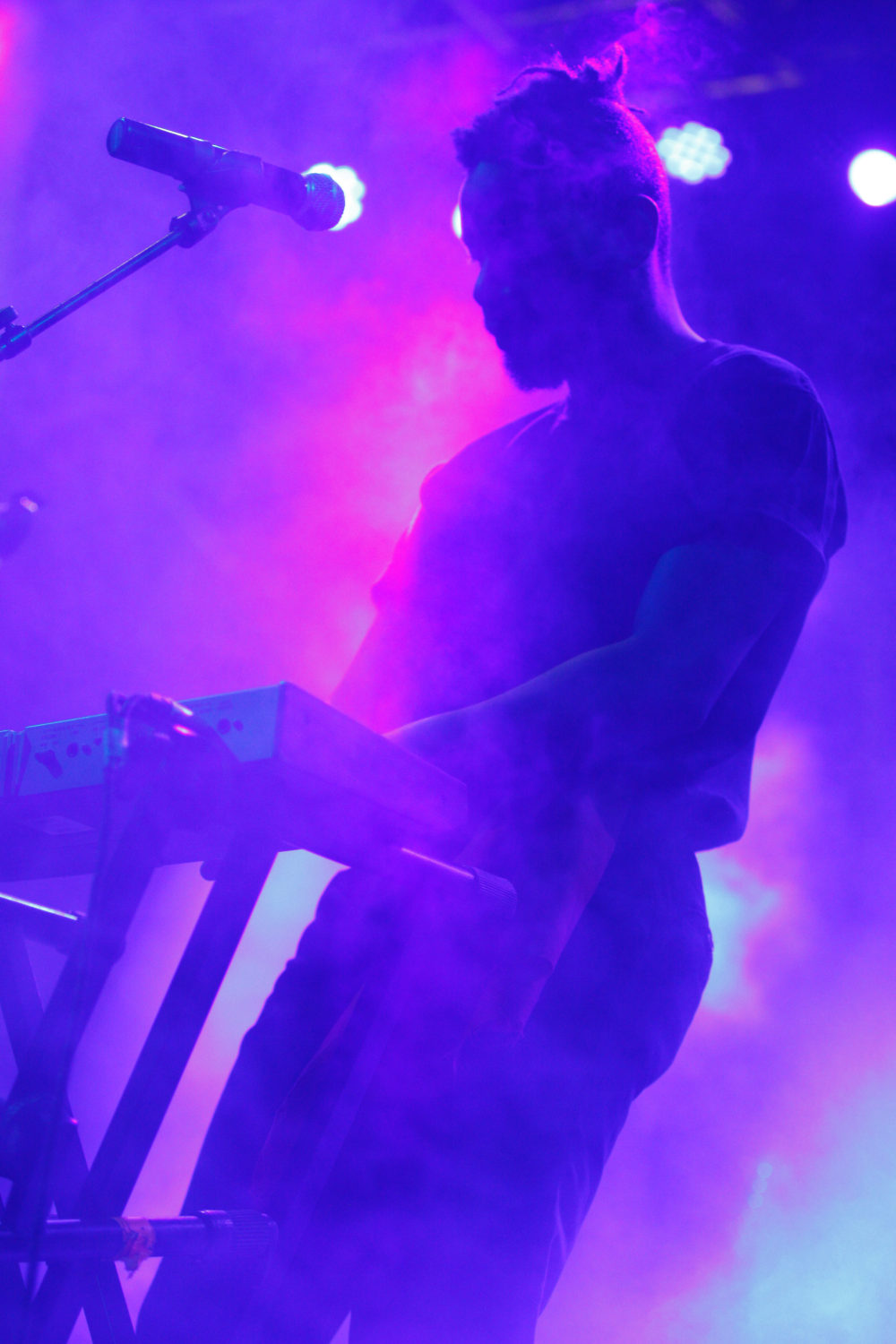 This Mozambican group is an audiovisual project, apparently a reminiscence of independent Mozambique's early years, though the connection is not all apparent. Ailton Matavela and Tiago Correia-Paulo join to make sweeping, melancholy electronica with shades of Radiohead and Tamino, backed by poetic video projections and shrouded by stage smoke. The Cape Verdean audience, that had just prior been dancing to local rapper Ga Da Lomba, swayed to the sounds.