Photo Essay: Group Doueh and Innov Gnawa in NYC
If you've been following Afropop this year, you've gotten a taste for some of the Maghreb's musical multitude in our recent program on the World Sacred Music Festival in Fes, Morocco and maybe even gotten a chance to hear some of it yourself in New York City. This past Friday, Sept. 29, two bands took the stage at New York's Le Poisson Rouge (LPR): Group Doueh and Innov Gnawa. We've heard a lot from Innov Gnawa here on Afropop, the excellent group of local Moroccan musicians proudly keeping the Gnawa tradition alive in New York City. Group Doueh, who hail from Dakhla, in the disputed territory of Western Sahara (claimed by Morocco), are back in the U.S. for the second time, after their first and only tour here in 2011.
Innov Gnawa opened the set with their reliably superb performance of the churning, sinuous Gnawa music that beats at the heart of Morocco. Mâalem Hassan Ben Jaafer leads the group on guembri, the three-string bass lute whose melodies give the music form. The five-man chorus drives the sound forward with the tireless gallop of the metal castanets called qraqeb. Samir Langus, the young Gnawi who got the group together, occasionally takes over on guembri for the elder Ben Jaafer, proving his worth as a rising gnawa mâalem, or master. Gnawa is a music that, when experienced live performed by masterful musicians, of which you cannot get enough. Innov Gnawa is band you won't be able to resist seeing again and again.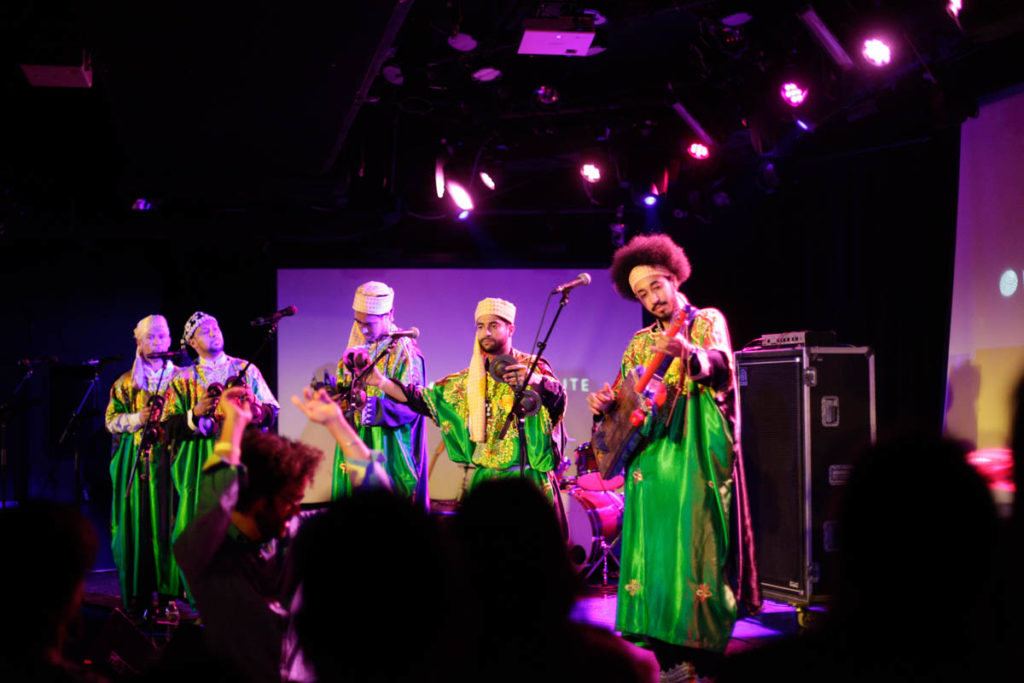 Innov Gnawa with Samir Langus on guembri. Photos by Sebastian Bouknight.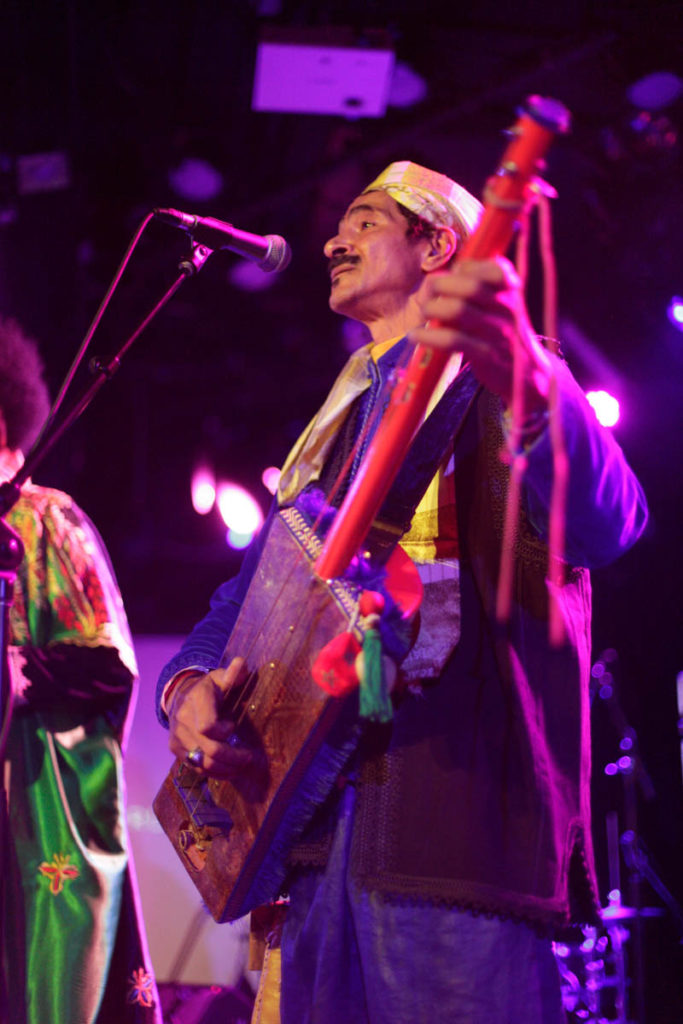 Maalem Hassan Ben Jaafer
Maalem Ben Jaafer and Innov Gnawa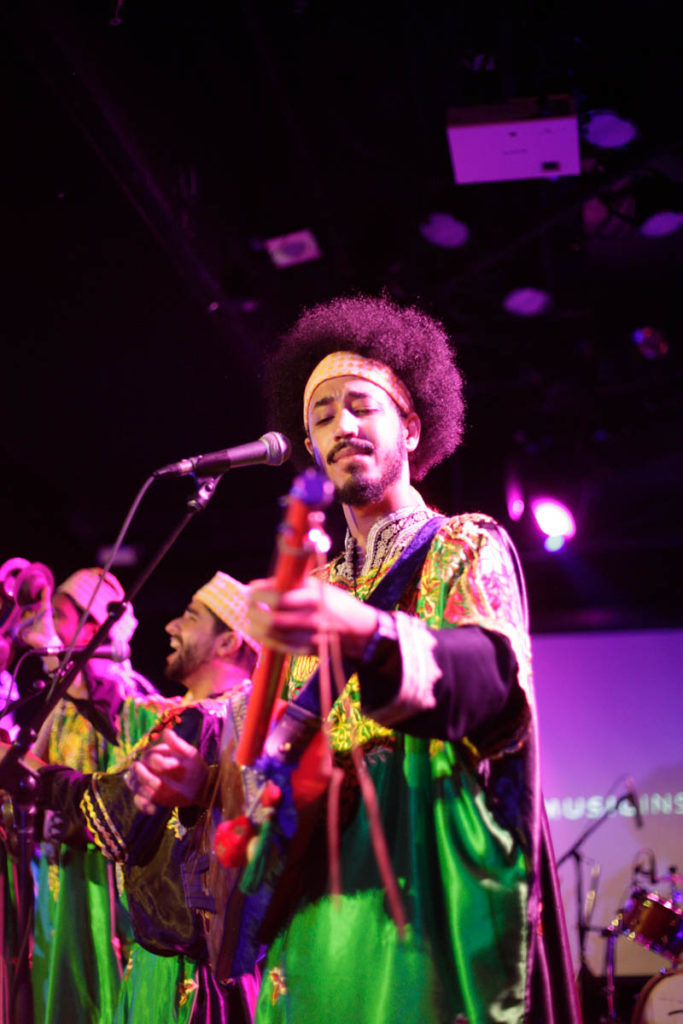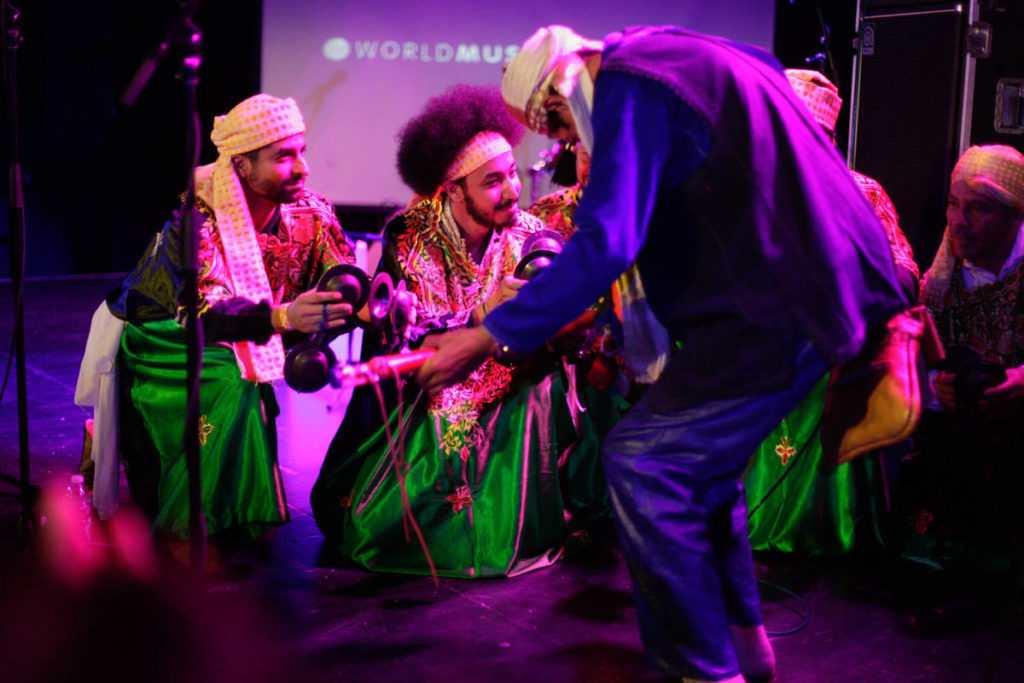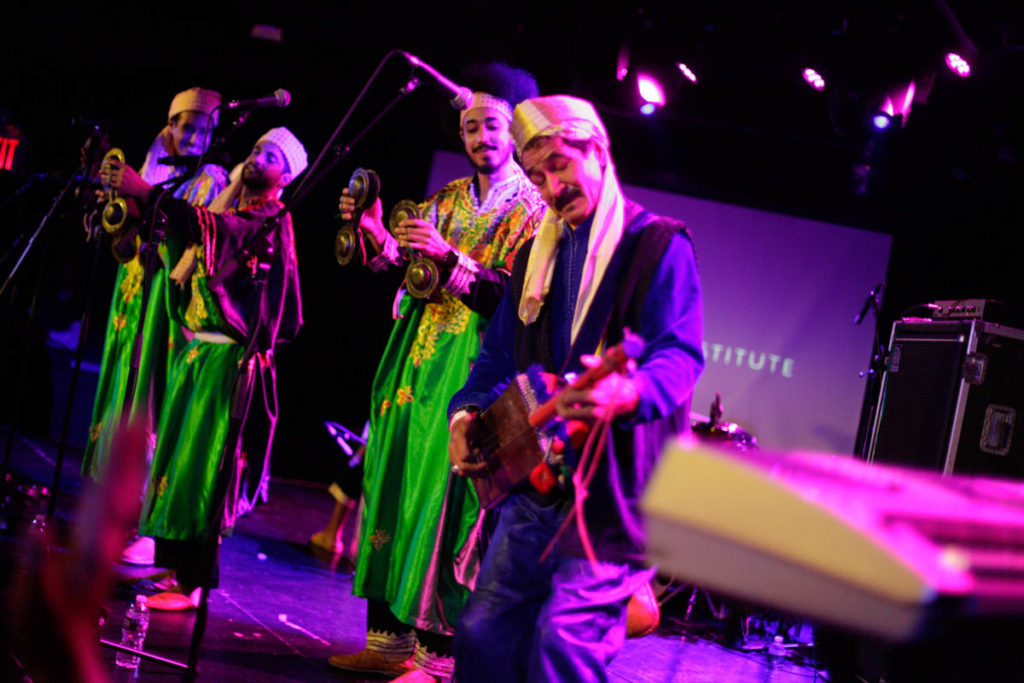 Head down the coast of Morocco, from Casablanca or Agadir, hometowns of some of the members of Innov Gnawa, and you'll cross a hazy, disputed border into the territory of Western Sahara. It's a vast swath of mostly desert that was long occupied by Spain and now is administered in part by Morocco and in part by the self-proclaimed Sahrawi Republic. Far south on the Sahrawi coast is Dakhla, where Doueh and his family live. They are holders of the Hassania culture and language, which span the borders of Western Sahara and Mauritania and boast some unmistakable music styles. The music Group Doueh plays is, as Doueh himself says, is right about at the juncture of Sahrawi music and Jimi Hendrix, one of his biggest influences.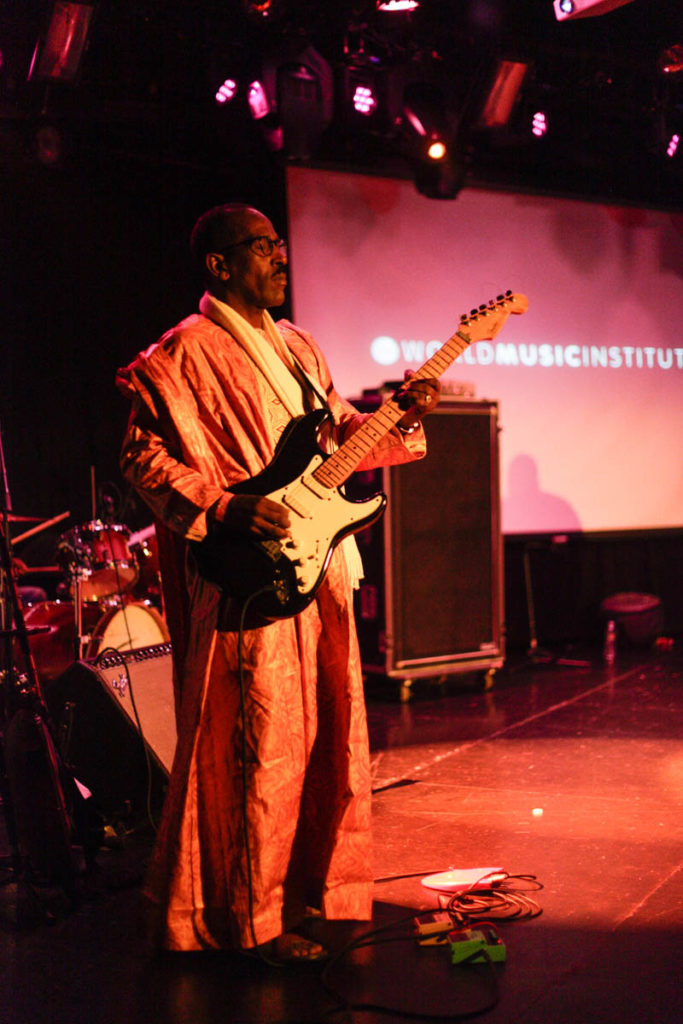 Doueh, of Group Doueh
You can hear Hendrix through and through in the group's music: Doueh shreds so hard. He plays his electric guitar with a virtousic, loud, distorted rawness that would do the American rock god proud. The power of his strings plays out over drums, synth and vocals from his wife Halima, sons El Waar and Hamdan, and friend Bashiri. The synth drum machine layers with a real-life drum set to make beats that alternate between a 4/4, somewhat cheesy, upbeat feel, and intensely danceable 6/8 grooves that tumble over themselves. The latter are rooted in Sahrawi music, traditionally propelled by clapping and a bowl-shaped drum. Although the dose of Hendrix in Group Doueh's music is very real, the Hassania sound comes through strong as well, bringing to mind the guitar stylings of Jeiche Ould Chighaly, bandmate and husband of the great Mauritanian singer Noura Mint Seymali. Doueh began the set on an electrified tindit, a small three-string lute that is a close relative to Gnawa's guembri and the Malian ngoni.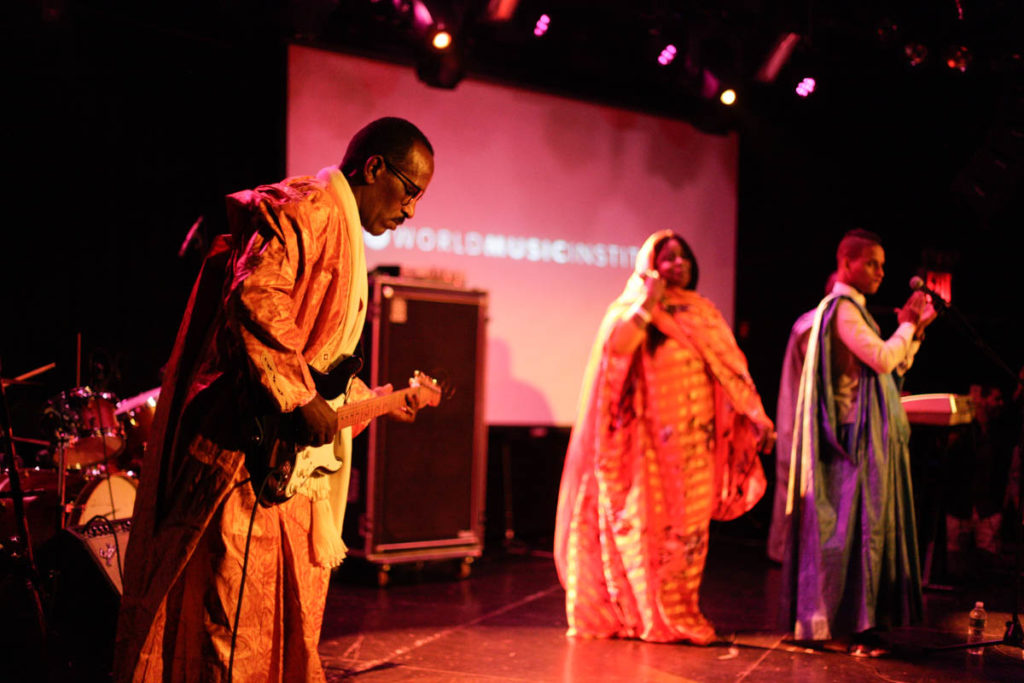 Group Doueh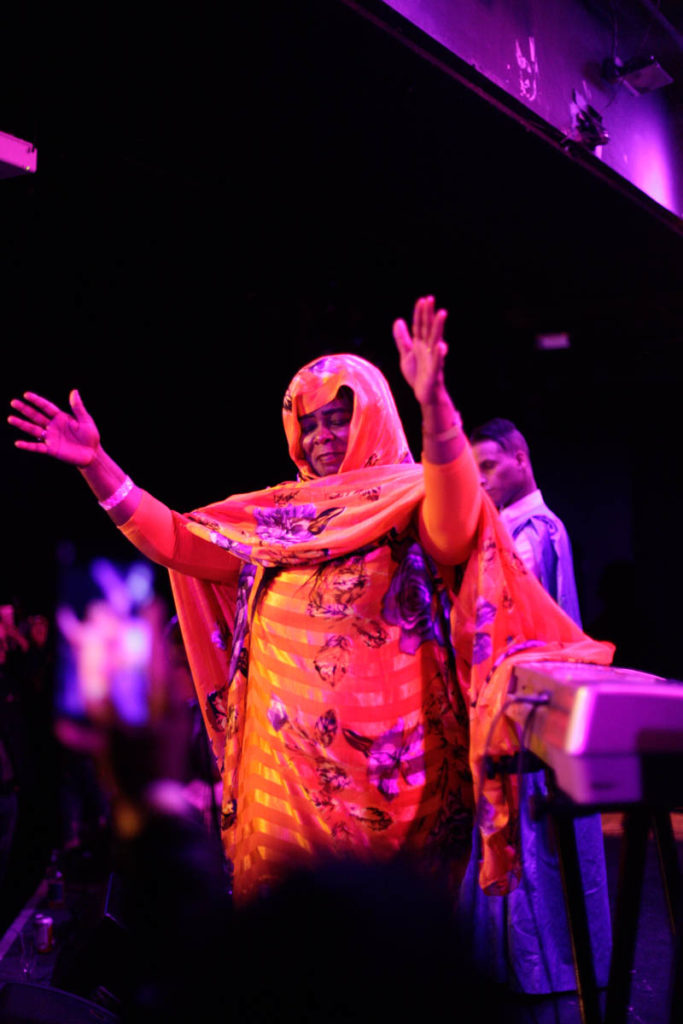 Halima on vocals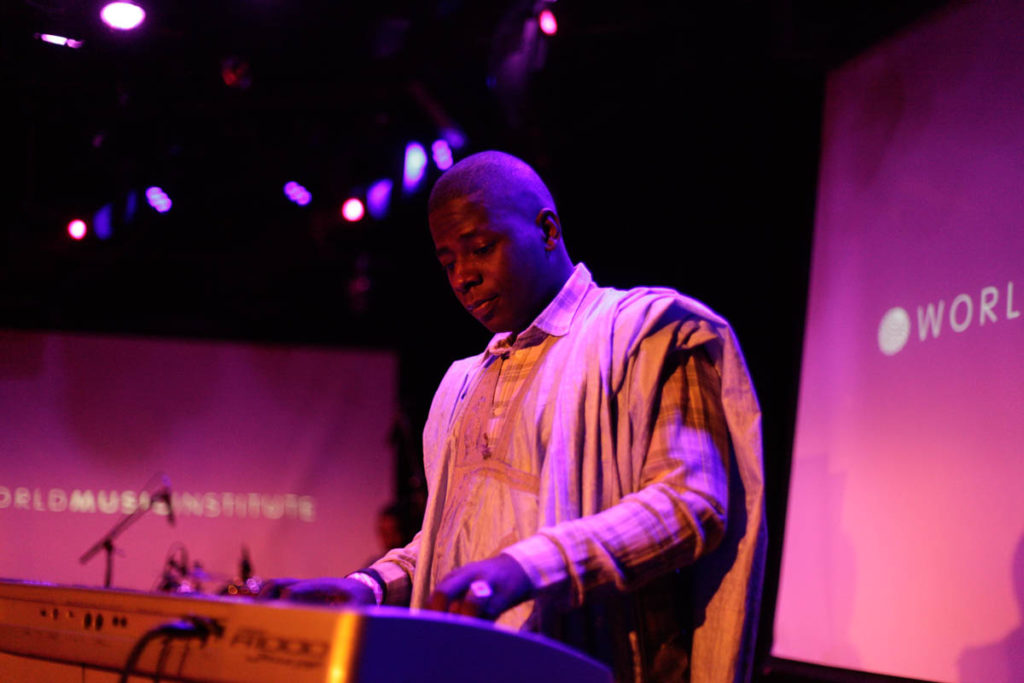 El Waar on keys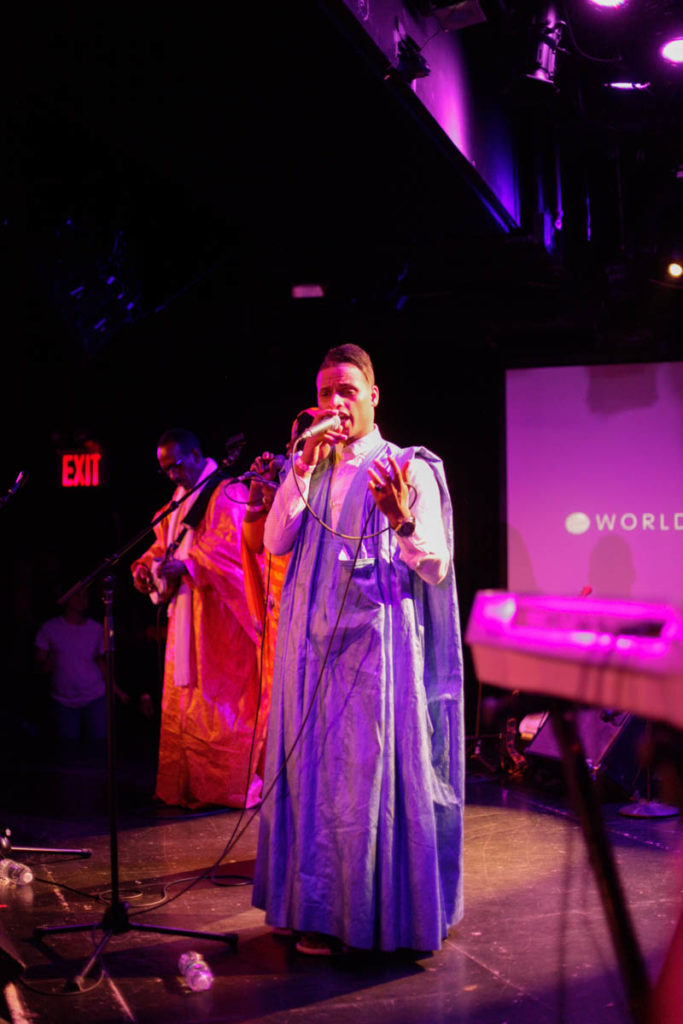 Bashiri on vocals
The band's live energy is hot but restrained, without theatrics (except for Doueh soloing with his guitar behind his head) but very compelling. Sometimes their songs seem to begin without really beginning and end without really ending, in a way that feels so natural and fluid. Innov Gnawa's Mâalem Hassan Ben Jaafer hopped onto the stage next to Doueh to play qraqeb during a song propelled by a drum machine cranking out a rhythm that mirrored Gnawa.
Doueh channeling Hendrix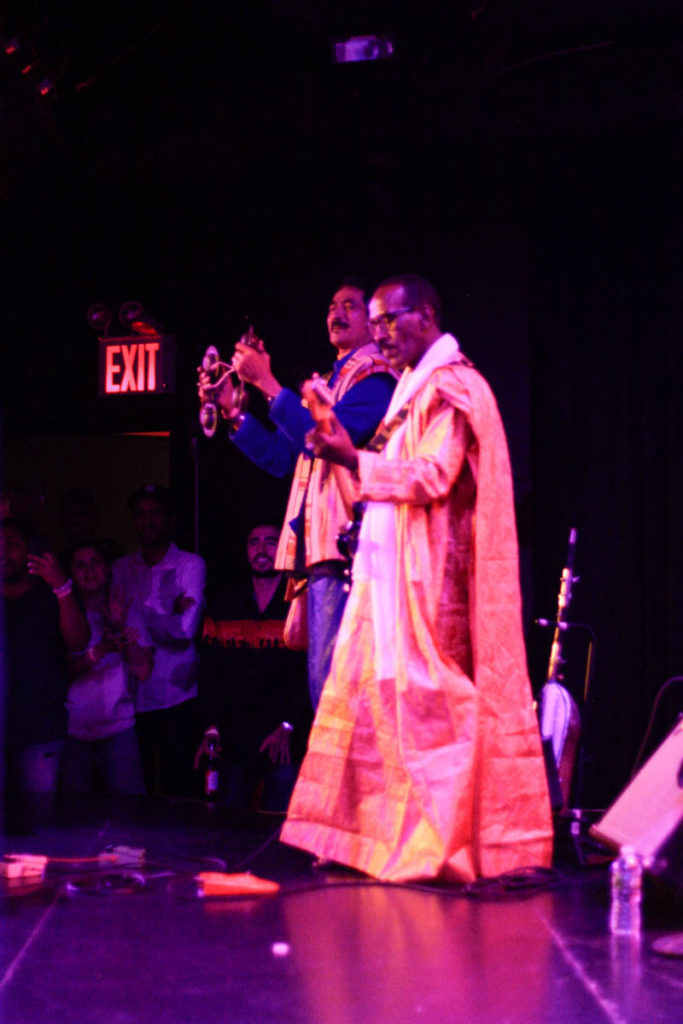 Maalem Hassan Ben Jaafer and Doueh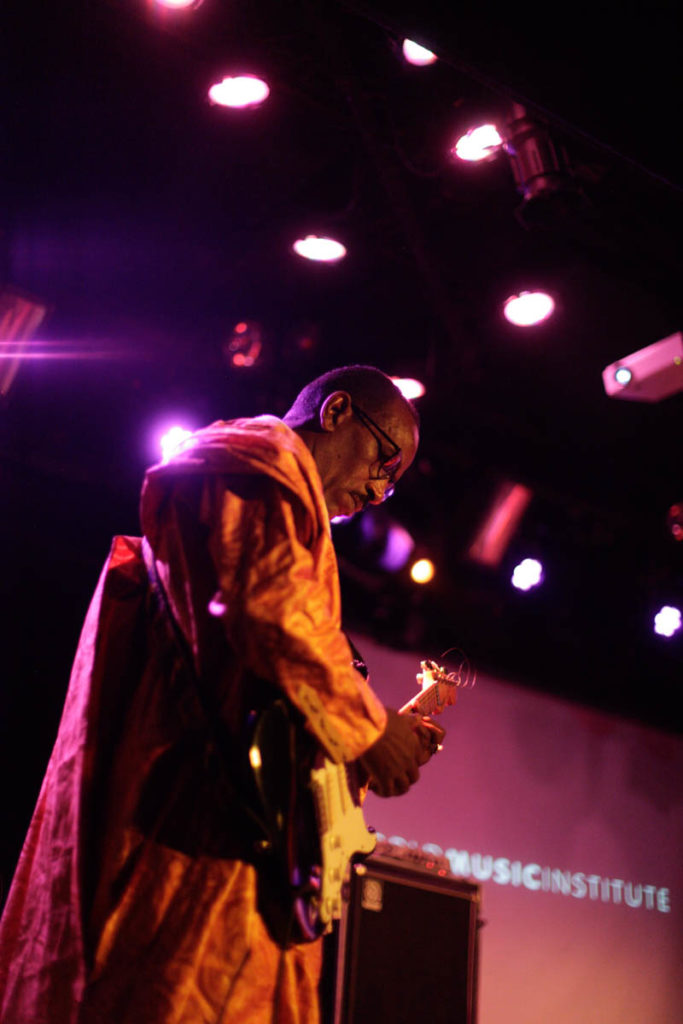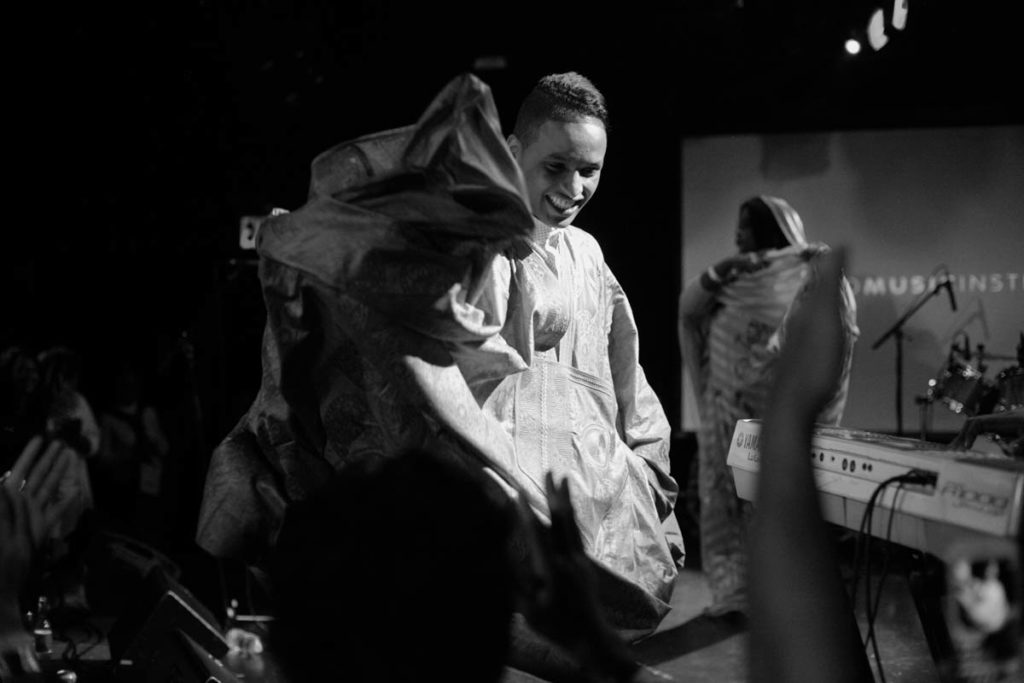 Towards the end, Halima and Bashiri hopped down to dance in the middle of the crowd, breaking that border between audience and performer and inspiring an attitude more in line with the regular site of Group Doueh performances: weddings (you might want to check out the recently premiered documentary film of the wedding of Doueh's daughter). They closed with the energy hot and kept the adoring crowd cheering for a solid five minutes before coming back out for an encore.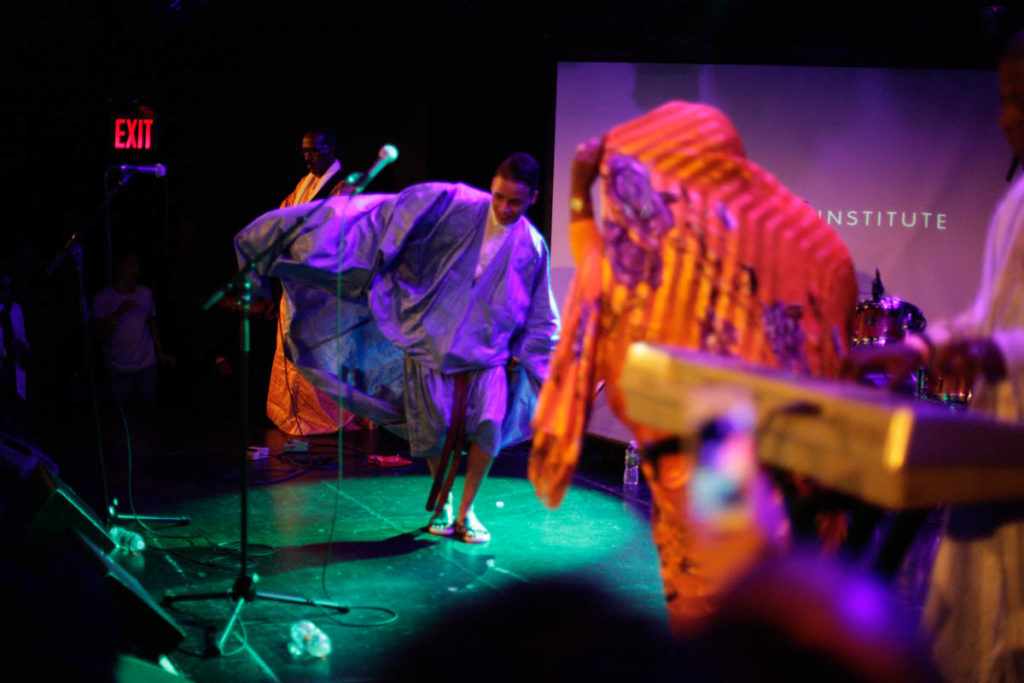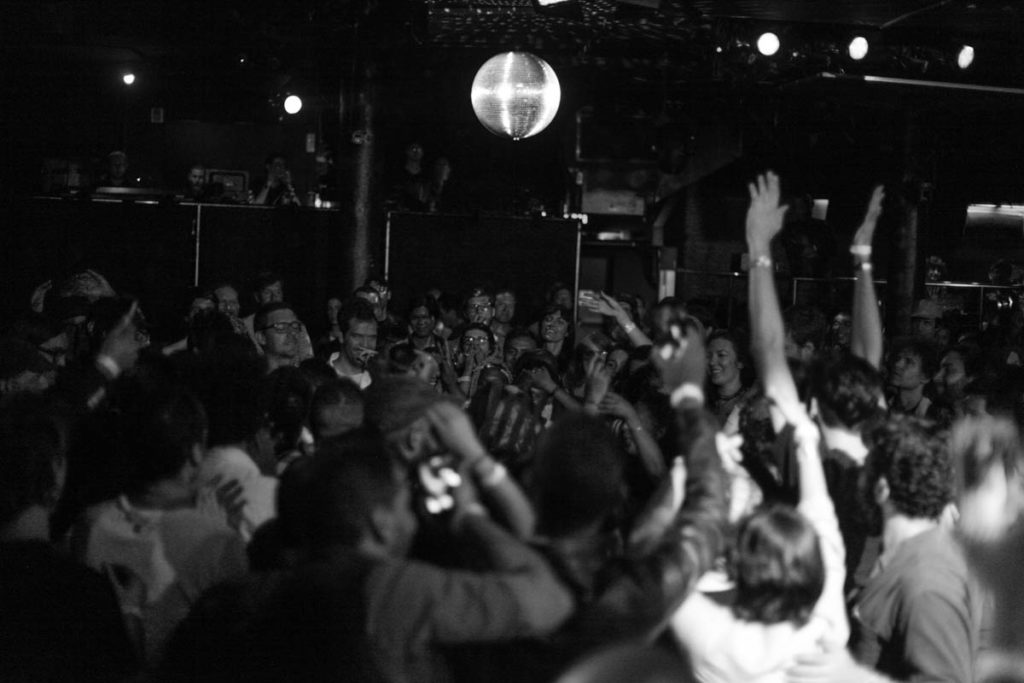 Keep your eyes out for Group Doueh if they come through a town near you! Otherwise catch a plane to Dakhla and ask around for Doueh–he never stops playing.
KEYWORDS CONCERT, GNAWA, GUITAR, JIMI HENDRIX, MOROCCO, PHOTO ESSAY, SAHARA, SAHARAWI