Master Chef Pierre Thiam Partners with the African Services Committee
Pictured above is Asfaha Hadera and Chef Thiam. ©javierchavarria
---
Pierre Thiam, a master Senegalese chef, is doing a cooking and tasting demo at the James Cohan Gallery. He is preparing a mango salad using fonio, an ancient, healthy and wildly popular grain with origins in West Africa. He has prepped all the ingredients for the salad, and prepares it on the spot. Made with olive oil, garlic, ginger, lime, chili pepper, lalo, (baobab leaf), and cooked fonio, we sample and enjoy this delicious dish.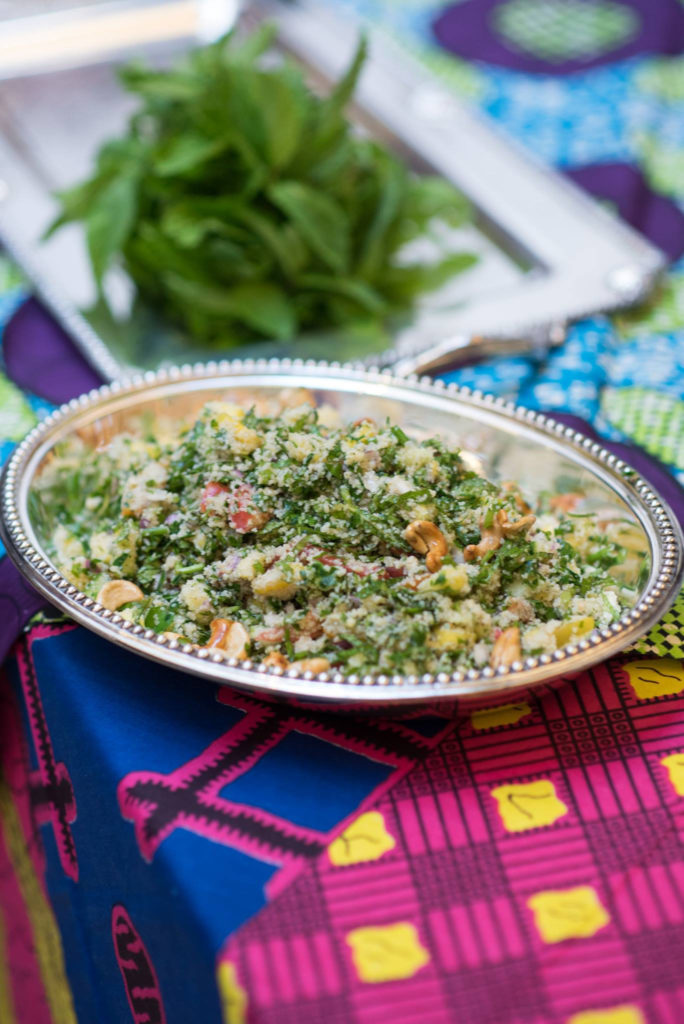 Fonio and Mango Salad. ©javierchavarria[/caption]
The James Cohan Gallery, a gorgeous art space in Chelsea, has the work of Ethiopian artist Elias Sime adorning the walls. The gallery hosted a fundraiser on June 14 for African Services Committee's Community Kitchen, a division of African Services Committee, a nonprofit organization based in Harlem. Dedicated to improving the health and self-sufficiency of the African immigrant community, the organization provides health, housing, legal, educational and social services to newcomers in New York City. They have also opened five clinics in Ethiopia, the country of origin of the founder, Asfaha Hadera.
Arriving in the U. S. as a political refugee, Asfaha came with the help of the International Rescue Committee (IRC) in 1979. Fleeing the Red Terror campaign in Ethiopia, Asfaha made his way to Sudan, and organized the Ethiopian refugee community there. After two years, when the situation got worse in Sudan, he sought asylum in France, and then came to "my dream country, the United States of America." After receiving help upon his arrival, and realizing that there were no advocates on behalf of African refugees here in the U.S., he saw an opportunity to give back to his community, and started the Committee to Aid Ethiopian Refugees. (The name changed to African Services Committee in 1994.)
He has been quite busy these past few weeks, lobbying congressmen and senators in Washington, D.C. He met with a couple of representatives, both Republicans and Democrats, to advocate for the ASC Ethiopia programs. He likes the saying, "If you save one life, you are saving the world." He also told me that he "loves my fellow human beings--we have to care for one another." Now in its 36th year, and with the political climate such as it is, funding is crucial to help maintain and expand services for African immigrants coming to America. Together with a dynamic board of directors, Mr. Hadera is working to expand his mission.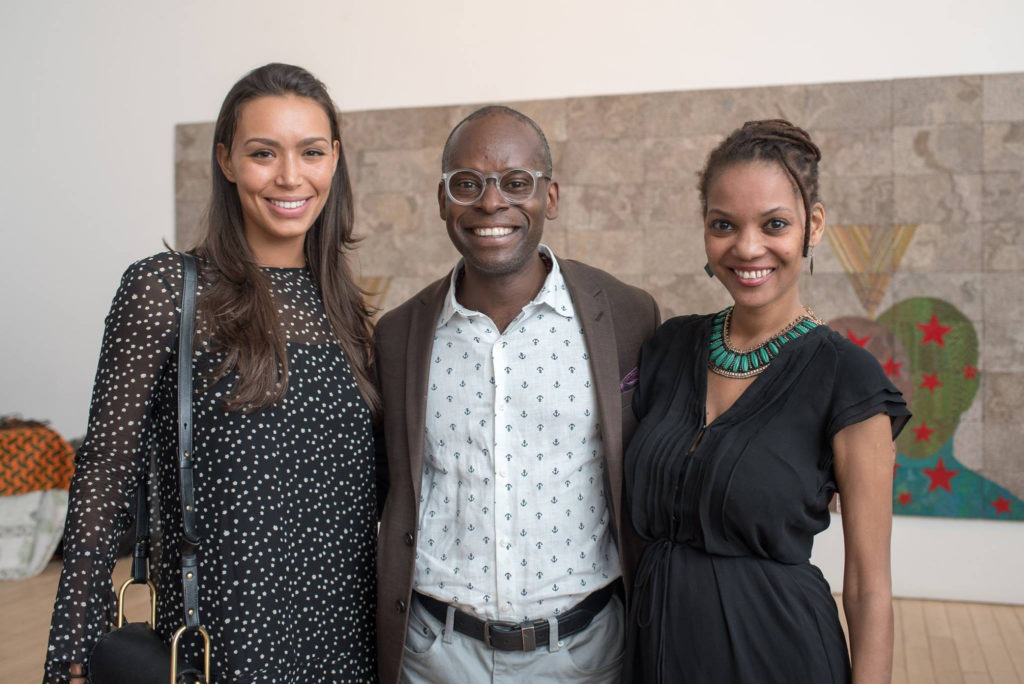 Ilfenesh Hadera and guests. ©javierchavarria[/caption]
Chef Thiam's earliest memories of being interested in food date back to his childhood, when he would leaf through his mom's cookbooks, and drool over pictures of the food. Pierre came to the U.S. in 1989 to study physics and chemistry, and while visiting a friend in New York, he "had all his money stolen in Times Square, and ended up staying. It was an accident, really" is how he describes events that eventually led him to become a chef. When he started working with Richard Garvins at his restaurant, he knew he had found his calling. "I could completely connect with cooking," he tells me.
Pierre traveled around Senegal to do research for his first book, entitled Senegal: Modern Senegalese Recipes from the Source to the Bowl, which has helped educate and introduce New Yorkers and others to the richness and variety of the cuisine. Senegal's history is intertwined with its food, and the link with French colonizers. Rice, for instance, took a path from Indochina under French rule to West Africa, and back. Pierre tells these and other interesting stories in his book.
With upcoming trips planned to Boston with Christopher Kimball, a food world personality; a TED Global Conference in Tanzania; and a pop-up restaurant in Johannesburg, South Africa, Chef Thiam is on the move.
The guests sit down to dinner, which is served family style. We enjoy bluefish with spiced parsley stuffing and jollof rice with spring vegetables. There is also grilled chicken with lemon onion confit, and collard greens and ground peanut sauce feuilles. For dessert, we enjoy coconut rice pudding with hibiscus coulis. Delicious and satisfying, the meal was perfect.
We joined everyone at the after party, and the diverse crowd enjoyed music from DJ Yoossouph, as well as appetizers prepared by Chef Thiam. Hailing from Lagos, Nigeria, and working by day on Wall Street, Yoossouph has been deejaying since 2007. Originally agreeing to play until 11, the crowd enjoyed his music so much that he agreed to play music until 1 a.m.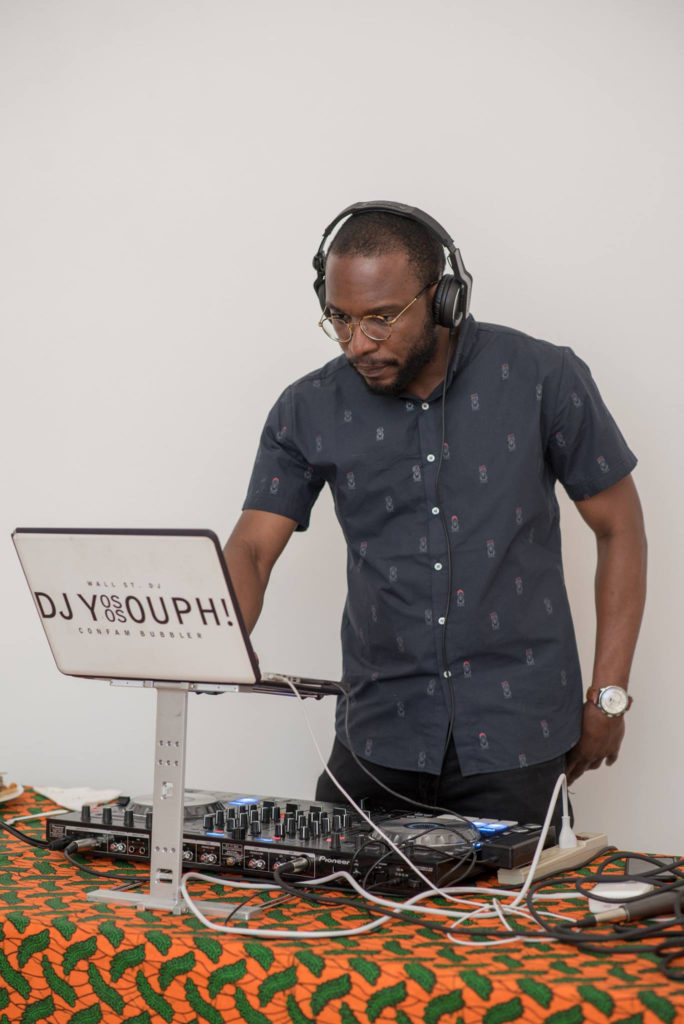 DJ Yoossouph.©javierchavarria[/caption]
Yoossouph played Afrotechno, Congolese, Electronic Dance Music (EDM), and South African music. There was also Nigerian music: P-Square, and Wizkid Kofi Olomide. Classics from Miriam Makeba and Brenda Fassie from South Africa, Anjelique Kidjo from Benin, and Diamond Platnumz from Tanzania were also played.
Be sure to catch him this summer…as he is headed to Wharton this fall for his M.B.A. All told, it was a fabulous evening.