Audio-visual collective Systema Solar has been energizing audiences in Colombia and worldwide since it formed in 2006 to perform at the Medellín Biennal, a show that thrust it before of an audience of 4,000 with barely a month to prepare. Ten years later, the band maintains this emphasis on spontaneity and improvisation, approaching music-making through collaboration and the intersection of the diverse backgrounds of its members.

Rumbo A Tierra, the second album that Systema Solar has released to the U.S. market, sees the band navigating its own realm of electronic music in which traditional Colombian coastal styles such as champeta, bullerengue and cumbia are all just as present as hip-hop, rock, techno and house. The record is full of dance floor-ready energy, with heavy kick drums, psychedelic guitars, and analog synthesizers meshing with traditional instruments. Songs like "Champe Tabluo" and "Rumbera" are rife with catchy vocal melodies ("Rumbera" is featured on the FIFA 2017 soundtrack), while others such as "Que Paso" or "Alo?" explore more trance-like chants which push the band's sound towards psychedelic electronica territory. Collaborations with esteemed Colombian artists such as guitarist Abelardo Carbonó, Caribbean folk great Pedro "Ramayá" Beltran, and salsa band La 33 bring unique flavors to the group's electronic sound.
Resistant to any attempts to label its style, the band came up with its own term, verbenautica, bringing together verbenas, the name given to block parties in parts of Colombia, with nautica, in reference to their constant exploration of new sounds from around the world. Indeed, the album maintains this emphasis on festivity and community strength. The songs speak to issues important to Colombian society, such as women's rights, environmental protection, and water security, and do so while maintaining the uplifting energy and inclusive sound which is the band's trademark.
---
Staff writer Alejandro Van Zandt-Escobar caught up with Systema Solar's MC, Walter Hernandez, AKA Indigo, by phone from his home in Colombia to ask him a few questions about the new record.
Alejandro Van Zandt-Escobar: Can you describe the sound of your new album, Rumbo A Tierra?
Walter Hernandez: Well, we came to record Rumbo A Tierra in 2015. In its production it has a lot of elements of conventional instrumentation (guitar, drums, bass). We don't have a preference for any genre. I helped to put the term verbenautica on our sound, an invitation to navigate in the diversity and in the strength of various musics. A verbena is a popular party, in a neighborhood, with a sound system, which they call a picó here. A tremendous sound system where you can listen to music from around the world as well as music from here, and have a great party, an experience with lights, sound, etc. So our music has that spirit, it doesn't have any limits in terms of being a cumbia band or whatever. We don't have a tag as if we're doing music of a specific genre, rather it's a permanent mix, a constant exploration and that's why we give it that name, because it doesn't have a fixed structure. Sometime people say we're Latin music, and we don't agree with that label. In the context of the United States, that term implies certain sonic parameters within which we don't fit.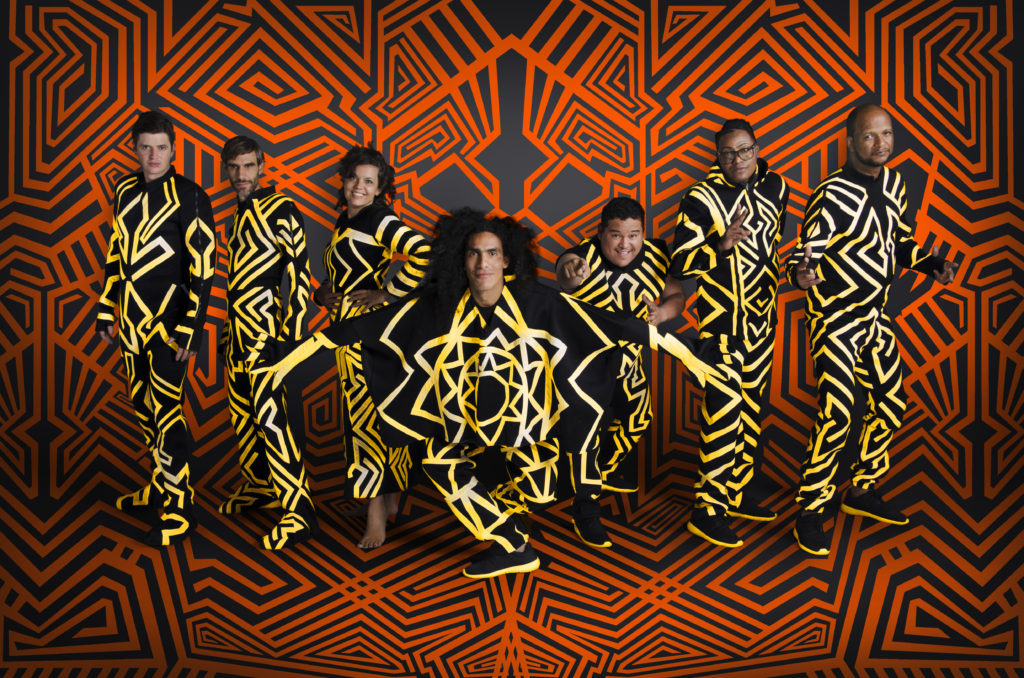 I'm interested in what you're saying about picó and verbena, these parties which bring together music from around the world. Is this something specific to a certain region in Colombia, or found throughout the country?
Verbena and all that is part of the Caribbean region. The picotera culture (that's what we call it) is from the Caribbean. It's part of the great tradition of the Caribbean as a whole--in Jamaica there is picó, in Trinidad and Tobago as well--just that they give it different names: sound system, dub machine, sonidero in Mexico... In the end, it's part of the same culture which adapts to each tradition but is overall very similar.
You previously mentioned that you started off as a live band, and the thought of making studio recordings only came later. In terms of the relationship between your live and recorded music, have you found that your recordings differ significantly from the live experience? Has the recording process in turn influenced your live sound?
Of course. They resemble each other a lot, obviously, but when we play live a lot of things change. The experience becomes much more ample, and the studio recording also has other elements that we don't keep in the live setting, but all of that is to keep improving overall. The energy is different, that's why in the second album we did a lot of live studio sessions where we would have a clear pause in mind to end the recordings. Before it was the opposite: the spontaneity of jamming, jamming with samplers, and really a very punk energy, very much in the moment. And our songs sounded that way. And of course, in a live setting, our songs last longer. Another example is "Malpapitando," a song that wasn't really a fit for radio because it lasts eight minutes, but people liked it and it didn't matter that it was long. And live it goes even longer, it's like a shamanic performance.
I'm interested in knowing more about your connections with artists from other countries with whom you've had the opportunity to collaborate. Are there other collaborations that you'd like to have in the future?
We've been moving forward with that bit by bit. We haven't really had as many collaborations as we would have liked to, but we keep on opening up new possibilities. This new album is an example: there are collaborations with Abelardo Carbonó, a great artist who make Caribbean psychedelic music; Colombian maestro Pedro "Ramayá," Nedjim Bouizzoul; and also La 33, a salsa band from Bogotá, as well as a collaboration with a harmonica player, on the song "Champeta Blues." We achieved some very positive connections on this album. We've always been open, though they don't always happen. For example with Amadou and Mariam, we were about to do it and then didn't. We're still hoping to make it happen …
Oh, and I almost forgot about our collaboration with Debbie Harry from Blondie. The guitarist wrote to us and asked if we wanted to collaborate on a song for their new album. They sent us a demo and we recorded a collaboration on the song, "Sugar on the Side," and it was good timing because we were recording La Revancha del Burro at the time, so we sent them the songs to see what they'd like to record on and they chose "Artificial." She sent us her voice--we didn't meet physically--and it was a great experience to collaborate on both albums. Really exciting, because they're a band that has always been exploring, that has always been keeping track of new sounds.
Given this 10-year history and your continuing interactions with audiences in different parts of the world and the United States, what image of Colombia do you want to present to your listeners and viewers?
Our music speaks of how we live in Colombia, and it serves as a way to inform the public more than what they hear in the news. There already is stigmatization, a media agenda which does not inform people about Colombia in a positive way. That has been changing, but at a basic level, audiences in the United States know very little about what happens in our country, so our music and our performance helps a lot to open up the option of learning about us. That way if they want more, they can talk to us or connect with us via social media.
We are also always promoting support for the great causes that move our country, like that of mining and the risks that it has, the need to take care of our water supply, that of strengthening our self-esteem, and also of not taking violence lightly. We are always disseminating material that helps to inform people more. We aim to be an information platform that amplifies how we are, how we live, what we do--and all in the context of a party.
For us, the verbenautica experience is that of going to a party--not to go and see a rock band--such that people can move however they want, with the most important thing being that people participate in the party. And if they don't move well then there's no party! The audience has to get involved, and that's also why the images do so much. And we engage in social issues not through protest or complaining, but with a lot of humor and a connection to the sonic energy. We don't portray ourselves as a protest group, because usually when you do that you end up stigmatized, and anyway we're not really interested in doing it in the way that other movements have done it, because that has often lead to moving away from possibilities for change, because no one likes being told what to do.
In the end, our behavior isn't really that calculated. We're a collective that has fun and shows the energy of our life here in the Caribbean, in which the relationship between us is one of camaraderie and pulling each others' legs. We have an expression here which indicates how our work environment is very jovial, full of laughter: mamando gallo. So, that's our behavior, our way of working. Outside of Systema Solar, there are friends who have jobs in which they're environmental activists, in which they work to raise consciousness on certain issues. All of that work, combined with our collective energy, is what's projected when it's brought together. Although some of us are more activists than others, our message is unified with that general energy.
That's definitely something that comes out in your work, an ability confront these issues while maintaining positive energy and a strong sense of community, without which as you say you could push certain audiences aside.
Well thanks, we're happy to hear it! Thanks for your support and your interest in our work.
---
Rumbo A Tierra will be available in the U.S. on Nacional Records on Jan. 13, 2017.