Salif Keita Speaks Out on His Career, Mali's Crisis and Retirement
Mali's pre-eminent singer/songwriter/bandleader came to New York this fall with an unusual act. In the past, he has brought blazing electric ensembles from Paris or New York, and, in recent years, a superb, mostly Malian band featuring acoustic African instruments. This time, the group was smaller still, even more acoustic, and they performed seated, like court musicians entertaining royalty. The music was transcendent, mixing Keita hits like "Tekere" and "Mandjou" with Mande traditional songs like "Sunjata," the praise song for Salif's 13th century ancestor, Sunjata Keita.
Salif performed a spectacular set at SOB's, and then, the next night, at the Metropolitan Museum of Art, as part of a series on Mali this fall that included both concerts and fascinating discussions hosted by Henry Louis Gates of Harvard. Salif also performed at gala at the New Africa Center in Harlem. Afropop's Banning Eyre caught up with Salif the day after his SOB's gig. Here's their conversation.
Banning Eyre: Thanks for talking to us.
Salif Keita: It's a pleasure.
Salif Keita at SOBs in New York (Eyre 2014)
It's been a while since you are here and we spoke. I think it's been three years.
Something like that. Maybe even before that.
Let's start with the new record, Tale. What was the idea of this record?
It's called Tale, yes. Tale--that is to say there are too many bad players in the game now. Too many people are being protected. Everyone's protecting everyone else. Money is ruining everything, even nature. The idea of making money is even destroying nature. Even the forests are being destroyed. The planet itself is suffering. I'm speaking generally about this kind of thing in this record.
The word "tale," what does it mean?
Whatever is yours is mine, whatever is mine is mine. There's too much of that right now. You understand? What is yours is mine. What is mine is mine. That is not good.
So it's like greed.
Sure. There's too much of that. But in this record, I also want to make people dance. There are a lot of dance songs on this record. I wanted to go outside a little bit what I've been doing. I've been making very calm melodies. But this time, I wanted to make people dance.
Ousmane Kouyate, Salif Keita (SOB's NYC, Eyre 2014)
Before that, you were working with the acoustic group for three records.
This time it's a lot more electric. There's violin. A lot of things in it.
Did you record it in Paris?
Part of it in Paris, and part of it in Mali. It's not like the others. I made this with Philippe Cohen Solel. I don't know if you know Gotan Project.
Sure, from Argentina.
Yes. He's the arranger for Gotan Project. He's the one who did this. So it's more electric.
Tell me about a couple of songs.
"Da." There's a song called "Da." It's about money. I'm talking to money. It's as if I am having a conversation with money. I said, "You are bad, truly. You come into the family, into marriages, into friendships, and you mess everything up. I don't want you." It's a conversation between money and me. "You've created problems everywhere." That's it. This is one of the strongest songs on the record.
There's another song that talks about me. I tried to be an intellectual. That didn't work. I became a farmer. That didn't work, because my skin cannot accept the sun. Now I'm in music. And I think I landed well, because this is the most noble profession. If you don't work with your heart, it's nothing.
What's that song called?
"A Demain." Until tomorrow. I stop the conversation and say, "In any case, I'll see you tomorrow." That's that. We made this record two years ago in November. It came out in 2012.
Salif on hotel roof, where the interview was conducted (Eyre 2014)
That was the year of the crisis and Mali. So this was made before the crisis. It doesn't have any commentary about what's happened in Mali.
No, no, no, no. I haven't said anything about the crisis.
But you were there.
Yes, yes. I was there. I was in it. During the coup d'état, I was there. Since then, I've come and gone, come and gone.
I've spoken with a lot of artists since then. For a lot of people these events came as a big surprise. For you?
No. It was not a surprise. Because the country is badly run. It doesn't work. Listen, I knew the coup was coming. Well before. I had traveled. I had come from Ethiopia. And when I came back here, I met military people in the plane, and they told me, "The president is bad. He's running the country badly. He doesn't listen to anyone. He speaks behind a mask." So I didn't know when it was going to happen, but I knew that something was coming.
There were something like 250 military who were gone to the north, and they were almost all killed. Fourteen returned. Some 200 people or more slaughtered. Slaughtered. Like dogs. Like animals. Ah, no. And it was the president's fault. Because he let the jihadists who fought against Qaddafi enter the country. Niger refused them. Burkina refused them. Chad refused them. Everyone refused them. Senegal refused them. Even Mauritania. And he let them in. Because he wanted to stay in power for longer. Sure. Because the constitution says if the country is at war, you can't have elections.
That's what he thought? That's serious.
And so they came in, with their arms. These vagabonds came heavily armed. Look, he's a friend of mine. He did some good things. He did a lot of good things. But this sullies everything he accomplished. There have been so many deaths, so many assassinations. And then the coup came, and when the coup came, they went looking for a vagabond here. Because Sanogo was a vagabond. He killed so many military people, over 100 military people. And this can't be forgotten. For someone to kill that many people, so many military people. Young people. People 25 years old. Too many deaths.
And he really set back the art and culture of Mali. Musicians couldn't eat. They couldn't work. They really suffered. And it was the leaders of the military who went to war. They killed a lot of people. A lot of people.
Salif Keita at SOBs in New York (Eyre 2014)
I remember talking to you 12 years ago, in 2002, and you told me about the radicals at the mosque near your house. At the time, I was astonished.
I told you, didn't I?
You did. You were worried about what was coming.
I said, don't ignore this. It's coming. Mali is a lay country, a lay country. It has always accepted all different kinds of civilization. So when people come to the mosque and start dividing up money at 2 o'clock in the morning, it makes me sick. They killed so many people. So many people. I'll tell you the truth. They massacred people. And these same people, when they were imprisoned, they were liberated. That's not good.
O.K., coming back to music, you recently did a tour with Les Ambassadeurs.
I did 10 shows with Les Ambassadeurs.
Talk about that experience.
It was very nostalgic. There was a great spirit among us. There were some of the old players who had been completely lost, like the tumba player Modibo Kone. He had never been in any other bands. And Pacheko, who was the drummer for the Rail, we brought in for the shows. The bass player from the Ambassadeurs, Sekou Diabaté, 75 years old now. He never thought he would play music again. We cried. It was really touching. Really touching.
I wrote a review of the recent two-CD compilation of the old music. It was very interesting to read about that history, the beginning of this band. Did you play some of that old repertoire?
Of course. We played only the repertoire of Les Ambassadeurs. Since it's Les Ambassadeurs you can't play any other repertoire. You have to play Les Ambassadeurs. Now as to the guy who released a CD, I don't know why he did that. Because it's stolen too. No members of the band knew about that. None of us.
It's dedicated to Ibrahim Sylla.
Well, he's dead. So it's good to rely on the dead. I asked Sylla's aunt, and she said it wasn't true. Well, it's bad stuff. But we didn't know. This is how musicians suffer.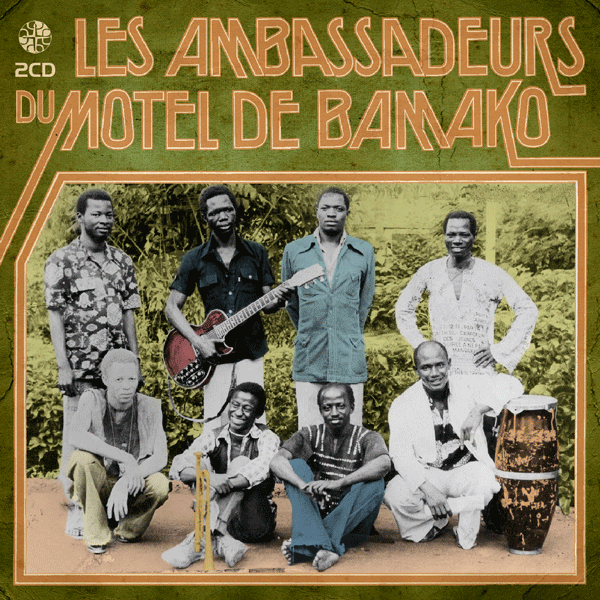 Oh boy. A familiar story. And now it's harder than ever to make money from recordings. It's even worse.
With the technology, yes.
It's over.
It's over. I tell you, my brother, I'm going to leave music aside.
What will you do?
Go back to the fields. I will farm. I have land in Mali, and I'm looking for farming materials. This time it's definitive. You can't make money in music, aside from concerts. You don't earn anything. And concerts are too much work. At my age, 65 years old, I don't want to be on the road anymore. I don't want to die on tour. What's his name? The South African who died on stage. There are a lot of people who die on stage. Me, I don't want that. Man proposes, God disposes. I really want to stop. I haven't told this to everyone, but you are my friend, so I'm telling you. It doesn't work. It just doesn't work anymore. Records don't sell anymore.
So will you make any more records?
Well, I want to. It's become a habit to write songs. But I'm going to stop. Even if I write songs, I won't promote them anymore. I can just put them on the Internet.
Record them yourself, put them online, and go back to the fields?
That's it. Something bad becomes good. [Laughs]
Salif Keita at SOB's in New York (Eyre 2014)
I have to ask you about the bands that you're performing with on this tour. It's different.
I call this the Formation of the King. When the king is in his court, the musicians come and sit around him, and they sing for him. So that's how we do it. All the people who come to see us, they are the kings and queens.
Beautiful. I could feel that. The moment Madou Sidiki Diabaté came on stage and started playing "Sunjata" on kora, I could feel that this was something different.
That's it. It's the court of the king. And with these traditional instruments, you hear all the melodies. It's not like the electric group.
I was impressed. It was very calm and very beautiful, not exactly the dance music. But people were dancing anyway.
Yes.
I see you have been very loyal to your longtime guitarist, Ousmane Kouyate.
Yes. I have worked with others, but… Every time I want to work, I want to work. There is also the young brother of Kante Manfila, Djessou Mory Kouyate.
Yes. He is great.
He plays very well. And I feel obliged to work with him. I can't leave him aside. He's a super guitarist. So I have two different possibilities.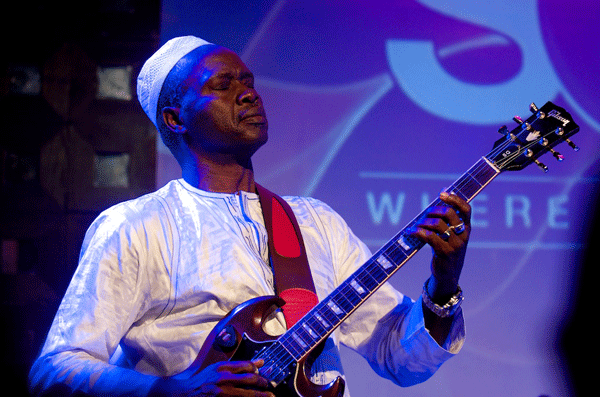 Ousmane Kouyate (Eyre 2014)
Speaking of guitarists, I have to ask about my dear friend Djelimady Tounkara. I haven't seen him for almost two years.
Yes. He's doing well. He's still my master. He is the one who taught me everything, Djelimady. Djelimady and Kante Manfila and Tidiane Kone--they are the ones who gave me the opportunity to play this music.
In the Rail Band, and Les Ambassadeurs, back in the beginning.
Yes, starting in the Rail Band. Tidiane brought into the Rail Band. Djelimady was in Formation A. He came afterwards. And then when I went to Les Ambassadeurs, I met Kante Manfila, and he taught me many, many, many things.
How do you look back on that time now, with all the perspective of your years and experience?
I think we really didn't know the music would go this far. Because you know how it was with music and Mali then. It was the dead-enders who played music. Not the successful. The idea that music would succeed like this, with such importance—well, I guess we have to talk about you. Because it's you, the media, who have given African music this importance. Truly. We didn't count on that. We didn't expect it.
And the music has evolved too. We've had so much interaction with foreign music, with the French, with Americans, Spanish. So many people, important people. We've worked with everyone. This too has brought African music to a new level.
That's nice of you to say. You know, last year, Afropop celebrated 25 years. It's another world now, isn't it? African music is now so connected with pop, rock, jazz. You know last night, at your show, Sean [Barlow] was speaking with the boss at SOB's, Larry Gold. Larry was saying that the show reminded him of the old days, the reason he started this in the first place. Sean was touched by that.
Someone told me that. Larry was surprised. That's nice. That's beautiful.
A lot of stories in that club.
Oh, yes. That's for sure. [Laughs]
I have to ask you a little bit about what the scene in Bamako is like now. I've heard that there are a lot less weddings and shows, and that things are still very hard for musicians. We want to come back and see for ourselves next year. But what's your impression?
Well, you know that Malians love music. They love their music. But the music has gone downhill, my brother. We have to tell the truth. We who had the chance to be promoted before the crisis, we were lucky. But the young people face a very bad situation.
I see that. And the character of the music has changed too. What you think of the music that young Malians are making? Balani and all that. Musically. Apart from the problems of promotion.
Musically, I think they're in the process of going off the road. They're losing the road. That's what I think. Because if it continues like that, in the end, we are going to lose a lot of things. A lot of things. That's what I think. It's not bad to bring in new things, but you can't stay there. If our ancestors had done the same thing, we wouldn't have this folklore today. That's what I think. But the musicians have to do this, there's no other solution. Music has to come from the soul. If music stops at that level, you lose things.
That's interesting. I wonder how different what is happening now is from what happened in your time. With the Rail Band and all that. Because there were people back then who complained that the music was becoming too influenced by foreign sounds. They thought you were losing the road. So what really is different?
First, it's the result of listening to a lot of music that's not African. A lot of influences from pop music, rap, other things. A lot of influences have made things the way they are. It's inevitable. But you have to be careful. You have to be careful because you have to hold onto the culture. It's our job. If you hold onto the culture, you can make concessions, of course, but you don't lose yourself. If you do, how will another generation become inspired?
When you think back to the past, the moment of the Rail Band and all that, did you think about that? Was that in your mind at the time, that you had to hold onto the culture?
I don't think I have ever betrayed the culture. This is why I made war in the studio with arrangers. "You want to bring this in?" I said, "If it's not that, I'm stopping. I will stop." There's a proverb among us that says, "The small touch that the public knows you by, if you lose that, you become unrecognizable. They don't know you anymore." And that's it. That's why I say I have always brought in folklore. I think it's our work to do that. That's my belief.
And the young who play the music now, you don't feel like they're doing that.
Some of them. But not everyone. Not everyone. You can't just follow the trends.
Well, we can hope that there's a pendulum…
Yes, and that things will come back. We hope so. But the older generation don't listen to these people. They don't listen to them. They especially don't listen to rap. This new music. The older generation, they don't listen to that. They have their nostalgia. Every New Year's, I play in Bamako. If I don't play, there's a generation that doesn't go out. They don't have New Year's. Last year, I didn't do the 31st there. I did the 31st in Guinea. My God! There were so many people wanted to kill me. "Why did you leave us?" They don't want other things. They want that. And I guess it's normal. They need that soul. A lot of this music doesn't have soul.
Salif Keita at SOBs in New York (Eyre 2014)[/caption]
I have read that some of these rappers and hip-hop artists, like Sidiki Diabaté, Toumani's son, are filling stadiums.
That's the youth.
I hear that they also have very political lyrics.
That's good. I like that. That is good. I support that. They shouldn't change that. As soon as you say what the government wants, you've lost everything. You haven't done your work.
I agree. Sidiki is interesting, because he does all this production and hip-hop, but he also plays kora with his father.
I've never seen them play together.
Have you heard the record?
No. No.
They play very well. You have to hear it. And I think it's interesting that Sidiki has these different sides of his personality. That impresses me. He does both.
That's good. I've never listened to them. Of course I know his father, and I know Madou Sidkiki who was with me yesterday. But I haven't heard his son.
Madou Sidiki is great. I've interviewed him before. He sounded wonderful last night.
Wow. And also is a very nice person. Very nice. Never any problem with him. A very humble, simple person.
Tell me who else is in the band.
The percussionist from Manu Dibango. His name is Guy. Everyone just calls him Guy. And the women are Bah Kouyate and Ami Dante. Ousmane Kouyaté on guitar, Souleymane Kouyaté on ngoni. Madou Sidiki, and me.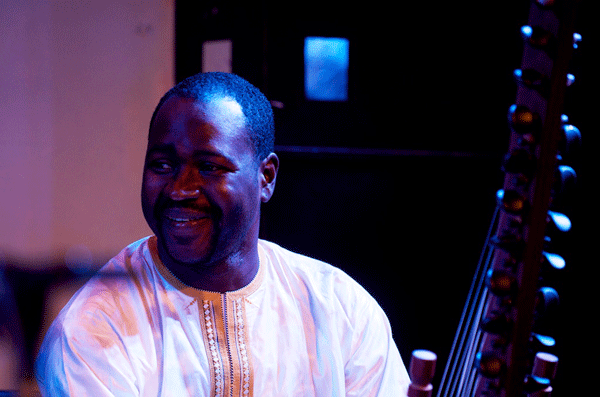 Madou Sidiki Diabaté (Eyre 2014)
There was a moment in the concert when I found myself asking: Where's the bass coming from? Because there was no bass player. But I was hearing bass.
No bass player. No, because the percussionist plays bass with foot petals. His adapted them to the notes.
No programmation?
There is programmation, but there's no bass in the programmation. It's in his footwork with the music. It sounds like there's a bass player. There's no bass player.
So I guess the bass players in Paris are angry.
Yes, well we have to be creative. You have to find solutions.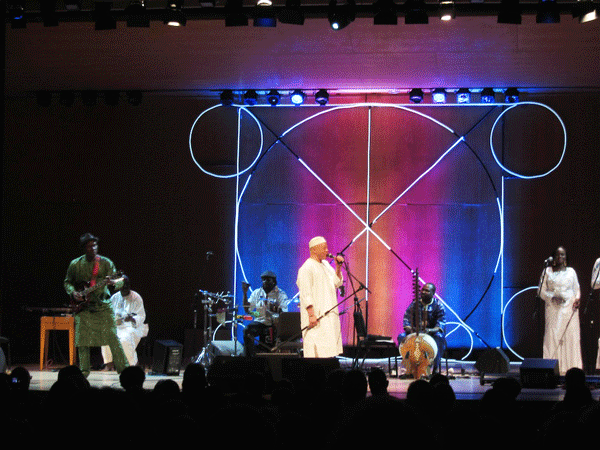 Just before we finish, as I said, we hope to return to Mali next year, in about a year. We want to come to Bamako, but if possible we also want to go to the north.
No. You must not go there.
Why not?
Because I don't want you to have problems, my brother. You are too dear to us. Up there, it's not good. People are fighting in the name of religion, but they don't understand religion. I don't want you to go there.
You don't think it will improve?
No, no. The problem is that people are paid when they kidnap people. €10 million. €11 million. €500 thousand. No, you should not go there.
Recently, at the Metropolitan Museum of Art, where you will be playing tonight, we saw Mr. Haidara, the man who protected so many of the documents in Timbuktu. It was a very interesting story, about how he was able to save a lot of documents in Bamako.
Because they came to destroy everything. The mosques. The manuscripts. The shrines. It's insane. No, you can't go there. You are too dear to us. I don't want to see you have problems. And it's especially Americans who have problems. No, you can't go there. Please. Truly.
O.K., Salif. I hear you. Thank you so much.