Snarky Puppy with Laura Mvula, Chris Thile, David Crosby and Fatoumata Diawara
Imagine a concert with a single band on stage, and a repertoire that spans adventurous original jazz, funk and samba instrumentals, Dylan's "Masters of War" rendered as a mandolin-led Appalachian mountain holler, Wassoulou pop songs from Mali, a thrilling Stevie Wonder cover, and rousing sing-along renditions of classic '60s protest rock songs: "For What It's Worth" and "(Four Dead in) Ohio." Well, that's what a sold-out audience at Carnegie Hall was treated to on Jan. 25 when the Brooklyn-based musical collective Snarky Puppy hosted four guest vocalists—Laura Mvula, Chris Thile, Fatoumata Diawara and David Crosby—as part of Carnegie Hall's ongoing festival: The '60s, The Years that Changed America.
Snarky Puppy formed in Texas and labored in relative obscurity until folks began to notice their remarkable talent and versatility. Straight out of college, bandleader Michael League dove into the worlds of gospel, soul and r&b. He started a grass-roots record label, GroundUP, and developed his band into a collective of exceptional musicians all of whom have careers and projects of their own. In 2014, Snarky Puppy won a Grammy for Best R&B Performance, then two more in 2016 and '17 for Best Contemporary Instrumental Album. Fine instrumentalists they are, but they've also established a fruitful practice of collaborating and performing with popular singers, ranging from Salif Keita to David Crosby.
Somewhere along the line, the band decamped to Brooklyn and further diversified their activities. Last year maverick New York concert producer Danny Kapilian proposed a Carnegie Hall gig with guest vocalists, and the idea flowed naturally into Carnegie's plans for the '60s festival. Never mind that Crosby was probably the only artist on stage who was actually alive in the '60s. The idea was magic, and the concert one for the ages.
The opening instrumental, "Kite," featured a strong, spacious trumpet solo from Mike Maher. Maybe it's my imagination, but it felt like an ode to trumpet icon Hugh Masekela who left us just days ago. After three instrumentals showcasing various soloists, as well as the band's marvelous command of grooves and dynamics—from a roar to a whisper in the blink of an eye—League spoke to the audience and laid out the premise of the concert: protest, yes, but also a celebration of our right and ability to do so in this country.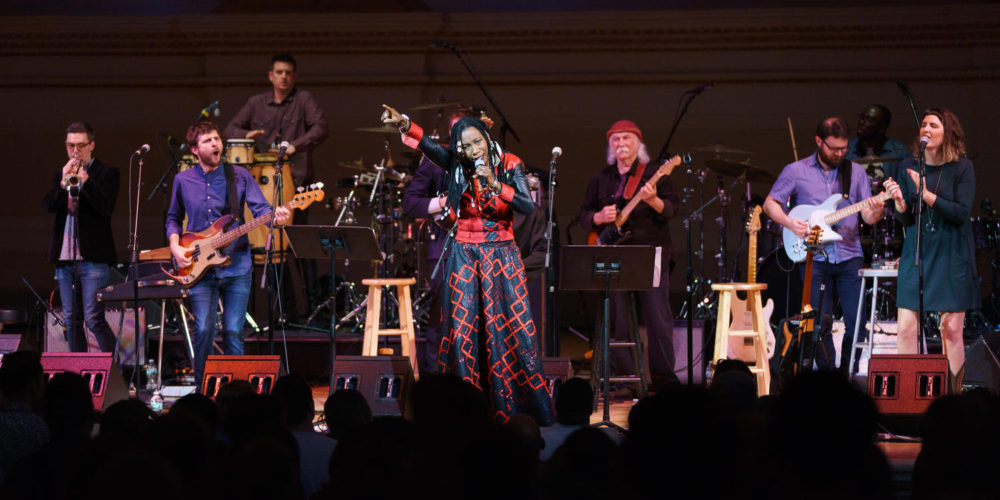 Then he brought out the guests. Each took the stage in turn to do a featured song, but then all remained throughout the concert, joining in at times, or just sitting back and enjoying one another's distinctive artistry. Born in England to parents from the Caribbean, Laura Mvula is graced with a lustrously powerful soul voice. Her "Inner City Blues" ebbed and flowed over a slow-burn funk groove, and her "Front Lines" veered toward funky bayou rock.
Chris Thile is a mandolin virtuoso and an extraordinary vocalist, riding high these days on his new gig as host of public radio's Live From Here (formerly A Prairie Home Companion). He began with a song written a year ago, as Trump took the reins. The title was "Falsetto," and Thile rose to the occasion, bidding us to "tell it like it is" in a falsetto that conveyed more angst than joy. Later in the show his rendition of "Masters of War" earned a standing ovation, and his lead vocal on Stevie Wonder's "You Haven't Done Nothing" brought the house down.
For those of us old enough to remember, David Crosby pried wide open the gates of nostalgia with a rocking rendition of "Long Time Gone." Near the end of the show, he spoke movingly about the Statue of Liberty, the symbol of the country he loves, though she's feeling a little "lonely and depressed" these days. He leavened the evening with wry humor, thanking the audience for coming because, "We'd look like fools if you weren't here." Then he led into "For What It's Worth" with a harmonized a cappella version of his own protest song, "What Are Their Names?" noting that he has sung the song at every concert he's played since the early '70s, though it has clearly done no good.
For all these high points—and I don't think my Afropop bias is showing here—the most moving numbers came from Mali's Fatoumata Diawara. Her grooving take on "Mousso (Women)" came first, with terrific brass section backing as she soared into long, spine-tingling high notes. Later, for her song "Unite"—a call for peace and justice for the children of Africa and the world—Diawara commanded the audience to their feet. The entire house complied instantly and swayed joyously as the song unfolded a one chord vamp with all sorts of arranging twists and turns from the band, all culminating in a crescendo with Diawara's clear, horn-like voice sounding an irresistible clarion call. Wow!
League introduced the show's inevitable encore with a call for everyone to embrace the spirit of the '60s and get involved in some sort of activism. Then everyone rose to shout out the brief but powerful lyrics to Neil Young's 48-year old anthem, "Ohio." The lyrics may be dated, but the song's rowdy spirit, uplifted by these extraordinary young musicians, felt as immediate and relevant today as they did all those years ago.