In 1979, spouge music was waning in Barbados, where it would soon all but disappear. But it was just hitting its stride in New York.
That year a promoter rented out the Felt Forum at Madison Square Garden for the first of what would be many successful spouge and Barbadian music concerts in the New York area. Among the artists were comedian/storyteller Alfred Pagnel and the Merrymen.
1979 was a big year for the Merrymen, whose energetic and polished mix of calypso and folk made them Barbados' most enduring musical export prior to Rihanna. That year they also performed during halftime at the Super Bowl.
https://www.youtube.com/watch?v=vkvYsEuxAAE
Spouge greats Wendy Alleyne, the Draytons Two, Richard Stoute and Tony Grazette were just a few of the acts that played the Garden during the '70s and '80s. Frequently the Bajan acts were packaged with Trinidadian calypso favorites like the Mighty Sparrow and reggae stars like John Holt in pan-Caribbean revues. Stoute remembers being booked on a single MSG show for legendary calypso promoter Harold McLeod and making a big enough impression that he was asked to join the entire East Coast tour that the other artists were embarking on.
Even before the Garden shows started up, the Draytons Two were regulars in New York. Member Lew "Zorro" Drayton remembers that he and Desmond "Fowl" Weekes first appeared in 1973 at the Manhattan Center. "I never see so much people come out, man. People in Barbados had known of the Draytons Two but we had never traveled this far. And that place had so many people that night. Then we leave and went to Boston. Sold out in Boston too."
One night Drayton was singing "Island in the Sun" on the MSG stage when there was a stir in audience. Bob Marley was passing through.
"He was just there watching," says Drayton. "He didn't stay too long. He came up and sang "Ambush in the Night" and he cut and he was gone. He just come in the limousine with his bodyguards. [Wailers] Aston Barrett and Tyrone Downie were with him."
It's no surprise that spouge thrived in the diaspora, says Barbadian-American radio host Neville Bush. "It became very big here because a lot of Barbadians live here and we love our culture and that's the music we grew up with in the '60s and '70s," Bush says.
[caption id="attachment_34010" align="alignnone" width="640"]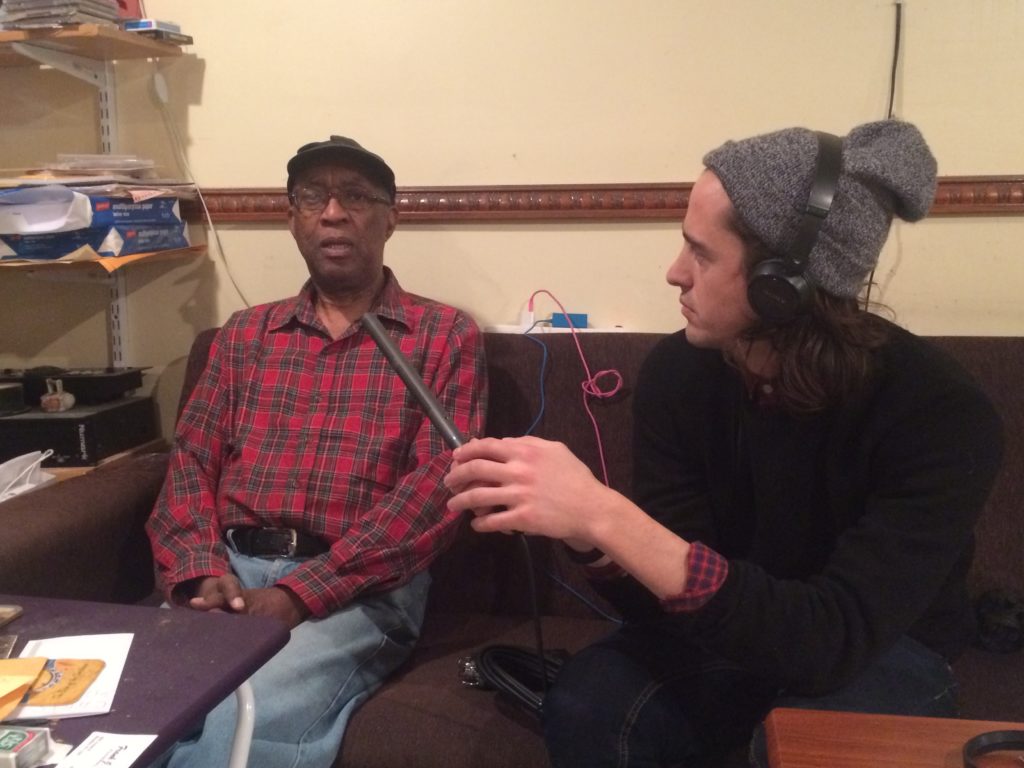 Neville Bush speaking with producer Saxon Baird.[/caption]
Bush originally came to New York in the mid-'60s with plans to become a mortician. He changed paths after getting a job at a midtown Manhattan hotel. "One day I answered the phone and the man on the other side said that with my voice I should consider a career in broadcasting," recalls Bush. The caller was famed comedian and TV host Milton Berle.
Classes at broadcasting school were followed by a news-reading gig at WBLS. In the early '70s Bush started renting out time on WHBI. At first only the 3 a.m. to 4 a.m. slot was available. "I would call my friends in the middle of the night and tell them that if they'd wake up and listen I'd give them a shout out," laughs Bush. His eventually got a better slot on Friday nights, where he established his "Caribbean Pepperpot" show, which used "I Am a Barbadian" by the Sandpebbles as its theme. Here's Bush introducing the Opels, featuring the recently departed Barbadian vocal great Clarence Thompson, at a 1990 Brooklyn concert.
https://www.youtube.com/watch?v=3jDVUcGyfxQ
Bush eventually moved to WLIB, which dominated the New York Caribbean-American market throughout the '80s and '90s. Soon local record stores and labels were paying attention to spouge. The Draytons Two released Reflections of My Life on Brooklyn's famed calypso label Charlie's Records.
https://www.youtube.com/watch?v=kyAKrx-HYOE
The diaspora wasn't just a place for touring artists to perform hits they'd recorded in Barbados. Soon Barbadian immigrants were sending songs home along with barrels of goods and remittances. In our episode Shirley Stewart talks about recording his smash "Walk Away From Love" in Brooklyn.
Likewise, calypsonian and folk singer Archie Miller had been living in Brooklyn for years when he wrote and recorded the "Rum Shop Anthem" with its sophisticated string arrangement and entered it into the Crop Over competition. Miller frequently collaborated with the heralded Brooklyn-based arranger Frankie McIntosh of Straker's Records.
Today Miller's son, spoken-word artist Negus Adeyemi, is one of the organizers of "Bajan Broughtupsy," which features words, songs and movement by artists of Barbadian heritage.
"Broughtupsy means how you were raised, how you were brought up, so my upbringing was a lot different than people who were raised here and whose parents were Americans," says Adeyemi. "The food is different, music is different, the dialect, clothes. But you can lose your connection to your culture, to your identity. What does it mean that my father is from Barbados? So my intent is to have a place for the culture so it can be passed on."
You can hear an Afropop recording by producer Sebastian Bouknight of Archie and Negus collaborating on "Beautiful Barbados," the anthem penned by the Merrymen's Emile Straker, below.
https://soundcloud.com/afropop-worldwide/archie-miller-and-negus-adeyemi-beautiful-barbados
Pictured above: Archie Miller and Negus Adeyemi.
Today Bajan music is still on the New York airwaves--and everywhere a webcast can reach--thanks to shows like Neville Bush's "Caribbean Pepperpot" on wild96fm.com and Double R's "Caribbean Cook-Up" on http://www.brooklynmix.com. Double R also hosts the annual Full Circle Barbados Independence Dance each November where artists like the Escorts, Archie Miller, Biggie Irie and Ras Iley can be found performing their hits.
Tune into Bajan-American radio and you might hear some familiar musical voices during the commercial breaks. Lew Drayton turned the Drayton Two's "Coming Down For Crop Over" into a jingle for Culpepper's, a popular Brooklyn eatery. If you want to know what's on the menu just listen to the jingle below.
[audio mp3="https://afropop.org/migrated-uploads/2017/01/Culpeppers-Jingle-Lew-Drayton.mp3"][/audio]
Listen to Afropop Worldwide's program, "Barbados at 50: From Spouge to Soca."