St Germain Pays Electronic Homage to Mali
Afropop's Sean Barlow recently talked to French electronic music artist St Germain (a.k.a. Ludovic Navarre) about his just-released self-titled album (Nonesuch), a collaboration with excellent Malian artists, including veteran singers Nahawa Doumbia and Zoumana Tereta, as well as musicians from other countries. This is St Germain's first studio album in 15 years. His previous album,
Tourist
, sold three million copies worldwide including 300,000 in the U.S.
All photos by Benoit Peverelli, used with permission.
Sean Barlow
: 
St Germain, welcome to Afropop Worldwide. Can you first introduce yourself?
St Germain
: I'm of French background with a little Basque and a little Breton. So I work in French. I adore African music and world music.
How did you first encounter African music? Who did you hear and where? Were there particular styles that turned you on?
I think for me the first introduction came from the radio—one of the major French radio stations, Fréquence Terre. They were releasing collections of world music and that's how I discovered traditional music. I think I must have been around 12 years old when I heard them. As far as specific artists are concerned that's really hard for me to say. I'd say Jamaican music, reggae, or someone like King Sunny Ade, but as far as individual artists, I don't really remember the names. I think it was more of a natural progression that I just started listening and hearing one thing after another. [caption id="attachment_25687" align="alignleft" width="640"]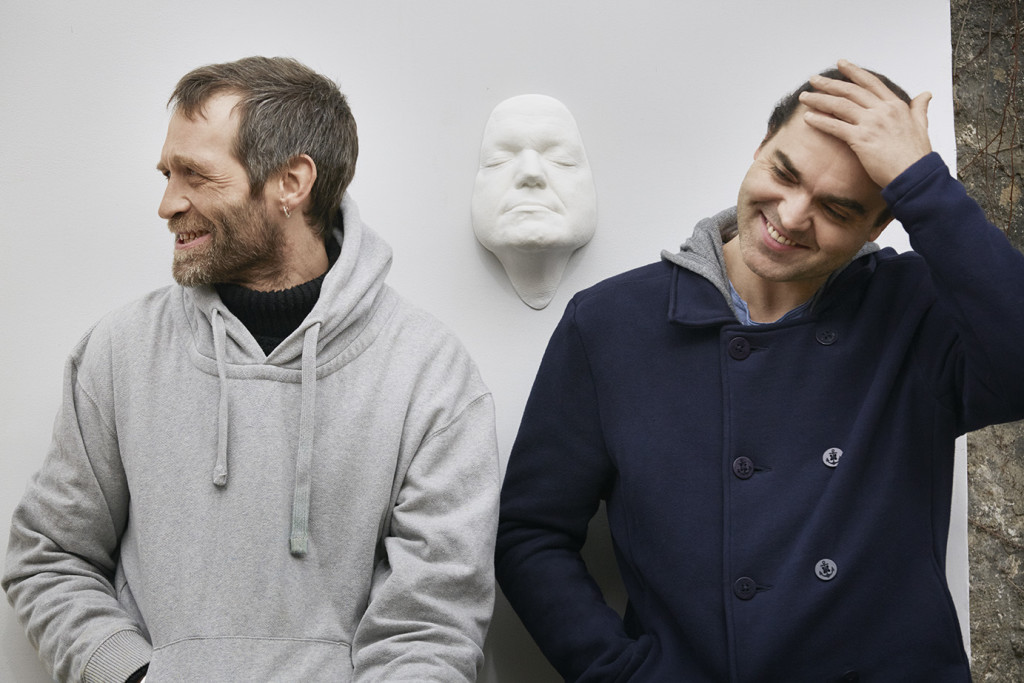 Gregos and St Germain[/caption]
Now, what is the story with this new project coming out in October on Nonesuch. Tell us about it.
I think it's probably an attempt on my part to bring together the continents because this music is really music that has influenced all of us, music from Africa. I think at this point in my career, this is my chance to show my respect for this music.
What was your process working on this? You're listed as "Music Director and programming" on the album. How did you choose artists and instruments and arrangements?
I think for me, the first thing that was interesting to me was the traditional music from Mali and what really was the trigger for me was the hunters' music.  They [the
donso
] are the local chiefs and healers who conduct the ceremonies in all of the villages. It was a culture, a people, I knew nothing about, so it was learning more about them and their communities that got me interested. And that led me to other things. For example, it really got me interested in Tuareg culture in Mali as well, which was also something I didn't know of before. What I really wanted to do was to make a mix of all of them. Of course I had heard the voice of Zoumana Tereta and I really loved his voice and I thought it was something else that I really wanted to include. I think the quality of the music that the Malian musicians play has a real gentleness, almost a lullaby quality, but at the same time it can be very rhythmic and very danceable. So what I wanted to do was to take that and to mix it with electronic music to come up with something different.
I've had a chance to listen through and get a feel for them. I know what you're saying—in Mali there's a spectrum of slower, more meditative songs and then the faster party songs. But let's talk about "Real Blues." Tell us about this song.
It's kind of hard to do an interview this way, and to talk about songs individually because to me it's more what my feeling was in the moment while I was doing it. I don't have any specific message that I want to convey or any specific images I want to conjure up. For me it's more of an interior feeling and even just how I feel it on my skin—what gives me goose bumps and how do I feel it in a sensory way—but I think here what I wanted to show in this particular track is that there is this link between the music from northern Mali and American blues. I wanted to show that link and combine them because I think together they can be quite beautiful.
OK, how about the song "Sitting Here." Who is sitting there?
Nahawa Doumbia. I think for me she's somebody who sings beautifully. She's pretty and great to listen to, and she's someone I've known before whose singing had brought me great happiness, so I really wanted to include her in this project as a way of thanking her and recognizing that she's brought me all this happiness. She's a beautiful person and very committed for people.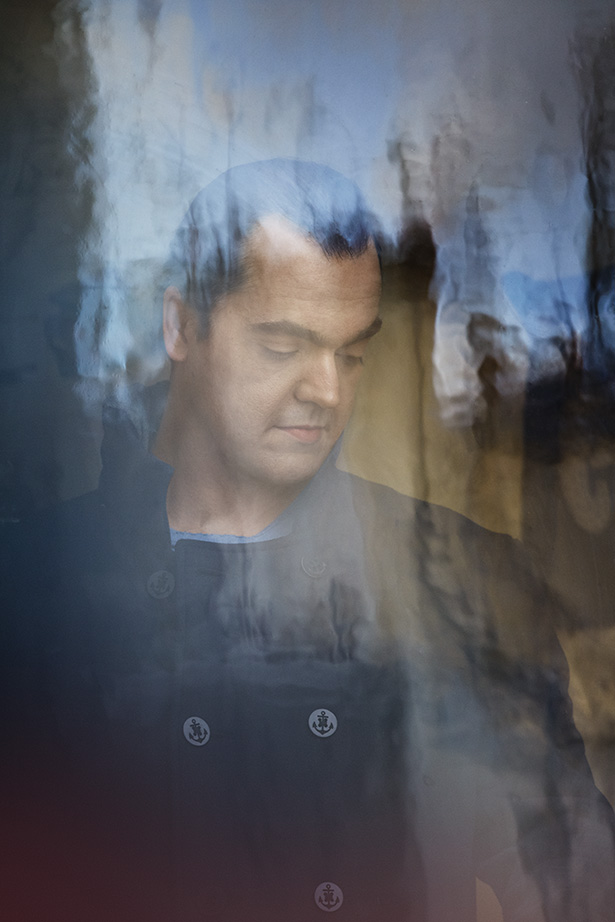 There is another song, "Voila." Is that Guimba Kouyate on guitar and ngoni?
On guitar and ngoni. He's very well known as a Malian singer who lives in Paris. Once again it was an instance when I wanted to bring in Malian music and the things it inspires with electronic music and see what could be created by combining the two, and in this case there's also a little bit of a Brazilian rhythm that's part of it.
And the song "How Dare You." Talk about the singer
. I think for me it's not just a challenge like "How dare you!" but more in a sense of "how dare you" would you do it? To combine these things. For me in this case, we're really talking about a blues rhythm. It was difficult because we were dealing with a binary rhythm and what I had to do was to try to combine American blues with Malian blues. There's the voice of R.L. Burnside, an American bluesman, on there, and Zoumana Tereta [from Mali].
Did you travel in Mali to find artists you liked, or did you find artists in Paris?
So basically I've never traveled in Africa. I've never been there, but African music is something I've liked for a long time. So the process I employed here really once I had this concept of wanting to mix African music with electronic was to identify which of the musics I wanted to use. I first looked at Nigerian music because things like Afrobeat and Fela were being done by other people. But because it's being done by so many people I decided that I didn't want to do it. It wouldn't be new or different. So from Nigeria I moved on to Ghana. I didn't really know much about Ghanaian music, maybe a few pieces from the time of highlife, which is Nigerian and Ghanaian music together but I really did not know it very much, but even though after some exploration I realized it was doable, I couldn't find the people to work with to make it possible. So from there, I moved on to Malian music, which as I said I had first discovered when I was much younger. When I discovered the
chasseurs
[donso] and the Tuareg and all this had laid the groundwork for my interest in Malian music. Fortunately there is a large community of Malian musicians in Paris, and I was able to meet a number of musicians and we started to get to know each other and to understand each other where we were coming from, just to do some trials and try some things out.
Who do you think is the audience for this? There's been a lot of collaborations with Malians from outsiders and you bring an electronic repertoire. Hopefully it will reach a different audience. What's your hope for this recording? Will it reach new people? Will people go for it?
As far as a new audience, I'm not really looking to focus in on anything in particular. I think it's just a logical progression. The people who are my audience already will bring people in. And with the tour, the logic will seem even more obvious. They'll see something and hear something new that will be pleasurable for them. They'll be exposed to something that's very, very musical, to musicians who play with a lot of finesse. Who play with a lot of mastery and rhythm and who are playing instruments that are amazing to see. They'll bring all of that to the concerts and that will go to the former audience and the new one as well.
Well said. And best of luck with the project.