Stella Chiweshe to Build Culture Center in Zimbabwe
Stella Chiweshe, Zimbabwean mbira maestro and mystic grandmother (ambuya) of the sacred instrument, at age 74 shows no sign of slowing down. Decades after she became the first female mbira player to achieve international recognition, she has toured the world and given us, by my count, nine wonderful albums of mbira music—more than any other player of Africa's most celebrated lamellophone.
Despite the pandemic and Zimbabwe's ongoing economic and political woes, Stella is currently working to establish a cultural retreat some 50 miles outside Harare, a place dedicated to to preserving and deepening mbira and Shona culture and carrying it on to future generations. It is also a place where artists and regular people can gather to share traditions and escape the madness of the world. At present, the Chivanhu Center—chivanhu meaning traditions—has barely begun construction, and Stella is raising funds to complete the facility. More on that shortly. In a phone call from her home in Berlin, Stella told me, "It's not going to be a place for a honeymoon. It's a place for individuals to come and be healed by the mbira. Your mind can become very congested. Mbira is dismantling, dismantling, dismantling, to bring peace."
Sounds good to me.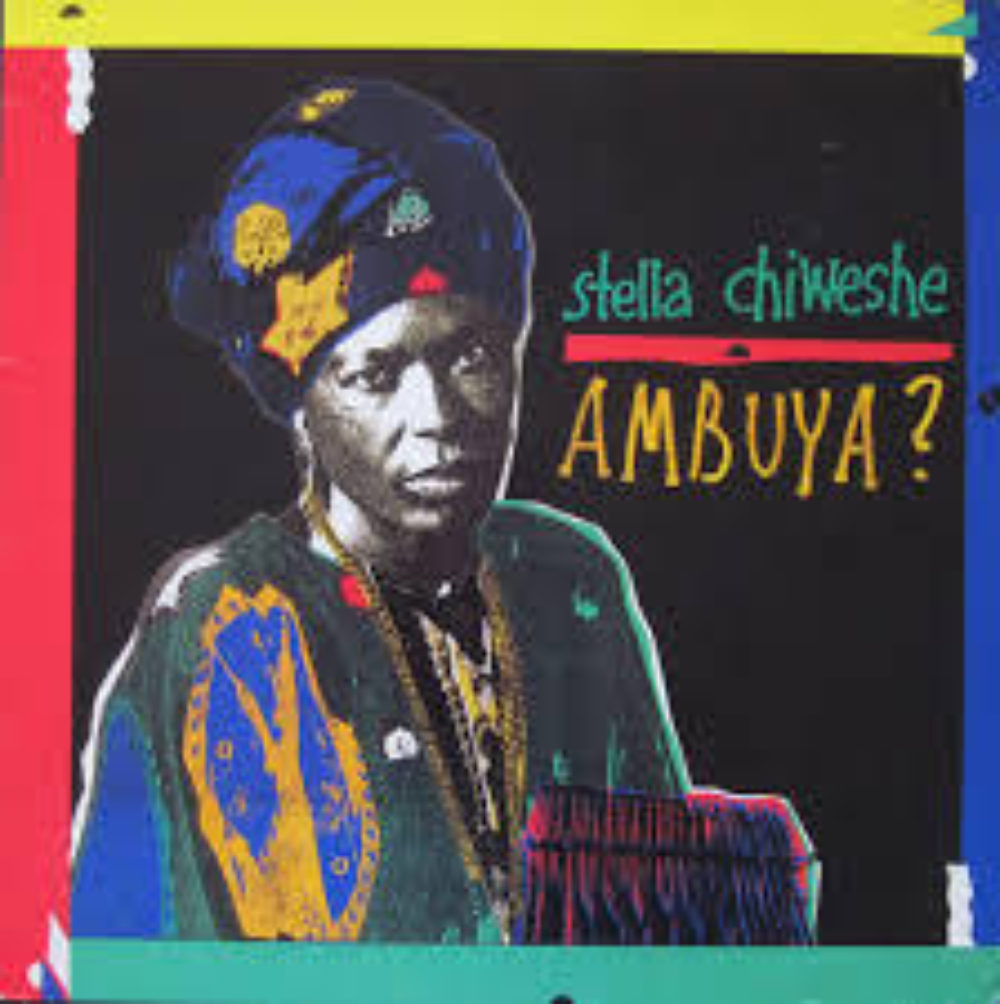 Meanwhile, Stella's longtime record label, Piranha, is issuing a remastered version of her 1987 international debut album, Ambuya?. This is a fascinating recording. It was made in Berlin with musicians Stella brought from Zimbabwe and three members of the memorably talented and sneaky U.K. band 3 Mustaphas 3, which had formed five years earlier. At the time, these maverick Brit tricksters were maintaining alternative identities as Balkan musical prodigies, organized by their uncle under the banner of "Forward in All Directions." The Mustaphas had many, including this then-fledgling journalist, fooled by this ploy, but that's another story. Suffice it to say Borat has nothing on these guys.
Ben Mandelson (Hijaz Mustapha) produced the Ambuya? session. Colin Bass (Sabah Habas Mustapha) played bass and Nigel Watson (Houzam Mustapha) played drums. Accompanying Stella were Leonard Ngwena and Samson Mirazi on marimbas and vocals, and Virginia Mkewsha on mbira, hosho (shaker) and vocals. Suffice it to say that this album sounds nothing like any mbira ensemble or chimurenga pop group you may have encountered over the 33 years that separate us from Ambuya?.
The album opens with "Chachimurenga" a pumping, four-on-the-floor romp with chattering marimbas, a loopy bass line, and Stella's voice fed through a digital delay and sounding remarkably hip, even now. There's a remake of Stella's first hit single in Zimbabwe from 1974, "Kasahwa," here reimagined with bass, drums and marimba accompanying her mbira. There are some tracks on which Stella performs in her traditional mode—traditional for her, that is—solo mbira with no hosho percussion. If you've seen Stella live or sampled her albums you know that this remains her preferred presentation mode. As she explained in our phone call, "Mbira without hosho is for sitting and listening to something important. And the one with hosho is for arousing people to dance."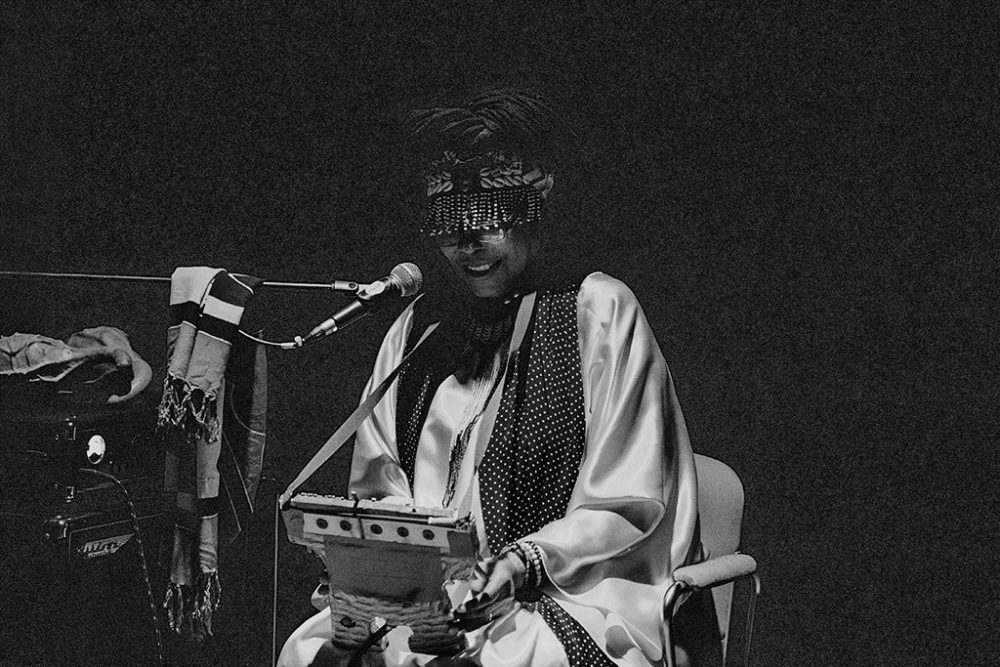 The Ambuya? session exudes experimentation, openness and originality, which is why there is nothing else like it. Looking back, Ben Mandelson recalls, "We had the protection of the innocent, and the confidence of everything that we didn't know. Stella was gracious enough to invite us to her cosmos. I don't know how many voice-mbira-dzavadzimu-marimba-hosho-electric bass-and-drums albums had been recorded up to that point, but it was certainly the first one that any of us had tried."
"It feels fresh," says Stella as she listens all these years later. "For me, it is not a long time ago. I started by playing solo but I said, 'O.K., let me try this. Other people are doing that. Let me try this.' We just rehearsed for two-and-a-half hours and then we were on the road. They were surprised, Colin and Nigel. They were surprised at how fast they managed to play that, but for me I was not surprised because from a long time ago, I was seeing them in my visions, playing with them. And then finally we met."
In the original sleeve notes, "Chachimurenga" is presented as a plea to apply the moral force of Zimbabwe's liberation struggle to the then-ongoing fight to end apartheid in neighboring South Africa. But Stella told me, "You know, a song does not stay at one place. Now for me, this song is calling for the unification of voices. That is where 'Chachimurenga' is now. Voices, singing together. People talk a lot. They never come together to sing. Sing, sing. Just sing, sing!"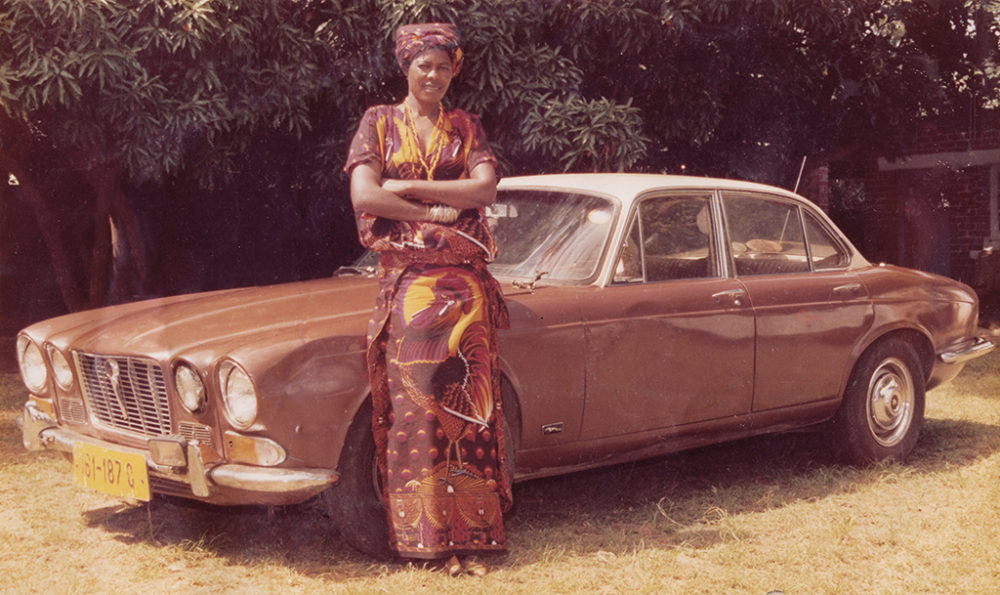 Looking back, Stella is particularly proud of that remake of "Kasahwa" which was also the title of Glitterbeat's 2018 compilation Kasahwa: Early Singles, a must for Stella fans. Stella says that 1987 version was the first known recording to combine mbira and marimba. For 13 years, she heard in her head a deep sound accompanying the original single. She imagined it might be the sound of a huge mbira, but mbira makers told her, "Stella, there is no mbira that size." Then, she told me, "On the 13th year, when I heard the marimba, it was that sound, so I just followed how it sounded in my head."
Aside from the remastering on the reissue, the question mark in the title has been replaced with an exclamation point, perhaps pulling back a little on the Mustapha zaniness of the original.
Over the phone, Stella seemed more interested in talking about the future, the Chivanhu Center, than taking a trip down memory lane. I was curious as to what she imagined would happen when people gather at the center. "It is very easy to offend somebody if you don't know their manners," she said. "All cultures who would like to explain themselves can come. Then we will understand each other. There is no time to talk about politics, the weather. Don't talk about anything. When people come there, they should stop talking. When we stop talking, we are very much wiser. We will understand each other more when we keep quiet."
When visitors emerge from the silence, Stella says they will talk about our cultures and traditions. "We are mixing people from many different lands and cultures. When we come from silence, I can explain how it is in my culture, so we can understand each other. I'm not the leader. The leader is mbira." She added, ""Don't come by yourself. Come with those friends from the north, from the west, from the east, from the south. It's to heal together. If you can bring your friends, you will be happy."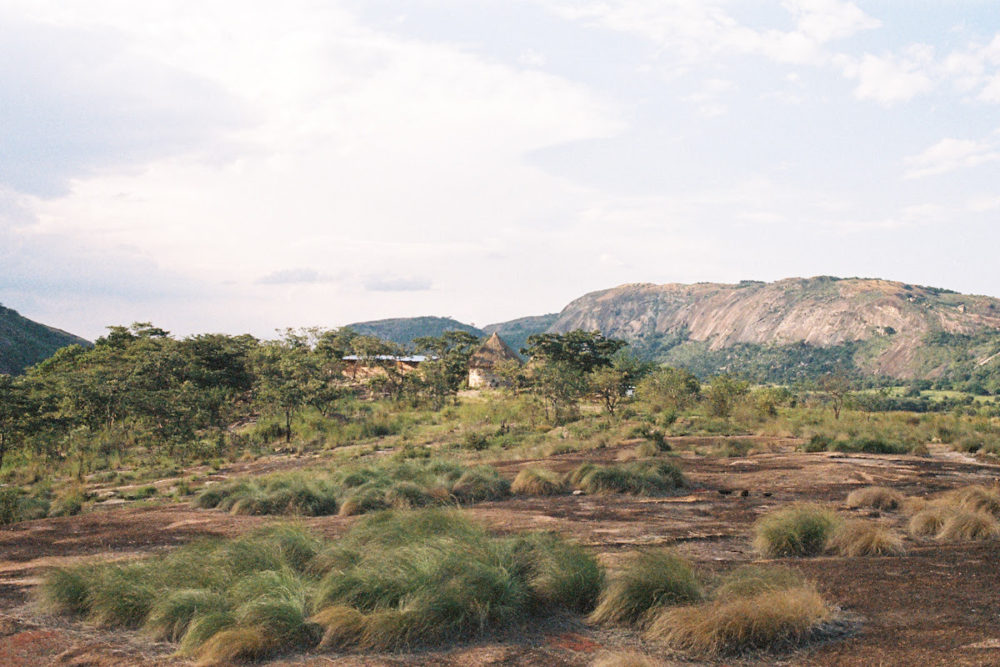 The plan is to build out the site over the next year. Stella hopes to entertain the first guests by late summer 2021, or "when the universe allows." For the moment, she says, "I only have stones around me. What I did there, I built four wooden cabins. There is one for the builders, one for me, one for my visitor and one for utensils for brewing beer." Seven-day millet beer is required at a bira, a spirit ceremony with mbiras.

If you'd like to help Stella complete the Chivanhu project, there's a crowdfunding campaign that ends on Dec. 23. It's moving along nicely, but still has a ways to go. So if you love mbira, or your future plans involve "dismantling" your crowded mind in rural Zimbabwe, add this to your holiday list!
At the end of our call, Stella directed me to a YouTube video called "Mbira Trip." It offers an uninterrupted hour of Stella playing solo mbira—very lovely! She told me that she was rebelling against the five-minute format for songs that the album format requires. She wanted to play "one song for one hour." (This reminds me of the complaint that Thomas Mapfumo's guitarist Joshua Dube would make at the end of a marathon Blacks Unlimited gig in Zimbabwe, which always ended with a lengthy jam. "One song, one hour?" he would drone incredulously over a beer at 4 a.m.
But I digress. "Mbira Trip" is accompanied by images of Stella playing mbira on a beach in Italy, but she insisted that the video is "not for watching. It's for listening." And I recommend it. So do many of the more than 64,000 people who have watched it. She was surprised by the number, and laughed heartily as I read her some of the adoring comments viewers have posted.
Have a peek for yourself, and check out Ambuya! And if you are as moved as I have been, consider helping out with the Chivanhu Project. Stella assures me she will love you for it.