For over two decades South by Southwest, the annual 10-day film, interactive and music conference and festival in Austin, Texas, was the place to see new unsigned bands and for established musicians to seek new audiences. This year, however, the first big story was the push by mega-corporate brands to bring in big name acts. Pop stars Lady Gaga, Lil Wayne and Coldplay took center stage, potentially pulling audiences away from discovering new music. The second big story was the tragedy of three people killed and over 20 injured when police chased a drunk driver of a stolen car into the crowds on the first night of the music festival. In fact, many major media outlets covering the festival have questioned whether SXSW can survive as an indie festival in the coming years.
The world music roster at SXSW 2014, as in recent years, focused on acts from Central and South America, followed by European musicians and then a smattering of African acts. There was an excellent all-Uruguayan night, including performances from Daniel Drexler, Cuatro Pesos de Propina and Ana Prada. Other international acts of note showcasing at the festival included the Gochag Askarov Ensemble from Azerbaijan; Indian-born L. Shankar (known for his work on the music to the film Last Temptation of Christ); Lo'Jo from France (who helped found the Festival in the Desert in Mali); Tuareg groups Tinariwen and Imarhan Timbuktu; Israeli singer Dudu Tassa; Taluna, from Italy; and New York's world/jazz collective TriBeCaStan. Other stand-outs of interest were the Kumbia Queers, an all-female cumbia-punk band; Fabrizio Cammarata, a singer-songwriter based in Palermo, Sicily; and Bogatan Ivan David with his blend of Colombian and Caribbean sounds. The festival also featured two local Austin world music outfits worth checking out–Afrobeat-inspired Hard Proof, and Atash, a global fusion band with a range of influences from West Africa to the West Indies.
At the film festival, there was a stunning documentary, Song from the Forest. If that title sounds familiar, it's because it's taken from the book written by the film's "star," Louis Sarno. Sarno has spent 30 years living in the Central African Republic among the Bayaka pygmy tribe and recorded a massive collection of music by them, some of which has been featured on Afropop. The documentary takes us into the forest where we meet Sarno, his Bayakan wife, and son. We learn how life has become very tenuous for the Bayaka as the forest is being eradicated for its resources. Sarno then takes his 10-year-old son, Samadi, with him on a visit back to New York, where the boy finds himself struggling to make sense of this other world.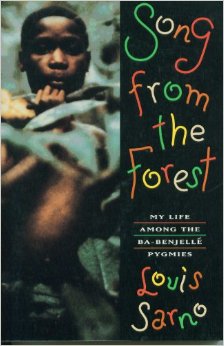 Early in the film, Sarno's then-girlfriend explains, "When Louis and I went to Amsterdam in the summer of 1979, we had a small radio. And then one day, I forget the gentleman who put on the show, but he has been on for years and years.... Georges Collinet! And he had focused on pygmy music. And when Louis heard that, a light went on. He also wanted then to record it, and to find these people who made this kind of music, and then realized, that in fact, he wants to live there." So, Sarno first heard the music on Georges' former Voice of America show, and it was thanks to Georges that Sarno discovered his destiny and went on his incredible life journey. We will soon be featuring an interview with the filmmakers about their experience.
On the conference side, there were two music panels focused on Africa. The first, "Packed With Electronic Beats: Africa's Next Music Coming to America," was moderated by Rab Bakari of Mixerport.com. Bakari and his organization are focused on developing and promoting emerging musicians, filmmakers and other artists throughout Africa. Other panelists included African music publicist Rickie Davies and Ovie Ofugara, co-owner of NotJustOK.com, a resource for new Nigerian music. The panelists mostly spoke on ideas of how African contemporary and hip-hop artists could better infiltrate the global music market.
Almost an inverse of the first panel, "Africa's Mobile Music: A New Way of Listening," looked at how major record labels can distribute and capitalize on their music around the African continent. For example, former Sony/BMG executive Yoel Kenan, now CEO of Africori.com, the first synch licensing platform for African music, suggested that with "80 million people in Nigeria who describe themselves as religious," there lies a market of gospel music lovers waiting to be monetized. The panelists discussed building subscription-based streaming music services through mobile devices which could tap deeply into the African market.
But yet with all this, the effects of the fatal tragedy as well as the inescapable corporate branding everywhere left festival-goers with a general feeling that perhaps South by Southwest's best days are now behind it.