Tété Breaks Boundaries at Nuits d'Afrique
There's no better way to understand the impact of Tété's music than by looking out at the loyal audience that paid to see him perform July 19 at the Fairmount Theater in Montreal, Canada as part of the Nuits d'Afrique festival. The mid-sized venue was packed, with many standing and shifting from one leg to the other eagerly waiting for Tété to take the stage. The crowd was made up of all ages, races and nationalities; attending with significant others, friends or by themselves, all eager to hear the melodies and lyrics of the singer/songwriter. He emerged, humbly wearing distressed jeans, a black fedora, and a form-fitting black button-down shirt. That night he sang "Pierrot Lunaire" from his latest album, Les Chroniques de Pierrot Lunaire, and everyone, no matter their background, smiled, clapped and sang along to the song about searching for the lost desires of youth.
Akornefa Akyea had the opportunity to speak with Tété preceding his evening performance. He had a presence that exudes grace and immediately puts you at ease. Before the interview even got started he expressed how lucky he felt to be performing at the festival. "It's amazing because I hadn't played in Montreal for 14 years. So it was a long time and it's great to come back here."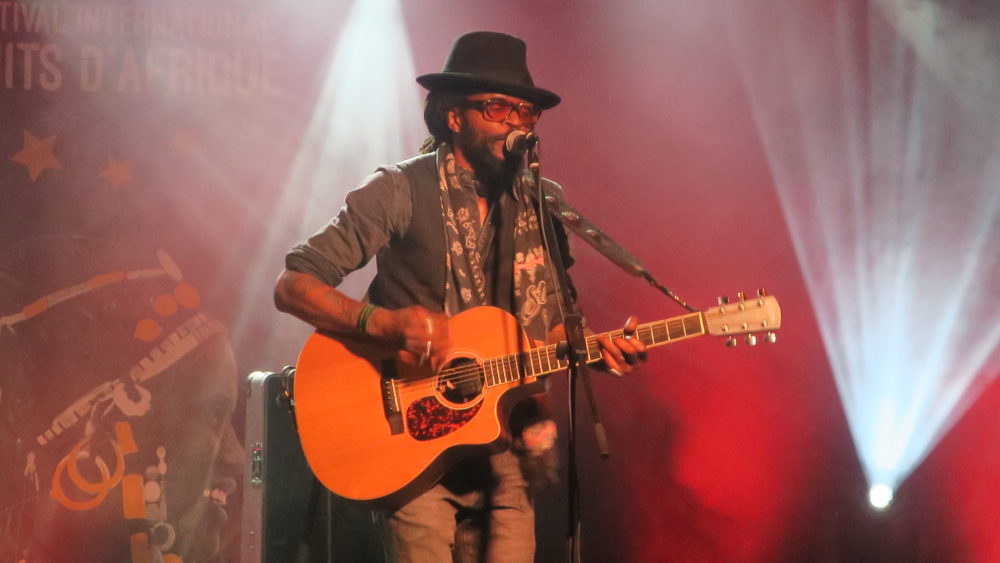 Tété is based in France. He defines his soulful music as "pop, but with this blues element." His father is from Senegal and he was born there to a Martiniquan mother. He was 2 years old when his parents got divorced and moved from Senegal to France.
"I wasn't in contact with my dad or his family until I was 7 years old. So obviously my mother's family really had the most influence on me and my mom wasn't raised in the West Indies either. So it's very interesting because we're talking about people who've never lived in their home country. It gives you a sense of nowhere is home and everywhere is home at the same time. And I also do believe that it makes you stronger because when you're deeply rooted somewhere, to a certain extent people can expect you to behave in a certain way to fit the frame and the norms. I like this idea of being free and being driven by love--as in what is it that makes you, you."
With this freedom Tété picked up a guitar and pursued singing and songwriting. He says, with his chosen instrument "you're making mistakes but you have no idea these are mistakes when it comes to guitar. It's a blessing because you have no idea what you're doing but you're sort of creating your own world and there's no one around to tell you no, that's not the way it should be done." His mother surrounded him with music by artists he considers as his influences: the Beatles, John Coltrane, Miles Davis, Bob Dylan, Ben Harper, Lenny Kravitz, Keziah Jones and Tom Waits. They gave him an "appetite for melody and texture."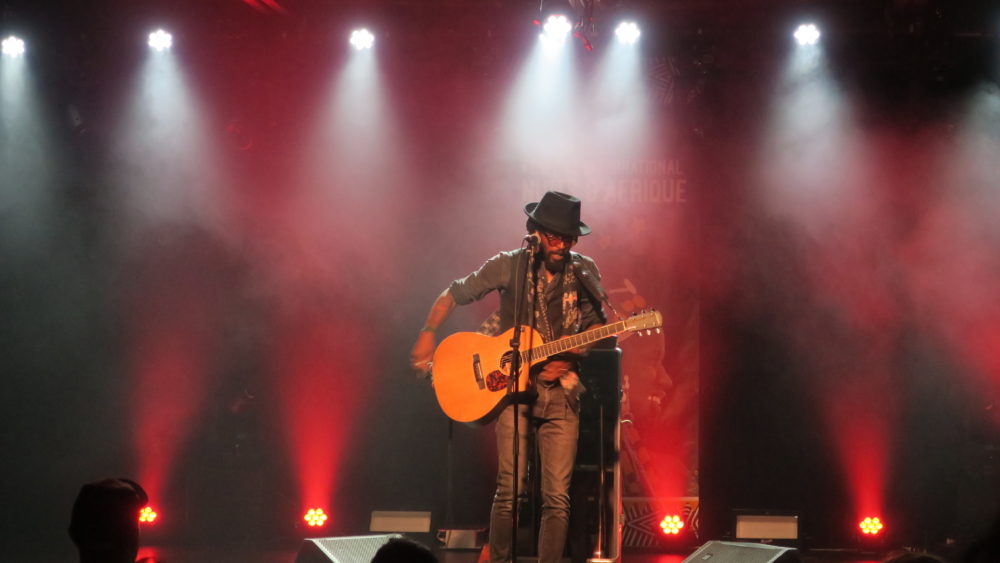 During his performance, it was clear to see the sense of home he had created within his music that allows his fans to be themselves and connect to each other. They happily participated in the call-and-response moments in the songs and even continued singing long after Tété had stopped. It all felt very intuitive, and every song on his set list sounded like melodies you had been longing to hear. It is so rare to see musicians, especially black musicians, uninhibited in this way and appealing to the hearts of so many. It's telling that journalists label him as "France's Jeff Buckley" rather than "the black Jeff Buckley."
The question came up regarding if there was ever an urge for others to box him into stereotypically black genres like soul, r&b, or even world music for someone with his ancestry.
He answered, "When I walk somewhere and someone from Africa or not expects me to fit the exact frame of what he assumes my identity is, it's O.K. for me because he or she's allowed to do it. But letting other people define my limits? This I can have an option on. It's true that my dad is from Senegal but when I listen to Delta blues, it's so similar to music from Mali. So it's pretty funny because when you read about the early jazz days, the way it was born in the [American] South and the exchanges between the Creoles and the slaves and the European elements, it's very funny because all these elements are in my music.
"I've had brothers ask me whether I sing in African languages and stuff, and I'm like, I don't because I do not speak them. But then again, does it take me singing in African tongues to be considered as African? Does it take me doing things that are generally attributed to black people for the better or worse? Does it take me doing these things to be considered a 'proper' black? It's a very interesting question and I think it's our responsibility, this generation to move around these boundaries. The day I die, my kids are gonna inherit these boundaries. The world they're gonna live is not in such a good condition these days. So it'll be my little contribution."
At one point during his performance, the entire crowd began jumping up and down and you could feel the floor bouncing along. With just a guitar and his voice, he had older women and young men out of their seats and clapping in unison. It seems Tété has succeeded in at least widening these rigid societal boundaries, and everyone on the 10th night at Festival Nuits d'Afrique was the freer because of it.