The 2014 Afropop (Un)official World Cup Album
If sports are a metaphor for life, then the 2014 World Cup, held this summer in Brazil, is probably an extremely obvious metaphor for the socio-economic divides of contemporary Brazil. Preparation for the games has come at a high price to the country, which (despite being the "B" in "BRIC Nations") suffers from high inflation, underdeveloped and inequitably distributed infrastructure and public services. In fact, the event itself, which generates billions in revenue for FIFA each four-year cycle, is both a statistical and financial improbability for most Brazilians. Approximately 3 million tickets will be sold for the games, though only 400,000 will be made available to Brazilians, the vast majority of whom could not afford the exorbitant prices anyway. (However, Brazilians will be tossed a bone or, more specifically, a ball: the Adidas Brazuca, the official match ball of the 2014 World Cup, will apparently be available for free to all Brazilians, though the logistical challenges of fulfilling such a pledge make that promise seem a bit hollow.) In June 2013, tens of thousands of protesters took to the streets throughout the nation to rally against increases in public transportation fees, government corruption, income inequality, and egregiously over-budget, World Cup-related, state-funded construction. In fact, that construction has been delayed by not only budgetary concerns, but also federal prosecutors seeking to block continued construction on the public's dime.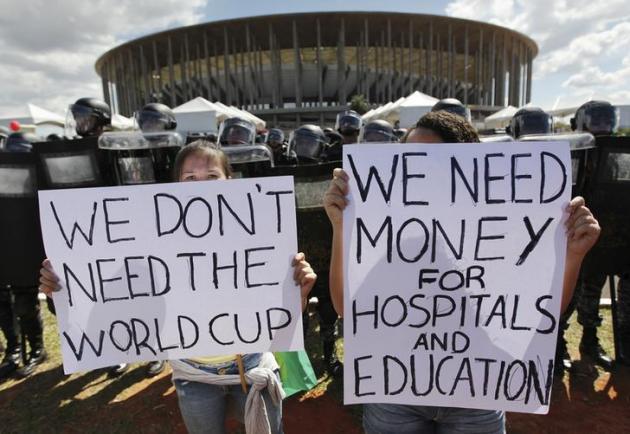 From a musical perspective, this World Cup's offerings are similarly disconnected and big-business dominated. Every World Cup has an official anthem and an official song, many of which have previously been performed by, or in association with, incredibly impressive globe-spanning artists including Youssou N'Dour, Amadou and Mariam, Il Divo and the Soweto Spiritual Singers. However, with the ever-expanding influence of major corporate partners, this year's song will be an original composition crowd-sourced and selected by Sony Music and performed and recorded by Ricky Martin. As the official song of each World Cup is generally performed, at least in part, by a local artist, it seems like another blow to Brazil that its incredibly rich and deep musical history and red-hot contemporary scene will not be tapped in a significant way for the official song of this event which has cost it so much.
It is, of course, a difficult balancing act. In a perfect world, the musical offerings of a World Cup would represent both the host country and the world. To FIFA and Sony Music's credit, the tracklist for One Love, One Rhythm: The 2014 FIFA World Cup™ Official Album, released today, is not light on Brazilian artists, and those included are surely no slouches: Sérgio Mendes and Carlinhos Brown, Bebel Gilberto, Psirico, Claudia Leitte, the list goes on. But there's scarcely any representation of young cutting-edge artists, for instance MC Guimê, whose "Pais do Futebol" has garnered 18 million viewings on YouTube since last November and become an unofficial anthem for the impending games. Furthermore, the "global" cuts that made it to the album are, to say the least, a bummer. Did the world need a Santana, Wyclef, and Avicii collaboration? Our guess is that Alexandre Pires' contribution couldn't possibly be enough to save a track with those co-writers.
But we're not ones to criticize others without offering our suggestions for a better world, so we decided to pull together a video playlist of what our own version of the 2014 World Cup album would sound like. MC Guimê's banger kicks things off (obviously), and Brazilian heavyweights and upstarts alike are represented by Caetano Veloso, Gaby Amarantos and Siba e a Fuloresta.  The rest of the playlist represents the teams from throughout the globe who will bring their talents to stadiums across Brazil: Serge Beynaud brings some Cote d'Ivoire to the table, Ghana's Baby Jet (AKA Ghana's top striker, Asamoah Gyan) made the list as a matter of course, Chile's Javiera Mena lends her sugar-sweet synth-pop to the collection, and a host of other countries get some love through a few circuitous (and very Afropop) paths. Damon Albarn and the Atomic Bomb Ensemble's live renditions of William Onyeabor compositions and Ibibio Sound Machine carry flags for both Nigeria and England, the Netherlands' Cairo Liberation Front gets Egypt into the game (that it missed out on for this cycle), and Alec Lomami represents Belgium by way of Congo. Yeah, this playlist is heavily influenced by Afropop's unique view of the global music scene, but we like our more contemporary and globally representative take on the corporate shell of a compilation that FIFA and Sony slapped together. Because let's be real--their album features the Baha Men, and ours doesn't and never will.
[Editorial note- the Baha men, best known for their hit "Who Let The Dogs Out," are influential artists in the Bahamian style of Junkanoo. Get learnt.]