The Fertile Crescent: Haiti, Cuba and Louisiana
This is the first of a two part series celebrating three of the most elaborate carnival cultures that flourish at this time of year. The first sets the scene, giving us the fascinating and relatively unknown story of how people and culture traveled from Haiti to Cuba to New Orleans.
In this feature, a little about the carnival celebrations in these three countries:
New Orleans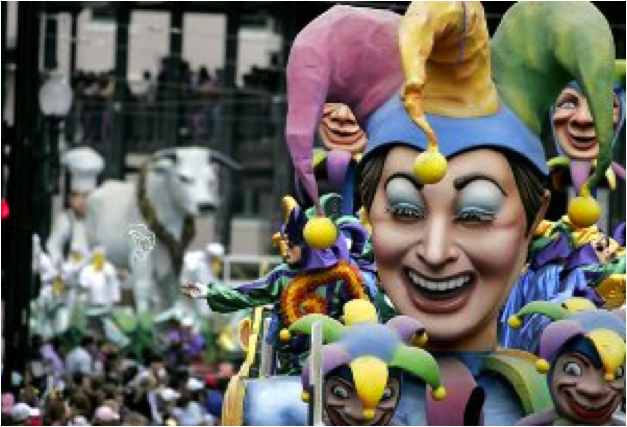 Mardi Gras is the biggest celebration in New Orleans. Among parties and parade, the yearly festival includes numerous events throughout the city. It happens every year, 47 days before Easter and is both a day ("Fat Tuesday," the day before Ash Wednesday, when Lent begins) and a time period: refers to the 5- to 8-week stretch from Twelfth Night (Jan 6) to Mardi Gras Day (which can fall as late as March 9).
Read more:
Frommers
New Orleans Online
Mardi Gras Guide
Mardi Gras New Orleans
Haiti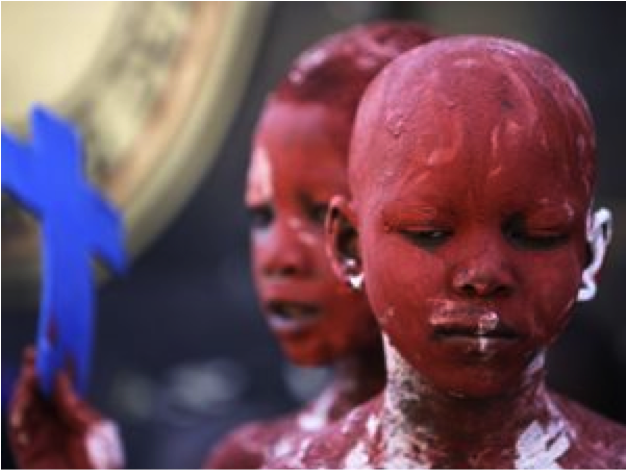 In Carnival season, the joy breaks out in Haiti and people take the streets dancing. Kanaval, as it is known in Creole, means three days of loud music, dancers in attractive outfits, pageantry, drinks and food. Radio stations usually begin broadcasting the carnival musical themes known as "Meringue Carnavalesque" as soon as the New Year's festivities are over so everybody has the time to learn the lyrics.
In the town of Jacmel, people dress up in customs depicting African animals, such as lions and mystical beasts and dragons. Some honor the slaves by painting their bodies in burnt oil, bright paints and dragging chains. After the massive earthquake on January 12, 2010, carnival was canceled that year. But in 2011 carnival will be held from March 6 till March 8. There is a fear that the event might cause an increase in cholera cases.
Read more:
Belkanaval
Haiti Libre
Heritagekonpa
Cuba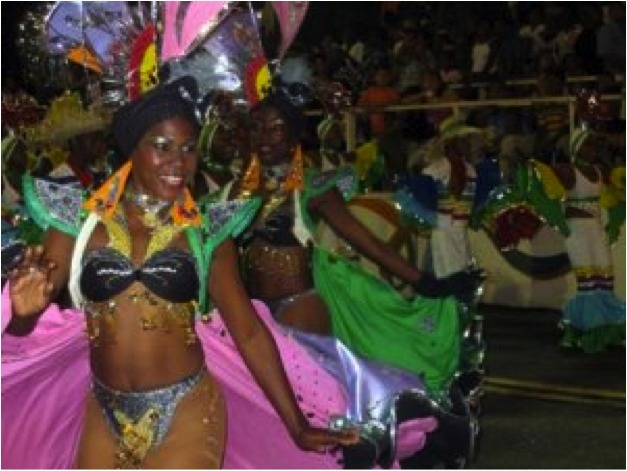 Cuban carnival counts centuries of tradition. Although many cities have their own celebration, the city of Santiago de Cuba is particularly known for its distinctive carnival. The festivities evolved from neighborhood groups which took to the streets in June and July in masked celebrations known as fiestas de mamarrachos. More recently, Reggaeton has become an important component of Santiago's carnival.
The Havana Carnival (in August) features traditional and contemporary music, dancing, conga lines, fanciful outfits, fireworks, beer and rum. Muñecones, huge satirical figures of politicians and other famous faces, share the parades along the Malécon with the faroleros, dancers who carry a multi-colored accessory resembling a streetlight, which they rotate constantly.
Read more: