The Haitian-Quebec Experience
This year marked the 29th edition of Montreal's Festival International Nuits d'Afrique, which ran from July 7-19. As in previous years, the festival included both international as well as homegrown musical acts representing the panorama of the African diaspora experience.
One standout show was a new project from Montreal-based Vox Sambou. Vox is originally from Haiti, and is also known as a founding member of the hip-hop group Nomadic Massive. We got together with Vox to talk about the Haitian-Quebec immigrant experience, his life and music. We also extended our exploration by speaking with Wesli Louissaint, another prominent musician in the Haitian-Quebec scene who previously played Nuits d'Afrique in 2009 and 2010.
Vox grew up in Limbé, which he says, "was like my paradise. Even today, it's a place I think about every day. It's close to Cap-Haitian, the second-largest city, about 25 minutes away. I grew up playing soccer on the streets with my friends and singing all the time." Like many kids, Vox dreamed then of becoming a soccer player until one day an American diplomat came to his school. "He was smiling, and shaking our hands, talking to us. And I said, I want to be like that guy, even though I don't think I knew what that was," adding, "In some ways, maybe I am like a diplomat. A musical diplomat."
In those days he only knew of Haitian music. "I was just listening to bands like Boukman Eksperyans and L'Orchestre Tropicana d'Haïti. There was nothing about growing up and being musicians. But we would also learn things through the music. The music was also political. Certainly there was dancing, but there was always a message behind it. And this message was never about the individual, it was about the greater society. That's how I grew up listening to music."
Vox says he remembers the first time he heard music from outside his island. "This guy was walking down the street with a boombox on his shoulder, and he was a bit drunk, and he was singing along with 'Night Nurse' by [Jamaican reggae artist] Gregory Isaacs. And I was like, What is this music!? I had never heard that kind of music before. And then the same dude would come back and start playing Bob Marley. There were like three or four of these guys and they would hang out on the corner of the street and listen to music, and I'd ask them about it. Then when I moved to Port-au-Prince for high school, I started listening to rappers like Coolio, LL Cool J , Shaggy and Shabba Ranks on the radio. And we all wanted to do this kind of music."
Wesli spent his childhood in Port-au-Prince, where his father earned a modest living as a street musician, often playing guitar at the airport welcoming tourists when they first arrived. His mother was involved in their local church, which introduced him to American gospel music. He was also hearing a lot of African music. "My daddy was friends with a guy from Guinea and other musicians from Africa. He always brought these CDs and cassettes, also a lot of jazz music." However, whenever little Wesli wanted to even just touch his father's guitar, his father told him no, because their family income depended on the instrument and didn't want the child to mess with it.
[soundcloud url="https://api.soundcloud.com/playlists/135565219" params="color=ff5500&auto_play=false&hide_related=false&show_comments=true&show_user=true&show_reposts=false" width="100%" height="450" iframe="true" /]
One day, when he was only 8 years old, he got it in his mind to make his own guitar, even though he had never built anything in his life before.
"So I went to the forest and cut a tree," he recalls, "and using my mom's kitchen knife I cut it to make the tree flat like the neck of the guitar. I then burned holes in it to make the keys. I didn't know if I would end up with a guitar that I could play, but I was very creative about it and decided to go through till the end. So I go to the street and found a bottom of an oil can that the USAID would hand out. I took it and made a big hole in it to make it look like daddy's guitar. It wasn't the same thing, but it was the form and I just imitated what I saw. So then I go down to the beach and showed the fishermen what I achieved, and told them I needed nylon strings to put in it. They told me how I needed different sizes of nylon and sent me to all these different fishermen who each gave me a different string. So now I had four strings. I brought it home and told my dad I wanted to tune my guitar the way he tuned his guitar. He took his time and showed me, then I started to play and improvise."
Eventually, they made one brother a bass the same way and built a drum set for another with pails and oil drums. "It was all very artisanal," he says with a smile. "I still have that guitar in Haiti. We'd play together like that in the church. Later, when I was 14, some missionaries from the U.S. brought us some real instruments. But up until then, I played that guitar I built."
For both boys, barely in their teens, the first coup d'état in 1991, which ousted then-president Jean-Bertrand Aristide, was a sudden awakening to the horrors of mankind. "During that time of the coup," Vox says, "we never really had any electricity because they didn't want us listening to the news. Sometimes my dad would find some batteries for the radio and we would go under the bed to listen to some channel from the Dominican Republic or from Venezuela, in Spanish, and try to catch some words to understand what was happening in Haiti. We were so isolated from everything. We'd still play on the street, but we'd see our friends getting shot and stuff. It was really a bad moment, so I don't want to talk too much about it."
"I remember the first coup because my family was forced to leave Haiti at that time," Wesli recalls. "We went to Cuba. I was 12. We stayed in Cuba for one year and then came back in 1993. We'd see neighbors getting killed, which is why we left then. We could not even go to school. Every time we would try to go to school, we'd cross dead people in the streets, blood everywhere. We lived like that on a daily basis. We were very conscious of the danger we were living in. You have to be very humble and open to whatever happens."
Meanwhile, Vox's brother was studying at the time to be a priest in Montreal and applied for the family to immigrate to Canada. "The process took four years," Vox says, "and was the longest time ever for me because two of my brothers were really persecuted. The military would come break into the house at one in the morning because they said they were involved in activities. I was like 13 then. So finally I came here to Canada with my mom and dad and a niece. But things were so hard, all the members fled to try to be safe. We arrived in Montreal in December and then two days later, we went to Manitoba. I had never seen snow before. I don't know how to explain it. It was a very different world.
"The furthest we had ever traveled before was five hours," he continues, "and this bus trip was 36 hours. And we couldn't speak English. The apartment we moved into–the walls were all white, no color, no identity. We had always lived in a house. But I did have a good time there. I met a lot of people. In Winnipeg, the guy who worked at HMV [record store] turned me on to IAM. It was like literature, like listening to Voltaire or Racine. I then thought those guys are very smart, they must take poems from a known writer. It was so rich. I didn't think they were making it up themselves. I was writing and rapping, but I hadn't made the connection." He got into the University of Manitoba and earned a bachelor's degree in psychology and anthropology and eventually found his way to Montreal. There, he took a job at the Youth House of the Côte-des-Neiges, a nonprofit at-risk youth program, and has been the director of the center for a decade now. He also began making a name for himself in the local hip-hop scene.
Back in Haiti, Wesli began to play guitar professionally with Coupé Cloué, known as the father of kompa, and was one of the country's most prominent musicians. "Then around 17," Wesli recalls, "I created my first group called So Kute. We were all teenagers at that time and we were trying to do a version of Boyz II Men. We were very, very young, but we had a huge success in Haiti. And that was the first way I traveled to Montreal for the Francofolies Festival when I was 18. Then in 2001, I decided to leave Haiti to continue my dream and moved to Montreal."
In 2004, Vox was invited to take part in a hip-hop symposium at Concordia University in Montreal that would change his life. The symposium was produced by Diegal Leger, who would go on to become the bass player in Nomadic Massive. "His idea," Vox explains, "was to integrate hip-hop into the curriculum of the university. He invited different people to be a part of it. And there I met Lou [Piensa], who grew up in Ecuador, Algeria, Canada and Cuba, and was doing a master's in translation also at Concordia. I also met The Narcicyst from Iraq, DJ Static from China, Butta Beats from Argentina, and Alejandro [Ali Sepa] from Chile. All were living here in Montreal. We started to talk to each other and didn't see each other as a flag, but as humans, and our common language was music.
"So then we had an opportunity to go to Cuba. There was one spot for a band to play at this festival, and we said, 'let's make a band and go to Cuba!' So we spent two weeks there getting to know each other." And that's how Nomadic Massive was born. Singing and rapping in English, French, Creole, Spanish and Arabic, they are about as multicultural a musical group you can find. They have since, over the last 11 years, produced two LPs and two EPs, and played shows across Canada, the U.S. (including a performance at the Kennedy Center in Washington, D.C.), France, Brazil and Cuba.
At the same time, Wesli was building a name for himself as a go-to live and session guitarist, as well as performing his own material around Montreal. "For several years I was playing with all these different musicians from Africans to Latin and Arabs, even Gnawa," he recalls. "I was really open to know other cultures in a musical way. Because I was so curious, that brought all these other musicians for me to play with them."
Like Vox, Wesli also had gotten involved with the local community in Montreal, volunteering with Le Maison d'Haiti, an organization that helps integrate and improve conditions for the Haitian-Quebecois. "I'm still the spokesperson for them," he says proudly. "They have a bunch of programs in sports and to educate kids from getting into gangs, as well teaching them Creole and how to be close to their roots."
Wesli and Vox are both very passionate about giving back to the community that has helped and inspired them. "I think my passion, and Vox's too, for helping kids is something we get from Montreal," Wesli states. "When we came here, we came to get more opportunities. It's what Montreal is about–being conscious of who's around you, and making other people happy around you. It's the way you get your happiness. If you serve people well, you get served well also. It's a kind of Montreal mindset, I think. That's why I chose Montreal. When I first visited here, I realized I could be myself."
Both are active working with youth back in Haiti as well. Vox was a founding member of Solid'Ayiti, an artists' and activists' initiative that fights for social justice. He's also returned to Haiti to do music workshops and take part in a hip-hop symposium. In 2013, Wesli started a music school in Haiti offering young Haitians vocal, keyboard, percussion and guitar instruction.
[caption id="attachment_24549" align="aligncenter" width="640"]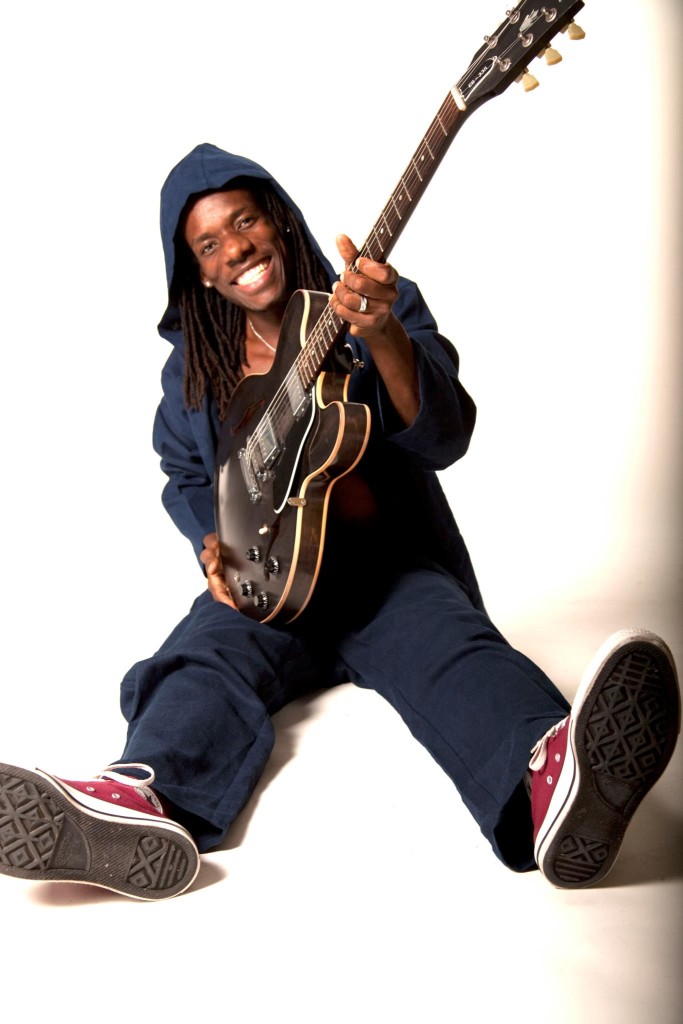 Wesli[/caption]
Wesli formed his own band in 2007. The first album, Kouraj, in which he sings both Creole and French, released in 2009. "All these new influences found its way into it," he says. "I felt like I had a responsibility to put them into the music. I do explorations with a lot of musicians and the sound came out as this 'Montreal Sound.'" That album won the CBC Revelation Artist of the Year. "I was selected to play a showcase in France at the Babel Med World Music Forum and I won the New Artist of the Year there," he adds.
Vox released his first solo album, Lakay, in 2008. The album, is mostly him rapping in Creole over tracks produced by Sandhill [AKA Nawar Al-Rufaie] an Iraqi-Quebec music producer, as well as some from Nomadic Massive member Lou Piensa. Lakay was an album he hoped would explain to people some of the history and plight of Haitians. To understand, he said in an interview at the time, "how many times we were colonized as a nation and how imperialism has impacted our development."
His second solo project, Dyasporafriken, released in 2013, was partly inspired by a trip to Africa, during which he feels he reclaimed a part of his ancestral history. "The two first songs on Dyasporafriken we recorded in Bamako," Vox says. "My bass player and I were invited by the Canadian consulates of Senegal, Mali and Burkina Faso to do workshops with youths."
"But the reason I'm still doing my solo project today is because I participated in Mundial Montreal last year and won the Distinguished Music award." Mundial Montreal is an annual Canadian world music showcase in November. Thanks to the award, he began receiving many offers to perform and put together a group to tour with. "In this new band," he notes, "we have musicians from Brazil, Haiti, Algeria, and Guadeloupe, as well as Montreal."
"We were in Brazil last summer and we went into a studio and recorded," he continues. "This is the first time I've ever done this. Even with Nomadic or my previous solo projects, I would have the music and then I'd listen and write and go. But for this new album, we are working them in the live show." This new album, The Brasil Session, will be released in September.
Wesli, meanwhile, released not one, but two albums this year. "The first is Ayiti Étoile Nouvelle, and is the all-in-Creole album." All the profits from this album, which translates from Creole to "Haitian New Stars," Wesli explains, will go towards funding his music school in Port-au-Prince.
"The other is called Immigrand, as in I'm an immigrant–but I'm not a 'low' immigrant, I'm a 'grand' immigrant," he states. "I come with knowledge and dreams and want to learn and become better and better. And for that album, I invited Vox Sambou, Nomadic Massive, Radio Radio and other musicians in the city who are also immigrants. That was the concept of that album, talking about immigration in a greater way. And I wanted to present Montreal in a different way for people to understand what immigration in Montreal is all about. It might be different in New York or Miami, but this is about the immigrants of Montreal experience. And we did it in a prestigious way. It's about our pride. We are proud of ourselves to be here. It's about representing the Montreal dream as an international city."