The Peace Train Comes to America, and to the Mexican Border
Sharon Katz and The Peace Train have been traveling the world from their base in South Africa for over 35 years, promoting peace and humanity through the power of music. This summer The Peace Train comes to the U.S. for shows in Brooklyn, Philadelphia, and a special set of performances with children on the Mexican border.
Born in Port Elizabeth, South Africa, in the bad old days of apartheid, Sharon Katz is a female counterpart to that country's genre-bending, culture-crossing musical maverick Johnny Clegg. Katz's cultural curiosity and yen for adventure inspired her to break through racial barriers and sneak into blacks-only townships by hiding under blankets in the back seat of her friend's car. The friends she made, and the music she discovered there have shaped her life ever since. In 1992, Katz formed a 500-member multicultural ensemble to perform an ambitious production called "When Voices Meet." The next year, she and vocalist Nonhlanhla Wanda created The Peace Train—a band, a concert tour, and a happening in which 150 artists, including the members of Ladysmith Black Mambazo, hired a train to travel the country staging concerts aimed at promoting a new era of unity and democracy.
Ever since, Katz and her band, still called The Peace Train, have toured the world performing music that mixes jazz, gospel, Zulu maskanda, township jive and pop, and delivering messages of tolerance hope and harmony. Her work was powerfully captured in the 2015 film When Voices Meet. (See the trailer here.) This year, Katz reconnects with Wanda to promote their new album Side by Side, a warmly uplifting set of songs that touches on many aspects of their shared musical heritage. Wanda arrives in the United States later this month, and joins Katz and The Peace Train for a series of events, including a performance at the World Café in Philadelphia on July 13, and a series of events along the Mexican border between July 15-21, 2018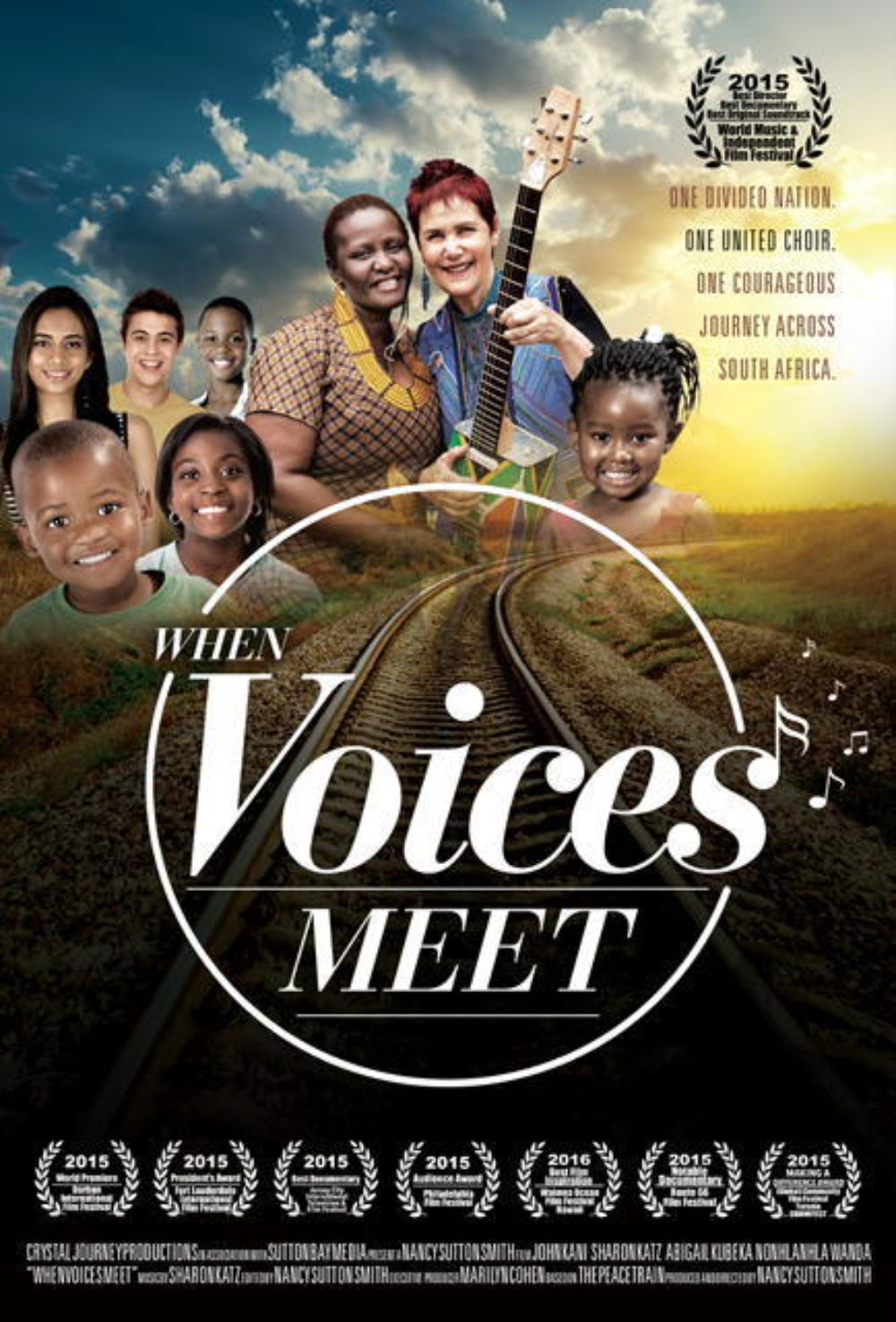 Sharon Katz and the Peace Train:
Nonhlanhla Wanda: Vocals; Sharon Katz: Guitar and Vocals; Wendy Quick: Vocals and Dance; Monnette Sudler: Bass; Mark Beecher: Drums; Suzzette Ortiz: Keyboards; and a few surprises, as always!
Brooklyn Rhythms
June 29, 7:30-9 p.m., tickets $35, Brooklyn Rhythms in Ditmas Park
World Café Live in Philadelphia
July 13 at 8 p.m., tickets $25. (If you've attended before, you know these concerts are the party of the year! The band will be pumping, the audience will be dancing, and the new songs will take you to another world.)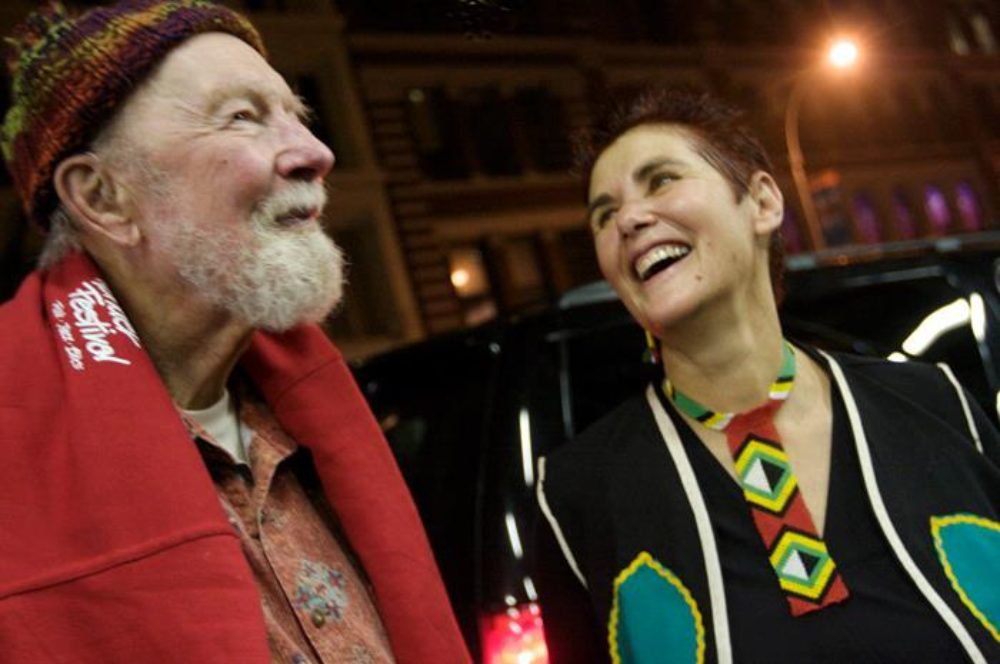 Transcending Barriers in San Diego and Mexico (July 1-21)
Katz writes: We're just back from 10 days of meetings and rehearsals where our local partners are rolling out the red carpet to welcome The Peace Train's "Transcending Barriers" project in July. Hundreds of singers and supporters met us on both sides of the border and are now preparing for the big events from July 17-21, 2018.

Promotora de las Bellas Artes, our extraordinary partner on the Mexican side, has selected young singers from their 62 choirs in the Tijuana area. Under the direction of their master conductor, Daria Abreu Feraud, the youth wowed us with their beautiful voices, quick ability to learn songs in English and Zulu, and their fancy footwork as they practiced the choreography.

Promotora's president, Alida Guajardo de Cervantes, hosted us in the true style of Mexican warmth from morning till night and had every detail organized from rehearsal and performance venues to security, meals, transportation, T-shirts, and cultural activities. She has also organized marshals from the city of Tijuana who will be waiting to escort us from the border to the gorgeous performing arts center, Centro Cultural Tijuana (CECUT).

On the California side, our wonderful partners Makeda Dread Cheatom of World Beat Cultural Center plus Synergy Arts Foundation, city of Chula Vista, Hands of Peace, and Guitars in the Classroom as well as many friends in the region helped with making connections, organizing visits with local music programs and choirs, and planning rehearsals, film screenings and performances.
Public events schedule so far:
Sunday, 7/1
3:00 - 5:00 P.M.: All welcome for San Diego Regional Rehearsal at World Beat Cultural Center in Balboa Park, 2100 Park Blvd., San Diego. Food and beverages available for purchase at World Beat Cultural Center.
Screening of the film When Voices Meet, which tells about the history and impact of The Peace Train project in South Africa and U.S.A. Location: World Beat Cultural Center in Balboa Park, San Diego
****
Tuesday, 7/17
5:30 - 7:00 PM: Chula Vista Regional Meeting, short screening and rehearsal at Chula Vista Public Library, 365 F Street, Chula Vista. All welcome.
****
Wednesday, 7/18
Concert to Celebrate Centenary of Nelson Mandela's Birth
7:00 PM: Sharon Katz and The Peace Train band will perform a special concert of South African music to honor the 100th birthday of Nelson Mandela.
Location: World Beat Cultural Center in Balboa Park, 2100 Park Blvd., San Diego, CA.
Donations accepted to support the "Transcending Barriers" project.
****
Thursday, 7/19
Full day of rehearsals with Mexican participants in Tijuana. Location and times to be announced shortly.
****
Saturday, 7/21 - "TRANSCENDING BARRIERS" BIG EVENT
9AM—9PM All singers and supporters from the California side meet at World Beat Cultural Center in Balboa Park, 2100 Park Blvd. for final rehearsal and to get "Transcending Barriers" T-shirt. Pack your own lunch and beverage for a day of music and adventure. Click here for details.