Review/Photos: The Very Best Live in NYC
Songs that put the "pop" in Afropop have always had the ability to bust through genre barriers.  From Manu Dibango's "Soul Makossa" to Angelique Kidjo's "Batonga" to Mory Kante's "Yeke Yeke" and Youssou N'Dour's "Seven Seconds," songs with great melodic hooks--strong, simple pop numbers--have proven their power to transcend obstacles of language, nationality and musical style. The Very Best is an innovative and distinctly contemporary act that blends a southern African musical sensibility with a clubby techno-pop vibe. But as they proved on stage at New York's Gramercy Theatre on August 13 before a large, young, mixed-race audience, sing-along vocal hooks still rule. Malawian singer Esau Mwamwaya belted out one infectious melody after another, and Swedish born producer and mix-master Johan Hugo (the other half of the UK-based Very Best) churned out beats and layered in instrumental backing and rich vocal harmony tracks. Together with their two musical accomplices for the night, they made a big sound, and drove the crowd to a feverish ecstasy. [caption id="attachment_4713" align="aligncenter" width="640" caption="Esau Mwamwaya of The Very Best (Eyre 2012)"]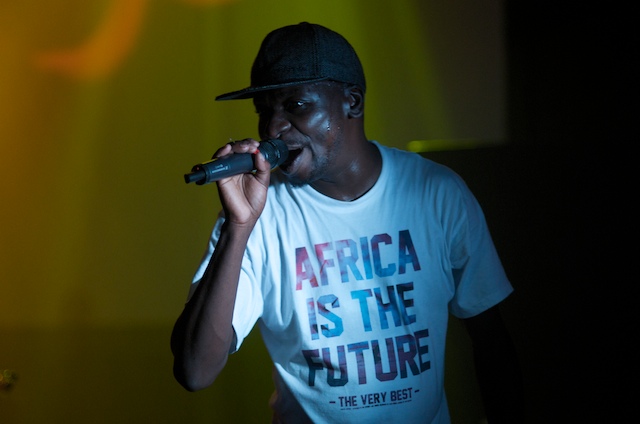 [/caption] [caption id="attachment_4714" align="aligncenter" width="640" caption="Crowd waves joyfully at Gramercy Theater (Eyre 2012)"]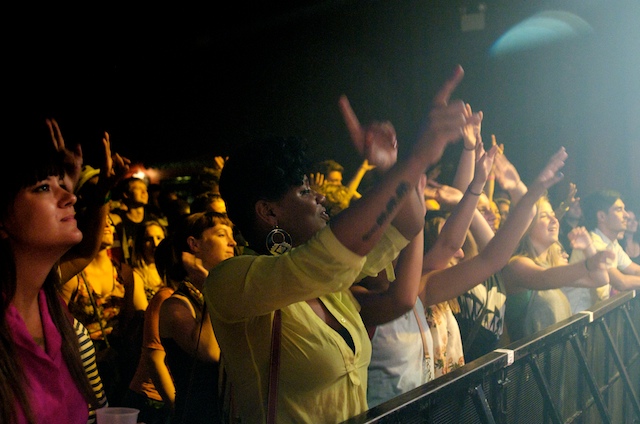 [/caption] This evening was put together by Okayafrica, and reflected the organization's tilt towards newer, younger African acts. (Bajah and Dry Eye Crew from Sierra Leone opened the show.)  In the studio, The Very Best create epic mixes that mostly feature Mwamwaya in densely overdubbed vocal layerings. On stage, a percussionist and guest singer/guitarist Seye from Nigeria created the appearance of a band, but most of the music, and plenty of the vocals emerged from Hugo's computer console. This approach has become common practice in the age of hip hop, but for an African show where stage dynamics count so much, it remains risky and can definitely fall flat. When I first saw The Very Best two years ago, I was impressed by Mwamwaya's charisma and sound, but not entirely convinced by the overall presentation. This time around, I became a believer, and found myself singing and dancing along with the faithful. What was the difference? Two years of experience, the addition of Seye--a wiry, fascinating presence on stage--and an infusion of terrific new material from the group's sophomore CD release,
MTMTMK
(Moshi Moshi/Cooperative Music). As I say, in the end, it's really about those irresistible vocal hooks. [caption id="attachment_4719" align="aligncenter" width="640" caption="Esau Mwamwaya and Seye (Eyre 2012)"]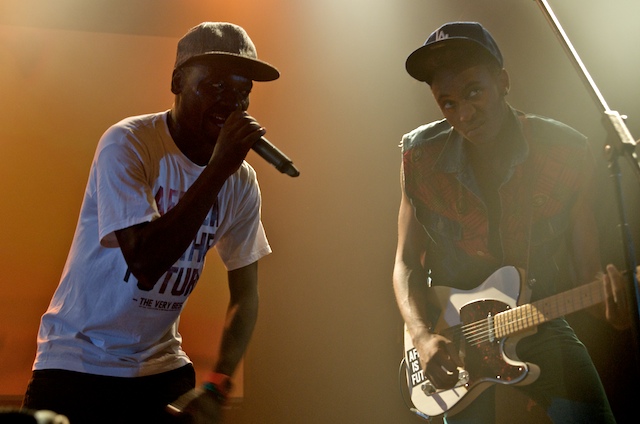 [/caption]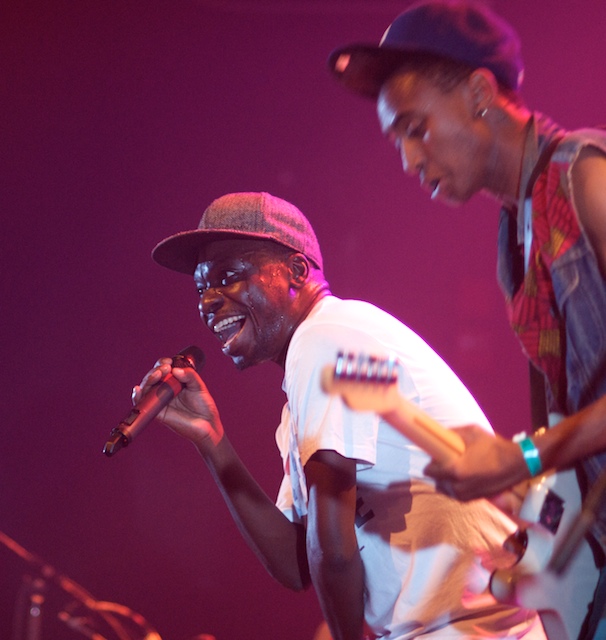 Some of The Very Best's most effective songs rely on guest vocalists, notably "Warm Heart of Africa" with Ezra Koenig of Vampire Weekend and the new "We OK" with Somali rapper K'Naan. On the stage, Seye sang along softly with these lead vocals, but the voices we heard were clearly Koenig's and K'Naan's. For me, the band illusion wore thin on these number, but once again, the catchy melodies and the singers' stage antics carried the day with this fully-revved crowd. The new song "Kondaine" is a collaboration between The Very Best and Seye, and it's yet another killer, feel-good pop number. With both singers on stage, cavorting and singing, this one blew the roof off--no wonder they staved it until near the end of their expertly paced set. (By the way if you have not seen the
comically chilling video for "Kondaine,"
do yourself the favor. It's an instant classic in my book.) Seye was also featured on one of his own songs, a natural fit with The Very Best's sunny, driving sound. [caption id="attachment_4723" align="aligncenter" width="640" caption="Seye with The Very Best (Eyre 2012)"]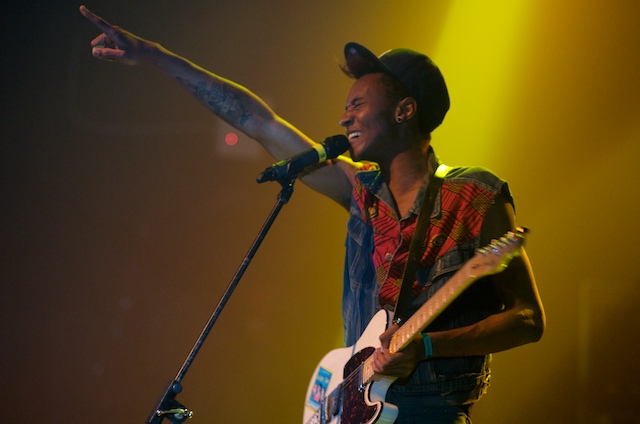 [/caption]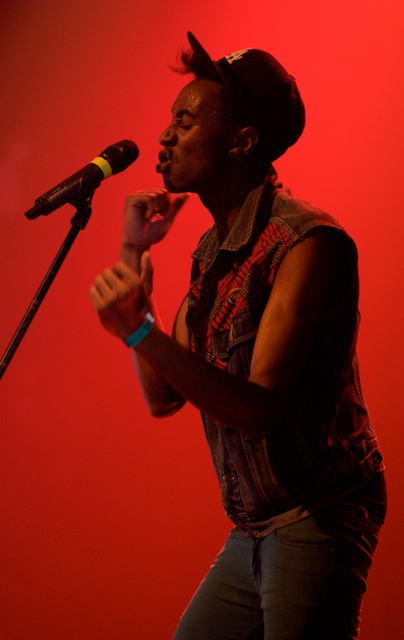 Kudos also goes to the straw-haired Johan Hugo, not only for his terrific beats and mixes--spanning dub reggae, disco, soukous, and kuduro--but also for his gung-ho stage manner. Hugo rocks and jives, sings along (even though he doesn't have a mic) and visibly gives his all, throwing his whole body into the twisting of dials and shifting of sliders. This is a conscious party from start to finish. As I noted in my
NPR review of MTMTMK
, The Very Best deal in a savvy blend of joyous melodies and beats, and serious, at times dark, reflections of life in Africa. It's a paradoxical approach that worked well for Bob Marley ("
Total destruction the only solution
"), and it sets The Very Best apart from more vacuous strains of club-ready African pop. All of this comes together in one of the Very Best's most transcendent new songs, "Rudeboy," a pumping celebration of urban club life. The Very Best fully deserve the boost of attention they are getting with the release of
MTMTMK
, and now that they've improved their live performance game as well, there's no telling how far this highly original act will go. [caption id="attachment_4727" align="aligncenter" width="640" caption="Seye and Johan Hugo (Eyre 2012)"]
[/caption]