Three Great Nights at Montreal's Nuits d'Afrique
The Nuits d'Afrique festival takes place each summer in the charming metropolis of Montreal, Quebec. Founded 28 years ago, just before Afropop Worldwide hit the airwaves, Nuits d'Afrique has a very similar mission to our organization. Like us, they're all about promoting African and Afro-diasporic music. Unlike us, they do it by hosting a fantastic series of concerts spread out over the course of 11 days. Here's a recap of what we saw up in the Great White North.
Night One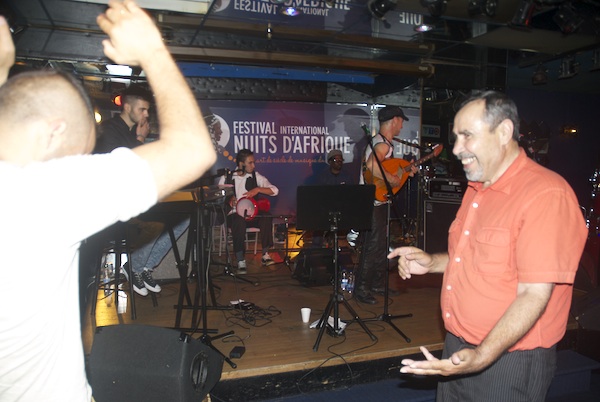 Hamid Ouchène
After landing in Montreal on Tues., July 15, we headed over to Club Balattou, the location where the festival began 28 years ago. Balattou is owned by Nuits d'Afrique's artistic director Lamine Touré, who greeted visitors as they entered the club with a friendly smile and handshake. Playing that night was Hamid Ouchène, an Algerian mandole player and singer who now lives in Montreal. Hamid was born in Bouïra, a province in Algeria's Kabylie region, the area that is the center of the country's Berber (Amazigh) population. While Hamid plays with a group of musicians that came to Montreal from all over Africa, his music remains true to his Kabyle roots, mixing traditions of that region with chaabi and other Algerian genres. Among the highlights of Hamid's set was a cover of Idir's iconic hit, "A Vava Inouva," which brought worldwide attention to Kabyle music when it was released in 1976. Algerians in the crowd were particularly delighted by the show, dancing enthusiastically until the show's completion.
Night Two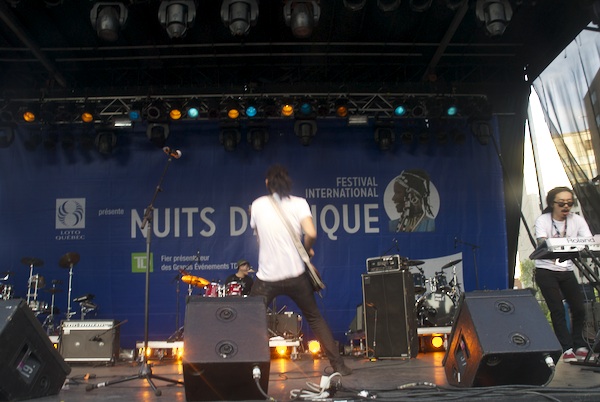 Long Shen Dao
Long Shen Dao, one of the most fascinating stories of Nuits d'Afrique, also performed one of the best shows that we saw in our three days in Montreal. The band, whose name means Dragon Spirit Tao, are a reggae group from Beijing. The band has a deep appreciation of Jamaican music and culture--three of their members have their hair in dreads--but their sound is no mere imitation of earlier roots reggae performers. Their style is much faster-paced than that of most reggae groups, and their guitarist Gao Xu particularly stood out for his masterful skills on stage. Guo Jian, the band's bassist danced around throughout the set, gleefully leading the group in front of a crowd that they quickly won over. Long Shen Dao was also joined by Chang Yi, who played the Chinese instrument called guzheng. This created a dynamic, unique interaction between reggae and Chinese traditions.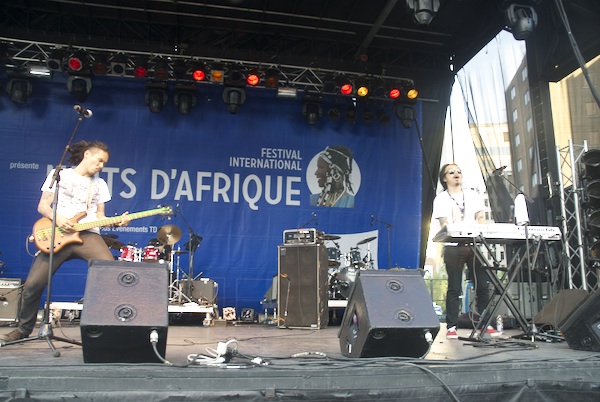 Wake Up Madagascar
Bringing attention to deforestation in Madagascar, while also playing one of the most booty-shaking sets of Nuits d'Afrique, Wake Up Madagascar rocked the Cabaret du Mile-End on Wednesday. Formed by Harlem resident Razia Said, the tour brings together salegy legend Jaojoby, along with his wife's band, Saramba, guitar maestro Charles Kely, and Razia, a singer whose career has shifted from r&b to a stronger emphasis on her Malagasy roots. While individual performances were magnificent, the concert turned into an ecstatic party when the artists took the stage together. A large Malagasy contingent was there dancing ecstatically and singing along. For more on Wake Up Madagascar, check out our post here, and stay tuned for our three-part Hip Deep series on the island nation's unique music.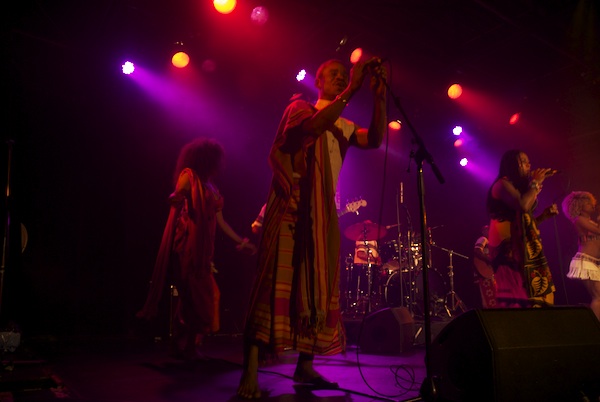 Night Three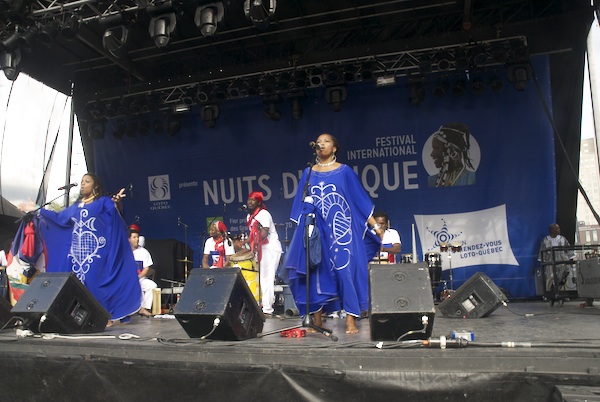 Rara Soley
Afropop awarded the Afropop Prize for "Présence Stagaire" (Stage Presence) at this Spring's Syli d'Or Festival to Canadian-Haitian band Rara Soley, so we were excited to see the band perform and hand over the award in person. Formed to promote the Haitian carnival tradition of rara in Montreal, the large ensemble had a powerful energy on stage. Rara has a long history, tracing back to the indigenous people of Haiti and the country's African slave population. The music has been used for vodou ritual, political protest and celebration. Rara Soley were in celebratory mode for this evening. Haitians and non-Haitians alike joyfully danced in front of the stage and yelled out "Ayi Bobo!" (the vodou term for "amen") during the set.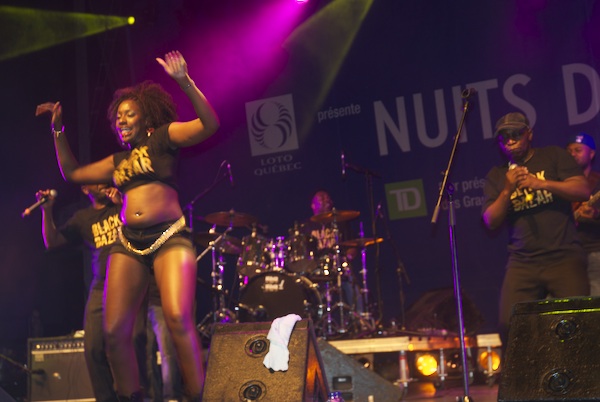 Black Bazar
Headlining on Thursday, our third and, sadly, final night at Nuits d'Afrique was Black Bazar, a supergroup of Congolese musicians, led by the legendary guitarist Popolipo and smooth-voiced soukous singer Ballou Canta. The group was formed by the writer Alain Mabanckou to bring together the old and new generation of Congolese musicians, and return to the roots of rumba and soukous. Their excellent new album, Round 2, was recently reviewed by our senior editor Banning Eyre. On stage, the band had an even greater impact than on record, proving that the classic sound of the Congo is not just alive, but full of energy and vitality.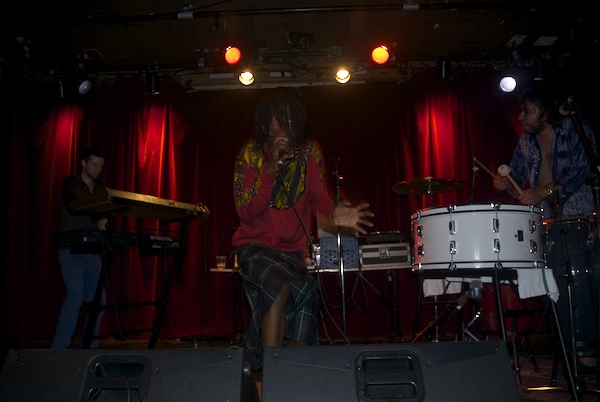 Pierre Kwenders
To close out the Nuits d'Afrique experience, we caught one of the most pleasant surprises of the festival. Pierre Kwenders is a Congolese-Canadian rapper/singer with a totally unique, experimental approach. He radiated cheerful, colorful intensity on stage, wearing a kilt and bobbing his dreads to the sounds of the synth player and drummer who backed him up. His Québecois drummer displayed fast-paced virtuosic skills reminiscent of Phil Collins, as Kwenders paid tribute to his Congolese heritage. One of the songs was entitled "Popolipo" after the Black Bazar guitarist, but his style was nowhere close to that group, which performed less than an hour before him. Conceptual comparisons could be made to the Afro-futuristic Spoek Mathambo/Shamon Cassette project Wave Crusher or Blitz the Ambassador's Afropolitan Dreams, but Kwenders' sound is more like dreamy Afro-synth-pop-rap. It's something we never expected to see, and so was a fitting end to our trip.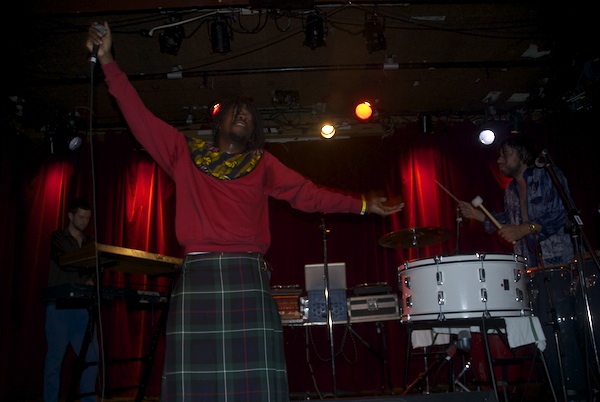 We wanted more, but we had a great three evenings of thoroughly outstanding music. We're excited to see what Nuits d'Afrique has for us next time!