Totó La Momposina and Mariachi Flor de Toloache: Live in Central Park
Sat., July 8 posed a tough choice for the Afropop team in New York. Chronixx, Chop and Quench and Laoulu NYC were presiding over a reggae-Afrobeat bash at Celebrate Brooklyn in Prospect Park. Meanwhile, uptown Colombian and Mexican New Yorkers gathered en masse at Central Park SummerStage to hear the all-female Mariachi Flor de Toloache, and—the big draw—77-year-old Totó La Momposina, the queen of Afro-Colombian folklore. Afropop was present at both events. For me, it was Central Park. I have seen Totó just once before, nearly 20 years ago, but her voice has haunted my imagination for years. It is one of those robust, earthy sounds that seems to emerge from another dimension and has the power to transfix with just a few notes.
Even those few notes were nearly not heard as Totó and her 10-piece band almost didn't make it from their tour in Europe. It was a twisted visa saga rooted in the difficulty of arranging audiences, interviews and visa approvals while moving from city to city and country to country, and the process was made even more complicated by newly appointed U.S. officials in European embassies. Enough said, but it was close.
[caption id="attachment_37572" align="aligncenter" width="602"]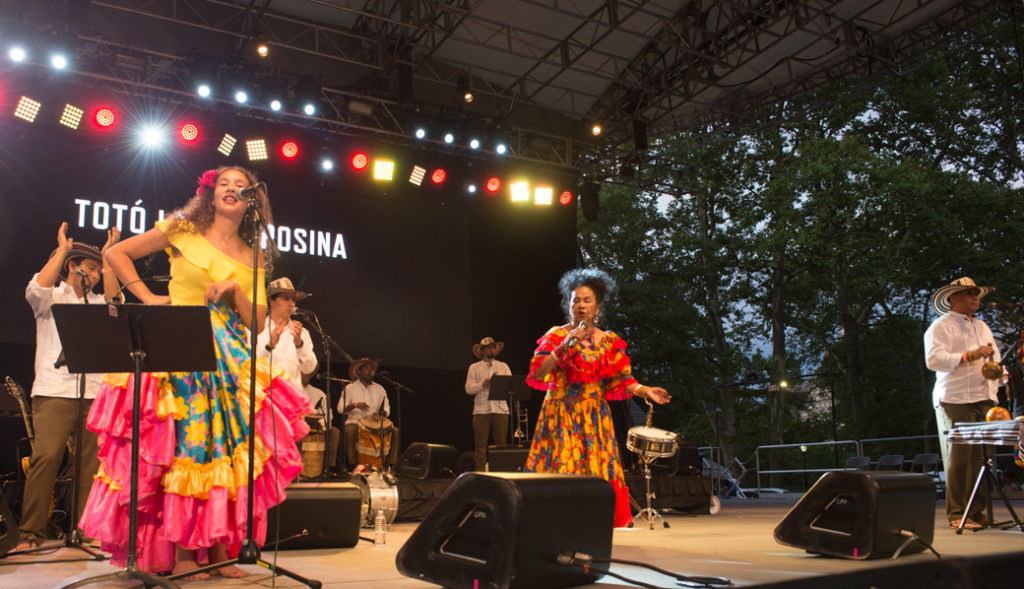 Totó la Momposina at Central Park SummerStage. Photos by Banning Eyre.
[/caption]
Maybe that's one reason that Totó and her band just seemed to explode with energy on stage. Their long, varied set had to be curtailed at curfew time though neither artists nor the crowd were ready to stop. Totó started in deep folkloric mode, her commanding voice backed by mysterious vocal harmonies and slowly undulating rhythms that had the crowd instantly enraptured. From there, the set moved on to cumbia, puya, puro, paseo and bullerengue. These are mostly styles from Colombia's Caribbean coast, where Totó was born to a family with five generations of music under their belts. At times the music veered toward the urgent pace of salsa; elsewhere it was as gently melodious as a Cape Verdean morna.
There are particularities to Colombian traditional rhythms—hard to put into words, but evident in the way nearly everyone in this overwhelming Colombian audience moved to these delicious grooves. This was a truly impressive crowd, men and women, boys and girls, infants and grandparents—all brought together in a way that perhaps nothing else could accomplish. It was a treat to be among them, and under the spell of Totó, her august, gritty voice undiminished by her years.
The all-female Mexican group Mariachi Flor de Toloache also gave a spirited set, full of playful humor, including mariachi covers of Nirvana and Led Zepplin. Here are a few of my images from the evening.
[caption id="attachment_37578" align="alignnone" width="601"]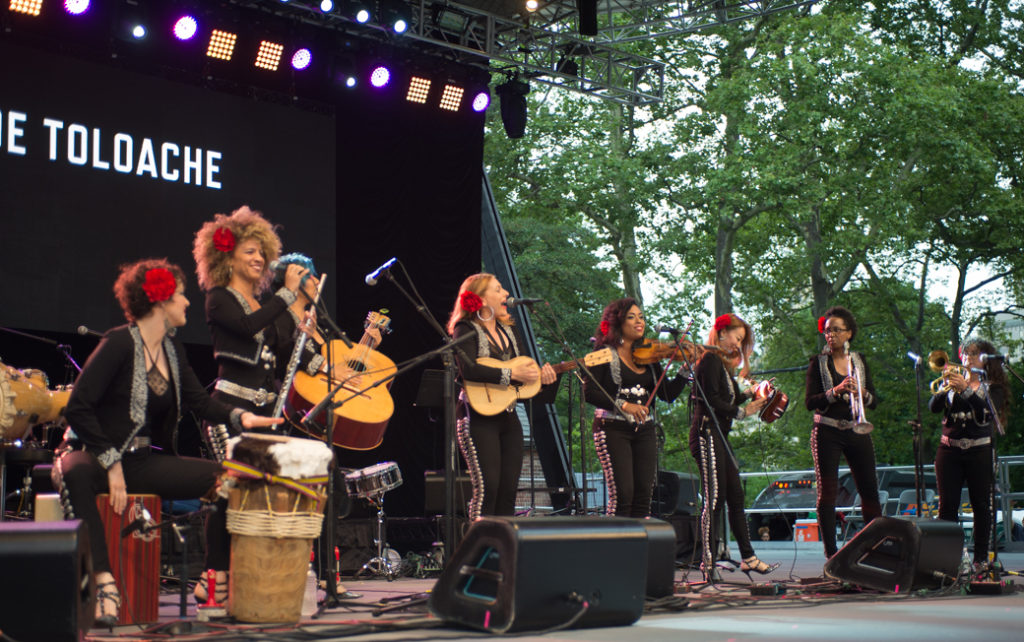 Mariachi Flor de Toloache[/caption]