Toumani Diabaté Returns to NYC to Wish Nonesuch Records a Happy 50!
Nonesuch Records is 50 years old. And what is perhaps the most independent and durable label in modern American history is hosting a 20-day birthday bash at the Brooklyn Academy of Music (BAM), Sept. 9-28. From Afropop's perspective, Nonesuch has no real peer. From the groundbreaking Nonesuch Explorer Series, champions of rare global sounds in the vinyl era (later reissued on CD) to the label's brilliant alliance with the trailblazing U.K. label World Circuit, Nonesuch has been there to put muscle behind some of the most consequential acts in our program's history: Youssou N'Dour, Caetano Veloso, Oumou Sangare, Rokia Traore, Cheikh Lo, Ali Farka Toure, Toumani Diabaté, and the entire Buena Vista Social Club family of Cuban artists. What's more, while so many of the labels that have stood by African and African diaspora artists over the past three decades have faded or vanished, Nonesuch is still going strong. Without a doubt, Nonesuch's savvy choice of relatively mainstream acts ranging from Philip Glass and Kronos Quartet to Robert Plant and Natalie Merchant is key to the label's robustness. But given the dreary decline of the "record business" of late, these folks certainly have much to celebrate. Among the
19 concerts at BAM this month
are the long-awaited return of Senegalese superstar Youssou N'Dour (Sept. 12-13), Caetano Veloso (Sept. 25-26), and a Malian double bill with Rokia Traoré and the father-son kora duo Toumani Diabaté and Sidiki Diabaté (Sept. 24). [caption id="attachment_20354" align="aligncenter" width="600"]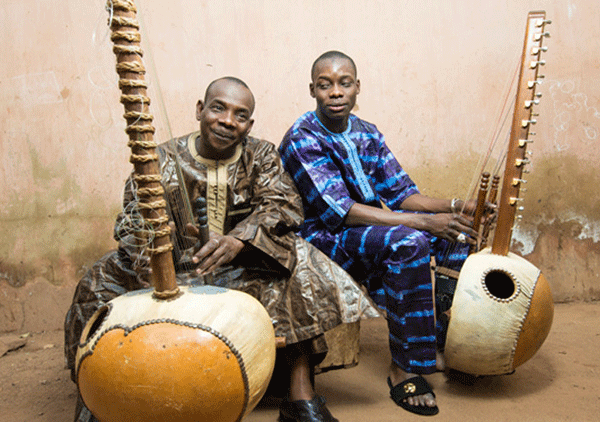 Toumani Diabaté and Sidiki Diabaté[/caption] The appearance of Toumani and Sidiki is particularly noteworthy—and not-to-be-missed—as the kora master tours rarely, and his son is much in demand in his own career
as a hip-hop artist/producer in Mali.
The Diabaté legacy is formidable. Toumani likes to point out that he descends from 70 generations of griots—traditional musicians and praise orators among West Africa's Mande people. But even if we just look at just three generations, starting with Toumani's father, Sidiki, a time capsule of modern Malian history emerges. Sidiki Sr. played a key cultural role in Mali's colonial era, helping the French to see that griots were not subversive, but rather a force for cohesion and peace in society. His landmark 1970 recording
Ancient Strings
(kora duo with Djelimady Sissoko) helped to put kora music on the world map. And Toumani's 1987 release
Kaira
was the first solo kora album, and launched what is without question the most successful career of any artist playing this venerable 21-string bridge harp. And now Sidiki Jr. is pushing the envelope of Mande music in ways his elders could not have imagined. If Toumani has any reservations about his son's progressive tendencies, he has only himself to blame. Following his solo debut, Toumani has gone on to lead and participate in countless experimental projects from his fusion group the Symmetric Orchestra to collaborations with Bjork, Colombian musicians, jazz ensembles, symphony orchestras and, memorably, Cuban musicians in the group
AfroCubism.
AfroCubism's 2012 performance at Celebrate Brooklyn was the last time Toumani appeared in New York, and who knows when the next one will be? This kora duo is less a new direction for either artist than a father's proud gesture to introduce his spectacularly talented son to the world. So catch it while you can, and join in a rare celebration of success in the 21
st
century record business.