Tribute to African Music Producer Ibrahima Sylla
Afropop Worldwide
commemorates the pre-eminent African music producer and visionary Ibrahima Sylla, who died three years ago on Dec. 30. For some unknown reason we neglected to note his passing at the time, but to correct the record, we here offer remembrances from two people who worked closely with Sylla and knew him well: Ken Braun and Christina Roden. Afropop's interactions with this giant of African music were anecdotal, but memorable. I first met him in a Dakar hotel on the eve of a major concert by Salif Keita in 1992. He was not game for an interview, but posed for a coy photo next to a painting of a lion in the hotel corridor.
Two years later
, Sean and I interviewed Sylla in his home in a northern neighborhood of Paris. It was a hectic scene as flowers were delivered and the phone rang constantly. The thing I recall most was how Sylla's entire manner would change depending on the caller--one moment warm and gracious, the next prickly and severe. Sylla's roster of ambitious and talented artists was expanding rapidly at the time, and clearly he had his hands full every moment. It was a thrill just to be near it.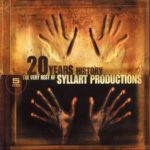 And of course, our admiration for his spectacular output would only grow in the succeeding years. A five-CD, 66-track retrospective,
20 Years History: The Very Best of Syllart Productions,
released in 2002, gives but a glimpse of his massive achievements. We are proud to honor this champion of the music we love, and are confident that his legacy will live long.
--Banning Eyre
[caption id="attachment_33547" align="aligncenter" width="640"]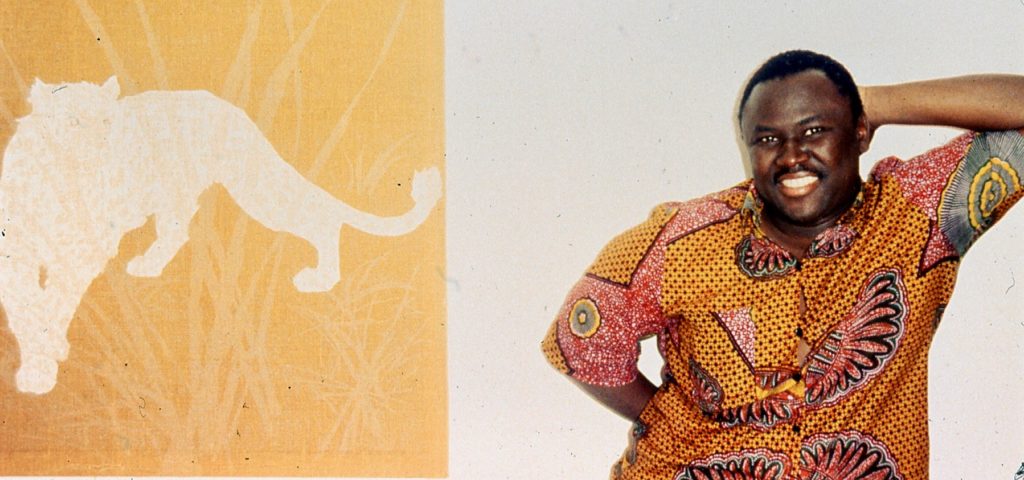 Photo by Banning Eyre.[/caption]
Ken Braun's homage to Sylla, written for the Sterns Music website. Sterns was the distributor for Syllart Productions in North America and U.K. Reprinted by permission.
[caption id="attachment_33552" align="aligncenter" width="600"]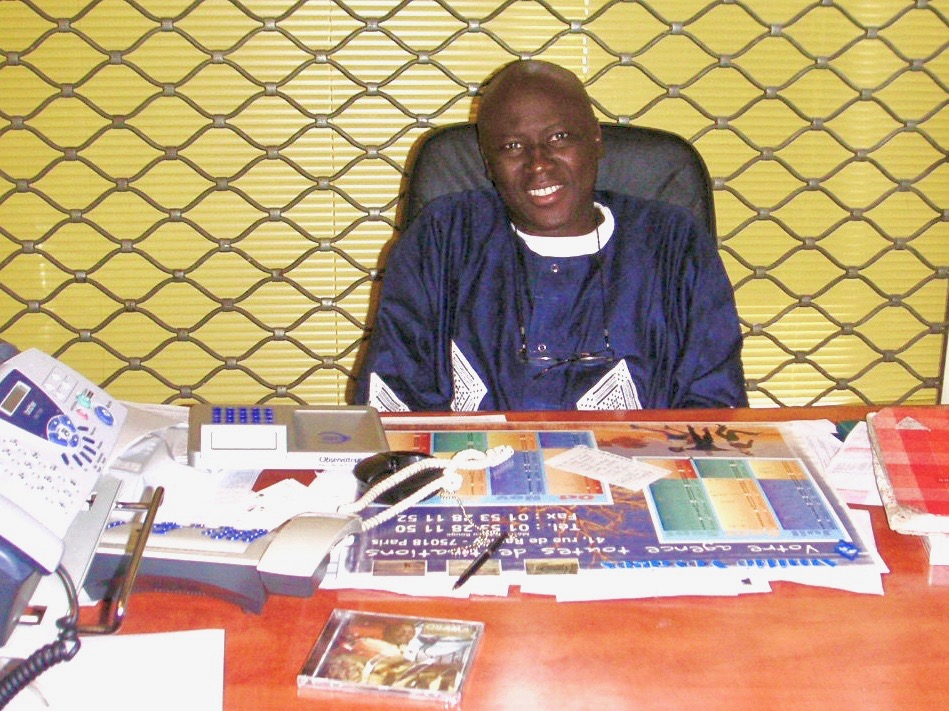 Sylla in his office in Paris, 2005. Photo by CC Smith.[/caption] On learning of the death of Ibrahima Sylla on Monday, the renowned Senegalese singer and humanitarian Youssou N'Dour remarked "He was a nobleman. He was a visionary." Such accolades are being voiced this week by numerous African musicians, many of whom owe their careers to Mr. Sylla, who has been Africa's most important record producer for 35 years. The worldwide enthusiasm for modern African music might have risen in these same years even if Mr. Sylla had become an economist (as his father intended), but it would have been very different without his keen ear for talent, vivid imagination for how music could sound, and suave skill at developing and presenting artists. Ibrahima Sory Sylla was born on April 2, 1956, in Kaolack, Senegal, where his father and uncle were chiefs of the Diakanké clan. His mother came from Mali, and he grew up speaking Mandinké, Bambara, Fula and Wolof. His earliest memories (as he told this writer) were of hearing famous griots — chroniclers, poets and musicians — whom his father had summoned to perform at the family estate. He attended a French school in Dakar until he was 13 years old, when his father sent him to a Koranic school in Chad. After a year there, he accompanied his father on travels throughout West and Central Africa before going to Paris to study economics. In Paris he spent fewer hours studying than hanging out in a record shop where, within four years, he bought 6,000 new or used Cuban records, some of which he taped onto cassette compilations to give to fellow Latin music aficionados. Upon receiving his degree and returning to Senegal in 1979, he asked an esteemed griot to tell his father of his desire to go into the record business. Al Hassan Sylla misinterpreted the griot's song to mean that his son wanted to be a musician, whereupon he slapped the griot and refused to speak to Ibrahima for three years. Undeterred, the young man got a job at a Dakar studio where popular bands such as Orchestre Baobab and Youssou N'Dour's Étoile de Dakar recorded. He and a partner started a company called Jambaar ("Valiant") and produced two albums by Orchestre Baobab which they later licensed to Sterns Music for international release under the title
Bamba
. Back in Paris, Ibrahima Sylla opened Kubaney Musique, immediately the best place in France to find all sorts of Latin and African records. Paris, at that time, was becoming a mecca for musicians from around the world, and as soon as Mr. Sylla established Syllart Productions in 1981, he had his pick of artists from many African countries. Some had recordings they wanted to release in Europe, others wanted to make new records, and Mr. Sylla was in a position to work with the best of them. Several of his earliest productions were for young performers of the hard-rocking Senegalese style called mbalax, most notably Thione Seck and Ismael Lo, but he never restricted himself to one style or nationality. Among his successes in the early '80s were albums by the Ivorian reggae singer Alpha Blondy and by the Zairean soukous collective known as 4 Étoiles. Then came
Soro
. Salif Keita was already famous in his native Mali, where he had been the Rail Band's lead singer, and in Ivory Coast, where he led the border-crossing Ambassadeurs, before Mr. Sylla brought him, in 1986, into a new 48-track studio in Paris. He engaged François Bréant and Jean-Philippe Rykiel to arrange Keita's songs for multiple voices, African drums, Euro-American horns, electric instruments and synthesizers. The result was music that sounded both ancient and very modern, even futuristic. Released in the U.K. by Sterns Music,
Soro
elicited rave reviews and heavy airplay, prompting Island Records to acquire the rights for the rest of the world. Salif Keita became one of the first global stars of what would soon be called world music, and Ibrahima Sylla's reputation grew. https://youtu.be/fsPedxE_2d8 He was sought out by artists with well-established careers, including Baaba Maal, Pépé Kallé, Zaiko Langa Langa, Sam Mangwana and even the great Franco. Mr. Sylla had the contacts and resources to get them into the best studios, bring in the top arrangers and session musicians, and make deals to have their records distributed in the markets that mattered most to them. He was not a musician himself, but he understood a lot about music and how to record it so that listeners could enjoy it the way he enjoyed it: to the fullest. He was a man of ideas, too; he inspired artists to try new things. Asked what the most important responsibility of a producer was, he said "To challenge, challenge, challenge." The majestic griotte Kandia Kouyaté had never seen the need to make records, so profitable were her private concerts in Mali, until Mr. Sylla persuaded her to sing with a classical European orchestra for her stunningly beautiful debut album. Under Mr. Sylla's guidance, Guinea's biggest star, Sékouba Bambino, made records that ranged from big-band salsa to electro-pop to traditional Mande
jaliya
. Aware of Thione Seck's love of Arabic and Indian pop, Mr. Sylla went to great lengths to take this outstanding Senegalese singer, along with the brilliant French arranger François Bréant, to Cairo and Madras to make an extraordinary album,
Orientation
. Ibrahima Sylla also created bands out of concepts. For the two
Mandekalou
CDs he convened summit meetings of the most acclaimed Mande griots in Guinea and Mali in purely traditional settings. His notion of bringing back the Congolese rumba of the 1950s and '60s as acoustic dance music for the 21st century led to Kékélé, a Congolese supergroup that delighted European and American audiences that had never heard that graceful old style before. Ever the Latin music aficionado, he dreamed up Africando and made it real by taking several of his favorite African singers and the Malian arranger Boncana Maiga to New York to record with the hottest Latin instrumentalists in that city's musical élite. He was, however, as surprised as anyone when Africando caused a sensation in the United States. The single "Yay Boy" shot to number one on Spanish radio in New York and stayed there for six weeks in 1996 — the only song in an African language ever to do anything like that — and it was a hit in Miami and Los Angeles as well. It achieved another crossover five years later, when "Yay Boy" was sampled prominently in "Rollout (My Business)" by hip-hop star Ludacris. Mr. Sylla produced a total of eight Africando albums, ending with
Viva Africando
, which Sterns Music released just this past October. It turned out to be his last project. Mr. Sylla had begun work on
Viva Africando
in failing health after undergoing two major surgical operations. He was in hospice care in his home in Paris when he died on December 30th at the age of 57. He is survived by his widow, Tapa Sylla, and five children: Binetou, Fanta, Hassan, Sadio and Yasmina. He was laid to rest in Dakar this morning, Saturday, the 4
th
of January.
--Ken Braun, Jan. 4, 2014
https://youtu.be/x0acVDXeBrc
Christina Roden's personal remembrance of Sylla, published on RootsWorld, and reprinted here with thanks to editor Cliff Furnald. http://www.rootsworld.com/rw/
Ibrahima Sylla, an irreplaceable titan of African music, died on Monday, Dec. 30, 2013 at age 57, following a long illness. He was often compared to illustrious producers like Ahmet Ertegun, John Hammond and Quincy Jones, although his scope was actually immeasurably vaster. Sylla had the ears of an angel. At one time, it seemed that every major Francophone band passed through his prolific Paris-Dakar production mill. Sylla was born in Kaolack, Senegal into a wealthy diplomatic family, and spent his formative years in Dakar. His father (a passionate record collector and concert-goer in his own right) and uncle both had multiple wives; in a household of that size, it seemed that someone was always being born, circumcised, married or buried. Thus, noted
jalis
(griots, or hereditary historians/musicians) from throughout the Senegambia frequently performed at the family compound and the young Sylla experienced some of greatest artists of the day. By the '70s, when he was in Paris studying economics, Sylla had collected thousands of Latin music albums and was licensing material for distribution in Europe and Africa. Later, he moved on to the music he had heard growing up and devoted his efforts to prospecting bands from Mali, Senegal, Congo, Cape Verde, Ivory Coast, and elsewhere on the continent. In its heyday, his company roster included Congolese mega-stars like Quatre Etoiles, Pepe Kalle and Tshala Muana; Ivorian reggae sensation Alpha Blondy; Senegalese idols Orchestre Baobab, Youssou N'Dour and Thione Seck; and Malian icons like Oumou Sangare and, most famously, Salif Keita, whose Syllart-produced album
Soro
was a worldwide best-seller. Anyone who observed Sylla in the studio, especially when collaborating with his colleague and boon companion, Malian producer/arranger Boncana Maiga, was astounded by his taste and skill, and diverted by his mordant humor and unflappable panache--nobody ever spent a single dull moment in his presence. If some of his financial idiosyncrasies exasperated record companies—who often found Sylla's definition of "exclusivity" a trifle elastic—nobody disputed that he had a knack for unearthing the finest and most commercially viable talent. I first met Sylla in Paris during the mid-'80s. He was in his car, which was driven by a member of Quatre Etoiles. He never went anywhere without one of the highly cumbersome mobile phones of that era, so we arranged to meet on a specific street corner. At the appointed time and location, a big black sedan pulled up to the curb, a rear window went down, and I found myself face-to-face with a chunky, very dark-skinned gentleman with remarkably observant, distrustful eyes and a disarmingly sweet smile. He was never much for words and the entire encounter lasted perhaps three minutes. Almost a decade later, while I was employed by Stern's Music U.S., Sylla arrived in Manhattan with three Senegalese
salseros
in tow. His plan was to settle in at Variety Studios, one of Tito Puente's old stomping grounds, and make the definitive African-Latin crossover album. Upon arrival, Boncana Maiga, who had spent 12 years in Cuba, set about engaging the best session men in town, including several Fania All-Star veterans. As Latin music had evolved from Africans in exile and was re-Africanized more than a century later in Senegal, Congo and other places, the recording was meant to reconnect a long-broken circle. The group thus created was dubbed Africando. From the very beginning, and over the course of six subsequent albums, they were an international sensation, breaking into a number of previously impregnable Latin markets. I once heard "Yay Boy" blaring from a car in Sacramento, CA. Everyone involved understood that we were witnessing an epochal project in the making. But the most indelible image that remains with me from those days is of a tribe of people who were around the sessions for one reason of another (Boncana Maiga, CC Smith from
The Beat
magazine, Timothy Marquand from Stern's, and easily half the Africando team) unquestioningly charging across Times Square—against traffic—with Sylla in the lead, his silky, embroidered robes flapping in a humid, smoggy New York evening. Somehow, for me, this remains the most perfect metaphor for the whole Sylla experience. I would not have missed knowing him for the world.
Bon voyage, cher Maestro, et merci beaucoup.
--Christina Roden
[caption id="attachment_33548" align="aligncenter" width="640"]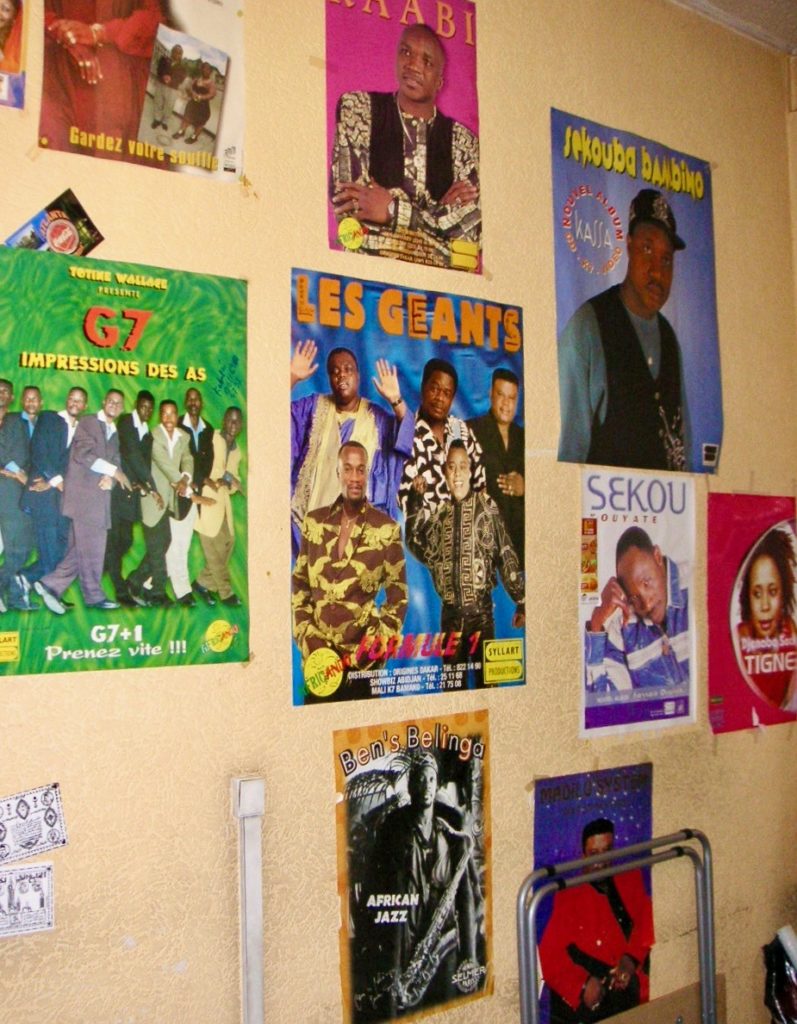 Posters of some of the many artists on the roster at Sylla's headquarters in Chateau Rouge, Paris, 2005. Photo, and feature image at top of page, by CC Smith.[/caption]