Trio Da Kali: The New Face of Mande Music from Mali



Lassana Diabate (Eyre 2014)
Fans of African music everywhere know well the astounding prominence of Mande griot music in the continent's musical pantheon. Even leaving aside all Mali's desert blues and rich pentatonic music traditions, if we look at just the country's Mande music stars, the list is formidable: Toumani Diabaté, Bassekou Kouyaté, Djelimady Tounkara and the Super Rail Band, Habib Koite, Ami Koita, Kandia Kouyaté and a host of griot divas; even Salif Keita, though not a griot himself, draws deeply from Mande music traditions. Well, you can add a new name to this list: Trio Da Kali. Produced by the preeminent scholar of Mande music, Lucy Duran, and backed by the Aga Khan Music Initiative, the trio has earned rave reviews for concerts in Europe and recently, San Francisco, where they began an ongoing collaboration with the Kronos Quartet last fall.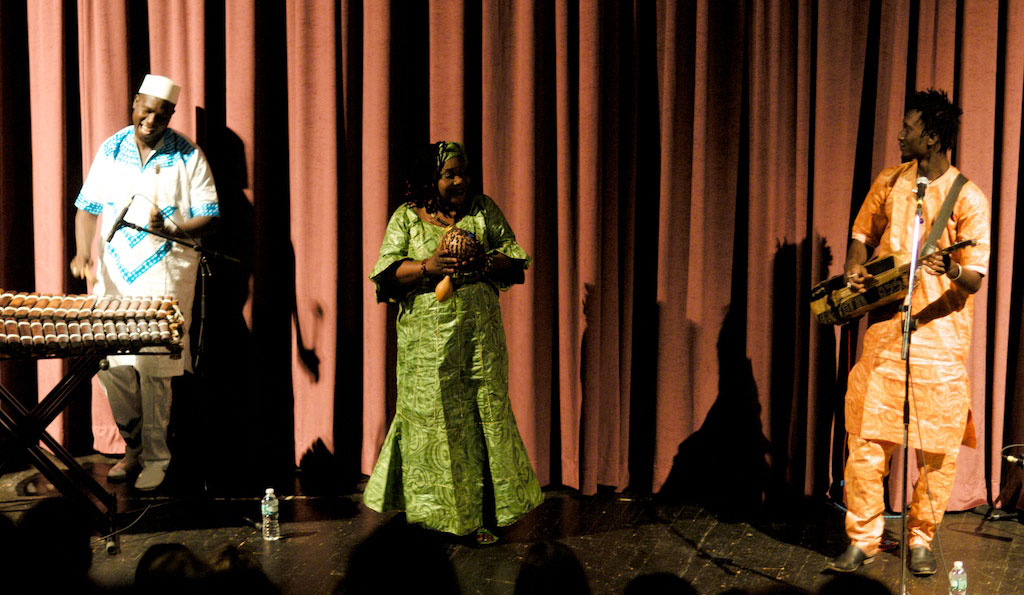 Trio Da Kali (Eyre 2014)
Afropop got an introduction to Trio Da Kali last week when the group visited Wesleyan University in Middletown, CT for a three-day residency. "Da kali" means "to swear an oath," and here, it's really a pledge to remain loyal to the griot's art. These days, there are a lot of debates about tradition among musicians in Mali. Is it enough to simply preserve tradition, or should an artist seek to advance it? What should advancement look like? Has there been too much emphasis on the same core repertoire, leaving too many great songs neglected? And has the music become too much about chops and virtuosity—something griot musicians have in boundless supply—and not enough about melody and musicality?
Lassana Diabate (Eyre 2014)
Trio Da Kali addresses all these matters in their own way. The group's musical director does not play kora (harp), guitar or ngoni (lute). Rather, he is balafon (xylophone) maestro Lassana Diabaté. Lassana was born in Guinea, but made his career in Mali working with the likes of Ami Koita, Toumani Diabaté, Salif Keita, Babani Koné, Tiken Jah Fakoly, and Bassekou Kouyaté; he has collaborated with Taj Mahal and participated in Bela Fleck's Grammy-wining Throw Down Your Heart project, and was a member of the Grammy-nominated Mali-Cuba collaboration, Afrocubism. Watching Lassana fly through his instrumental composition "Samuel," or throw down improvisations with Wesleyan professor and jazz vibraphone maestro Jay Hoggard, you can instantly spot him as a master—brilliantly engaged and spontaneous, technically impeccable, simply a thrill to behold.
Mamadou Kouyate (Eyre 2014)
But Lassana is one of those who feels that riffing and showing off has become overemphasized in griot music. He wants to get back to the instrument's expressiveness. Lucy Duran says the Kronos collaboration has been helpful here, noting "Kronos have brought out the beauty of the melodies and the subtleties of the interlocking textures of the balafon." Trio Da Kali also encourages this trend. Instrumentally, Lassana's balafon is backed only by the bass ngoni of Mamadou Kouyaté, eldest son of Bassekou Kouyaté, and a member of Bassekou's sensational band Ngoni Ba. Mamadou is essentially taking the roll of the bolon, the Mande bass harp. His lines are strong and clear, providing a backbone that gives Lassana room to create in a variety of ways.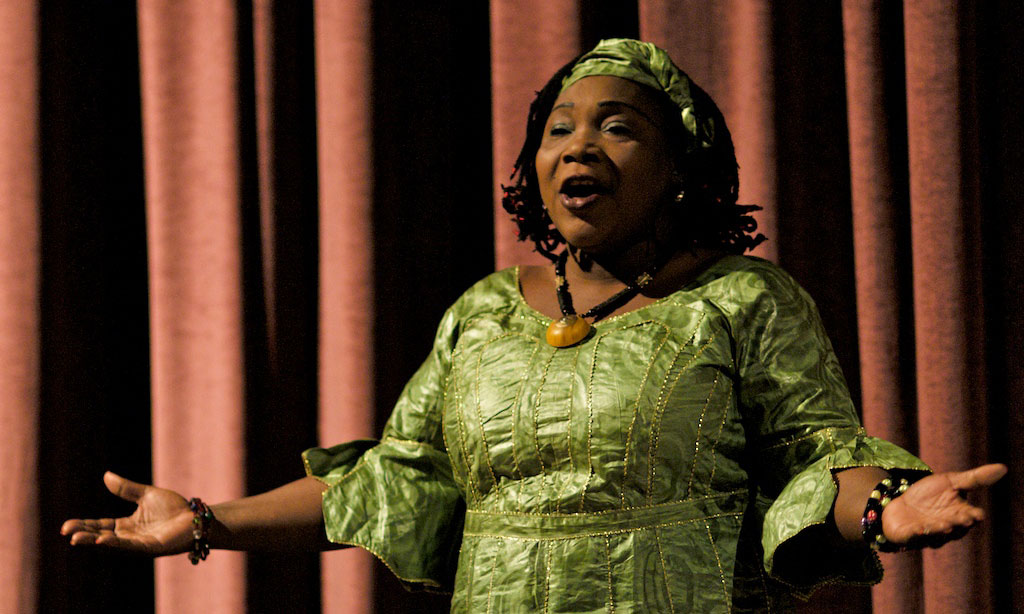 Hawa Kasse Mady Diabate (Eyre 2014)
Of course, all this is ultimately the setting for Trio Da Kali's secret weapon, vocalist Hawa Kasse Mady Diabaté—daughter of legendary singer Kasse Mady Diabaté. Duran calls Hawa "undoubtedly Mali's finest female voice today, revered at home for her knowledge of repertoire and for her powerful, clear and expressive voice." A strong claim, indeed—though coming from Duran, it carries weight. Hearing Hawa's warm horn-like vocal tone—so rich and full, powerful without a trace of shrillness or blare—I soon began to understand such high praise.
David Harrington of the Kronos Quartet remarked upon hearing Hawa's voice that it reminded him of Mahalia Jackson's. So began a journey of discovery for the Malians, who had never heard the great gospel diva.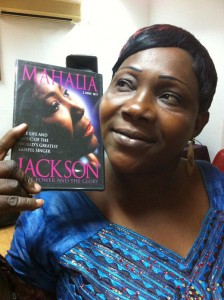 The result was a new song called "Ladilikan" ("Words of Advice"), based on Jackson's recording of "I'm Going to Live the Life I Sing About in My Song." The original lyrics comment on the hypocrisy of those who go to church on Sunday and then get drunk and misbehave on Monday. Hawa has adapted the message to reflect the traumatic events of 2012 in Mali, when Islamists imposed Sharia law in the north. Hawa sings: "You can't go to the mosque and pray on a Friday, then go and cut off limbs and kill children on a Saturday." Trio Da Kali performed this number for Wesleyan professor Eric Charry's History of Rock 'n' Roll class, and it brought the house down.
The day of Da Kali's concert at Wesleyan came with yet another New England snowstorm—an occasion for the Malians to discover the American pastime of snowball fights, which they took to with impressive gusto. Despite another six inches of snow, a big crowd showed up for the concert, and Da Kali was a sensation start to finish. Other than "Sunjata," the praise song to the first king of the Malian Empire in the 13th century, the repertoire avoided familiar Mande songs, featuring lesser-known and original pieces. The group's spare, open approach to the music was also a revelation. Wesleyan has a long history with world music, and Mande music in particular. But seasoned listeners familiar with large, string-dominated ensembles were entranced by Da Kali's unusual soundscape, and especially Hawa's extraordinarily nuanced vocal performance and charming stage presence. One listener new to Malian music remarked as she left, "I feel like my heart is three times bigger than it was when I walked in."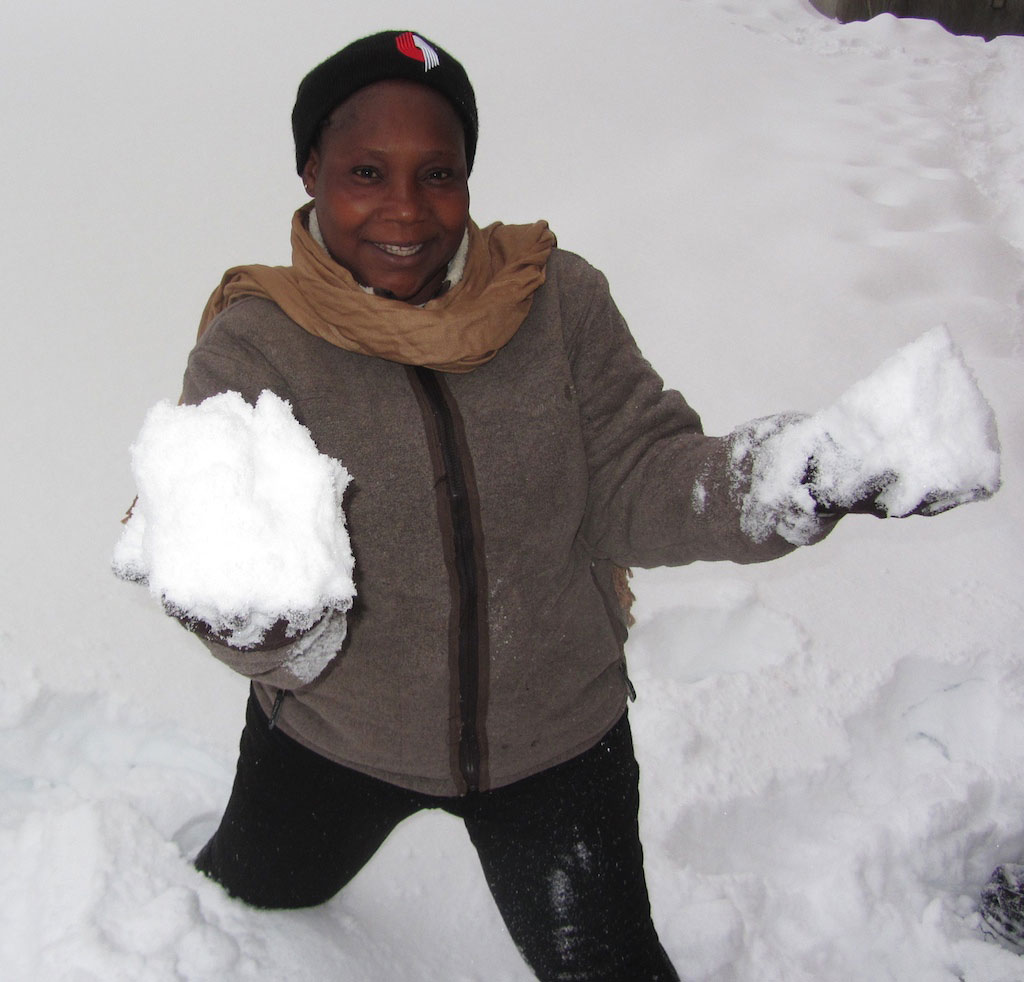 Hawa enjoys New England winter! (Eyre 2014)
Kudos to the Aga Khan Musical Initiative for enabling initiatives in Africa. AKMI's work with Central Asian music is exemplary, and they've shown similar taste and judgment in backing this group. Trio Da Kali left Middletown for residencies at the University of Maryland, where they are continuing their collaboration with the Kronos Quartet, Brandeis University and Carleton College.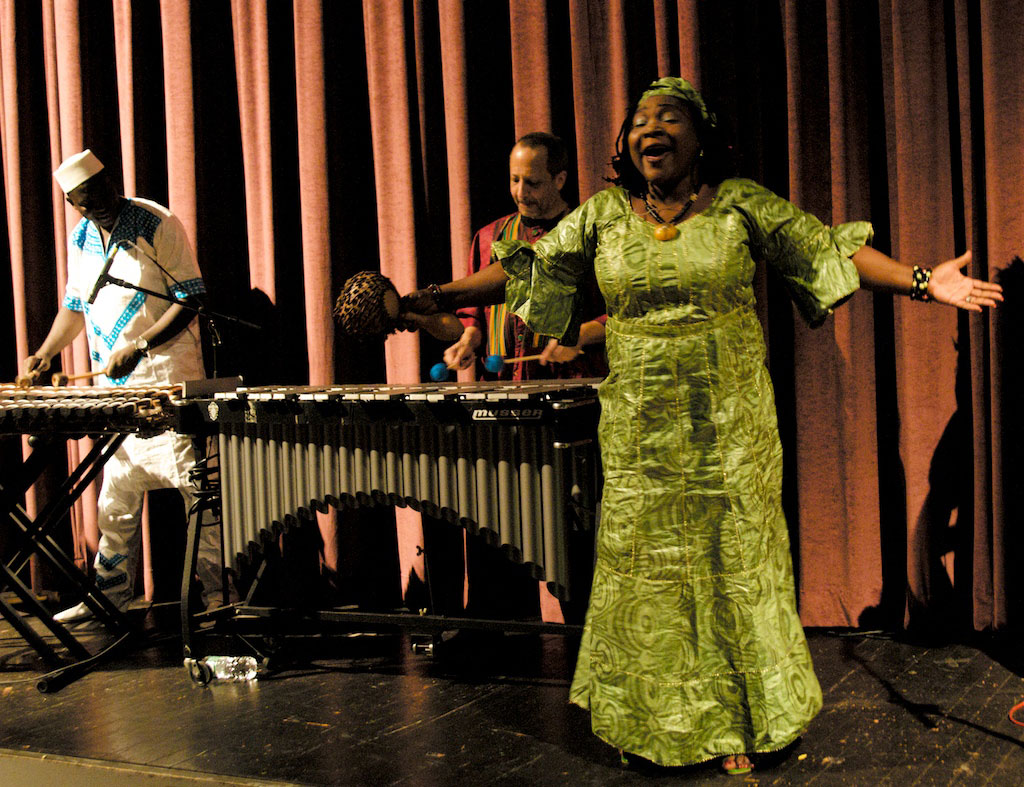 Jay Hoggard sits in with Trio Da Kali (Eyre 2014)