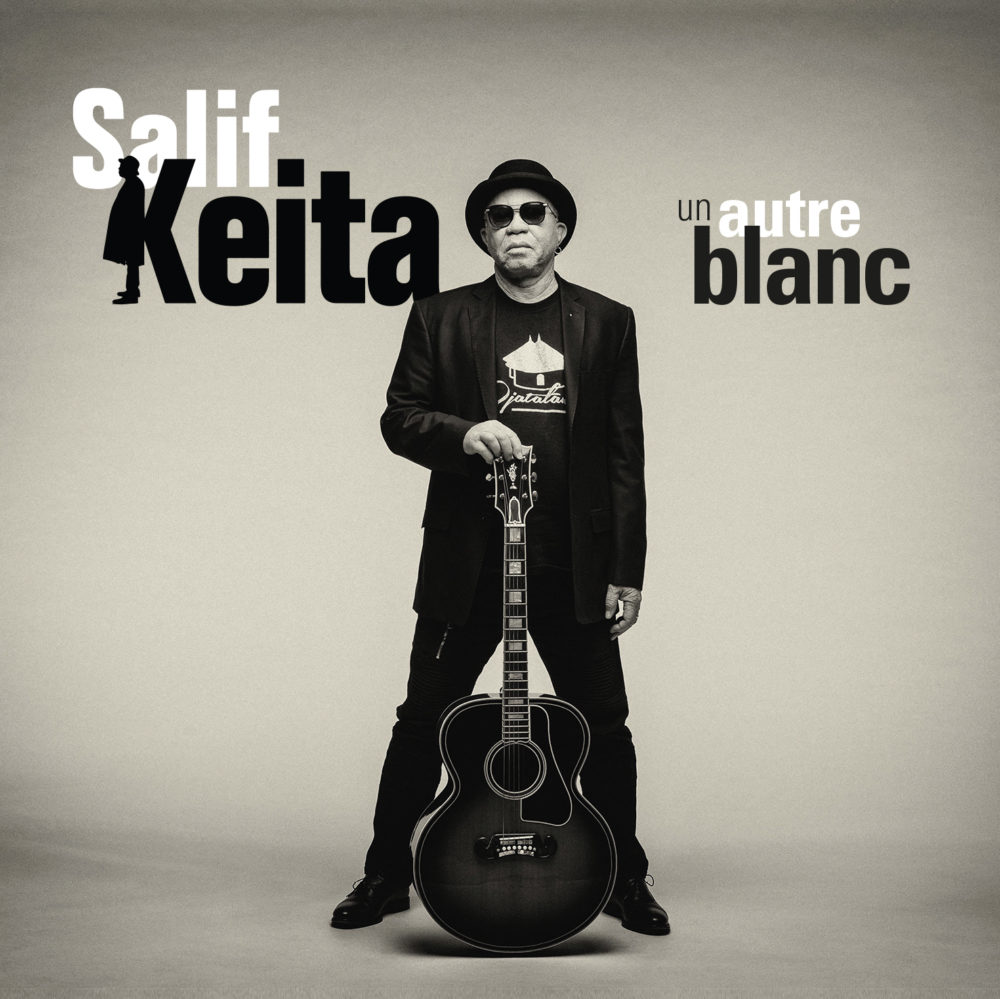 On the front cover of his new album, Un Autre Blanc ( literally "another white"), Salif Keita stands before a grey background dressed in black, a black hat, shades, and with his feet firmly planted astride a black guitar. True rock-star style.
And why not? After 40 years and countless albums he has earned it, along with the title "Golden Voice of Africa." He has built a huge audience worldwide not only for his own music but as an ambassador of African music in general. Un Autre Blanc contains all the hallmarks of this revered artist; the sonically choreographed arrangements, the lyrical depth, and most importantly the intensity of That Voice.
Ever since his early days with the Super Rail Band of Bamako, Salif Keita has championed the plight of the albino in Africa, something of which he has hard-won knowledge. Despite being a member of the royal family of Keita, a dynasty stretching back to the 12th century, he was rejected by his kin as an omen of bad luck, the prevalent view of albinos in Mali and beyond. Not just ostracized by both black and white, the albino can also expect humiliation, superstitious harassment and even death, so it is small wonder that there is an arresting desolation and heartbreak in everything he sings.
Un Autre Blanc is no exception, and on this latest collection we find him joined by some major talent for what is being billed as his final album. Whether or not that is the case remains to be seen, but it can be said that it holds up well when compared to the rest of his oeuvre.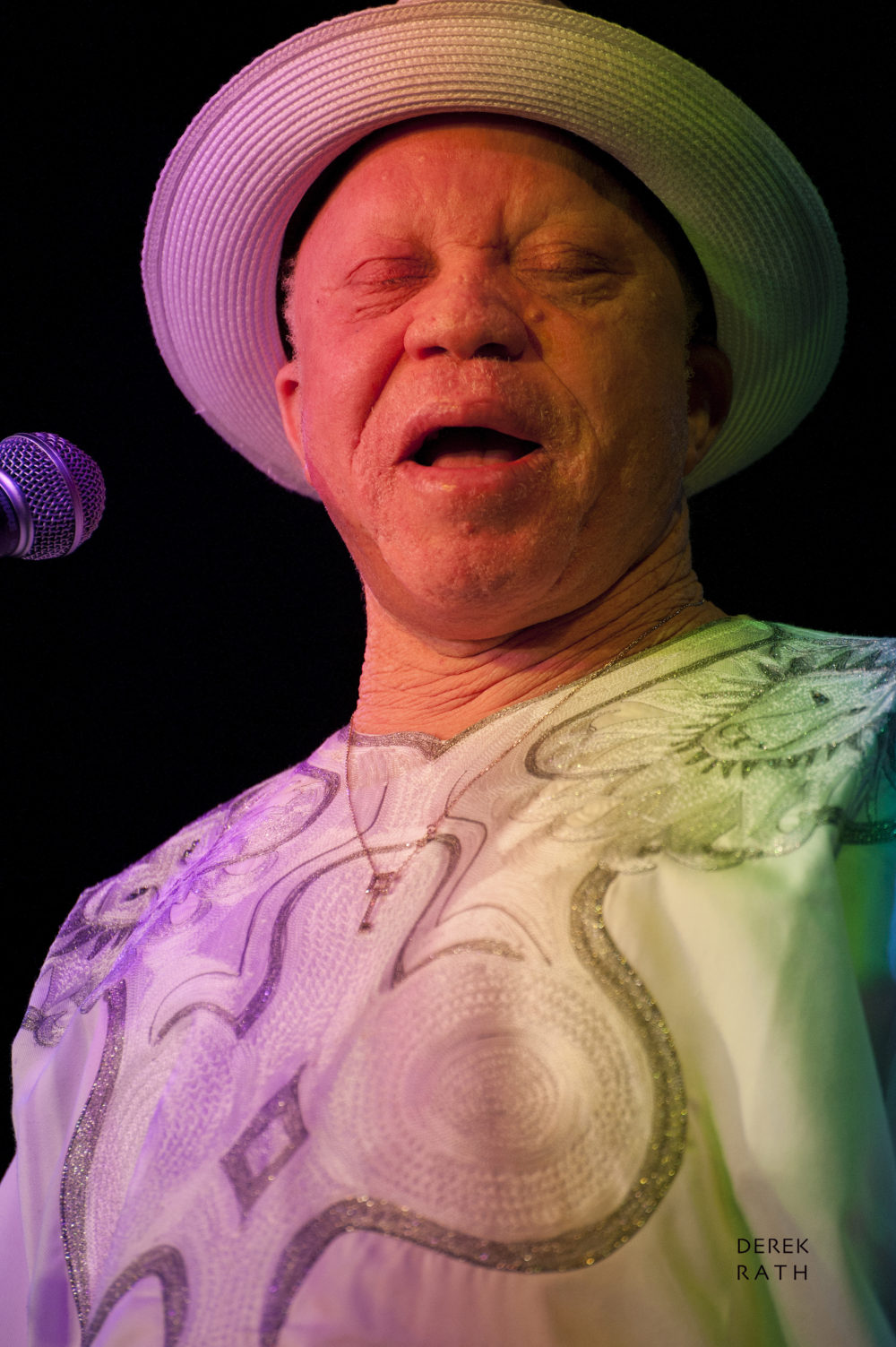 The opening track, "Were Were," focuses attention on the power of destiny, evoking the influences of Nelson Mandela, Desmond Tutu, Sekou Toure, Patrice Lumumba and Martin Luther King, among others. It is driven by an insistent rhythm section and chiming guitars and ngoni, classic Keita at full force. "Tonton," about the terrible effects of war on women and children is, despite its downer subject matter, an uplifting ode to the need for peace and understanding. Angelique Kidjo matches Salif's vocals on "Itafaro," about a woman pressured to get rid of a child from a previous marriage, a song also featuring Franco-African rapper MHD. This song and "Bah Poulo" skate along over a bed of soukous-style beats, further evidence of Keita's innate ability to fuse pan-African styles into his own.
Elsewhere, as on "Tiranke," Salif takes a much more acoustic, traditional Malian approach as he responds to a request for a song for a woman who gave birth to many children who died before they could grow up. It is a tender moment with the focus on his arresting voice, the gospel-like fervor of his delivery reminiscent of a preacher in church. This is taken to new heights with "Ngamale," with the inspired collaboration by Ladysmith Black Mambazo on a traditional hunting song. This is the most "produced" track on the album, with Keita sometimes using AutoTune, not for correction--we know he can sing--but for creative purpose. Ladysmith darts in and out of the mix with fragments of Zulu chants, and while the result is probably anathema for some purists, this reviewer found the result to be quite spiritual. Salif's voice and the guitar and ngoni parts cascade together rather like the rotating peal of church bells from across some misty fields.
The collection concludes with "Mansa Fo La," featuring an appearance from Afro-reggae great Alpha Blondy, where a steady reggae rhythm supports a praise song to the Lord Almighty, and a warning to those who abuse and take his name in vain.
Once again, it is apparent with Un Autre Blanc you are in the presence of a very spiritually minded artist, and while his main focus is on the plight of albinos in Africa, he has room for many causes in his repertoire. Whether it is or is not the best album he has made is immaterial, as he has never made a bad one. This was produced by him and recorded mostly in Bamako's Studio Mouffou with some vocal and overdubs done elsewhere, so it has a very definite Keita brand applied to it. If you like Salif Keita, you will surely like this album, final or not. Sounds like another hit.