The music of Mali is generally easy for Western ears to assimilate. Guitar, ngoni, kora and other stringed instruments are often to the fore, riding insistent and repetitive grooves reminiscent of blues artists like Mississippi Fred McDowell, Bukka White or John Lee Hooker. Rock music draws from a similar sonic profile. Vocally too, there is often a blues or even gospel intonation in the delivery of songs. But there is something else that draws you in: a certain deep spirituality, a feeling of ageless communion with both humanity and the dust of the Earth we tread. This subliminal element is not surprising really, given that Mali has a cultural heritage that stretches back beyond the 11th century.
All of this is evident in the striking new album Waati Sera from Adama Yolamba. He may not be a household name in the West but he is a major star in Mali. Actually, you might be more familiar with him than you think, as he has worked and toured with Rokia Traore, Ali Farka Toure, Oumou Sangare and Tinariwen, and he is a featured performer on Bassekou Kouyate's album Ba Power. Youssou N'Dour and Habib Koite are self-professed fans.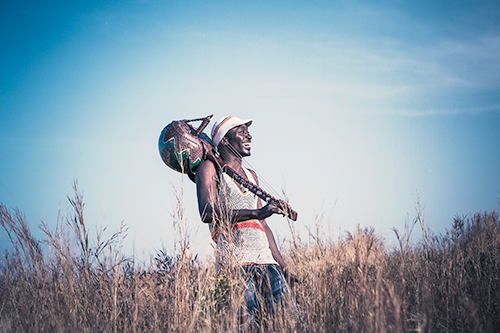 His performance at the 2003 Festival in the Desert in Timbuktu drew a lot of attention, with many expecting great things from him. Waati Sera, his seventh album, delivers on all cylinders and reveals an artist with a distinct style and a very strong message. Given the recent upheavals in Mali, Adama is on a mission to inform and teach so that the lessons of the past can improve the future.
The opening track "Nagnumani" (Lovely) is a parable set in a fairytale about gold in trees (remember Mali was once a leading gold producer in Africa) and winning the hand of a king's daughter--but is really about overcoming adversity and personal difficulties. The track sets the general tone of the album, very upbeat with crisp production from Paul Chandler highlighting some virtuoso performances, especially from Adama, a world-class n'dan, ngoni and guitar player.
"Harkas" (Allah's Blessing/Personal Happiness), "Waati Sera" (The Time Has Come) and "Plus Jamais" (Never Again) are commentaries on the current state of Mali's cultural heritage (Mali has been predominantly Muslim for a thousand years). He points out that Mali's multicultural makeup (nine ethnic groups, 12 languages) are its strength, when tolerance and acceptance of each other can work for the greater good. All of the songs on Waati Sera have a joyous energy that reinforces the urgency of the message, while quieter or slower tracks like "Ndeme" add light and shade. This excellent album (a digital-only release, with a CD to come later) will probably feature on many "Year's Best" lists.
https://adamayalomba.bandcamp.com/ [if !supportEmptyParas] [endif]
[if !supportEmptyParas] [endif]