WAKE UP MADAGASCAR: Jaojoby, Razia and More Tour US to Save Forests
This summer (July 13-26, 2012) the greatest presentation of Madagascar music this country has seen in many years is making its way across the country. The king of the
salegy
dance pop, Eusèbe Jaojoby, is here with his amazing band, along with three other top Malagasy singers—Razia Said, Charles Kely, and Saramba. The tour is promoting a vital cause: saving Madagascar's irreplaceable rain forests, which are currently being slashed and burned by short-sighted commercial interests, corrupt politicians, and local villagers understandably tempted by money. On the eve of the tour, Afropop attended a rehearsal in Razia's New York home, where a coterie of 10 musicians is preparing. We were amazed by the beauty and power of the ensemble—which includes four superb guitarists and a chorus of voices that will stand neck hairs on end—and also the deep commitment of these artists to a fighting a heartbreaking battle for the soul of their island home. The tour is called
Wake Up Madagascar.
Here's a link to tour dates, more on the artists, and a video of the festival they staged for 20,000 fans last year at the scene of the Masoala forest in northeast Madagascar
. This is an inspiring example of musical activism, and one of the hottest African music acts on tour in America this summer. In short:
not to be missed.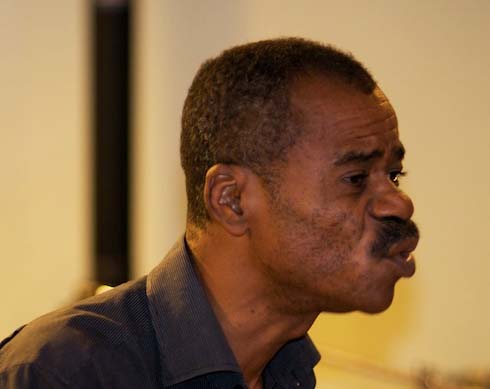 Razia Said left Madagascar when she was eleven, and has lived in New York for 25 years, but she still calls Madagascar home. A few years ago, Razia was there recording music for her album
Zebu Nation
(Cumbancha). "We took a bus and went all around Madagascar trying to get sounds," she recalled. "And it was going around the island like that that I saw all the devastation that was going on in the environment. I saw a lot of smoke. It was burning everywhere. And we stopped a few times on the road and asked people, 'What's going on here?' And they said, 'Well, we're burning the forest because we want to grow some rice.' They thing that if you burn, some good things will grow. But what they don't know is that once you burn the land a few times, it destroys everything, and then everybody wonders why there is a mud there when it rains, why everything is sliding. There's nothing to hold anything in place. So this whole thing started like that."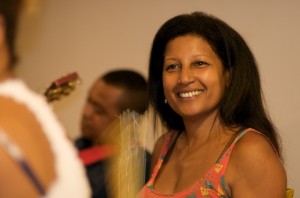 After the album came out with songs like "Slash and Burn," and "Ny Alantsika (Our Forest)," Razia wanted to do more. Last year, she approached Eusèbe Jaojoby, who was also born near the threatened forests of the northeast, and is profoundly loved in that region for his 30+ years of deep, 12/8 dance grooves and unforgettable songs. Razia proposed they stage a festival to raise awareness of the problem. It turned out Jaojoby has been singing about this very same subject, starting back in 1989 and continuing right up to his new album,
Mila Anao
(Buda Musique). The key song on that album is "Prezida," a direct address to the president of Madagascar. Jaojoby says, "The president is the chief. And in this song, I say that if I was president, I would send soldiers to fight the real enemy. Because the real enemies of the Malagasy people are brushfires, drought, and deforestation. That is what makes the land poor. And when the land is poor, nothing grows. And we have famine. So I think the worst enemies of human beings, and of all animals, is hunger. If you can't eat, you lose your head. You make war, violence, you go into prostitution. So this is why I say our real enemies are brushfires, drought, and deforestation. So we need soldiers to fight these enemies. If I was president, I would send soldiers to fight the
real
enemies of the planet: brushfires, drought, and deforestation." http://youtu.be/HoIlpO-FEs8 The 2011 festival at Masoala was daring. First, a "mafia" of local interests stood in the way. When a local presenter refused to rent out the only available sound system, the musicians trucked one in from the capital, Antananarivo. And with just four days to promote, and no help from local media, Razia and Jaojoby drove around Razia's home town, Antalaha, in a truck equipped with a loud speaker, urging people to come and hear the music and learn about the destructive effects of illegal harvest of wood. 20,000 people came, and an important dialogue was begun. Jaojoby understands the temptation of villagers, who are now paid $2.50 a day to go in to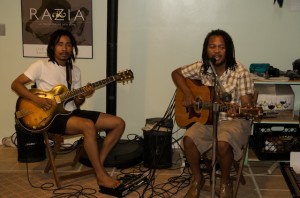 supposedly protected national parks and harvest rosewood, ebony and palissander wood, sneaking it out in the dark of night. They know it's wrong, but they are hungry. Razia says the festival made a difference. "Because people understand," she said. "Once we spoke with people during the festival, and we said, 'Let's talk about this. Do not cut the wood. Let's find some solutions. Let's find some alternative ways to do agriculture, because this is really what you need to do is agriculture, instead of just going and cutting down the forest. Because eventually, that forest is going to be your biggest heritage." She reports that growing social pressure is creating a new consciousness at the grass roots level—clear progress. As for the big commercial interests—some local, some Chinese, all oblivious to long term concerns—there's little hope of dialogue. [caption id="attachment_3797" align="alignleft" width="372" caption="Claudine, leader of Saramba"]
[/caption] Jaojoby says, "There's a saying that for big problems, you need big means. I think that Madagascar's governments have not put the big means out there to fight the effects of forest fires, drought and deforestation. Maybe they don't have the means. They don't have airplanes to put out fires. They don't have water cannons. But I feel that they haven't really applied themselves. For example, in my country during the dry season, fire can destroy hectares of forest without anyone doing anything. And today, the West Coast of Madagascar is steppe. Nothing but steppe. There is no more forest. If you take an airplane, you look down, you will see nothing growing." But there is still hope for the eastern forests, and that's partly where the idea of an international tour came up. Introducing the American tour, Jaojoby says, "Above all, we're here to share the music of Madagascar. We are musicians. But at the same time, we want our music to sensitize Americans. We want solidarity to save Madagascar, but also to save the planet. Beyond that, we know that the precious woods of Madagascar are exported to the United States, illegally." Last summer, the Department of Justice
raided a Gibson Guitars warehouse
in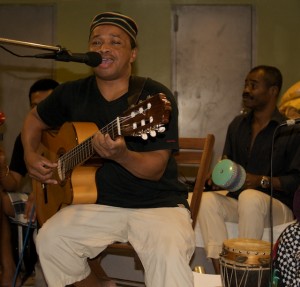 California and confiscated a great deal of illegal wood, some of it from Madagascar. "We're not against making instruments from Madagascar wood," says Razia, "but it's got to be legal. That's all. You know when people buy guitars, they don't think about this. And this is something we're trying to put in people's minds. When you buy a guitar, it's a good idea to ask if it's made from legal wood. The same with furniture, because a lot of furniture is made from illegal wood. Most of the furniture that they sell in China is made from rosewood from Madagascar. And they sell it for millions, from people who went to get the wood and were paid $2.50 a day!"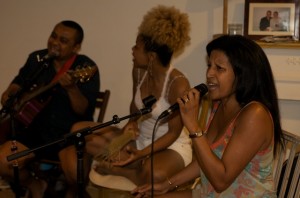 Aside from the worthy cause at the heart of the WAKE UP MADAGASCAR tour, the rare beauty of the music on display cannot be overstated. Jaojoby and his band are a force of nature. Saramba—the salegy group led by Eusebe Jaojoby's wife, Claudine—builds songs around rousing melodic chants that focus on the problems of women in Madagascar. Razia is a deeply compelling and richly sophisticated singer/songwriter and an irresistible presence on the stage. And Charles Kely is a Paris based artist who plays the intricate highland style of Antanarivo, gilded with touches of rock and jazz. He's also a mind-boggling guitarist. It has been far too long since a real ensemble of Madagascar musicians has toured American cities and this one has heart, and chops, to spare. So, if you're near any of these cities, make the effort and spread the word. Doing the right thing rarely feels this good!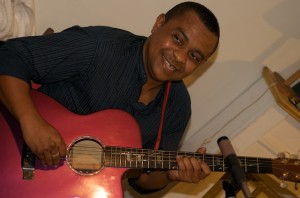 The WAKE UP MADAGASCAR tour: FRI July 13 Minneapolis, MN
Cedar Cultural Center
SAT July 14 Madison, WI
La Fête de
Lula Lounge
WED July 18 Montreal, QC
Festival Nuits D'Afrique
THU July 19 Somerville, MA
Johnny D's
FRI July 20 Northampton, MA
Iron Horse
SAT July 21 New York City, NY
Le Poisson Rouge
(Afropop is proud to Co-Sponsor this show! Click "Buy Now" and write "AFROPOP" as your discount code!)
TUE July 24 San Francisco, CA
Yoshi's Jazz Club
THU July 26 Pasadena, CA
Levitt Pavilion
Help the Wildlife Conservation's work in planting 10,000 trees in deforested areas of northeastern Madagascar. Click
HERE
to Donate and Help Save Madagascar's Vulnerable Forests. [caption id="attachment_3801" align="aligncenter" width="424" caption="Lucas Jaojoby"]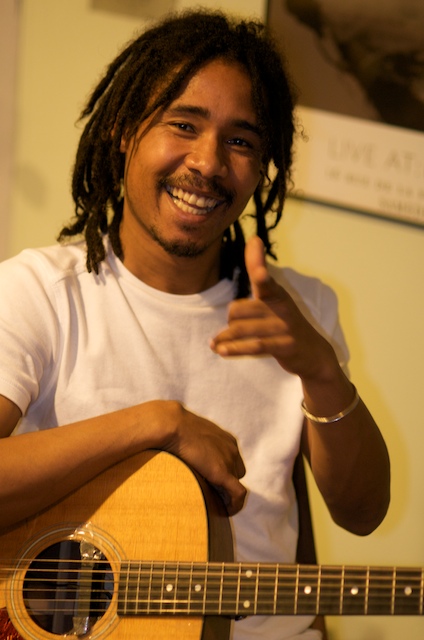 [/caption]