Mr Eazi On Building the "Uber of African Music"
If I didn't know that Mr Eazi was a star before we sat down, I probably would've figured it out when the wide-eyed waitress came by to greet him by name. But I'm sure I would've figured it out when she came back to say that Eazi could get his hamburger and dessert for free if he mentioned the burger in the interview, only for Eazi to counteroffer that he'd also need $50,000 to do it. I didn't see a check, so I'll just say the interview took place in Manhattan and leave it at that.

The singer, rapper and Afrobeats star is recognize-him-on-the-street big, one of the most streamed artists in Africa, and he has already collaborated with some of the biggest artists in the world. He's on the new Lion King soundtrack with Beyoncé and swapping verses with the reigning kings of reggaeton, J Balvin and Bad Bunny, and bringing on fellow Nigerian Burna Boy for guest spots.
But it seems international superstardom isn't all he's after. He's also the man behind emPawa, which he describes as an "Uber for African music," and an incubator where young African talent can cut both their teeth and their first singles. EmPawa is already expanding and already has launched two chart-topping artists, and just announced a partnership with YouTube, which Eazi called the platform that was the most open-ended with the lowest barrier to entry.
Mr Eazi sat down over an unendorsed hamburger in late June to tell us about his first songs, his dream collaborators and how the faith of his friends and his time in a tech incubator both led him to build emPawa.
This interview has been edited for clarity and length.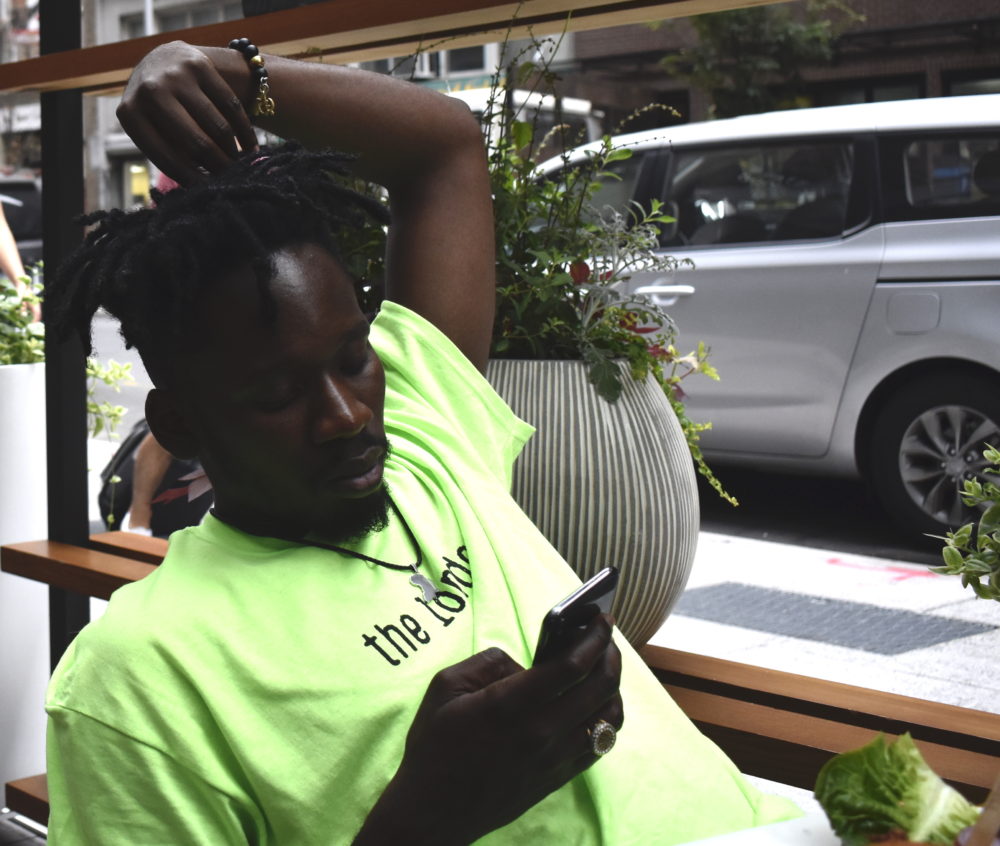 Ben Richmond: First let's go all the way back to the beginning, shall we? Where did you grow up?
Mr. Eazi: I grew up between Port Harcourt and Lagos and I lived on the outskirts of Lagos. And then after high school I moved to Kumasi, Ghana, for uni [university] so, kind of everywhere.
Did you grow up with a lot of music in the house?
Yeah. Especially church music. My mom played so much gospel music. So much. And then my dad would play reggae music. And then when we'd just be left at home I'd just play everything that was playing on TV—everything.
When did you start writing your own music?
I'd say. Sometime in uni [university], sometime in like maybe 2013.
O.K. And what sort of stuff were you writing when you started out?
It was just like joke stuff. It was just stuff because I was listening to a lot of Lil Wayne. Two of my housemates were artists so, I'd just imitate Lil Wayne.
That worked out O.K. for Drake, I guess. Do you remember how your first song went? You know what it was about?
No, ha, I don't. Well only one I can remember is a song called "Too Tight." And, I was like "oh so if the girl is really fine and she's got style, she looks like..." [Laughs] That was what I was singing about.
What influences your music today?
Today, it keeps changing like, right now what I have been listening to, it's like a lot of J Balvin, Diplo, Major Lazer. Yeah. It changes, and changes depend on like where I am mentally, what I'm feeling like right now. That's that's my answer right now.
I mean you just released that collaboration with J Balvin and Bad Bunny. Are you pretty much into reggaeton?
Honestly, I'm just making music, you know. I'm just making music and I like the vibe. I played in Spain around this time last year and then I got introduced to the whole world of Cubano music. I went out to Cuba, I went to these clubs and I liked listening to reggaeton and I decided I wanted to get into that world. Next thing I'm touring with J Balvin late last year and now we're putting out records, and I've joined in.
That's funny, when you say "deciding to get into" is usually like "I'll buy some records and listen to it" but then you immediately work with the two top guys in the genre.
It's crazy, like I got a text the other day from a reporter, her name is Sarah. She was the one who interviewed me, when I went to Barcelona to play. In that interview, she was like, "What music do you listen to—you listen to any Spanish music?" After that interview she introduced me to Rosalia's music and I went to see Rosalia and we became friends and between Sarah and Rosalia, they introduced me to loads of more. And next thing I know, I'm listening to Spanish music. I'm watching these Spanish shows on Netflix! [Laughs]
Is there anyone on your list of people you want to work with but haven't yet? Who would you?
I want to work with like, Blackpink, BTS...
Are you just looking at a chart at the top artists in the world? It worked out O.K. last time...
I mean like, I'm one of the biggest artists in Africa. So yeah, I might as well. I don't really care. As long as I like it. You can be big but if I'm not feeling it....What I like is when I get introduced to an artist, first thing I do, is I go to their Instagram. And I don't go to the feed, I go to their "Story" to watch. And if I feel like, "Oh, I like, I like this person's vibe," then I want to work with the person.
It's a more of a personal thing.
You know I appreciate it that way; it's more fun. It doesn't seem like its work.
I want to go back to the idea of your influences. You spent some time in Ghana. And listening to your music it sounds like, especially on the slower songs, I feel like I can hear a little bit of Ghanaian influence.
Yeah, definitely, definitely. I feel like, before I went to Ghana I was a very active young kid and I loved breaking the rules. I love to escape from boarding school and jump into the girls hostel, skip classes, all of that good stuff. When I went to Ghana, it wasn't as fast as Lagos. I was almost going crazy. Because I was like, "Why are these people so slow?" You know, I didn't understand that they weren't slow; I was coming from a super fast place. Lagos is super fast. And so what that did for me is that it calmed me down.
I feel like the influence is not just in the music, it's in who I am. I'm a product of Ghana, Nigeria, everywhere I live. I soak it in. And some of this city gets into me. Some other people get into me. When I sing you then hear it.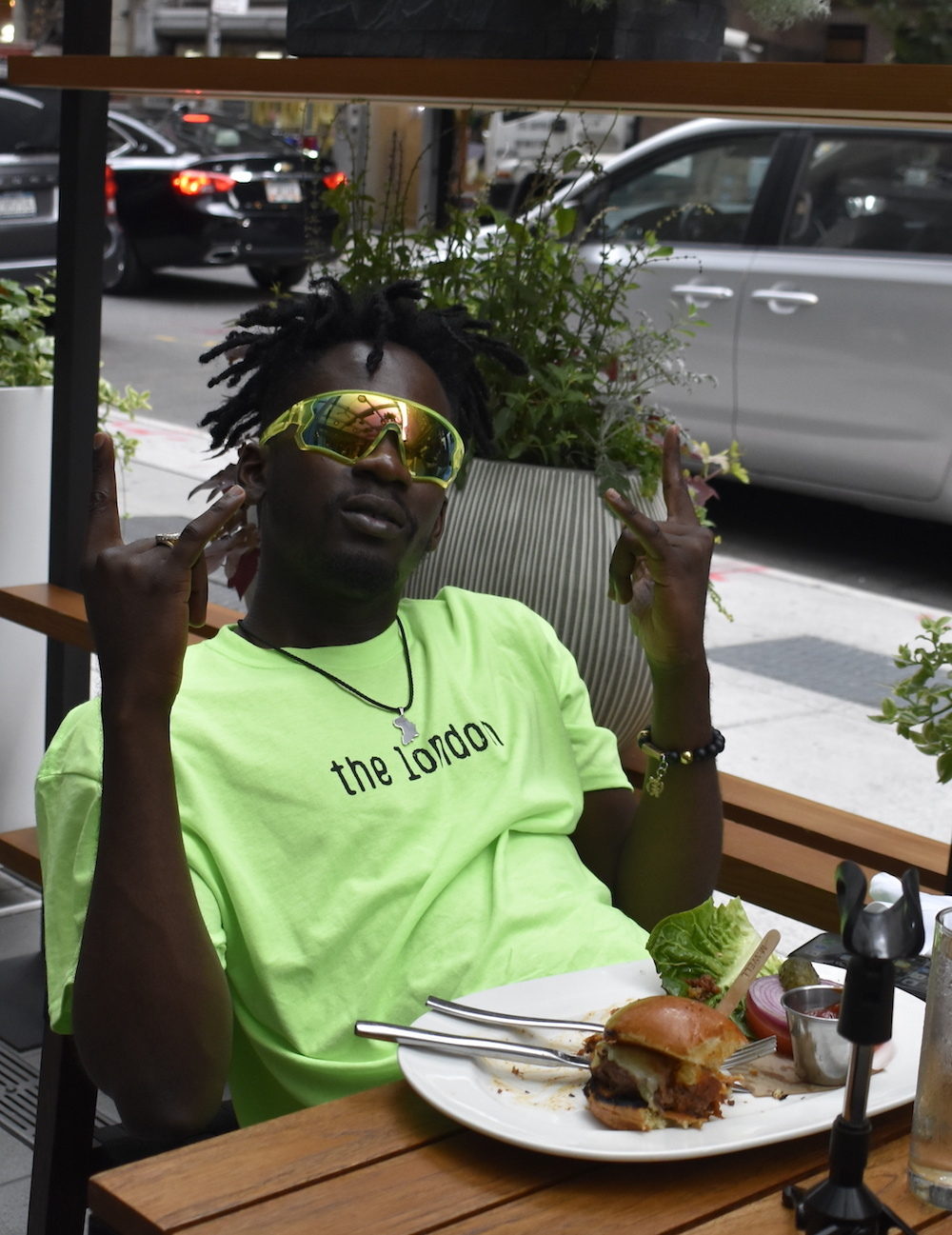 If you want to write any more slow songs you need to leave New York, probably.
Speaking of influences, you're also the man behind emPawa. Which I think may up being more influential going forward. You want to describe what that is?
Yeah. emPawa is two things. On one side, it's my CSR [corporate social responsibility] program, my way of giving back instead of giving to a charity. It's my giving back to my community, my ecosystem—which is music, the African music scene. So the emPawa Foundation funds music videos for emerging artists and helps them put it out. We don't recoup on their earnings; everything is theirs. We just provide the platform.
And then on the business side, emPawa Label Services just seeks to be like the Uber for African music. So when you think, "Oh I want African producers," you should think emPawa. Or "I want African vocalists," you should think emPawa. Or "I want African music for curation," you should think emPawa Distribution. That's the whole idea behind emPawa—creating that ecosystem and enabling the ecosystem for African music, African artists, for everything from making the music to putting out to marketing and distribution, live shows—everything. This is the first of its kind in Africa.
So you're connecting with artists you've recruited but also connecting them to other people.
Yeah. So imagine the importance of an Uber for African music. I've met people who say, "Oh I wanted an African producer but I couldn't reach out to anyone. So I got this person to work on it." Or "I wanted to book in African artist but I didn't know where to go, so I didn't." You have people who then kind of make themselves gatekeepers but don't even know about the culture. And then that someone presents himself as a gatekeeper but they're just connecting their friends.
You need to have an independent platform that doesn't care. Because emPawa doesn't own any artists. We don't own any artists; we don't own the publishing; we don't own the rights. We don't own anything. We're just essentially a platform. And when you're a platform you're going to be unbiased, because whenever you help, whenever you're plugging in Mr. A B C D E F, you're still going to get the same results. So that's why I feel like it's important.
You need a platform that can understand and say, "O.K., this is how this music will perform." You know, I might show you an artist whom if you go on Spotify you might see maybe 500,000 views on the biggest song or you go on Apple Music where it has maybe 500,000 views or 200,000 streams. But that has nothing to do with whether that artist can sell out the stadium. Because there's a disconnect.
If you're looking at it from the outside you might be representing not the right people. But if the platform is on the inside, we know how to enhance that story and help the artist.
The bulk of African artists are independent--99.9 percent are independent. How do they put their music out? When they're putting their music out through distributors, do you have one platform that helps to push their agenda on the DSPs? There is none. There is no platform right now that's 100 percent focused on African music.
For now—when African music may not be doing the same numbers as some other genres due to factors that might take days to explain—nobody is gonna look at you. But if you have this platform that just focused on African music, then there's a higher chance of achieving results.
A lot of artists have come to me and said, "Oh Eazi, how do you put your music up online?" I tell them and they're like "Wow, I send it to this guy who lives in New York and goes to NYU. He then sends it to this guy, and this guy, and at the end of the day they take 60 percent of my revenue." I'm like, "What?"
I've met artists, big artists out of Africa, who told me they paid somebody to do it. They paid somebody to help them put their music on YouTube, which is pretty easily done. You know that's because like those people are acting as go-betweeners for things that don't need any go-betweeners. So that's why there's the need.
A lot of people talk about wanting to help out the next generation—maybe they bring up people to collaborate with—but this is it seems like it's sort of like the next level. What is it that made you think you want to look into doing this? I mean, you saw a need, but did someone helping you out starting out, inspire you? Wish there had been?
You know, my first maybe two-three videos were cofunded by friends who just believed. They even believed when I didn't believe. I never thought I was going to be an artist. But they believed. They were like "Yo. You're supposed to be a superstar." They put up money to shoot my videos. So that's like the first. And so two years into the music I start funding videos randomly. Well, I thought why don't we make this more structured and expand it?
You know the other side of the emPawa business which is a V.C. [venture capital] funding kind of structure. Because when I moved from Ghana back to Nigeria, I was in a tech incubator. So it's like I've merged that CSR with friends putting up to shoot a video with my experience from getting in the tech world and having investors invest for equity.
You know so, it's a little bit of my experiences everywhere that have been put into this project.
But emPawa is a nonprofit?
It's a nonprofit, it is definitely a nonprofit and it is different from every other. You know when you give aid, you don't even know where the aid is going. With emPawa, you know. Because you can see where the money is going to. If you say "I want to fund a hundred music videos," you're gonna see a hundred music videos. You're gonna see the artists who have benefited and you're gonna watch how their careers go. So this is one of the most responsible CSR programs ever, because it's measurable.
And it's already getting results.
A guy from Ghana, J Derobie, at a time where he submitted his entry for the emPawa program he had been he had been kicked out of his house. He had had to leave school because he couldn't pay his fees. His emPawa entry was a song of him freestyling about poverty. And we would go on to shoot the music video, and drop it in February.
J Derobie has been charting in in Ghana since February. He hasn't left the top 10. He's played 15,000-capacity concerts. He's touring actively in Ghana. He has his own record label and he's living in his own apartment and he now has the money to do whatever he wants to do and his song got remixed by Popcaan. So this has happened just between February and July. So you could see the change. He's been tipped as one of the next most exciting dancehall artists out of Ghana.

The same thing for Joeboy. At the time when he submitted his entry, he was just a uni student, University of Lagos, trying to see if he'd be able to have a career in music. Right now he has a record that has over five million views on YouTube. He's number one on Apple Music in Uganda, number two in Kenya, number four in Nigeria. Like he is on his way. Three different places even now. I'm looking at him and I'm like, wow.
There's a there's there's a guy from Nigeria, Lil Frosh. At the time he got into the emPawa, he just had a freestyle. He and his friends, he you put it on Instagram and it was going viral. But that was it. It was just, "Oh yeah, it's hot." And people watching it. We linked him up with one of the most relevant street artists in Nigeria, Small Doctor. They did a remix. He shot the video. The video is over a quarter of a million views is playing out across Nigeria. His next single maybe featuring me—like he started his career. There's visible success stories. The result is like he's like the biggest right now.
I was telling somebody I was like maybe next near I should not tour from January to July, I just do emPawa. My manager was looking at me like this guy's going crazy.
What are your plans for the rest of the summer?
You know I have I have another single coming out soon. Maybe I might do a double release—two singles. And then loads of touring, more of emPawa work. Yeah, I'm just generally chopping [eating] life.
Are you based out of London still? Heading back to there?
Right now as we speak, I am homeless. I'm trying to decide where I want to live. Like, do I want to live moving forward because now I'm in new projects mode? I've dropped "Supernova" that just signifies, from the sound identity of "Supernova" if you go back and listen, is on the same wavelength as for me what's on "Leg Over." So that only when I make a song like that I know I've started a new chapter.
So I'm thinking, where do I want to be? Should I be in Lagos or should I be in Accra? Should I be in Miami? Should I be in New York or should I be in Barcelona or Sao Paulo or Japan? You know. So, hopefully I decide soon.
What did J Balvin say? Did he have any suggestions?
J Balvin? He was like, Yo, you need to stay in Colombia. J Balvin says I'm Latino now. Like "you are Latino and now you need to stay." [Laughs]