World Damba Festival Showcases Northern Ghana at Tufts University
For three days this September (Sept. 14-16), Tufts University near Boston will be the scene of a vibrant and thoughtful celebration of traditional music and culture from northern Ghana. The World Damba Festival debuts at Tufts this year, offering a unique encounter with a little known African culture, one that is rich in music, dance, folklore and complex spirituality. The three days of performance and discussion at Tufts' Medford/Somerville campus are designed to recreate the spirit and spectacle of an event that takes place every year in Ghana, as the presenters note, "akin in some ways to the Christian Easter or the Jewish High Holy Days." The festival in Ghana is the subject of the book
Drum Damba,
by David Locke, Associate Professor of Music at Tufts and a major figure in African ethnomusicology. Locke co-authored
Drum Damba
with world-renowned master drummer Abubakari Lunna, who made many memorable performing and teaching visits to the US prior to his death in 2009. The book offers cultural background and practical instruction on the traditional method of learning the
luna
(talking drum) signature instrument of the Dagomba people. Having witnessed some of Abubakari's performances both in Boston and New York over the years, I can attest to this music's singular and thrilling beauty. The luna's tones are deeper than those of other West African "talking drums," and the music is both instantly accessible, and profoundly complex rhythmically. Locke created The World Damba Festival in collaboration with Natogmah Issahaku, a principal with the
Knowledge and Skills Share (KSS) Foundation
. At its heart, the festival conveys the stunning musical virtuosity and excitement of Dagomba music and culture. All festival events are free and open to the public and can be enjoyed simply as visceral entertainment, or as an unusual learning opportunity. There will be music and dance performances, symposia, workshops—a rare chance to get your hands on a Dagomba talking drum—and a keynote address by Alhaji Aliu Mahama, the former vice president of Ghana. Follow the link at the end of this post for full details on the schedule and locations. The World Damba Festival comes at a sensitive time for this region of Africa. Like its neighbors Nigeria and Mali, Ghana faces enormous global challenges in its northern regions. The festival presenters list them as follows: "climate change, community health, economic disadvantage, changing gender roles, the role of traditional chieftaincy within the modern state, ethnic conflict, and Islam's encounter with the contemporary world." All of these issues will be addressed amid the pageantry and excitement of this festival, where music becomes an entrée into contact with some of the most important social, environmental, cultural and political events now unfolding in West Africa.
Hear Dagomba music
: Damba Processional: [soundcloud url="http://api.soundcloud.com/tracks/58017748" iframe="true" /] Damba Main Dance: [soundcloud url="http://api.soundcloud.com/tracks/58024055" iframe="true" /]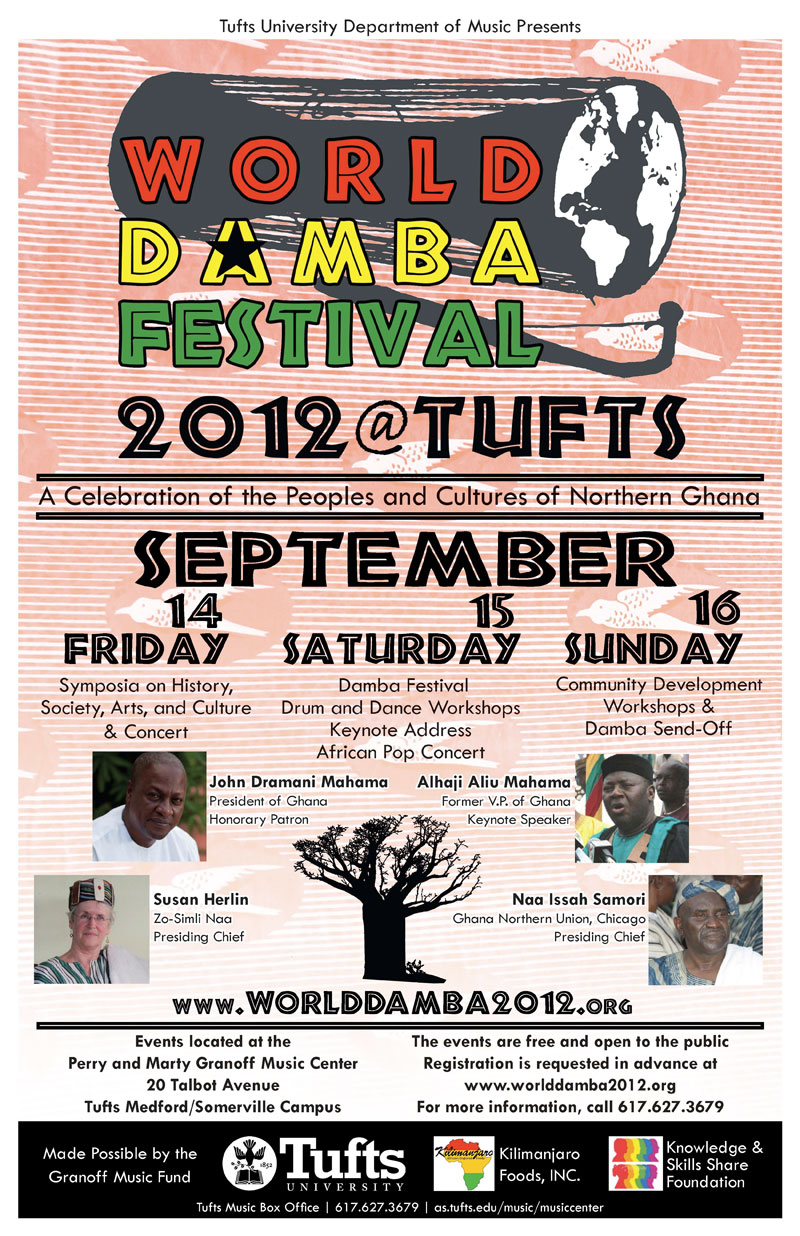 Sponsors of the WDF 2012 @ Tufts include the Tufts University Department of Music, with special funding from the Granoff Music Fund, and Kilimanjaro Foods, Inc., as well as support from the KSS Foundation.  Media partners include Africans Universe (www.africansuniverse.com).
A schedule of events and other information about the festival can be found at www.worlddamba2012.org.  Questions about the festival can be directed to the Tufts Music Box Office at 617.627.3679
.