Wyclef Jean: From Vodou to Junkanoo
Having completed its second official year, the weekend-long Bahamas Junkanoo Carnival in Nassau, Bahamas in May 2016, gave visitors a chance to not only experience traditional Bahamian culture, music and food, but to enjoy some of the modern manifestations of the music scene, as well as the opportunity to "jump up" and parade with one of the "road fever" companies that march in the streets of Nassau on Carnival Saturday.
The Music Maker concert on Friday night featured local Bahamian groups who fuse traditional rhythms with pop, all vying for the top prize which includes $20,000 cash and a record deal with Sony, one of the sponsors of the event.
Wyclef Jean, the headliner for the Music Maker concert, talked with Jason Gardner about Bahamas music, junkanoo culture, and how he views it in relation to his Haitian roots and the African diaspora. All photos by Jason Gardner.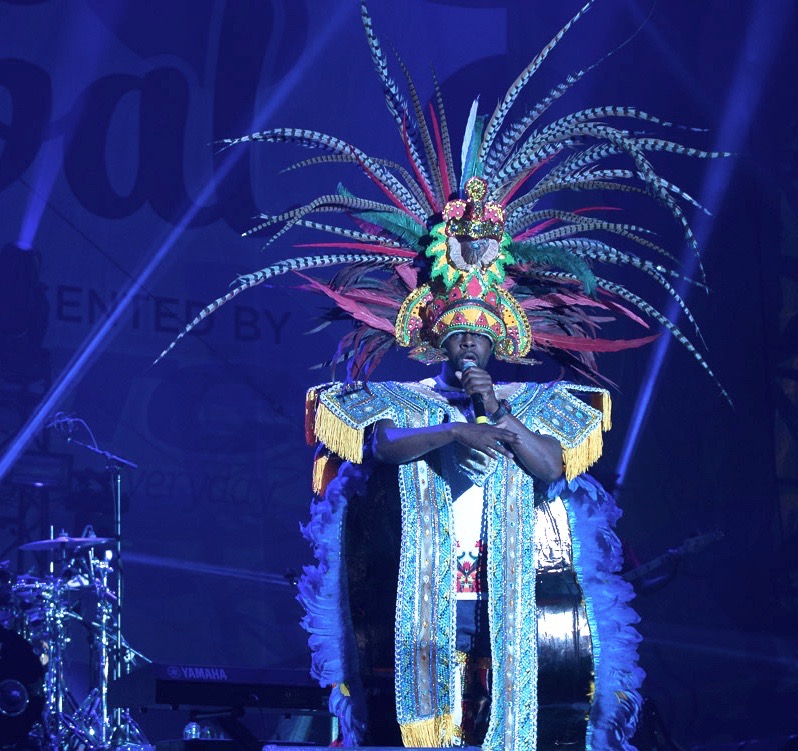 Wyclef Jean performs in traditional Junkanoo costume, as part of the Music Maker concert at the Bahamas Junkanoo Carnival, May 6, 2016 in Nassau, Bahamas.
Jason Gardner: Wyclef, I know you wanted to talk about music, not politics. You are a major figure in American music. We know you grew up in Haiti. What did that experience give you as a musician, where you are now?
Wyclef Jean: Well, I mean, I was born, my father was born, before him, his grandfather, before him, it goes on…. tribe, tribe, tribe… naturally sometimes when our genetics are born, there are things that we do. The people that see me, they say that I remind them of their cousin George or whatever.
I always credit Haiti. I didn't leave Haiti till I was 10. And I feel like, understanding my Africanism, was the best thing ever for me. Like knowing that in 1804 we got our independence, and to think how strong the Napoleon army was… but to really think of music, and how the drums and the seashells played a very important part of African history and the theme of Napoleon's army, so for me understanding that xxx music, so that even in the States in '97 I was infusing like five languages on the record. Today as you can see it's more of a universal world, through the Internet it's so much easier now for my daughter, who is 10 years old, to understand who fuses, the Fela Kuti, the Fugees, Jay Z, 50 Cent, she gets it all in one package.
In America everyone knows you for hip-hop, but we know you mix blues, gospel, Haitian kompa, it's cool! How does the fluidity of hip-hop let you go in all those styles?
It's 19 years later, and they said that I would have burned out since The Score…fusion… even though in America, I think that's what people don't understand, hip-hop is the culture, meaning like it's a setting of a place where we grew up with a certain culture. Within that culture, we have rap, we have break dancing, we have graffiti, we have literature, this is all part of hip-hop, and spoken word and call-and-response, and it's so important that you understand that within hip-hop, it's Africa. Africa plays a huge part… so at the end of the day the knowledge that I have, Common has the same knowledge, Nas has the same knowledge. Me being a son of the Caribbean, when I came to the U.S., my passion wasn't just rap, my passion was, Quincy Jones, what was the word he used, global gumbo, that's Quincy Jones' words, which he taught me at a young age. So the fusion that we come with, is, once you say pan-African, or you say Africanism, the Afrobeat, you gotta go all the way to Brazil to understand what's going on in that rhythm, understand what's going on in Haiti with kompa and how does that affect the rest of the island. And understanding that, I understand my position within my culture and my generation, which is hip-hop.
Since 1988, Afropop Worldwide has been all about trying to open the ears of mainstream America to Africa sounds, the Caribbean and South America. Looking at your time in music, do you think Americans are more open to these sounds now than when you started? When you are developing music, do you have that in mind? Is it something you think about when making albums and planning concerts?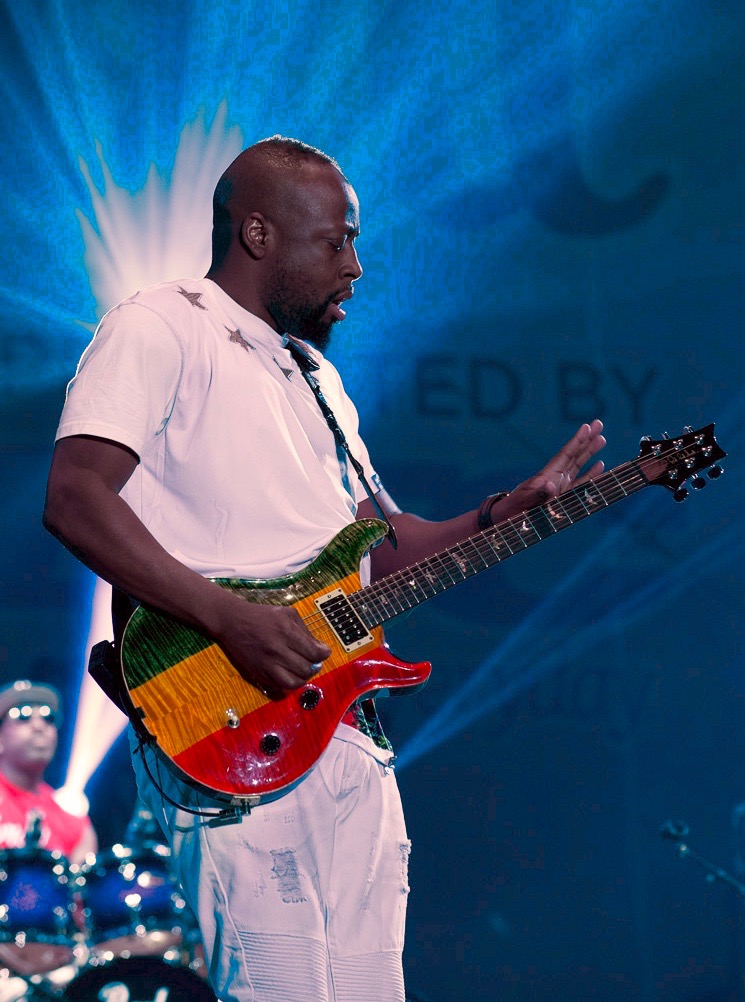 Wyclef Jean headlined the Music Maker concert at the Bahamas Junkanoo Carnival, May 6, 2016 in Nassau, Bahamas.
Naturally, as it progresses, I have to credit more so my jazz teacher. In high school I was a jazz major, 15 years old, my instrument was upright piano, by 17 I became captain of the jazz band. And I think, even when we speak of Africa, I think jazz plays a pivotal part of those that are rooted and fully understand what's going on.
And the slaves came to New Orleans, and played at Congo Square...
Right. So within all of that fusion, I feel that because of the Internet, now music is more global. I think when we listen to the radio now it sounds worldly. When you hear a Justin Bieber record, like "Sorry," and when Diplo is doing, you can go back to the '90s and you'll hear it… I can take you to King Tubby, Jamaica, scientific dub plates, where you're hearing this kind of stuff. So I think we are in an era where things are starting to be more open. Yo, every other two songs on the radio is a tropical song now, right?
So now, for us, naturally when I perform, if anyone has ever watched a Wyclef show, then 19, or 17 or 18, now I'm in my 40s. We celebrate Africa. The entire show, we celebrate Africa. And people say, what's that? And I say fusion. Because whether you're in Angola, Nigeria, Zambia, Ethiopia, anything you see we are doing right now, from a dance to a sound, this is what we're doing. So I'm very conscious when I'm on stage with this. And constantly doing that through the music. Always.
Just wanted to ask your experience of vodou back in Haiti. How did all of that, is that affecting your music, your background, and is that something you'd want to comment on in terms of how you're creating new work?
Those that understand the terminology of vodou–it's once again the same way, like you say "hip-hop"–it's a culture.
How do you see vodou's role in contemporary Haiti?
First of all let's talk about the culture itself. When you are saying vodou—you're saying the celebration of Africanism and the fact that there's deep-rooted spirituality, that had to mystify itself, to be around today. A lot of the scales you get in the music, you would not get. The scale that we use within the space, is a chromatic scale. And within this chromatic scale… I was just in Dubai. We share the same pentatonic scale as in Dubai. But whether we are in the Middle East right now or in Africa, what are we really saying? At the end of the day, whether if it's vodou or if it's junkanoo, where if you have been to Haiti, our version of junkanoo is called rara and rara comes from vodou. Once again, it's all about the study and fully understanding the culture and embracing that. So I think that within our country the vodou, the celebration of the ancestors. If that was taken from us, you would no longer have a Haiti with soul.
And all those connections of young people looking at old traditional music and mixing and matching.
A hundred percent!
I see that in Brazil….
Same! Same!
There's a lot of roots.
Yeah, man. Heavy.
Wyclef Jean performs with a traditional junkanoo group, as part of the Music Maker concert at the Bahamas Junkanoo Carnival, May 6, 2016 in Nassau, Bahamas.
Just to connect it to the junkanoo vibe, I'm here ostensibly to cover that but my editors at Afropop wanted me to interview you about Haiti, that's why we're talking about other stuff. The connection to Bahamian music, the junkanoo and not just Haitian but the deep African connection, what do you feel when you see that? How should the viewers back home, when they see: Why is Wyclef playing there? What's the connection?
It's a celebration of Africanism, it's a celebration of heritage. Because, yo, we weren't there when them people were coming over in the boats, and they were being dropped off in the Bahamas and different places. But our ancestors left a piece for us. So what you're seeing, the viewers back home, is just a glimpse, all you're seeing is one atom, of the culture, you're getting an energy, man, but it's just a piece, we got a chance to get just a water drop of that energy…
… It's a slice…
A slice of celebration of raw material, like spirituality, y'know? And if you put yourself inside of a junkanoo parade as it starts to move, 10-15 minutes you are in a trance.
…It's ecstasy.
It's ecstasy. Music is an ecstasy.
Jason Gardner is a photographer, journalist and book publisher. Under his imprint, Visual Anthropology Press, he recently published A Flower in the Mouth, a book of photography and writing about the culture, music and rituals of Carnaval in Pernambuco, Brazil. Jason has also branched out to photograph other manifestations of festivals in the Dominican Republic, Trinidad, New Orleans, Cajun country in Louisiana and Brooklyn, New York.
All photos © by Jason Gardner. http://www.jasongardner.net/