Xenia Franca, Hamilton de Holanda Trio at Summerstage
Xênia França flitted around the stage fearlessly despite the intense heat at SummerStage in New York's Central Park on Sun., Aug. 5, performing as part of the ongoing Brasil Summerfest. Though I found her microphone levels to be too low, I still enjoyed França's silky voice as well as the conga drums accompanying her. Her energy was high throughout the set, but it was particularly dance-worthy when she brought out the agogo (a Brazilian percussive instrument that makes a clapping sound). Some jazz-influenced harmonies from her band, Aláfia, also contributed to the musicality of her show.

Born in Bahia, a state in Northeast Brazil recognized for its beaches and beauty, França now lives in São Paulo. She began her career singing samba and Brazilian popular music classics, and eventually became a symbol of feminine and Afro-Brazilian empowerment. França has shared the stage with such artists as Elza Soares and Maria Bethania, Caetano Veloso's sister.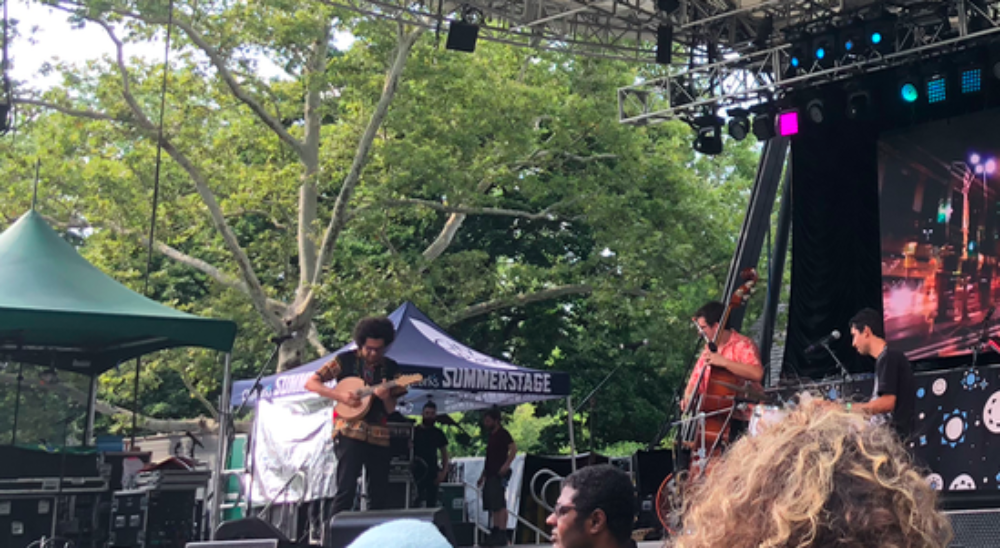 The Hamilton de Holanda Trio came on stage and almost immediately started playing: The group barely needed an introduction. Described as the "Jimi Hendrix of the bandolim," de Holanda astonished the crowd with his finesse, even though it's likely that many in the Brazilian crowd already knew of his expertise. His fingers moved rapidly and with ease over his 10-stringed bandolim (Brazilian mandolin), hitting every note with a satisfying twang.

Born in Rio de Janeiro, de Holanda moved to Brazilia as a boy with his family and started playing the mandolin at age 5. Now, he is known for mixing choro, a Brazilian popular music form based on improvisation, and contemporary jazz. He even put a unique spin on his rendition of Marisa Monte's "Carinhoso," a love anthem for Brazilians, shortening notes to change the rhythm of the song. It was a challenge to listen to and appreciate the chords and fingering, rather than falling back on the lyrics and how the song was "supposed" to sound like. Acoustic bassist Guto Wirth and percussionist Thiago da Seminha also had their chances to shine, and impressed the crowd with their solos.
França plays for free at Natura Brazil at 240 Elizabeth St. in NOLITA Brazil at 240 Elizabeth St. in NOLITA at 6 pm on August 7 and at World Cafe in Philadelphia August 8. More Brasil Summerfest info is available here.