Zanzibari Novelist Abdulrazak Gurnah Wins Nobel Prize in Literature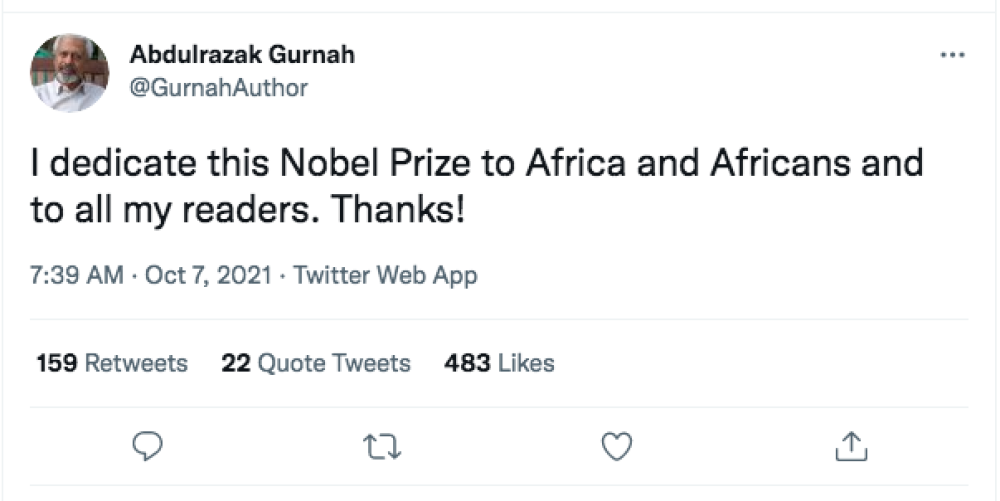 Tip of the cap to Abdulrazak Gurnah, who was awarded the Nobel Prize in Literature this morning, "for his uncompromising and compassionate penetration of the effects of colonialism and the fate of the refugee in the gulf between cultures and continents."

Gurnah was born and raised in Zanzibar, now part of Tanzania, in 1948. He moved to the United Kingdom in the late '60s at 18, as a refugee. At 21 he started writing Afterlives, which was finally published in 2020, and was mentioned by the Swedish academy for exemplifying the author's "unending exploration driven by intellectual passion." It is his 10th novel in print along with a number of short stories and criticism.

He is the first Black African author to win the prize since Nigeria's Wole Soyinka did so in 1986, and the fifth-winning author born on the continent.
Congrats to Gurnah on the award—and on the $1.1 million prize that comes with it. On the BBC World Service this morning, he seemed still incredulous that this was happening.
We've got some reading to do—the New York Times has some recommendations on where to start.